So what's new in my life?
03/31/23 - Staying busy with several major projects.
Whew, I've been busy. I am in the middle of rehabbing an old home-made Dobsonian telescope for the St. Petersburg Astronomy Club. Check out my Scopeworks page for more information and videos on that. I've also been working on my JAZ80 breadboard retro-computer. There have been multiple recent updates on it. It is nearly fully upgraded to Level 1. I'll be adding a monitor program and a BASIC interpreter to it soon. Check out my JAZ80 page for more info and updates on that. Speaking of retro-computers, my Stand Alone NABU project has achieved all it's initial goals. I have more plans for the NABU in the future. There's still more hacking to be done with it. Check out my dedicated NABU Hacking page for info and updates on that project. Plus there's been lots of new videos released on my Youtube Urban Gold Mining playlist. I really need to update my Urban Gold Mining page soon with some of the new content.

UPDATE: The second video in the This Old Telescope series has been released.

And the third video has been released. And the fourth is on the way. This project is really coming along.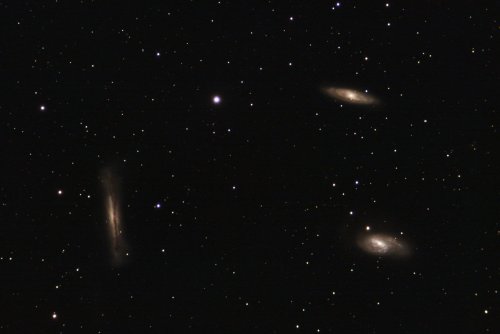 Even with all that stuff going on, I managed to find the time to get away for a few days to Withlacoochee River Park and do some astronomy and astrophotography. I'm definitely getting better at astrophotography. I just need to find the time (and clear skies) to practice more. This is a photo of the Trio in Leo, Three bright galaxies in the constellation Leo. M65, M66, and NGC 3628.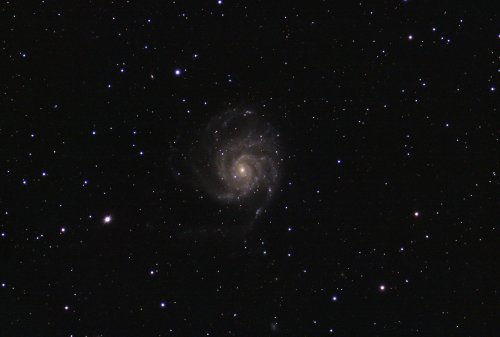 Here is a photo of galaxy M101. I've imaged it before, but I never get tired of it. Besides, as I get better at astrophotograhy, each new image of M101 is better and more detailed than the last.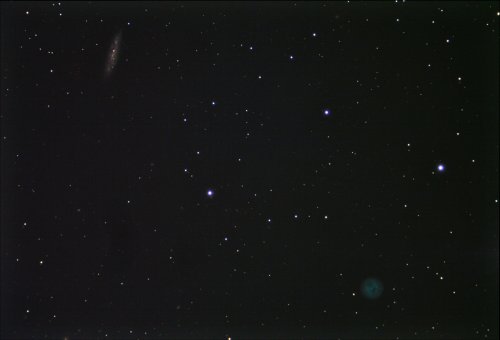 This is an image of galaxy M108 (upper left) and the Owl Nebula (lower right). I was extremely fortunate in my timing of this image. A supernova had just exploded in M108. I heard about it a few days after taking this image. Sure enough, zooming in to M108, the supernova is visible.

Click to learn how to meet them
12/28/22 - Two big new retro-computer projects!
Over on the Electronics & Retro-Computing section of the site, I have begun two big new retro-computing projects. First off, I started building the Z80 computer of my youthful dreams. I call it the JAZ80, which stands for "Just Another Z80 Retro-Computer." I am building it on a breadboard, at least initially. It is coming along nicely. Check out the dedicated JAZ80 page.

The newest big project is an ancient, but factory fresh, NABU Computer I picked up off Ebay for cheap. The NABU was a network computer that was leased by a couple of Canadian cable companies to their customers back in the early 1980s. It had no local storage and accessed servers on the cable network for everything. Well, the NABU is about useless these days without access to the network. But, I plan to turn it into a stand-alone computer with BASIC, and eventually some sort of mass storage, and eventually the CP/M operating system. Follow along on my dedicated NABU web page as I hack the computer into something usable.

09/01/22 - A new For Sale section to my web site
My "hobby" of recovering precious metals from e-waste has kind of grown into a semi-business. One side-effect of doing scrap pickups from corporate clients is that I often get some good, usable or re-usable equipment from them that is too nice to scrap out. So I have been re-selling it through various outlets like Ebay and Facebook Marketplace. I decided to build my own for sale section here too, to give members of my Youtube audience first crack at some items I am selling. It's also the only place you'll be able to find my E-Waste Starter Kit Mystery Boxes for sale, at least for now. There will eventually be a wide variety of equipment for sale here. I'm still building up the site. Check it out.

08/08/22 - A video of mine went seriously viral!
While we were away on our latest trip out west, (see entry below), a video on my new electronics oriented Youtube channel went seriously viral. It was a video I made about Radio Shack stores making something of a comeback. It didn't get much traction during the first month or so that it was up on Youtube. Then suddenly, while we were on vacation out west again, it took off like a rocket. In just a few days it got over 200,000 views, and well over a thousand comments, with 98.8% positive reactions. Holy cow! The Youtube algorithm really smiled on me for a while. This led to a lot of increased views on a lot of the other videos on the nearly new channel too, plus exponential subscriber growth. After launching the second channel only about six months ago, it blew well past Youtube's requirements for subscriber numbers and viewing hours practically overnight to qualify for monitization. So Now I have two successful and monitized Youtube channels that I have to keep making content for. Whew, that's going to be a lot of work. I just hope I can make the lightning strike a few more time like it did for this Radio Shack video.

Click to learn how to meet them
08/08/22 - Whew! Another long cross country drive!
Yep, I drove across the country again. I drove to our place in Wyoming and back via Denver. Leslie wanted to have her three best friends in the world come out and visit our place in Wyoming. The logistics of getting everyone to Denver on time to catch a connecting flight to Riverton, Wyoming (the nearest decent size airport to our ranch) were just impossible. The Covid stunned and barely functional airlines kept shifting flight schedules and cancelling flights. I volunteered to drive our biggest truck out to Denver, take everyone's luggage with me and collect everyone as they arrived at the Denver Airport, then drive us all up into Wyoming. That way we wouldn't have to worry about catching connecting flights or lost luggage. It all worked out like a dream. We got to spend a week together at our ranch and do some serious sight-seeing, exploring and rock-hounding in Wyoming. Then I drove the girls back to Denver so they could all fly home. Before driving back home myself, I spent a few days gold prospecting in Fairplay, Colorado, then went back to our place in Wyoming for a while and did some astronomy and more rock-hounding. What a great vacation. The more time we spend at our Wyoming place, the more we love it. I like driving, but I am about driven out for a while. Next time we go out west we are flying.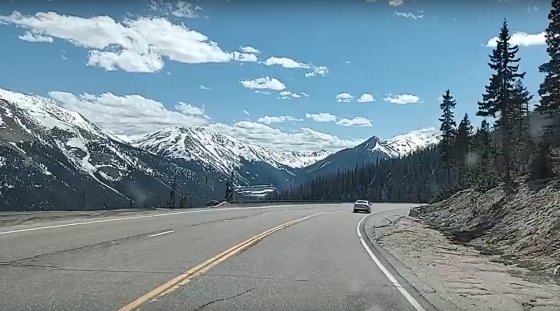 06/24/22 - A month and a half on the road. Whew!
Okay, it's been a while since the last post, but I've been busy. Lots going on, including a month and a half long roadtrip around the US. It was a 12 state, 7500 mile, whilrlwind of a trip around the country. And the best part is that I shot video of most of it. 24 videos came out of this trip. Interesting stuff too. Not just me taking you with me across the US like your virtual Uber driver, but many stops at cool and interesting places. Check out my Driving Across The USA playlist on my Youtube Channel.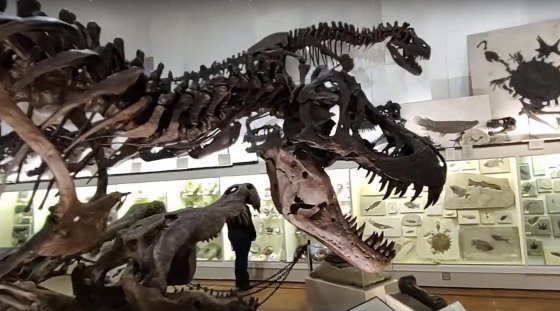 But wait, there's more. Leslie and I also spent our usual two weeks in Nebraska fossil hunting in May. We both found some neat stuff and had a lot of fun. I got a bunch of videos about that too. So check out my Fossil Hunting playlist as well.

Click to learn how to meet them
03/10/22 - A Video Of Our Time At The 2022 Orange Blossom Special Star Party
Leslie and I attended the February 23-27 Orange Blossom Special Star Party the St. Petersburg Astronomy Club puts on every year. I was there for four nights and Leslie joined me for the last three. We had a great time. The weather was amazing the whole time. People who arrived a few days early said it was even great before we got there. It was warm every day, and clear but not too cold every night. Couldn't have been better weather. All our telescopes got a real workout with clear skies every night. We even canceled the usual cloudy night movie night, because there were no cloudy nights! I had made out what I thought was a ridiculously large list of targets to observe with my big 17.5 inch Dobsonian telescope, never expecting to see them all with our usual weather. Well, by the second night I had seen them all an had to add a bunch more objects to my list for the next two nights. It was unheard of great weather and fantastic observing. It was an all-around great time had by all. Check out the video to see some of the highlights.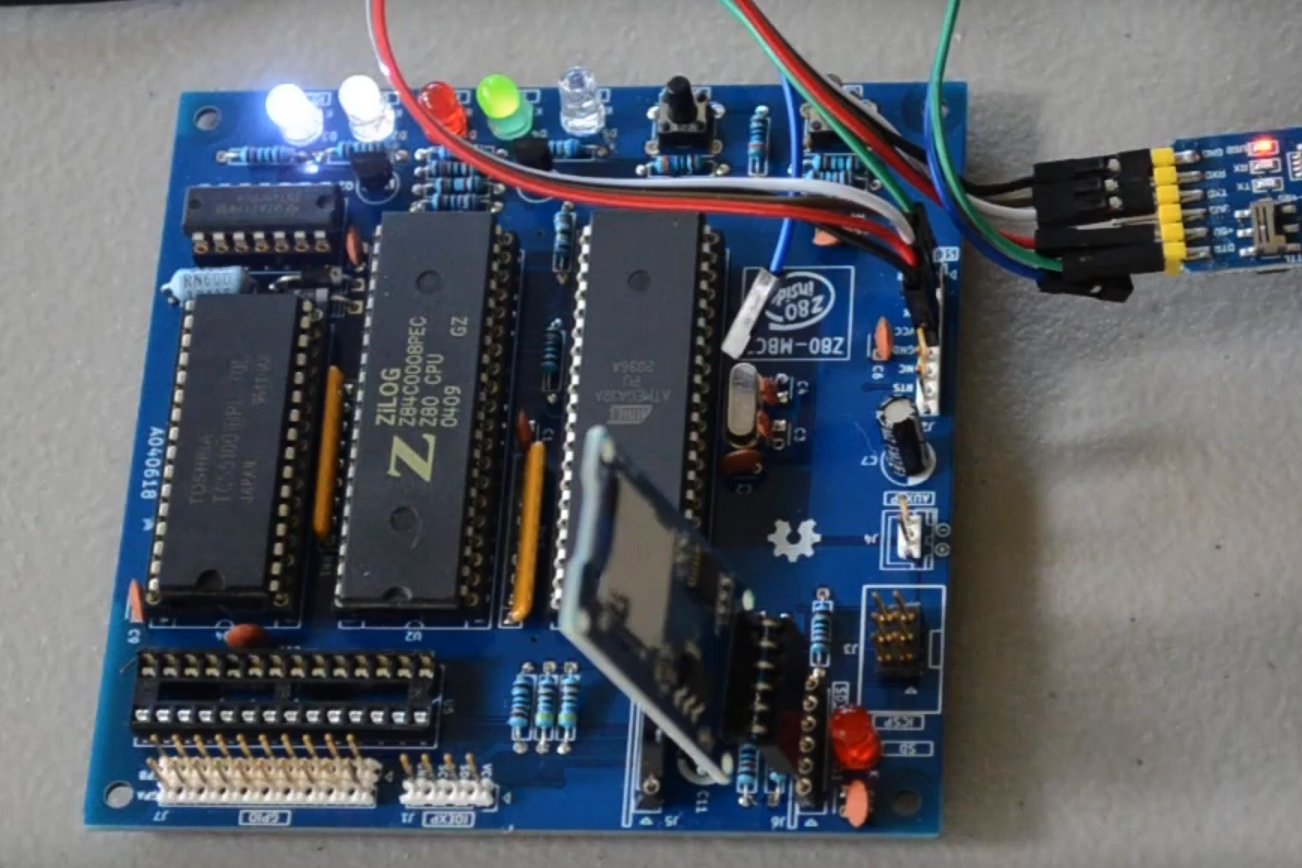 02/15/22 Announcing a new section to this web site!
I have just put together a new section to this web site, or blog, or whatever this sprawling mess has become. It is a place dedicated to my hobbies of retro-computing and electronics tinkering. There are lots of videos of recent projects and links to past projects. I'm really getting into retro-computing. It's a lot of fun. Plus I have always been an electronics geek. I will be putting all such content in this new section in the future, and will be adding links to older material as time permits. This photo for instance is the Z80 MBC2 retro kit computer I built and am having fun with. It's just one of the many projects on the new page. Check it out.

01/06/22 Entering Another 555 Timer Chip Design Contest
Wish me luck. I'm exercising my electronic design skills again by entering another 555 timer chip design contest. I was the grand prize winner in the utility category of the contest held 10 years ago by Chris Gammell and Jeri Ellsworth. My entry then was a solar power charge controller based on a 555 chip. This time I decided to try dragging the venerable old 555 into the digital age and try building an 8 bit binary counter using nothing but 555 timer chips and some passive components. I managed it. It works! It was also a fun build. However, the competition is steep. There are a lot of good entries so far in this contest. So I'm not getting my hopes of winning anything up too high. Anyway, there are a few days left to enter the contest. So if you have a great design based on the 555 timer, get in your entry.

Update 02/08/22: Well, I didn't win anything this time around. The competition was stiff though, and the winners were all really deserving projects. Better luck next time.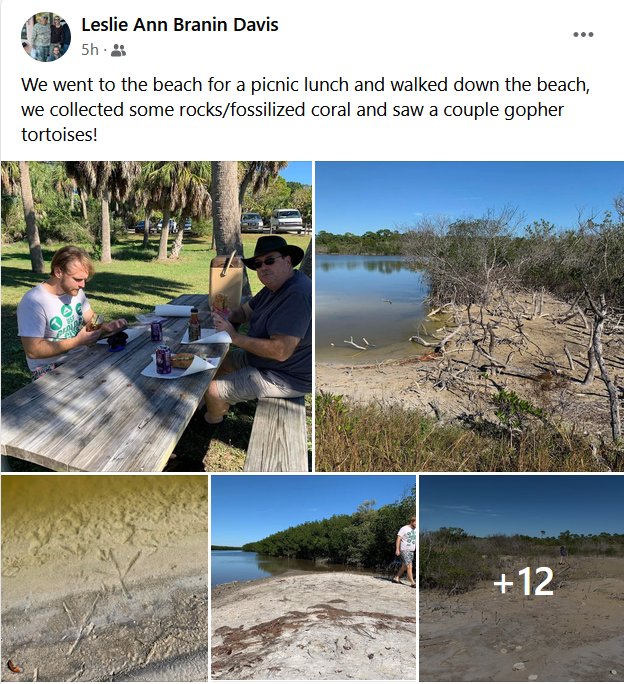 12/26/21 Christmas at the beach
Our family has a tradition on Christmas. We visit relatives and open our presents to each other on Christmas Eve. We always take a trip on Christmas Day. We usually go to a river or a beach, but not to swim or bask in the sun. We go fossil and artifact hunting. This year we went to Honeymoon Island for a picnic and to search for fossilized coral. We found some too, and saw some big gopher tortoises and other neat wildlife. It was a great day out. I took some photos and was going to make a blog post, but as usual, Leslie was way ahead of me and had a bunch of photos and video up on Facebook. So I'm linking to her Facebook post.

Click here or on the photo to see the whole story and more photos.

Click to learn how to meet them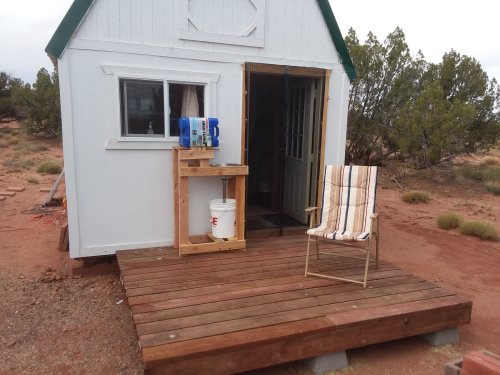 11/14/21 Yet another visit to Arizona
We were only back a couple of weeks from our last trip to our Arizona property when I left again for another two weeks out there. I had been having so much fun and success doing astrophotography that I wanted very much to go back and do some more. Leslie couldn't take any more time off work, but she gave me her blessing to go back for a couple of weeks. I timed the trip to coincide with the third quarter and new moon phases and flew back out to indulge in lots of astrophotography. I also did a lot of work on the cabin while I was there, including building this new front porch deck.

Click here or on the photo to see the whole story and more photos.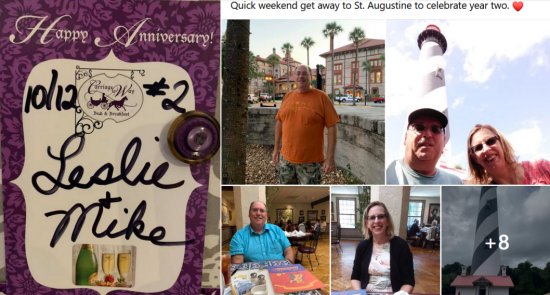 10/17/21 Our 2nd Wedding Anniversary!
Leslie and I had our 2nd wedding anniversary a week ago. We celebrated with a trip to Saint Augustine and a stay in a quaint bed and breakfast for a couple of days. We had a great time. We did all the touristy stuff. Visited the fort and climbed the lighthouse and ate way too much really good food. Two years and counting. Love you, Leslie.

Click here or on the photo to see the Facebook post and more pictures.

10/17/21 Just returned from an Arizona vacation
Leslie and I just returned from a week at our remote Arizona cabin. Only a month after returning from a week at our Wyoming ranch, we headed out for another week-long vacation at our remote Arizona cabin. Leslie was in need of more time away from her stressful job, and I'm always ready to go to either of our places. So we flew off to Arizona for a week of fun. We had some interesting adventures. We cruised Route 66, saw Meteor Crater, a huge volcano, lots of ancient Indian ruins and we both dabbled in astrophotography. Here's a photo of the Trifid Nebula I took on this trip.

Click here or on the photo to see the whole story and more photos.

10/07/21 - Got my Pfizer Covid booster
Got my Pfizer Covid booster shot a couple of days ago. I was pleasantly surprised by the mild side-effects this time. Both of the first two shots I got had some pretty nasty side-effects. This time just my stomach was a bit fluttery the evening after getting the shot. I didn't really want any dinner that night, but managed to get down some chicken soup. By the next morning my stomach was fine and my appetite was back. My arm where I got the shot got sore that night, but not nearly as sore as the last two times. It just felt mildly bruised for a couple of days. I hardly even noticed it most of the time. So now I can travel on crowded airplanes and crowded airports and strange Ubers with peace of mind.
09/15/21 Gold panning in Wyoming
We just got back from spending a little over a week at our Wyoming ranch. We love it out there. We did a lot on this trip. It is all written up with lots of photos and video in the travel and vacation photos section of the web site. We painted the observatory at the ranch, we went for a picnic and hike in the mountains, revisited The National Museum of Military Vehicles and last but certainly not least, we went gold prospecting. It's one of my all time favorite activities. I so rarely get to practice it here in Florida where we live most of the year. On this trip though we both wanted to get out there in the beautiful Wyoming wilderness and see if we could find some gold.

So we loaded the truck with picks and shovels and buckets and gold pans and a gold sluice and headed for the mountains. We got directions from a rancher friend to a spot on his gazillion acres of property where people have found gold before. He also told us how to get to the old abandoned dredge on Rock Creek. We went and visited that on the way to get some photos. Then we headed off to a spot where we could dig and test pan. Once we found a spot with gold, we started digging in earnest. We then set up the sluice in the creek and ran our paydirt through it until the light began to fade. We took our concentrates back to the ranch and I panned them out a couple days later. We found some gold! But more importantly, we had a lot of fun. It was a great day out in the mountains. Now that we know a spot to find gold, I'm sure we'll be back again in the future for more prospecting fun.

08/10/21 A visit to the Edison and Ford Estates and Edison's Lab
My wife had some continuing education she needed to do on Captiva Island for a few days. I tagged along because... Because it's Captiva Island. So while she was stuck in boring meetings all day, I played and explored. One place I went was to the Edison and Ford Estates and Museum in Fort Myers. I had been there once before many years ago, but barely remembered it. I wanted to see it all again. This time I got a pretty good look around, in spite of time constraints and deteriorating weather. I loved seeing Edison's lab again. There were also some really neat displays in the museum, but I admit they kind of got short-shrift in the video because I was pressed for time. It's all definitely worth a visit if you are in the Fort Myers area. Check out the video.

Also check out my other "Exotic Travel" videos on Youtube.

07/28/21 Cutting telescope mirror blanks out of a glass tabletop
Here is a video I made of how I cut telescope mirror blanks out of thick glass tabletops. The video has created quite a buzz on Youtube. I got a total of seven blanks of various diameters out of this 40 inch diameter by 3/4 inch thick tabletop. There were one 16 inch, two 14 inch, two 12 inch and two 10 inch blanks hiding within that big tabletop. It was just a matter of cutting them out. Check out the video to see how I did it.

Also visit my Telescope Workshop page to see some of my other telescope and astronomy related projects.

Click to learn how to meet them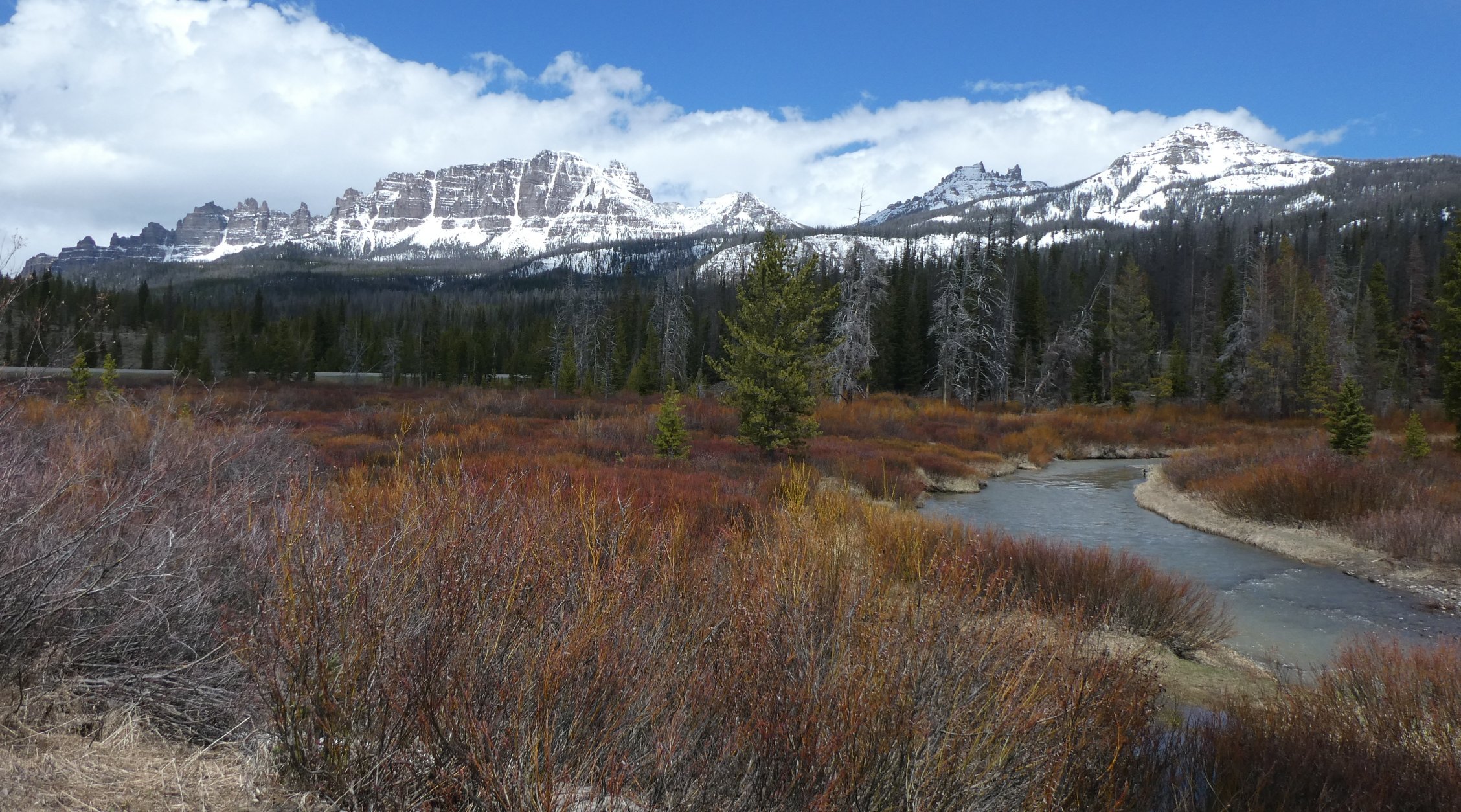 06/27/21 Back from a long road trip
I haven't posted anything for a while because I had been away on a two month long roadtrip. Damn, it's good to be semi-retired. I could never have done that as a 9 to 5 wage slave. This epic roadtrip took us to Wyoming, Nebraska, Colorado, Arizona, New Mexico, and places in between. A lot happened on this trip, so much that I decided it needed its own web page to contain all the photos and video and explanation. So buckle in and click here or on the photo of the lovely snow covered Wind River Mountains of Wyoming at the left to go to the web page.

Or click here to see my other travel and vacation photos.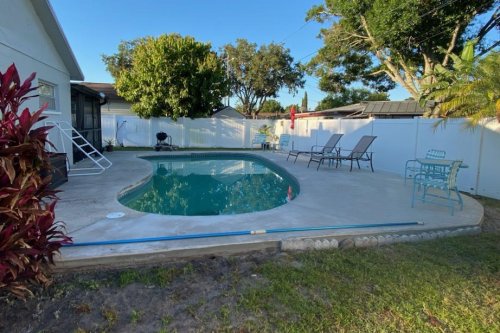 04/27/21 A new pool deck for my old house
I haven't posted any updates about my old house (which I now rent out) for a while. It's been a no news is good news kind of thing. Everything has been working out well. The tenants are great, and there haven't been any major issues with the house.

Something worth blogging about has happened. The subsiding and cracked pool deck has finally been replaced. it's a job that has needed doing since I bought the place. I just kept putting it off. Now it has finally been done, and oh man does it look good. Click here to go to my rental house blog and read the latest blog entry and see more photos.

03/24/21 A new series of gold recovery videos
I am releasing a new series of videos titled "Where is the gold hiding in e-waste?" This is the first one in the series. The second one in the series, where I also discuss silver recovery, can be seen here: https://youtu.be/EXUpc6HpuZE The third in the series will be coming along soon has arrived and can be seen here https://youtu.be/STJ-uiddAwg. These videos have been wildly popular, and have generated a lot of great comments and discussions. Check them out. Also check out my Urban Gold Mining web page where where you can find all kinds of useful info on recovering precious metals from electronic scrap.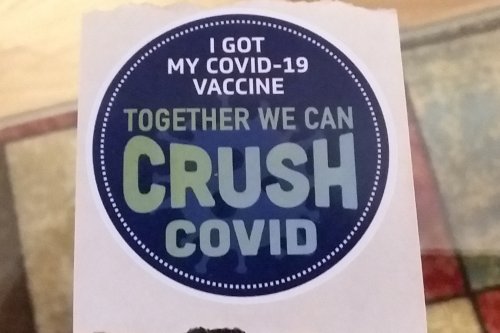 03/21/21 Got my second Covid vaccination
Got my second Covid vaccination a few days ago. It was the Pfizer vaccine, like the first one. Again I had a few side-effects (see first shot side-effects in entry below). My arm where I got the injection got really sore again. Plus I had a lot of achy joints all over my body, and general mild flu-like symptoms. I got really sleepy again, but wasn't able to sleep well. Lots of tossing and turning and waking up in the night. Hopefully that's all over and I'll be able to get a good sleep tonight. I feel pretty much fully recovered today. Still a little achy, but well enough to tackle a bunch of chores here around the house today.

Finally, I'm fully vaccinated. I got my yellow International certificate of vaccination signed off for Covid, along-side all the other vaccinations I've had for world travel. And I got a little Covid vaccination passport thing from the CDC. I'll keep those two papers together with my passport and I should be good to go for traveling again, once the rest of the world opens up again. While we are waiting for the rest of the world to catch up. Leslie and I are planning a lot of domestic travel for the rest of this year. Can't wait to hit the road again. No more fear of getting sick with Covid in some far-away place. We can travel freely without that worry on our minds.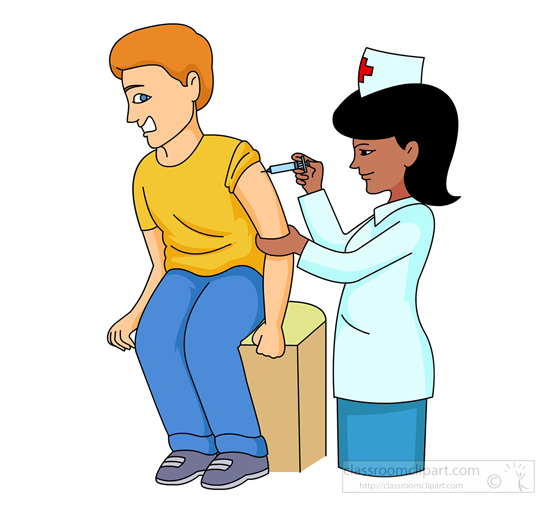 02/28/21 Got my first Covid vaccination
Got my first Covid vaccination a few days ago. It was the Pfizer vaccine. I need to wait three weeks to get the second one. I had a few side-effects. My arm where I got the injection got really sore a few hours later. No, I mean it got really sore. It felt like someone had whaled away on it with a baseball bat. It hurt like that for about 12 hrs. I also got really fuzzy headed and sleepy, but tossed and turned all night without getting good sleep according to my wife. The next morning the pain went away entirely. The next day though I got the sweats. I was hot. Felt like I was burning up. Then that went away too. Now I am more or less back to normal. I hope I don't have a bad reaction to the second shot.

I am very glad to be getting the shots, in spite of the side effects. We like to travel. Neither of us is really comfortable traveling with Covid running rampant. We did it some anyway, last year. We have more trips coming up in the spring. This time we'll both be fully vaccinated (Leslie got her shots months ago because she is a health care worker). We'll be able to relax and actually enjoy our vacations, instead of worrying about getting sick.

02/23/21 Casting a light weight telescope mirror (all steps in the process)
It's been a while since I've fired up my kilns to cast and slump some glass for telescope mirrors. Now that I have a 3D printer, and I am getting reasonably proficient with it, I am able to relatively quickly and easily explore new designs for light-weight mirror blanks.

In this video I show how I designed, cast, slumped and coldworked a light-weight telescope mirror blank prototype. The blank is 10 inches in diameter, but only weighs 4 lbs 13 oz. It has a ribbed back design for rigidity, and is pre-slumped to f/4.9. This video shows the entire process, from design, to 3D printing a positive mold, to casting and burning out a negative refractory plaster mold, to casting the glass, to pre-slumping it to f/4.9 and final cold-working. This was only a prototype to prove that the process has potential, and that I could make every step along the way work. I have never done so many different processes to one piece of glass before. It turned out nice, but even better designs than this one will be coming in the future. Stay tuned for further developments.

You can see all my astronomy and telescope making projects on my Scopeworks Page.

Click to learn how to meet them
01/18/21 Getting better with my 3D Printer
I have come a long way with my 3D printer in only a short time. I'm doing a lot better than my first laughably bad efforts with the printer. I'm actually turning out lots of useful parts with it now. The learning curve is steep with these things. I suppose everyone is pretty lost with their first printer right out of the box. Once I managed to learn the basics and was able to reliably print usable parts, it was off to the races. The printer is running all day most days. My wife says I am obsessed with it. I spend the evenings designing stuff to print, and the days printing it out. Naturally I've been printing lots of parts for my main obsession of telescope building. It is so cool to just be able to print out whatever I need or want, whenever I want it.

I have also printed out a bunch of upgrades and modifications for the printer itself. I even built an enclosure for it using some 3D printed parts. The printer is even helping me upgrade my other equipment in my workshop. Today I will print out parts for a dust shoe I designed for my home-made CNC router. Every day I get a little better at designing things and using the slicing software. I don't know where all this is leading up to, but I sure am enjoying the ride getting there.

I have several major projects in the works based on 3D printed parts. Stay tuned, there's more to come.

12/06/20 My New 3D Printer
It's a new day out in my mad scientist workshop, or as my wife calls it, my loafing shed. I have a 3D printer now! Yay! I actually bought two of them. I was at a machine shop bankruptcy auction a few weeks ago and they had two of these Creality Ender 5 3D printers new in the box. I bought both of them at quite a significant discount off list price. I opened up one of the boxes after getting them home and found that I actually had an Ender 5 Pro in one of them. Bonus. I got an even better printer than I thought I did. I quickly assembled the printer and got started trying to print stuff. Well, lots of things went wrong in the beginning. There is a steep learning curve to using these things. I made a video of my early efforts. Its titled "A comedy of errors with a happy ending."

Eventually I started getting the hang of it. Since I shot this video the printer has been going pretty much non-stop. Boxes of printer filament are now being delivered along with the rest of the never-ending stream of stuff coming in from Amazon. I've been printing out all kinds of doohickys for my various projects, of which I generally have about a dozen going at any one time. I have also been printing out upgrades, additions and modifications for the printer. I love the fact that the printer can upgrade itself by printing out new parts for itself. It's the ultimate in bootstrapping yourself up. I love it. I strongly suspect there will be a lot more videos about 3D printing coming out of my workshop in the near future.

Oh, and what did I do with the second printer? I sold it to a good buddy of mine who is as big a geek about this sort of thing as I am. I passed along the great price discount I got on it to him.

11/26/20 Christmas came early
I came home the other day and saw a big box on the front porch. I went over to check it out. It was a huge smoker. Well, I didn't order a smoker. So I texted my wife Leslie and asked if she had bought it? She replied, "Oh crap! That's your Christmas present. You aren't supposed to know about it. It was supposed to come in late December." Instead it showed up two days before Thanksgiving. We talked it over and decided that since it was here, and I knew about it, I might as well unbox it, assemble it and smoke our Thanksgiving turkey in it. My wife also suggested I make an unboxing video. So I did. This is it.

The smoker is a Masterbuilt model MPS 230S Propane Smoker. Assembly and setup was fairly easy. It took about an hour from opening the box to first firing of the burner to season the smoker. The instructions were unclear in a couple of places, leading to some head-scratching and a false start or two during the assembly, but it eventually all came together.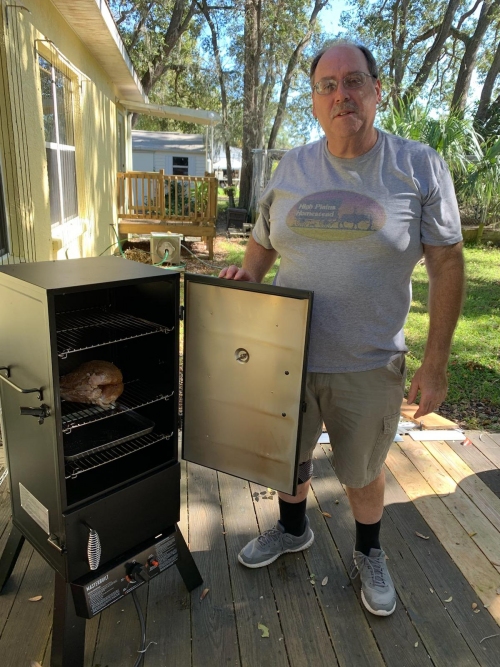 Here is a photo that my wife Leslie snapped of me just after I loaded the turkey breast into the smoker for it's first ever smoking run. I had brined the breast overnight and then covered it with a rub before putting it in the smoker. We settled on a large turkey breast this year, instead of a whole turkey, because we were only having a small gathering due to covid, rather than the huge get-togethers we normally do.

The Thanksgiving turkey breast turned out great. I got lots of complements. I think the smokey flavor was a bit strong for my taste though. It was however very tender and juicy. Next time I think I'll cut back on the amount of wood chips I use when doing turkey. Friends with smokers tell me that some meats need more smoke and some need less. I just need to experiment and take notes. I'm just glad my first ever smoked turkey breast turned out OK and we didn't have to make alternate dinner plans because I had ruined it.

I love my new smoker. We are already making plans to smoke lots of other things in it, and maybe make some jerky too. My wife Leslie says I need to start a new Youtube channel all about smoking meats. I think I need to get a little more experience under my belt before entering that arena already crowded with experts. We'll see. Stay tuned for further developments.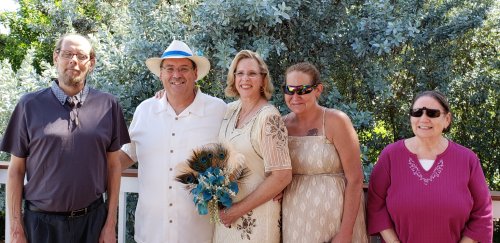 11/11/20 RIP my brother Steve Davis, 1966-2020
This is a very sad post. My brother Steve died a couple of days ago. We all knew it was coming, but it hit us hard anyway, especially me. Here's the last photo I have of Steve. It was taken at my wedding to Leslie a little over a year ago. Steve is on the far left. We don't have many recent photos of him. He was camera shy. Steve had been in a bad car accident some years ago, He suffered traumatic brain injury. Afterwards he didn't want any photos taken of him.

Just when he seemed to be getting over the worst of his brain injury, he began to suffer from liver failure. His doctors tested him for everything under the sun, but couldn't find an obvious cause for the liver failure. Then we found out that traumatic brain injury can cause liver damage. Who knew that? Apparently, proteins released by the damaged brain tissue can cause liver damage. It's rare, but it happens.

While giving Steve batteries of tests to determine why his liver was failing, they also found masses in his lungs. Steve, a life-long smoker, had lung cancer too. This put him in an unfortunate catch-22 situation. He wasn't a candidate for a liver transplant because of the lung cancer, and they couldn't treat the lung cancer because he was so weak and frail from the liver failure. Surgery or chemotherapy would have likely killed him immediately. His doctors told him they couldn't really do much for him, and he had maybe six months left to live, and he needed to get his affairs in order.

He did get his affairs in order. He did more than that though. He decided he wanted to leave his body to science so hopefully medical science can better understand and treat other victims of TBIs who are suffering from secondary organ failures. Steve was a fighter to the end. He blew past his six month lifespan estimate and just kept going, for over a year. There were times during the last year when he seemed to be doing much better. Just a little over a week ago he was still ambulatory and we made plans to get together. I was thinking he was going to be around for quite a while longer.

Then Steve's wife Derinda called me one morning about a week ago and told me that he was unresponsive and she couldn't get him to wake up. His condition had quickly and dramatically deteriorated. Steve went into Hospice. I visited him there regularly during his last week. After they stabilized him, he was almost back to himself for a while. He was in a lot of pain though. The Hospice doctors managed to dull his pain so he could rest comfortably. In his last few days he slipped into a coma and was totally unresponsive. The doctors told us he was going to pass soon. I was sitting beside him when he stopped breathing. I felt for a pulse but couldn't find one. I called in the nurse and she confirmed with her stethoscope that he was gone. I cried for the first time in a very long time, as I made phone calls to tell people Steve was gone.

Steve and I had drifted apart as teens. Even though only about two and a half years apart in age, by middle and high school we traveled in different circles and went in different directions through life. Though we were never far apart physically, we didn't see much of each other except at holidays and birthdays. We reconnected as middle-aged men, and found out we had a lot more in common with each other than we thought. We became close again. We spent more time together in the last few years than we had in the previous few decades. I wish we'd had more time together. I'm really going to miss Steve. I already do.

I was very impressed with how well the Hospice people treated Steve. They made his last days much more comfortable than they would have been otherwise. They treated Steve and those of us visiting with great care and dignity, both while he was alive, and after his death. They work under the most oppressive, demanding and demoralizing conditions. Their patients never get better, only worse. Covid just makes everything harder and worse for them too. I plan on making a large donation to them, as large as I can comfortably afford. They deserve it.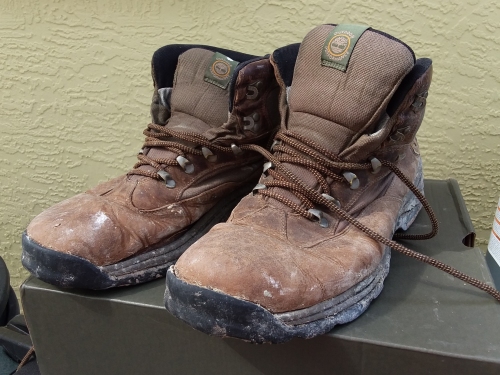 11/07/20 Goodbye old friends
I just bought a new pair of hiking boots. It was kind of sad to consign my old boots to the trash. We had been through so much together in the years I had owned them. Those boots have hiked my feet across the African Serengeti and the Arabian Desert. They've gone all over the Rocky Mountain region, and through more National Parks and Monuments than I can remember or count. From White Sands, NM to Yellowstone, WY. From Death Valley, CA to Mt Rushmore, SD. From the Black Rock Desert to the Smokey Mountains. They did duty in the backyards and back 40s of our places in Florida, Arizona and Wyoming. I wore or carried them through countless airports on three continents. I've stood at the edge of three oceans and on top of countless mountains in those old boots. Me and my old boots have been everywhere, just like in the Johnny Cash song.

I wore those old boots fossil hunting in The White River Badlands on three different expeditions. This last expedition I just returned from (see previous entry below) finally did them in. The badlands destroys boots (and just about everything else). They were falling apart and letting in water and mud before this trip was half over, in spite of some last-ditch field repair and water-proofing efforts by me. They were done. Here is a final photo of them, still caked with dried badlands mud, on their way to the trash. Sad.

I was hoping to find an identical pair to replace them, since these fit me so well and lasted so long. Unfortunately that particular model of Timberland boots is no longer made. I found some similar ones online and bought them. They arrived today. I put them on, planning to wear them for just a few hours while I puttered around the farm to start the break-in process. I was pleasantly surprised to find that the new boots fit me like they were custom-made for my feet. A few hours turned into all day. I forgot I was even wearing them. They were that comfortable. I hope these new boots last as long and take me as many great places as the last pair.

10/30/20 Just returned from yet another epic, cross-country vacation and fossil hunting trip
I have now driven across the country four times in two months. Whew! It's nice to be traveling again, but I wish I was flying. We still aren't sure about getting crammed into a plane with a bunch of other people. Three days on the road each way is rough though. This time my lovely wife Leslie accompanied me on the trip. It was great to have her along for company and to share the driving. We first went to our Wyoming ranch to pick up our fossil hunting equipment and the beat-up, old 4X4 truck we keep in Wyoming for use in the badlands. Then we drove back into Nebraska (after crossing it to get to Wyoming) for two weeks of fossil hunting in The White River Badlands. It had been a year and a half since our last trip. We normally go in the Spring, but that trip got canceled due to Covid. Finally we were able to arrange a trip for October.

It was great to be out in the Badlands again fossil hunting. We both love it. Leslie needed a break bad. We had a really good time. It was also nice to be back among our good friends, who we hadn't seen in person since before Covid. Out in the middle of nowhere Nebraska, with a population density of only a few people per square mile, we felt perfectly safe. We could live life like we could in the days before Covid. No masks, no social distancing, hanging out with people, eating in restaurants, life felt normal again, while it lasted. We, well I, also found some good stuff on this trip too. We were digging in roughly 30 million year old sediments and finding the strange mammals that lived between the end of the age of dinosaurs and the present day. I came back with what has been called one of the best preserved oreodont skulls they had ever seen. Plus I got a bunch of titanothere bones that will need sorting out. Cant wait until the stuff is all prepped out. Leslie didn't find much this trip, which is unusual for her, but she had a lot of fun anyway, and that's what's important.

All too soon the fun was over. It was time to drive back into Wyoming to put our stuff back into storage until next time, and start the long drive home. We had to remember to wear our masks again (we kept forgetting them). How quickly we forget. We had to remember to use the hand sanitizer, and social distance again. We had to eat in the truck because dining rooms were closed in most of the eastern states. Ugh. I want to go back. But I've spent way too much time on the road these last two months. I need to stay home and work on some projects. By spring I'll be ready for another road trip.

09/24/20 I just got back from an epic, cross-country, working vacation to our Arizona and Wyoming ranches.
Since we are both leery of getting jammed into planes during the pandemic, I just drove about 5500 miles over three weeks to visit our Arizona and Wyoming ranches. There was much work and maintenance needing to be done at both places. I have a complete write-up and lots of photos of the trip in the vacations and travel section of the web site. For now though, here is a video of me repairing the roll-off roof on our observatory at our Wyoming ranch. The roof was stuck tight. It took me a while to figure out the problem, and a couple of days to work out a fix. Eventually though, I got the roof rolling again and was able to use the 14 inch SCT telescope inside.

I'll be heading back out to Wyoming in a few weeks, and this time my lovely wife will be going along. It will be another epic, cross-country trip, but this time with fossil hunting in The White River Badlands of Nebraska thrown into the mix. I'm so happy to be traveling again, even if it means driving for days to get where we want to go.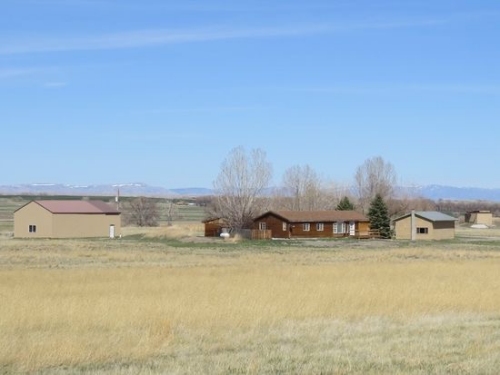 09/01/20 Another new section of the web site dedicated to our Wyoming ranch.
I've been a busy boy lately, creating new sections to the web site. This latest one is dedicated to our new Wyoming ranch. It chronicles the initial purchase and all the maintenance and upgrades we are doing, and will be doing to the place. The page has lots of photos of the ranch and the lovely surrounding countryside. I'll be out at the ranch in a couple of weeks to do some work on it. There will be more entries soon. Check it out.

Click to learn how to meet them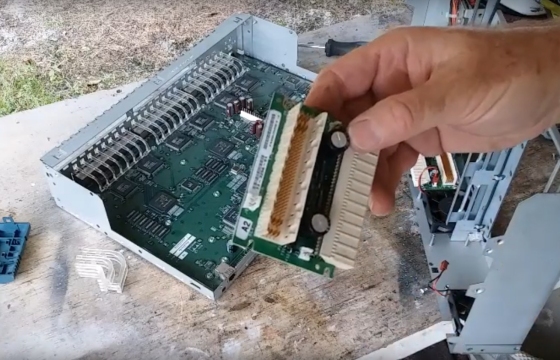 08/23/20 A new section of the web site dedicated to scrapouts and teardowns.
To feed my obsession with recovering gold from scrap electronic equipment, as seen on my Urban Gold Mining page, I have to actually acquire, scrap-out and tear-down scrap equipment. I have put together a new page that shows exactly how I obtain the feedstock for my gold recovery and refining efforts. I show just how I dismember various pieces of dead, unwanted or obsolete electronic equipment to recover all the bits containing gold and other precious metals. Check it out.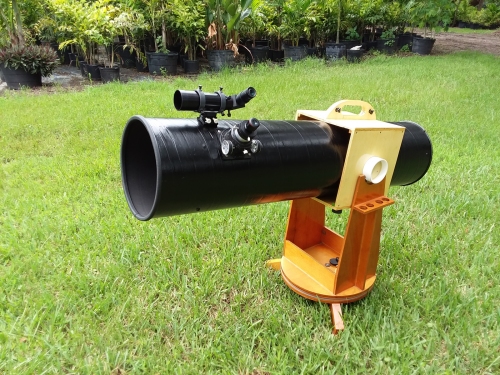 08/08/20 A new telescope to add to my collection.
A friend of mine called me up today all concerned about me because I haven't updated my blog lately. He was worried that something might have happened to us with this darn Covid pandemic. Actually, I have just been concentrating on my Youtube channel and uploading lots of videos there. But he's right, I shouldn't let the blog go to seed. So this entry and the one below are just for you, Dan.

Here is a brand new telescope I just built from an old mirror and an old tube, and an old mount, and an old mirror cell. The primary mirror is the first mirror I ever ground myself back when I first joined the SPAC Mirror Lab way back in 2012. It is a 10 inch f/4.6 mirror with a really nice figure. I made the thick glass blank myself in my kiln. After making this first mirror, I was hooked on mirror making. I immediately went on to bigger and better things, finishing several larger mirrors, becoming an instructor at the lab, and just an all-around lab rat for years. All the while this poor mirror languished in a box on the shelves in the garages of several places I've lived since then. Finally, it has a home! When we shut down the lab site at the old Pinellas Science Center I bought a bunch of the stuff that got auctioned off cheap. I got a nice used 10 inch mirror cell. I also got an entire 10 inch Dobsonian telescope that was in really rough shape. Plus I already had the base from a defunct old telescope that I had been holding on to. Looking at all those parts cluttering up my workshop, and noticing the mirror box out of the corner of my eye, the idea to build a new telescope from all those old parts came to me.

I gutted and took everything out of the old DOB scope from the auction (an f/6). I shortened and repainted the tube. I installed the mirror cell from the auction, my primary mirror, and a secondary mirror and holder I also happened to have on hand in my big box of misc. telescope parts. Even the snazzy finder scope is something I picked up cheap at last year's OBS swap meet. I did buy a nice Crayford-style focuser for it, but I have very little actual money invested in this scope. Next I had to build a box to clamp around the scope and mate with the old base. I knocked one out from scrap plywood in my workshop, and put some PVC pipe fittings on the sides to act as altitude trunnions. The result is a classic Dobsonian scope with a hand-made mirror, and built from mostly found and inexpensive materials that even the master himself would likely approve of (I met Dobson a few times, so I'm pretty sure he would).

The scope works very well. I haven't had it out under a decent dark sky yet, and have only tested it out under the horrid light pollution of southern Pinellas County. However, that is about to change. My wife and I just recently bought a big ranch in the middle of nowhere in Wyoming. It even has an observatory with a permanently mounted SCT telescope in it. I am going to be driving out to our ranch in about a month to do some maintenance work. I'm going to take this telescope with me. Its new forever home is going to be the observatory on the ranch under the super dark Wyoming sky. It will complement the scope that is already there. I can't wait to use it out there.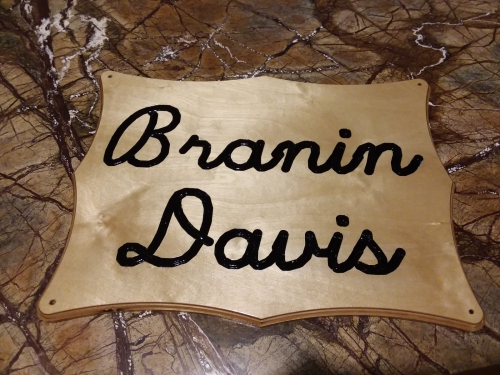 08/08/20 A sign for the front of our house.
The sign I made for our Wyoming ranch (see below) turned out so nice that I decided to make another for the front of our house. I planned on mounting it just below the house numbers. Looks pretty good if I do say so myself. I just love cutting stuff on my home-made CNC router.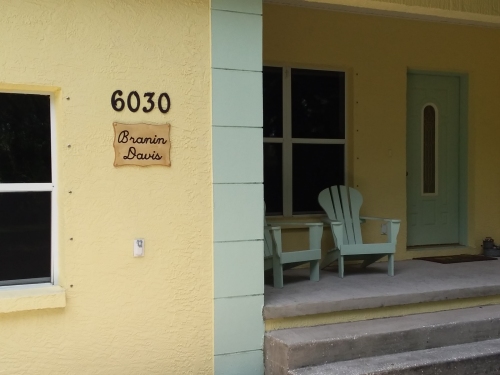 So here is the sign mounted on the front of the house, right below the numbers as I planned. Now the never-ending parade of delivery drivers coming to our door will know they are in the right place. The sign is held on with four Tapcon screws. I hot-melt glued wooden plugs over the screw holes for a nice finished look. I can pop the plugs out and unscrew the sign to take it with us if we ever sell the place and move.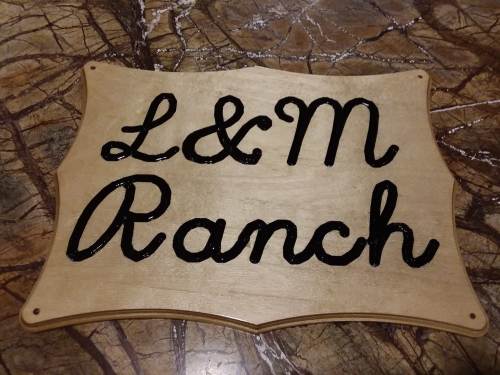 07/06/20 A sign for the gate of our Wyoming ranch.
I carved this sign for the gate of our new Wyoming Ranch (see below). L & M for Leslie and Mike. I used my home-made CNC router to make it. I carved the lettering with a 90 degree V bit and filled it in with black paint. Then I covered the entire sign with several coats of satin polyurethane to make it durable and weather-resistant. It turned out really nice. I have ideas for more signs too. I put together a web page showing how I made this sign in greater detail. Check it out.

Click to learn how to meet them
07/02/20 A live view from our Wyoming ranch.
Leslie just got back from visiting our new Wyoming ranch. She did some repairs and maintenance on the place so it would be ready for tenants to move in. She also coordinated getting contractors out to replace roofs and do other needed work. One other job she did while there was put up the Bloomsky weather station and camera that came from her old place in Thermopolis. She hung it on the side of my observatory and aimed the camera to look toward the house and other outbuildings, so we can keep an eye on the place. Plus it's just nice to see what the weather is like at our new place.

Click here or to go to the Bloomsky weather page to see full weather information, a larger live view and 24 hr time-lapse of the camera and more.

UPDATE: Our Bloomsky weather station seems to have lost connectivity and is no longer updating. It will be stuck until the next time one of us can get out there and fix it. Drat! We really enjoyed looking at our place and checking out the current weather.

UPDATE2: The Bloomsky weather station is offline because the power was cut to the observatory building while construction on our new guest house is going on. We should have it up and running reliably again in a couple of weeks.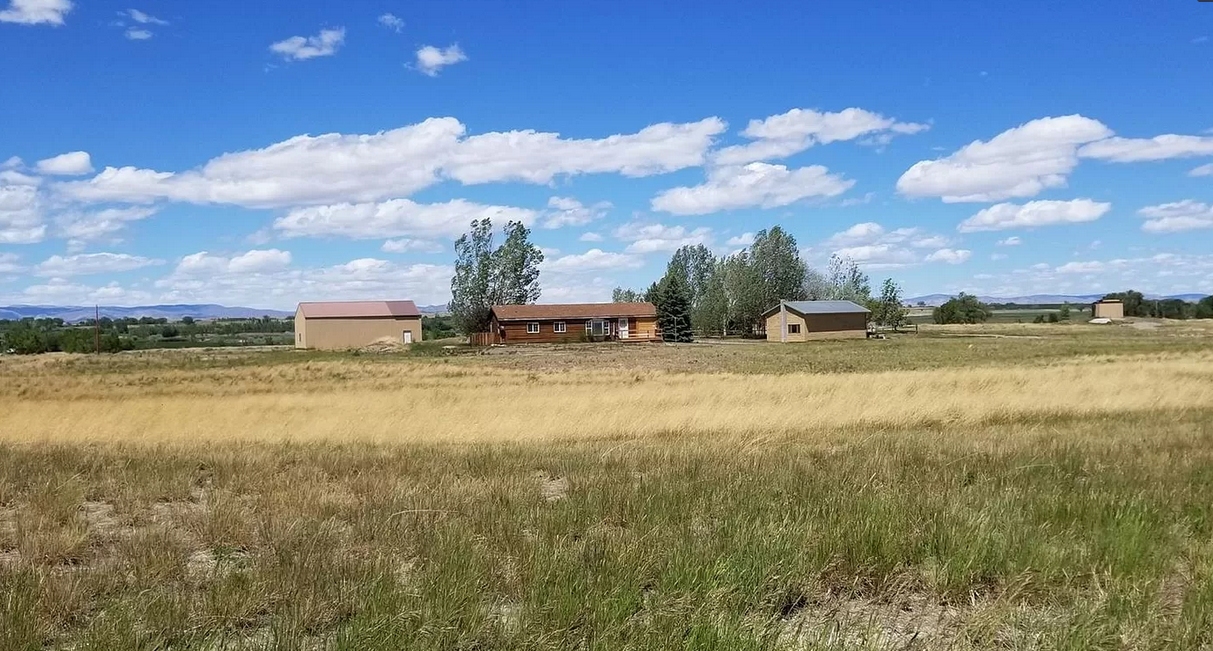 06/18/20 Today we closed on our new property in Wyoming.
Today was a great day. We finally closed on our new property in Wyoming. We own it outright. No mortgage! It's a fantastic property. It's 40 acres with a nice house and five outbuildings, including an observatory! It's in a beautiful area of very rural Wyoming near the tiny town of Pavilion. It's between The Owl Creek Mountains and The Wind River Range, with views of both ranges and of nearby Ocean Lake.

It's going to be our retirement home eventually. Until then, we are renting it out. It's already up for rent. Leslie keeps complaining that she's tired of being a landlord, but here we are with yet another rental property. At least the place will pay for itself (taxes, insurance, etc.), plus bring in some extra income, until we can move out there. Plus the property manager will keep the place up for us until we can be there full time. We plan on living out there after full retirement in a few years. At least we're planning on living there during the Summer. We may not stay during the brutal Wyoming winters. We may either come back to Florida or spend the Winter in Arizona.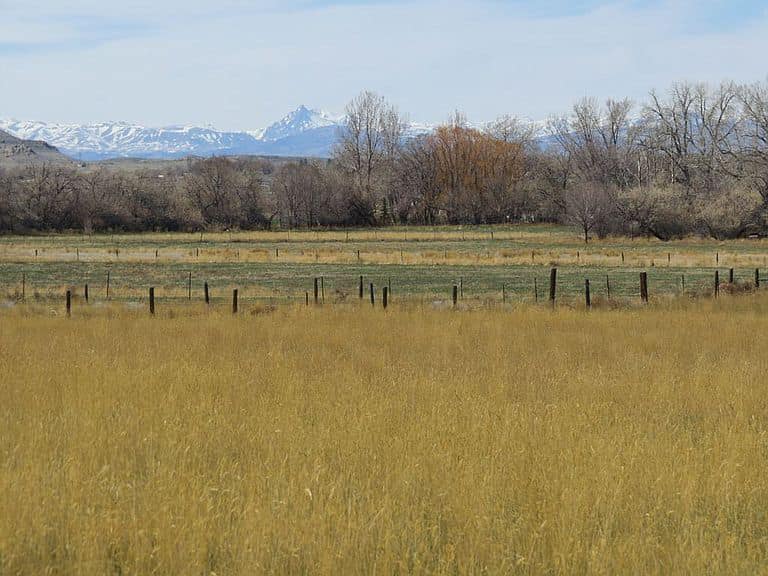 Check out our view of the mountains from the back yard. That is gorgeous! Leslie is headed out there in a couple of days to tend to some things and organize some repairs. I need to stay here in Florida to take care of my mother. Once the ALFs are open again for respite care, I plan on going out for a while to work on it too. I also need to get to Arizona and check on my place there and get my Tacoma truck out of storage. I'll probably find it with a dead battery and soft tires after being in storage for so long. This pandemic has really screwed up our travel plans so far this year. It wasn't meant to be this long between trips out west for us. I can't wait to get out there.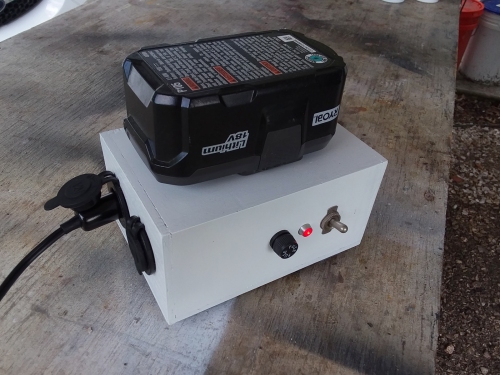 06/08/20 A 12 Volt Power Supply Using A Ryobi Hand Tool battery.
I was tired of lugging around a heavy, deep-cycle, lead-acid battery to power my telescopes in the field. Then I saw how a friend of mine repurposed a 12 Volt Lithium-ion hand tool battery to power his telescope. I wanted to do the same thing. I own a bunch of Ryobi hand tools, and so have a ton of batteries for them. Problem: My batteries are all 18 Volts. Well, I wasn't about to let that stand in the way. I built this nice little 12 Volt power supply, and it works great. It was easy. Click here or on the photo to see how I did it.

UPDATE: This project was recently featured on the HACKADAY tech blog.

Click to learn how to meet them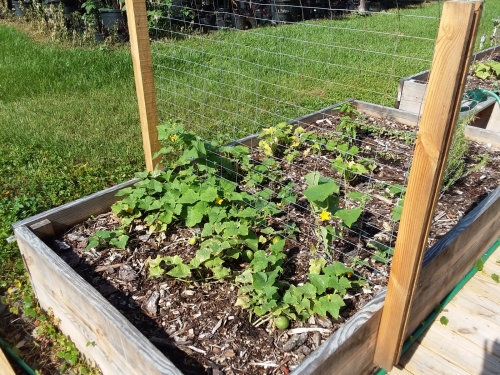 05/30/20 Raised Bed Garden Update.
The raised bed garden has really taken off now that the weather is warmer and the days are longer. The cucumbers in particular have just exploded. They have sprawled out in all directions, shading each other and some of the other plants. I decided they needed to go vertical to keep them from taking over the entire garden. So I built this simple trellis out of some scrap wood and some fencing. I weaved some of the plants through it, and they immediately began climbing it. You can see how many cucumbers we are getting down on the ground. We've picked and used some already. Most are pretty small, but I'm hoping that with the plants no longer shading each other, they'll have the energy to grow bigger ones.

Besides the cucumbers, several other things are doing very well in the garden. The tree collards have just exploded upwards and leafed out amazingly. Leslie planted two varieties. The purple variety is growing so fast you can practically watch it happening. The green variety isn't doing as well because some kind of little bugs have found it and are busily munching on the leaves. Leslie is using a soap and water solution to keep them at bay. The sweet basil is also practically exploding. We are going to have a big crop of it. The broccoli, which kind of did nothing for a while, and then looked like it was ready to die out, has suddenly taken off. we'll see what develops from it.

Some things aren't doing so well. The zucchini that took off so promisingly in the beginning hasn't yet produced any fruit, in spite of much flowering. Some of the plants are starting to die. Others are looking sickly. Maybe we just don't have the correct pollinators for zucchini. I may try some hand pollination. The cilantro only just got going good, and then went to seed. I think we may have planted it too late. The kale is kind of in a holding pattern. It was looking good for a while, but then just stalled out. Maybe it's too hot for it?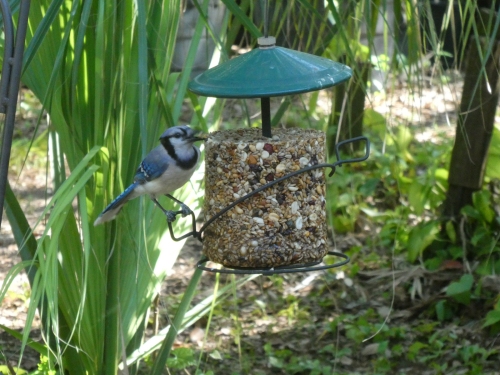 05/18/20 How I make home-made seed cylinders or cakes for feeding birds.
Pre-made seed cylinders are very expensive, but bird seed is dirt cheap. So I figured out how to make my own home-made seed cylinders using bird seed and inexpensive materials and ingredients. It's so easy. Once you know the secret you'll never pay for seed cylinders or cakes again. Click here to see the project.

05/13/20 Corona Virus Quarantine Diary: Day 55
Today was almost like a normal day. So normal that nothing was photo-worthy. At least as close to normal as things get with everyone wearing masks and queuing six feet apart. Leslie went in to work as usual today. I spent part of the morning working on paperwork. Then I went to the hardware store, Lowes and the Post Office. I wore my PPE in all those places, but that doesn't even seem strange anymore. It's just the new normal. In the afternoon I worked on some projects in my workshop. Later I had to deal with a bunch of emails and more paperwork. Then I cooked us all dinner. In the evening I was on a long conference call. Life is kind of falling back into it's more or less normal rhythms.

We accepted the seller's counter-offer on the Wyoming place after discussing it with our agent. The big issue is that they will be able to get out of the contract with only 72 hrs notice if they get a better offer than ours. Once it looks like the sale of Leslie's place is for sure going through, we can remove our contingency condition and it will nullify their 72 hour clause. So for a while there is a window where someone who likes the place more than us could submit a better offer and we'd be out in the cold. Hopefully the fact that the place is now under contract will scare away any other potential buyers. We'll see.

Anyway, now that we are under contract, the paper chase begins. I expect to spend the next few days lining up inspections, an appraisal and a hundred other details. Hopefully it won't all be for nothing.

Since the world (or at least Florida and Wyoming) seems to be getting back to something resembling normal, and I am getting busier, these quarantine diary entries may become less frequent. Posts may only happen if there is some major new development.

All older Corona Virus Quarantine Diary entries are now on their own page. This is to keep this top level page of my blog from getting too long and unwieldy. Only the latest daily entry will be here at the top of this page. Click here to read all the previous Corona Virus Quarantine Diary entries.

03/02/2020 My new CNC router project has been completed!
I decided I needed a better and more accurate CNC router than my old "Woodpile CNC" machine. I planned on making it (almost) entirely from metal, and mostly using 80/20 components. 80/20 is billed as the industrial "Erector Set", because you can build almost anything from the standardized parts just by bolting them together. It made the build a lot easier.

This video shows most of the steps in the construction of the machine. It is about 47 minutes long. I have a companion web page for this project that goes into more detail about the construction that didn't make it into the video. It also clarifies things that may not have obvious or easily understandable in the video.

Click here to see more of this project.

Click to learn how to meet them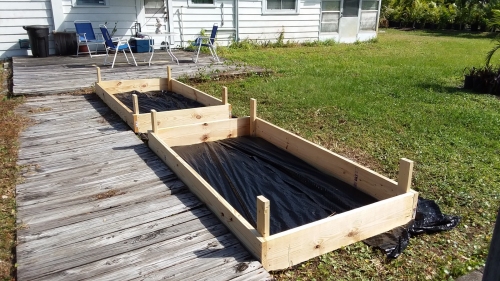 02/11/20 Building some raised bed garden boxes
My wife has been wanting to get into gardening for years. The problem is that we live in the middle of a tree farm. There are very few places where there is adequate sunshine reaching the ground to actually plant a garden. Another problem is that we live in a very swampy area. She'd need raised bed garden boxes to get anything to grow when the weather is wet. After talking about doing it for a long time, I decided to just go ahead and build her a couple of raised garden boxes in the sunniest area of the property as a Valentine's Day present to her.

My carpenter hat and tools were still within easy reach after finishing the below display panels project. So I set to work. I planned on building two 4 by 8 foot garden boxes next to an existing wooden walkway. So we will be able to stay out of the mud when the weather turns wet. Here the boxes are partly built.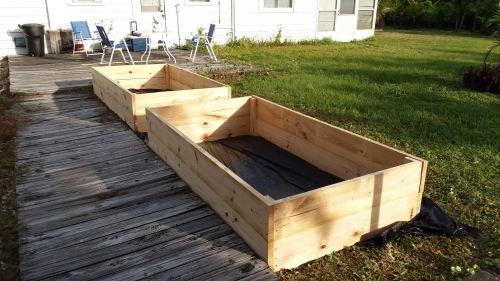 Here are the completed raised bed garden boxes. They are each 4 feet by 8 feet by about 18 inches tall. They were basically made from two stacked untreated 2x10s with 2x4 corner braces, and all held together with lots of 3 inch deck screws. I also lined the bottoms of the boxes with root-stop fabric. Now all we need to do is fill them up with about four cubic yards of nice topsoil and start planting. Happy Vanentine's day, Sweetie!

Visit my New house Blog for more information and updates on this project.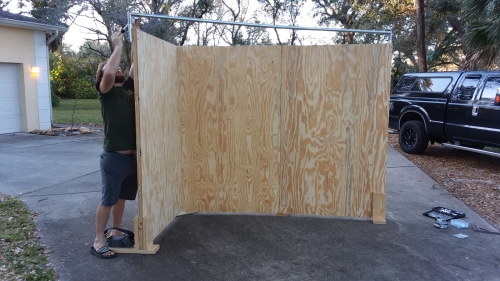 02/09/20 Building some DIY display panels
My stepson Joe digs, prepares and sells fossils. He goes to a lot of fossil shows. He wanted some display panels to set up in his booth at the shows. He'll hang some of his fossils on them to display to the passers by. We looked into the cost of buying "professionally made" display panels, and about gagged. So we decided to build our own DIY panels. It was fairly easy. and a whole lot cheaper. We made three 4 by 6.5 foot thin plywood panels. We edged them with 2 by 2 boards all the way around on the back for rigidity. Then we drilled and bolted through the 2 by 2 edging so the panels could bolt together in an "L" shape. Then we made some legs for support to keep the panels from tipping over backwards. The final step was to run a steel rod across the top to add strength and rigidity, and act as a light bar.

Here Joe is putting the final touches on the light bar. All that is left to be done is to paint the front of the panels and add some cleats for hanging his fossils.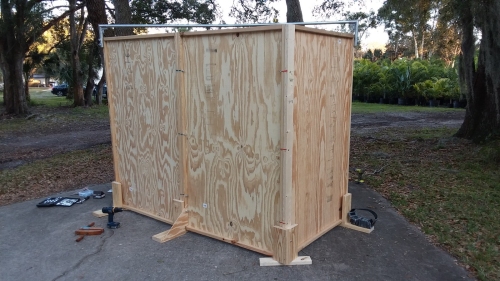 Here is a view of the completed panels from the back. The whole thing disassembles and reassembles with no tools required. Wing nuts and bolts are used to hold it all together. The panels will disassemble into pieces light enough for Joe to carry, and small enough to fit in the back of his truck, or in our utility trailer. I hope he sells a lot of fossils at future shows.

Click to learn how to meet them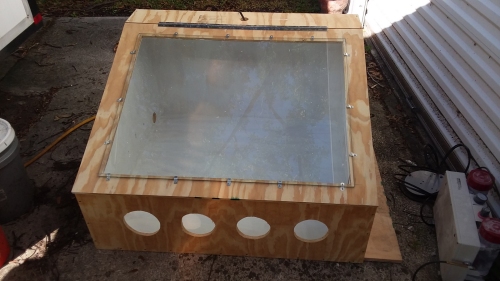 01/06/20 Building a DIY "Blast Cabinet" for my stepson
My stepson Joe needed an air abrasive blast cabinet. He preps fossils, mainly fossil fish from the Green River Formation of Wyoming. He uses fine air abrasive tools to remove the matrix and expose the fossils. It's kind of like sand-blasting, but not as aggressive. However, it is every bit as messy as sand-blasting, and as rough on the lungs. Joe was tired of having to do it outside while wearing a respirator. He wanted a proper blast cabinet that he could work in inside his workshop. It's a project we have been talking about for a while. We finally all had the time to come together and build it. It was a quick and fun family project. Check it out.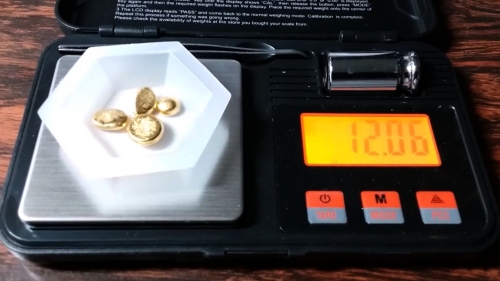 12/19/19 My Urban Gold Mining Exploits have their own section now
I just finished a whole new section of my web site dedicated to my Urban Gold Mining exploits. I've been extracting gold from e-waste for quite a while now, and shooting a lot of video along the way. The new page has a lot of my Urban Gold Mining videos on it. I try to use simple equipment and inexpensive chemicals wherever possible to keep it cheap to increase the profit margin. You could be getting gold out of electronic scrap too. Check out how I do it.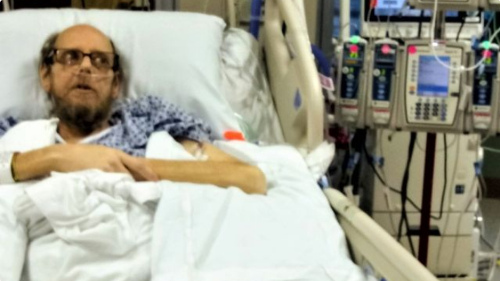 12/07/19 My brother is dying!
I am sad to report that my younger brother Steve is dying. His liver is failing due to reasons his doctors can't fully explain. Unfortunately he is not a candidate for a transplant because of other medical issues he has, including a previous traumatic brain injury, and lung cancer. His cancer can't be treated because he is currently so frail that surgery or chemotherapy would likely kill him. He has been told he has less than six months to live.

A Go Fund Me site has been established for his wife Derinda. She is disabled herself. She is losing not only the love of her life, but also her caregiver and breadwinner. They have huge medical bills they need help with, as you would imagine. As a result of the medical bills, they fell behind on their Mortgage and have to move out of their house and into an apartment. So they have moving expenses to deal with as well. Please consider making a small donation to help them out. Thank you.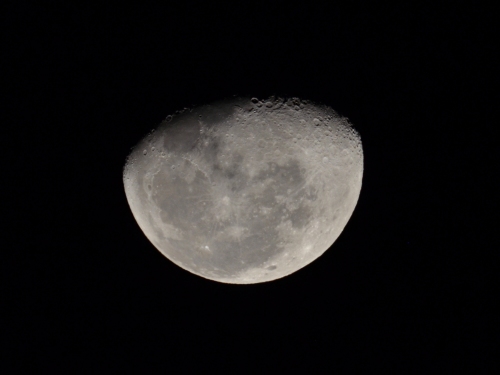 12/02/19 A wintery trip to Arizona to do astrophotography and other stuff
I just got back from a 10 day visit to my remote Arizona property just in time for Thanksgiving with the family. The main reason for this trip was to relocate my trusty old Toyota Tacoma pickup truck from a storage lot in Albuquerque, NM to a lot in Show Low, AZ. But of course the real purpose of the trip was to indulge in my addiction to astrophotography under the amazingly dark skies in my little corner of Arizona. I did a lot of other tings to while I was there too. Check out my vacation and travel photos page to see lots of pictures and a write up of what all I did. Check it out.

Click to learn how to meet them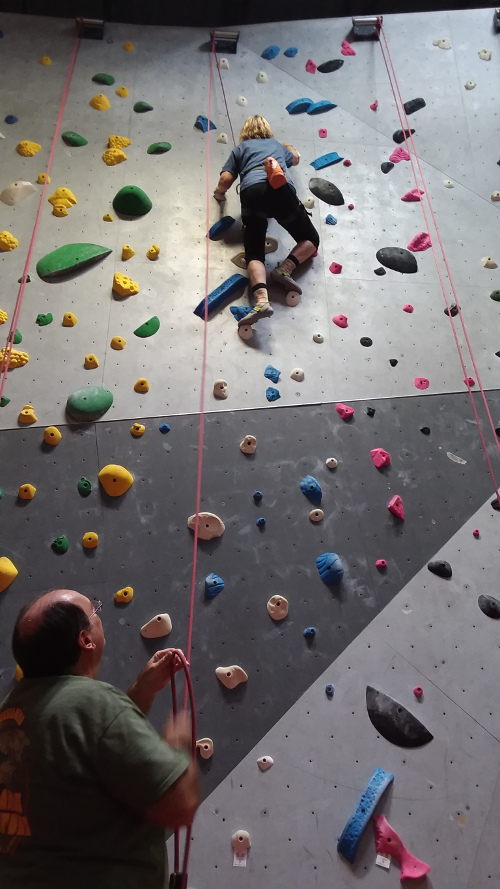 11/12/19 A new hobby!
Leslie's son is into climbing walls. He'd been telling Leslie that she needed to try it. She decided to do it in hopes of becoming a better and more confident climber when we are out in the badlands fossil hunting. There is a lot of climbing involved in fossil hunting. So we went and took an introductory class. Soon Leslie was hooked. After a few sessions she now scales the walls like a monkey. She's even taken an advanced class on climbing theory to make her a better climber. I'd like to join her in the climbing. It looks like tons of fun. Unfortunately I tore a meniscus in my knee recently, so I'm stuck on the ground, at least for now. So I am her belay person, handling the ropes on the ground and keeping her from falling on the rare occasions she slips.

The big problem is finding the time to go climbing. Neither of us really needed another hobby.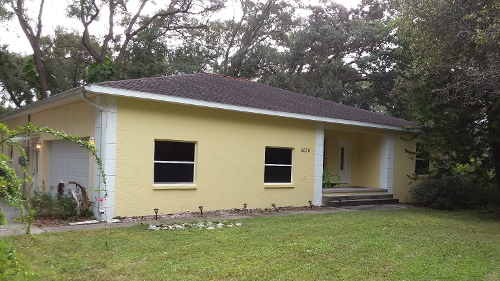 11/05/19 A new house renovation blog
Now that we are married (see below) and I have moved into my wife's house, there are going to be lots of home improvement projects going on in the house we share. I have rented out my old house to some friends of mine. I will still be maintaining and improving it too. So I have decided to create two separate home improvement blogs for the two properties. Click here or on the photo at left of our new house to go to the home improvement blog landing page. From there you can go to either blog to read what has been going on with the two properties.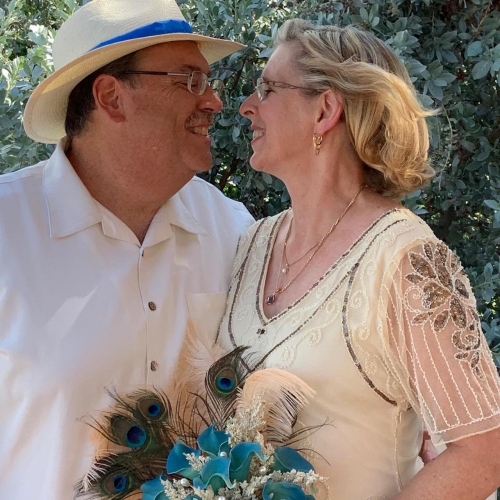 10/19/19 We Did It!
We got married. We are just back from our honeymoon. We had a lovely ceremony on the back deck of The Salt Rock Grill at Indian Shores Beach. Then we had the reception inside in the fireplace room. Afterwords we went across the street to the beach for some photos and some frolicking in the sand. The weather was perfect. The whole thing went off without a hitch. Everyone (we had a lot of guests) had a great time. There was much good food and drink, and of course wedding cake, for all.

Our wedding day was one year to the day since we got engaged in Dubai on the way home from our Africa trip. After the wedding we flew off to a fantastic honeymoon in New Mexico. We flew into Albuquerque and got my Tacoma truck out of storage, then started driving north. We stayed in a quaint B&B in Taos for a couple of nights. Then we went on to the Ojo Caliente Mineral Springs resort where we splurged on one of their Cliffside Suites with it's own private soaking pool. We had a great time there. While in NM we did a lot of hiking and exploring. We took the roads less traveled at every opportunity. We saw some fantastic sights and had a lot of fun.

I've posted lots more photos from our wedding and the places we went on our honeymoon in the Travel and Vacation section of the web site. Check it out.

I'm looking forward to all the great adventures we are going to have as we spend the rest of our lives together.

10/05/19 We made the move!
So much has happened in a short time. It's been a little crazy. I have moved in with my fiancee and the wedding is only a few days away. I moved out and fixed up my old house so it can be rented out. Tons of work was done on the old house. I think it looks really good now. Check out my House Blog page to see what all was done. The tenants are moving in today. I'm officially a landlord now. Wow, it's been a real whirlwind. It's not over yet. Next comes the marriage and the honeymoon. Then we have new projects lined up for when we get back.

Just a little update on the house we put in an offer for in Wyoming. The inspection report showed a lot of serious problems with the house. The seller wasn't willing to either lower his asking price, or fix the problems himself before the closing date. So we had no choice but to rescind our offer and walk away. We'll keep an eye on the place and see what transpires in the future. I can't see the owner ever selling it for what he is asking, considering the area and the problems with the property. Sooner or later something will have to give.
Click to learn how to meet them
09/07/19 - It's been a real whilrwind lately.
I haven't posted any updates in a while. there's been no time! I've been running around here, there and everywhere like a madman. There's been so much to do. Getting ready for the wedding (which is coming soon!), fixing up my house so I can rent it out, downsizing my stuff so I can move in with Leslie and of course traveling. We spent a nice long weekend on Captiva Island in early August. Then, before we were hardly unpacked from that, we were off to Wyoming to spend some time at Leslie's place and take a nearly week-long camping trip in Yellowstone National Park. After that, Leslie had to fly back home to attend to family issues. I stayed out west for another two weeks to tend to some needed issues myself, and spend time at my Arizona property. After getting back from there I got a surprise. The teeth and bones I had dug up on our epic May fossil hunting trip to the White River badlands of Nebraska were back from being expertly pieced back together and restored by Leslie's son Joe. Then we decided to put a bid in on a house that came up for sale next door to Leslie's place in Wyoming (we looked it over while we were out there). So then there was paperwork to do. I can't remember the last time I was so busy. I may have to give up this semi-retirement thing and go back to work to get some rest.

So much has happened since my last update. Where to begin? It's an embarrassment of riches for a blogger. It's also near impossible to keep up, and some stuff will probably get left out. Ok, so I decided to post this compilation video of thermal features from Yellowstone first. Yellowstone was a blast. We had a great time. I had never been there before. Leslie hadn't been there since she was young, and only saw a small part of the park on that trip. We camped there for five days and tried to see as much as we could. It was amazing. We saw all the big thermal features. We saw lots of animals. We saw lots of waterfalls. And I'm sure we only saw a fraction of it all, especially since we threw a trip down to the Grand Tetons into the mix. The parks were terribly crowded, but that was really to only downside to the trip. Otherwise it was great. We are already planing return trips.

I have lots more photos and video from this trip up on the travel and vacations section of the web site.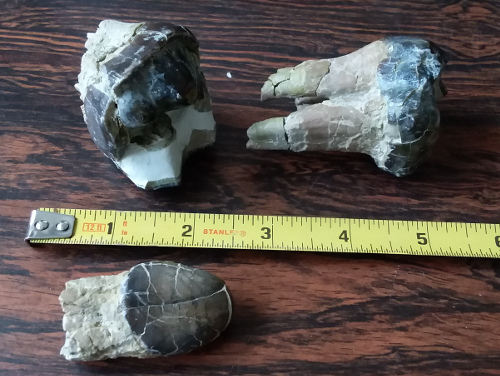 I'm so excited about how well the titanothere teeth and ribs I dug up in the Nebraska Badlands turned out. I'll bet my teeth won't look so good when they are 30 million years old. I found the bone bed on the afternoon of the last field day of our expedition to the badlands. I dug out the teeth and bone fragments in great haste, and without as much care as I should have used due to time constraints. I brought back quite a jumble of bone and tooth pieces. From that incomplete mess of a jigsaw puzzle, Joe was able to reconstruct three teeth and the ends of two ribs.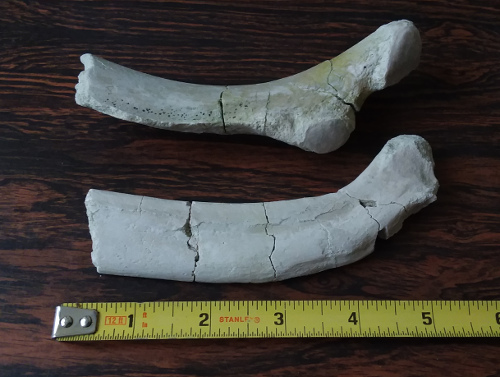 Here are the two reconstructed ribs. I have a lot more bone and tooth fragments, but Joe couldn't make much of them. Maybe on our next trip I'll be able to dig up more pieces that will allow for filling in the gaps and putting together more of the skeleton. I can't wait to get back to the badlands.



Click to learn how to meet them
07/19/19 - Making my own Nitric Acid.
My latest hobby of extracting and refining gold from electronic waste would be a lot easier to pursue if I had a good supply of nitric acid. It just comes in so handy for so many aspects of gold recovery and refining. However, nitric acid is horribly expensive. Plus there are added charges tacked onto shipping it since it is such a hazardous substance. I have refused to buy nitric acid til now because the high cost would obliterate any potential profit I could make in this hobby and put me deep into the red. It would be less expensive to just go buy gold bullion. So I came up with a solution in keeping with my kind of extreme DIY lifestyle. I'm making my own nitric acid.

For about what a single one liter bottle of concentrated nitric acid plus shipping would cost, I bought everything I need to make my own nitric acid. This video shows the initial setup of the apparatus and my first nitric acid production run. It worked like a dream with no serious issues and a good yield of concentrated, red fuming nitric acid. I then diluted the concentrated acid down to the 68% azeotrope. I have since done several other production runs. I learn a little more each time and get more proficient at it. This home-made nitric acid works like a dream for making aqua regia and dissolving gold. The straight nitric acid also easily dissolves metals like silver and copper. I should have done this a long time ago. I think home-made nitric acid may be a viable solution for many home refiners. You can see more about how I make nitric acid and gold recovery in my urban gold mining series of videos on Youtube.

07/07/19 - A Mirror Lab Field Trip.
The core members of The SPAC Mirror Lab went on a field trip to the wilds of Wesley Chapel, FL to look at a portable observatory building that is for sale. We got more than we bargained for. We found ourselves in an astronomy wonderland full of amazing equipment. There was the portable observatory of course, but also a huge, 30 foot diameter, radio telescope right next to it. There was also a plethora of other interesting astronomy instruments and equipment, plus lens and mirror making equipment. The St. Petersburg Astronomy Club (SPAC) is considering buying the portable observatory and moving it to our dark sky observing site. The Mirror Lab Crew will advise the board of directors on the condition of the observatory and what will likely be needed to move it and get it up and running. Check out the video.

06/24/19 - Panning gold from incinerated and crushed RAM chips.
Here is the latest entry in my urban gold mining series of videos. A couple of months ago I incinerated and crushed up some RAM chips that were the byproduct of recovering gold from the fingers of computer memory SIMMs. I intended to process the material and recover any gold bond wires present in the chips. But then I went away on my epic, month-long, vacation (see below) and completely forgot about the project. So yesterday I was cleaning out my storage shed and found the bag of crushed and sieved chip remains. I decided to pan it out in my favorite gold pan and see what I'd get. The results were surprising. There was more gold in those RAM chips than I expected. I'll be doing more of this in the future. Check out the video.

Click to learn how to meet them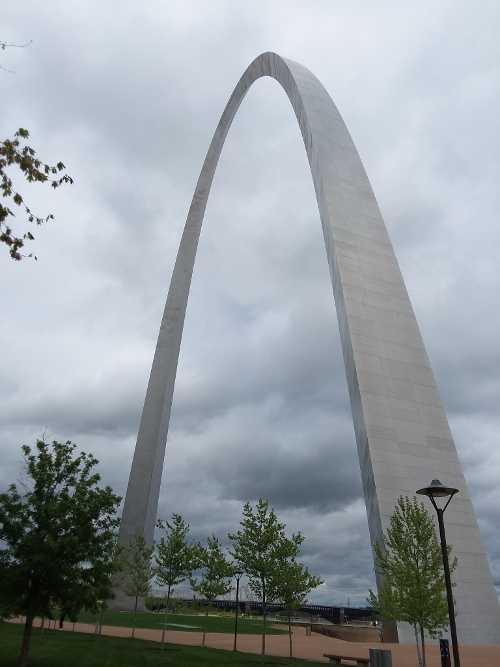 05/29/19 - Back from a month long vacation.
Click here to go to a page of photos and videos from this trip.
This was the longest vacation I have ever taken in my life. It was great to get away for so long. It was an epic, cross-country adventure. I drove across 14 different states, visiting some several times. Here I am at the base of the Gateway Arch in St Louis Missouri. I've always wanted to see it. Finally had the chance. Driving across the midwest in spring time was beautiful. Everything was so green and vibrant. Wildflowers were blooming. It was a fantastic trip. Traffic was also surprisingly good most places, considering how much driving I did. There were only a few bad spots, like Nashville, where things got all snarled up. For the most part it was smooth sailing almost the whole way.

States I drove across or visited on this trip were:

Florida
Georgia
Tennessee
Kentucky
Illinois
Missouri
Kansas
Colorado
Wyoming
Nebraska
South Dakota
Utah
Arizona
New Mexico

A few states like Wyoming, Nebraska and Colorado got driven across multiple times due to our itinerary.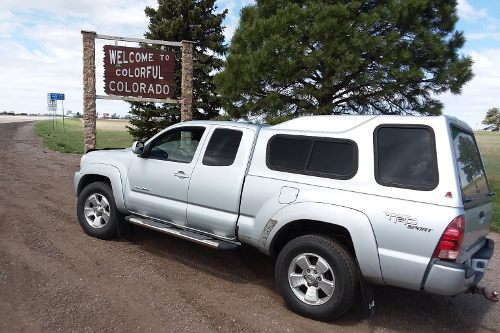 Click here to go to a page of photos and videos from this trip.
As I said above. I drove across the country this time. I usually fly for my vacations. This time was different because I wanted to relocate my old, reliable Toyota Tacoma out west so I would have it available for future vacation trips. No more having to rent a 4X4 truck every time I go out west. Now I have one in storage in Albuquerque, just a short Uber ride from the airport. This is going to save me a ton of money in the long run. The storage fees are nothing compared to the cost of renting a 4X4 pickup for a few weeks multiple times a year.

Here my Tacoma is posing at the Colorado border on the way to Denver to pick up Leslie who was flying out. I took off a few days earlier so I could pick her up at the Denver airport. Then we headed up to Wyoming to visit relatives of hers, then spend some time at her property. Next it was off to Nebraska for a couple weeks of fossil hunting in the White River Badlands, with detours into South Dakota (I hope I someday get to see South Dakota when it isn't raining, sleeting or snowing). Then it was back to Leslie's place in Wyoming for a while. Then we drove down to Arizona to spend time at my place. Then finally we drove to Albuquerque, put the truck in storage, and flew home.

Whew! What a whirlwind adventure. Hard to believe we were gone for a whole month. So much was packed into this trip that the time seemed to fly by quickly. I was joking with Leslie that we need to get back to work to get some rest.

The primary purpose of this trip as to go fossil hunting in the White River Badlands of Nebraska. We were going to be out there for almost two weeks of this month long vacation. The first few days we were in Nebraska it was raining too hard to go fossil hunting. So we did the tourist thing and went to a lot of museums and monuments, including Mt. Rushmore. We went to Mt. Rushmore last year too on a rainy day. We really weren't expecting a return trip this year, but one member of our party had never been there, so we went again even though the weather looked bad and none of us were really expecting to be able to see much. Once in the Black Hills of South Dakota, the persistent rain turned into snow. The visibility at Mt. Rushmore was surprisingly good, and the snow added a new and delightful dimension to the place. Plus it gave a bunch of crazy Floridians and excuse to act like kids and play in the snow. We made snowmen, had snowball fights, and a few other snow-related shenanigans. It was a lot of fun.

This is only the first of several videos and tons of photos that will eventually be posted in the travel and fossil hunting sections of the web site. It's going to take me a while to get it all together. This month-long trip was almost as epic as the Africa and Middle East trip we took last year. There is just so much stuff we saw and did. It's going to take a while to get it all together. Stay tuned.

04/28/19 - Lovebug Apocalypse In Florida.
Every spring in Florida the lovebugs come out. This spring it's just crazy. I've never seen them so thick. We went to the Peace River Adventure fossil hunt this weekend and got absolutely plastered with them. It was like driving through a heavy rainstorm in parts of Hardee County. Every stall in the gas station we pulled into was full with people cleaning them off their windshields. That was the reason we stopped too. All the cars arriving at the park for the fossil hunt were just covered with them. Check out the video. It's insane how bad the bugs were.

Click to learn how to meet them
04/22/19 - Recovering Gold From E-Waste.
Check out this video I shot of one of my latest projects. I have accumulated a large amount of electronic scrap over the years. I have been careful to save the stuff with any gold on it. Finally I decided to try recovering some of that gold. I've processed several batches now. It's been a bit of a learning experience. The first run went ok, but was a bit of a mess. I mixed too many different types of e-waste. You can click here to see that video. I learned a lot the first time, and did even better the second time. This video is of the second run where I had learned a few things and did a much better job of collecting clean gold. A few more runs and I'll have enough gold to try purifying it to 24K and melting it into a button. Eventually I plan to have a web page all about how I do it.

Essentially free gold! Gotta love it. Stay tuned for more adventures in gold recovery.

UPDATE - My first gold drop.
Check out this video. I decided I had enough gold recovered from electronic scrap to try dissolving and purifying it. I dissolved the gold in hydrochloric acid and bleach. I did not film that part because I was not sure it would work. It worked like a charm though and the gold obediently went into solution creating beautiful orange chloroauric acid. I filtered the liquid to remove impurities. Then I used Sodium Metabisulfite to precipitate the gold and drop it from solution. The resulting fine powder of pure 24K gold weighed in at 0.4 grams, which was more than I was expecting. This is fun.

UPDATE 2 - My first gold drop - Part 2.
Check out this video. I concentrated the leftover solution from the first gold precipitation and added more Sodium Metabisulfite to precipitate more gold and drop it from solution. I got a little bit more gold. Not really enough to measure on my cheap scale, but some more. The remaining liquid still tests positive for dissolved precious metals. At this point I am pretty sure just platinum group metals remain in the solution. I have started a "stock pot" to store my waste gold recovery solutions in. There is a strip of copper metal in it. The dissolved precious metals in the solutions are "cementing" out onto the copper and dropping to the bottom of the pot as a fine black powder. If I eventually accumulate enough I may try refining platinum and palladium from the sludge in the bottom of the stock pot.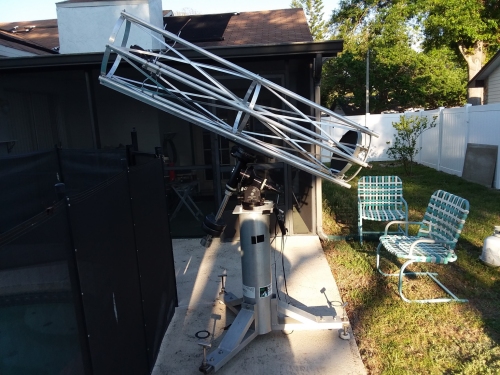 03/27/19 - First Light for my 12.5in diameter astrograph.
Just had first light for an astrograph project I have been working on for quite some time. It is a 12.5 inch diameter, f/4.4, pure astrographic telescope. There is no eyepiece. It is purely a photographic instrument. It's a monster made entirely of aluminum, a lot of aluminum. In fact I affectionately cal it Al in honor of its all aluminum construction. I fabricated every bit of this instrument myself, including the honeycomb-back primary mirror and a large, lost foam aluminum casting in the mirror cell. Here in this photo you can see the not quite completed instrument mounted on my Losmandy G-11 mount. Though not completed, it was done enough to start some testing. Nothing was yet painted black and there is no light shielding installed yet. So I had considerable trouble with stray light issues. The remote focus wasn't yet working properly either, but I couldn't wait any longer to see what this baby could do. First I needed to balance it on the mount. Then a considerable length of time was spent finding focus. Once all that was done I could try imaging.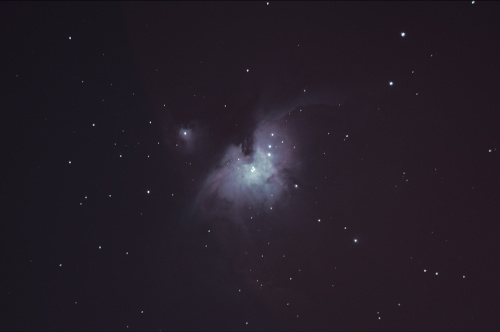 I was just blown away by how much light this instrument gathers and sends to the focal plane. My first few images were nearly totally saturated. At first I assumed it was due to stray light. Eventually I figured out that AL was just gathering so much light that the images were horribly over-exposed. So I kept shortening the exposures and reducing the ISO setting on the camera until I started getting shots that weren't totally over-exposed. This shot is a stack of five 15 second exposures shot at ISO 100! Amazing!

The stars are quite elongated, but that is due to a tracking problem with the mount, not a problem with the astrograph. My poor old Losmandy mount is in need of some TLC. That is coming in the form of a total drive and electronics upgrade that will be done soon. Still, this is an amazing first light image. I couldn't be happier with it. Things are only going to get better. The astrograph is going to have all parts in the light path painted ultra-flat black. A light shield shroud is going to be installed. The remote focus parts and Losmandy upgrade parts have just arrived. A reflex sight and guidescope still need to be installed. This instrument is going to be a work in progress for quite a while until I get it tweaked to my satisfaction. Eventually I will be taking it to the SPAC dark sky observing site to give it a real workout. Eventually though, to get the most out of this amazing instrument, it is going to need to be permanently mounted and housed in an observatory. Building one is on my to-do list for my remote Arizona property.

How long have I been working on this project? I guess you could say at least 10 years. Ever since I first decided to try making light-weight, honeycomb mirrors. Building a large astrograph with one was always in the back of my mind. It took me a long time to perfect the mirror design. Then I had to grind and polish this particular mirror. Then I had to design a mirror cell. Then I could start on the overall design of the astrograph and begin construction. The actual construction of the astrograph once I had a mirror and cell in hand only took a few months. I will eventually have a complete description of the Construction process in the Scopeworks section of my web site.

This astrograph turned out so well that I am already working on another one using a very fast 10in, f/3.2 mirror blank I slumped to shape myself in a kiln. It will be more easily portable than Al is. Watch for that one to make its debut here sometime in the future. There's still a lot of work to be done on it.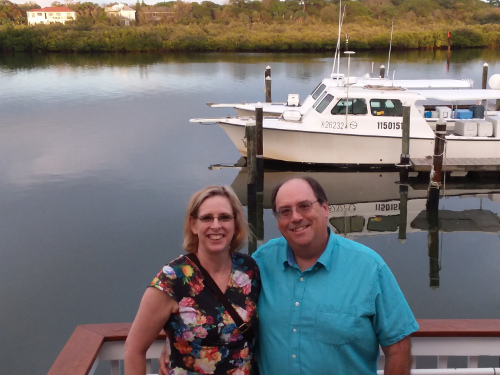 03/25/19 - Checking out the venue where we are going to get married.
A while back Leslie and I went to have a look at the venue where we are planning on getting married and finalize the details. This is a view from their back deck out over the water. Not bad. We are planning an outdoor wedding on the deck with this lovely view out over the water and boats. It's going to be a lovely wedding. We can't wait.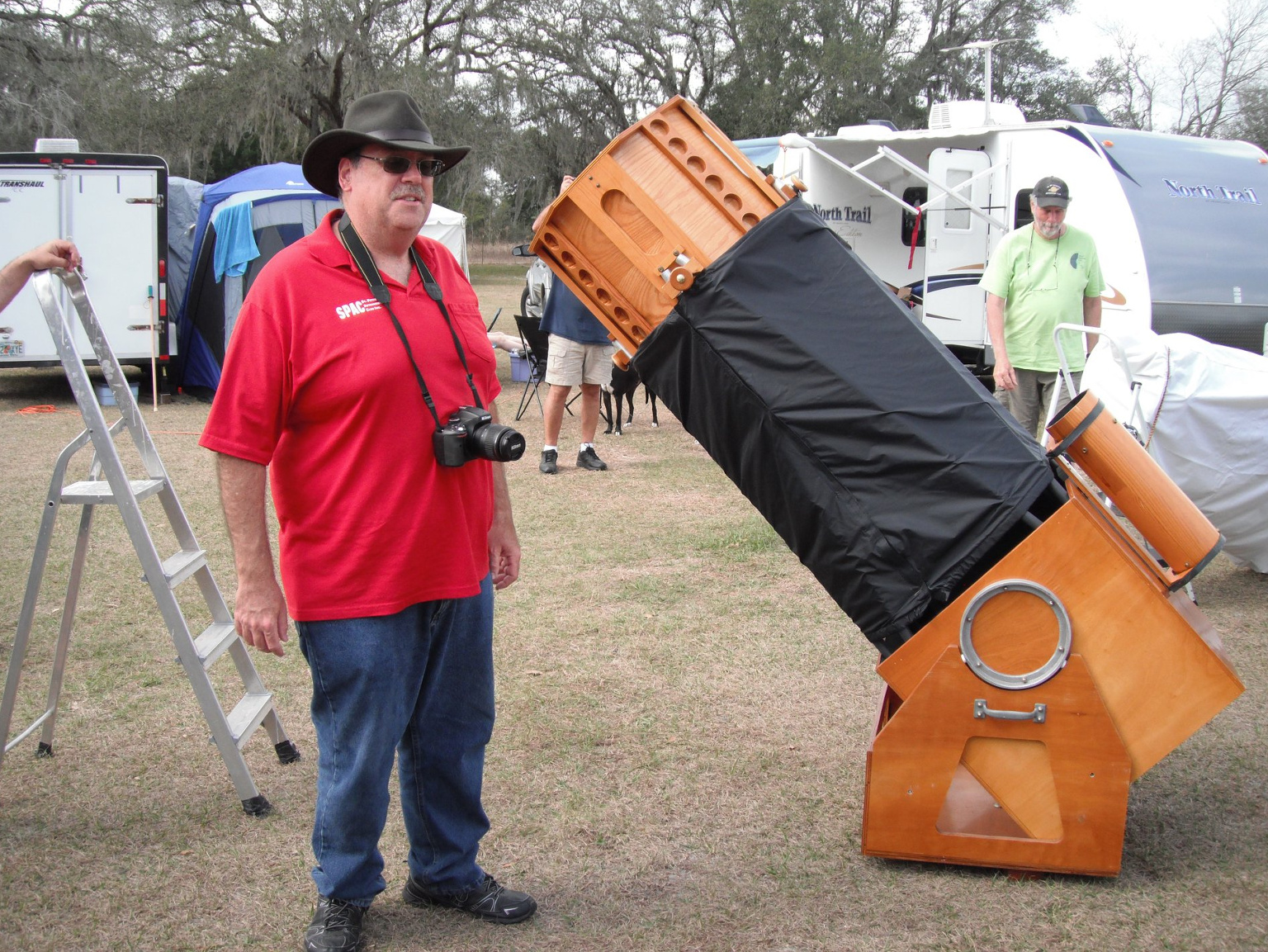 02/12/19 - Attended the 2019 Orange Blossom Special Star Party.
The 2019 Orange Blossom Special Star Party was a little over a week ago. As usual I was there with my big scope. The weather wasn't so good this year, but most of us still managed to have a good time. Click here or on the photo to go to my Travel and Vacation Photos Section for lots of photos and a write-up of this year's star party.

01/14/19 - Successful slump of a 16 inch mirror.
I have successfully slumped a 16 inch mirror blank to f/3.75. This video shows a lot of the steps in the process. It compresses weeks of effort into less than 15 minutes of video. This is by far the best looking mirror blank I have ever slumped. Using a smoother mold and a lower processing temperature resulted in a near perfect slump. I will eventually put together a web page on mirror slumping with more information and sharing more details, including the firing schedule, in the Scopeworks section of my web site. This blank is going to make a great telescope mirror. I can't wait to start working on it.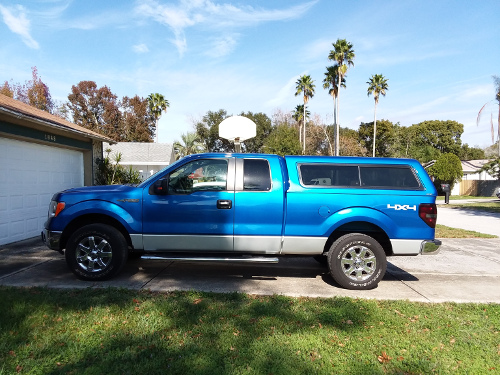 01/11/19 - A topper for my F-150
The topper I ordered for my new F-150 truck finally arrived. It really looks great. I'm going to go back and get a roof rack installed too so I can haul our kayaks on top. That'll probably happen next week. I also got rubber floor mats for it to keep our wet and sandy feet off the carpet when we go to the beach or fossil hunting. Plus I installed a trailer hitch. The truck is just about ready for some serious adventuring.

Update: The Thule roof rack has been installed. Now I can carry our kayaks up on top, or bring home a big load of lumber for various projects. Love it.

I also had the truck inspected and certified at the local Ford dealership and since it is in such good condition I was able to purchase three more years of bumper to bumper factory warranty for it. Now it really is just like a brand new truck in spite of being used.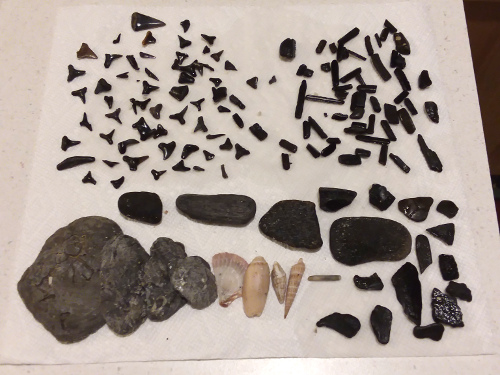 12/27/18 - A Christmas Day Fossil Hunt
Our families had our Christmas get-together, dinner and gift exchange on Christmas Eve. That left my fiancee and myself free to spend Christmas day together doing whatever we liked. We decided to head down to Venice Beach to hunt fossils and shark teeth. The wind and water were cold, but the beach was absolutely jam-packed with people. Looks like everyone in west Florida decided to hit the beach on Christmas day. We weren't expecting such a crowd. It was hard to find a parking place, and we had to walk a long way north along the beach to find places not so crowded where we could do our shoveling, scooping, sifting and sorting. Like I said above, the water was cold, so we were only out there a couple of hours before we were both chilled enough to call it quits. Still we found some good stuff. We got a lot of shark teeth, including one mini meg tooth of respectable size. We got lots of stingray mouth plate parts. We also found lots of bits of wave tumbled bone that is not really identifiable, but likely from dugong ribs. We also found a sea urchin spine, some fossilized sea shells, bits of turtle shell and what looks to me like a piece of tusk ivory. The best find of all though was a huge dermal scute my fiance found sitting on the dry sand above the water line. We aren't sure what it is from. We also collected a few of the pretty modern shells we scooped up. Most of this stuff is destined for the kid's mine at Fossil Fest where a big sandbox is salted with fossils and kids are taught how to sift through it to find and identify fossils. Click the image for a larger view.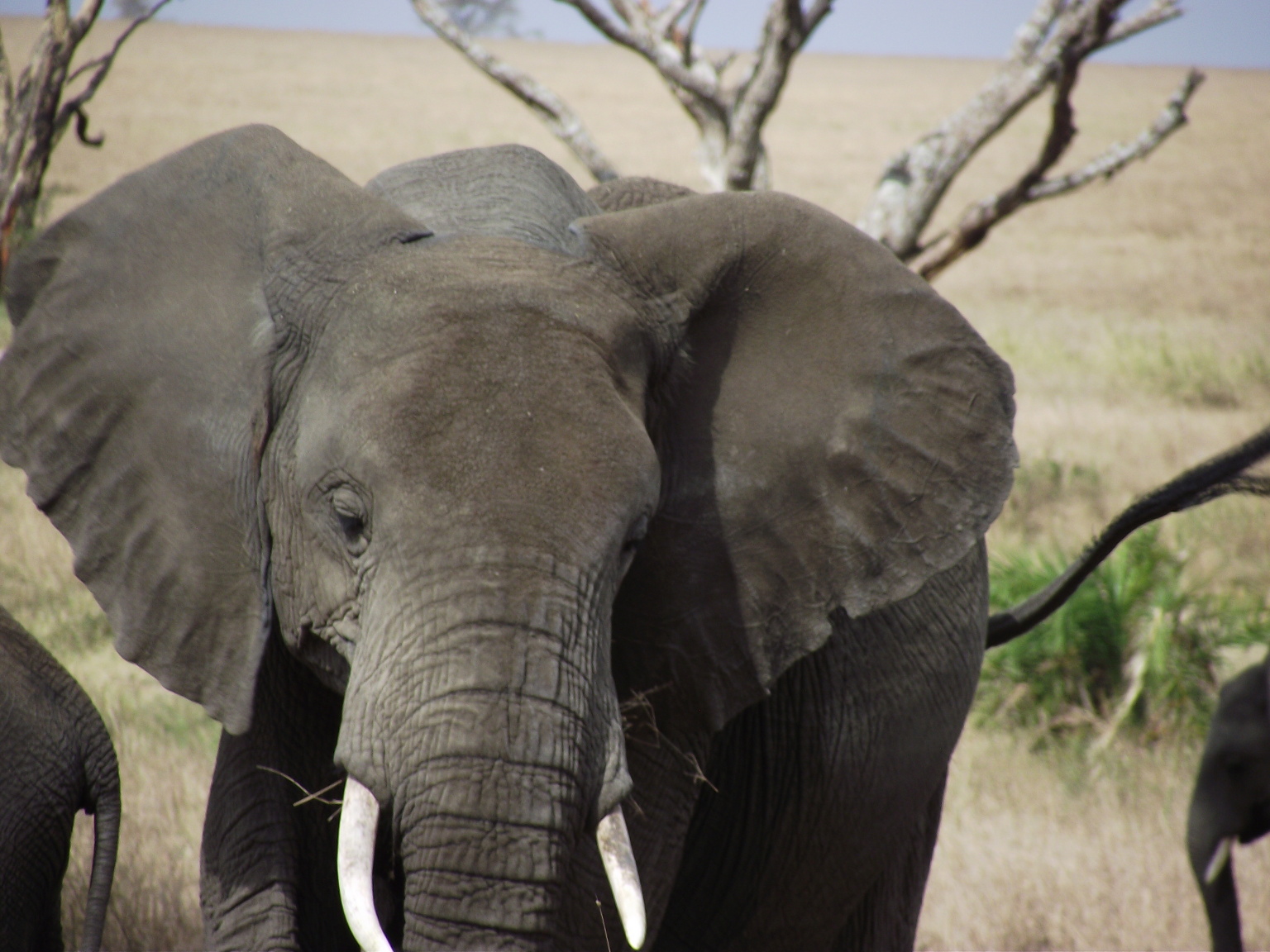 12/23/18 - Major update to the Africa and Dubai page
I've just completed a major update of my Africa and Dubai trip page. The third member of our party, Mary in Ohio, just sent us a thumb drive with all her photos from the trip. I have added some of her photos and expanded the write-ups. Mary got some really great photos, and different angles on things, that neither Leslie nor I got. Check it out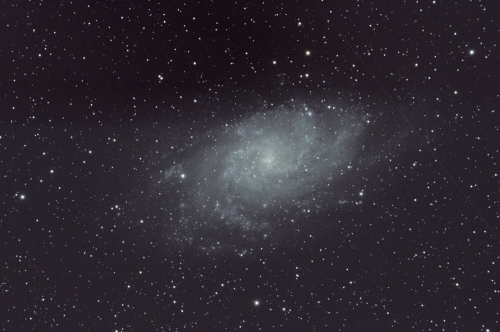 12/14/18 - Just back from an extended vacation in Arizona
I just got back from an extended stay at my remote property in Arizona. It was great, but really cold. I'd never been out there in December Before. It may be a while before I go back in December, or any other winter month. I did have a good time in spite of the cold. I got a lot done, including doing a lot of astrophotography. Here is a photo of galaxy M33 taken on this trip. Check out lots more photos and the full write-up on the trip on my vacation and travel photos page.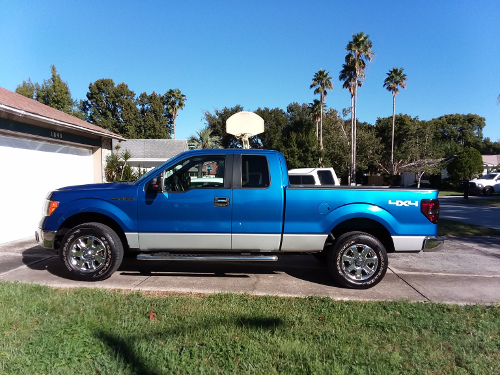 11/15/18 - I bought a new truck!
Well, new to me. It's a used F-150, but in like new condition. I got it at an amazing price, (I practically stole it), so I couldn't resist. I think it has almost every option known to man on it too. I had been toying with the idea of buying a full-size pickup. I've been renting them on vacation trips to essentially test drive them. I'd shopped around a little lately too. I didn't see anything like this truck at any less than several thousand more. When this listing showed up at a nearby Ford dealership I knew had to go take a look. I checked it out front to back, crawled underneath it, and into the engine compartment, I took it on a vigorous test drive meant to expose any rattles, squeaks, engine, transmission or brake issues. The poor salesman riding along managed to not loose his lunch. I bought it on the spot after the test drive. It's fantastic. I love it. The only modification I am going to make is to add a topper to it to keep my stuff dry.

As you can just see from the photo in the background, my Toyota Tacoma is still here. I didn't trade it in. My plan is to drive it out to Arizona in the Spring and it can live the rest of its life out there. I'll put it in storage near the airport. Then when I fly out to my place in Arizona I just need to take an Uber from the airport to the storage facility and presto, I have a vehicle. No more rental cars. I've found several possibilities for cheap storage that make this plan more cost effective than continuing to rent vehicles on my trips. Especially since I am planning more and longer trips in the future.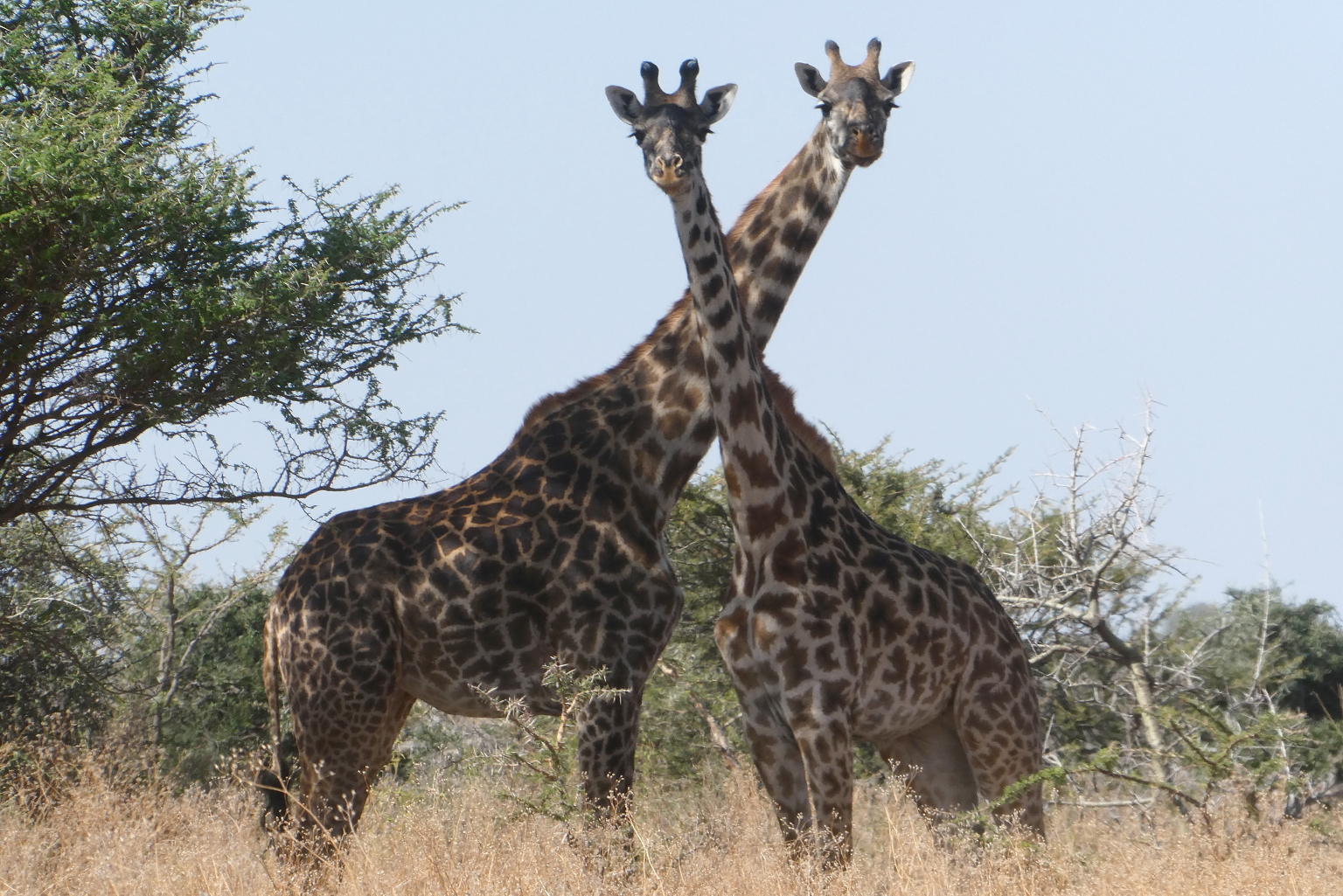 11/03/18
- Africa and Dubai trip page online!
It took a while, but I finally have
the web page with lots of photos and videos from our Africa and Dubai trip
online. This page will likely be a work in progress for a while. There's lots more stuff I want to add to it. As it is now though, it's a good start. There's already over a hundred photos and videos on it. It'll give you a good idea of a lot of the places we went and the stuff we saw and did on our amazing 15 day trip.
Check it out.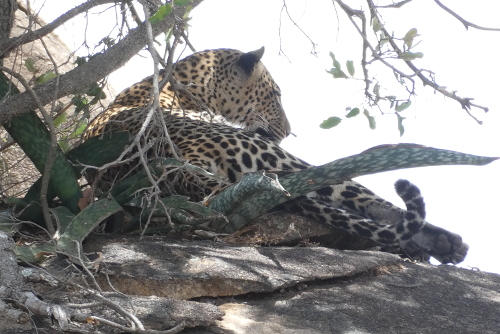 10/25/18 - A couple more Photos from our Africa Trip.
Still working on getting the dedicated Africa page put together, Here's a really great photo of a leopard my fiancee took. Our guide knew the leopard was hiding in the rocks somewhere. We drove around looking for him for an hour before finally spotting him. He was well hidden. He was only visible from one place through a gap in the rocks.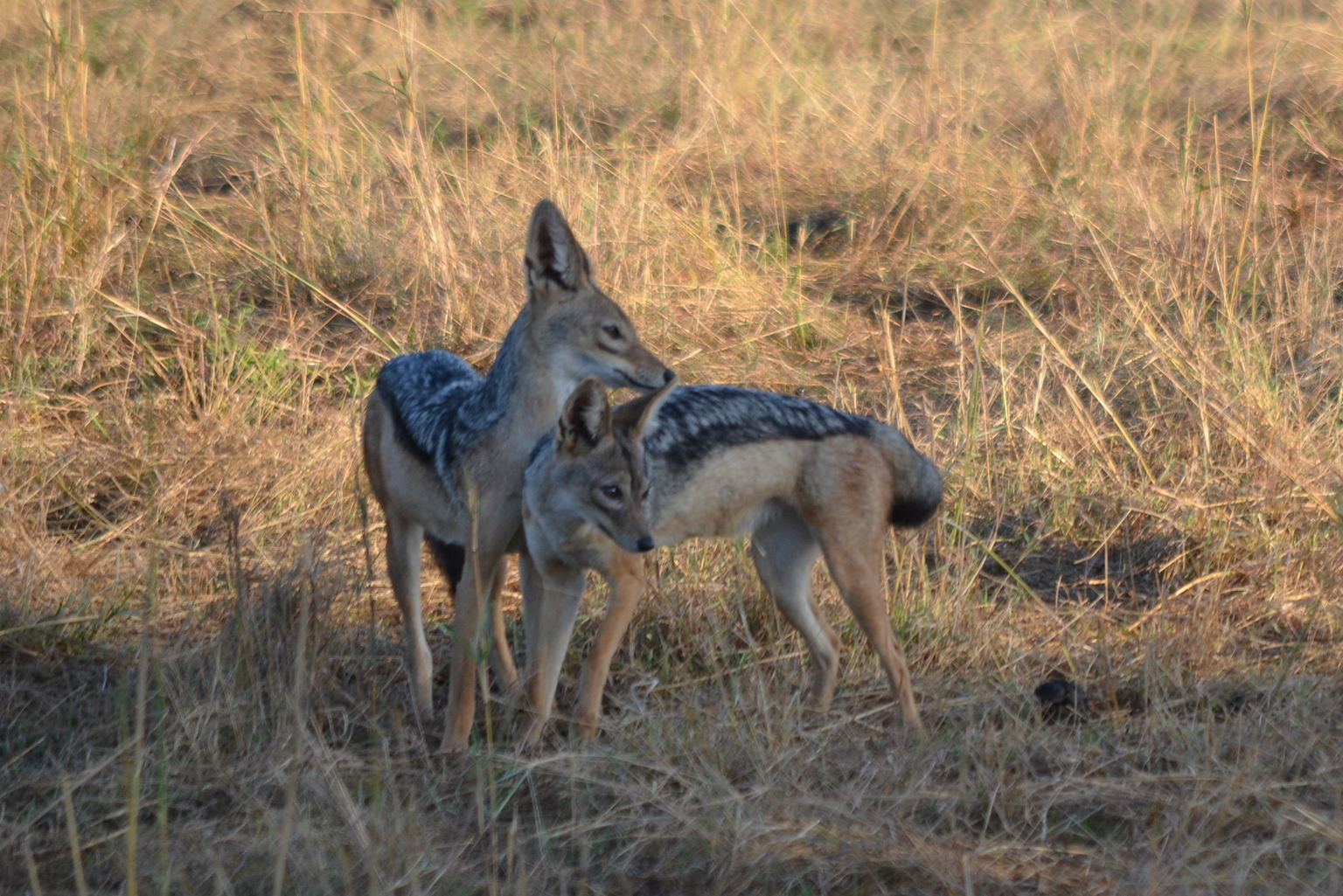 And here is a photo of a couple of black-backed jackals. I think they were some of the cutest animals we saw in Africa.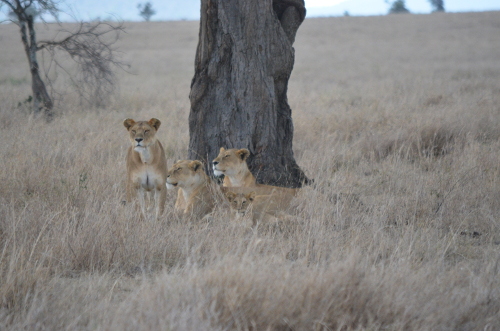 10/22/18 - More Photos from our Africa Trip.
While I slowly get the dedicated Africa page put together, I'll preview some of the highlights here. It's going to be a while. Leslie and I exchanged photos yesterday. Now I have hundreds more photos to sort through. Eventually I'll get Mary's photos too. Who knew three people could take so many photos in two weeks? It's just an incredible mountain of material, and there is only so much time in the day to deal with it. Once online, the page will likely be a work in progress for quite a while.

Anyway, here's a photo of three lionesses and a kitten. I have video of this family group too. It will get uploaded to Youtube eventually. Also, I'm trying out a new and slightly larger photo size for my blog to see if I like it. As always, click on the photos for a larger view.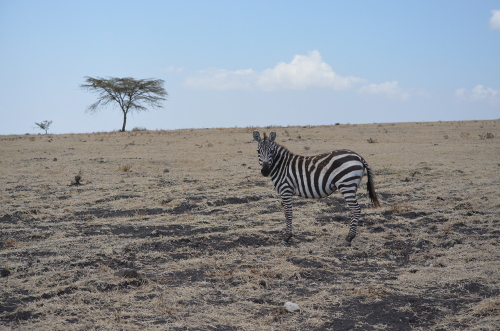 And here is a photo of a lone zebra. We saw thousands of zebras, singularly, in small groups and in huge herds. Something about this photo of a lone zebra in front of a lone acacia tree just grabs me. I really like it.

Hard to believe I could come to love a place so much after such a brief exposure to it, but I really miss Africa. Every day there was magical.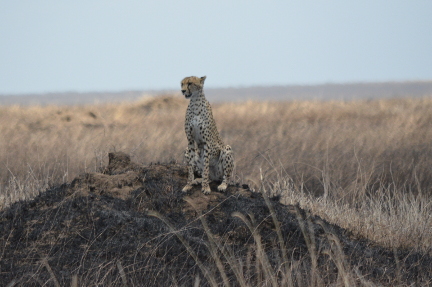 10/18/18 - Working on getting the African Vacation Photos Online.
I'm working on getting a lot of the photos and video from our recent vacation to Africa and Dubai online. It's going to take a while. The number of photos and videos I shot was massive. Plus I was traveling with two other people who shot a lot of great photos too. There is too much stuff for my usual travel and vacation photos site. I'm going to build a dedicated section just for this vacation and all the media that came from it. It's just going to take a while.

In the meantime, here is a photo of a cheetah sitting on a termite mound in Serengeti National Park surveying the countryside for something to hunt.

And here is a video of the Dubai Fountain Show. The Dubai Fountain is the world's largest choreographed fountain system. It sits at the base of the Burj Khalifa, the world's tallest building, and right next to the Dubai Mall, the world's largest mall. That's how they are in Dubai. Everything has to be the world's biggest, world's tallest, world's most spectacular, whatever it is. Second best isn't good enough for them over there.

I have to admit, it is a spectacular show, especially after dark. The shows draw huge crowds.