I often get requests from people to use one of my vacation photos for some project or other. They have been published in three books, used as the cover photo on a book, used in calendars, and published in pamphlets and brochures. I am usually ok with this as long as people ask permission first. These photos have been cropped and resized, and may not be ideal for use in print projects. Given a couple of days, I can usually locate the original high-resolution image file for you.
Photos and video from our October 2018 vacation to Tanzania and Dubai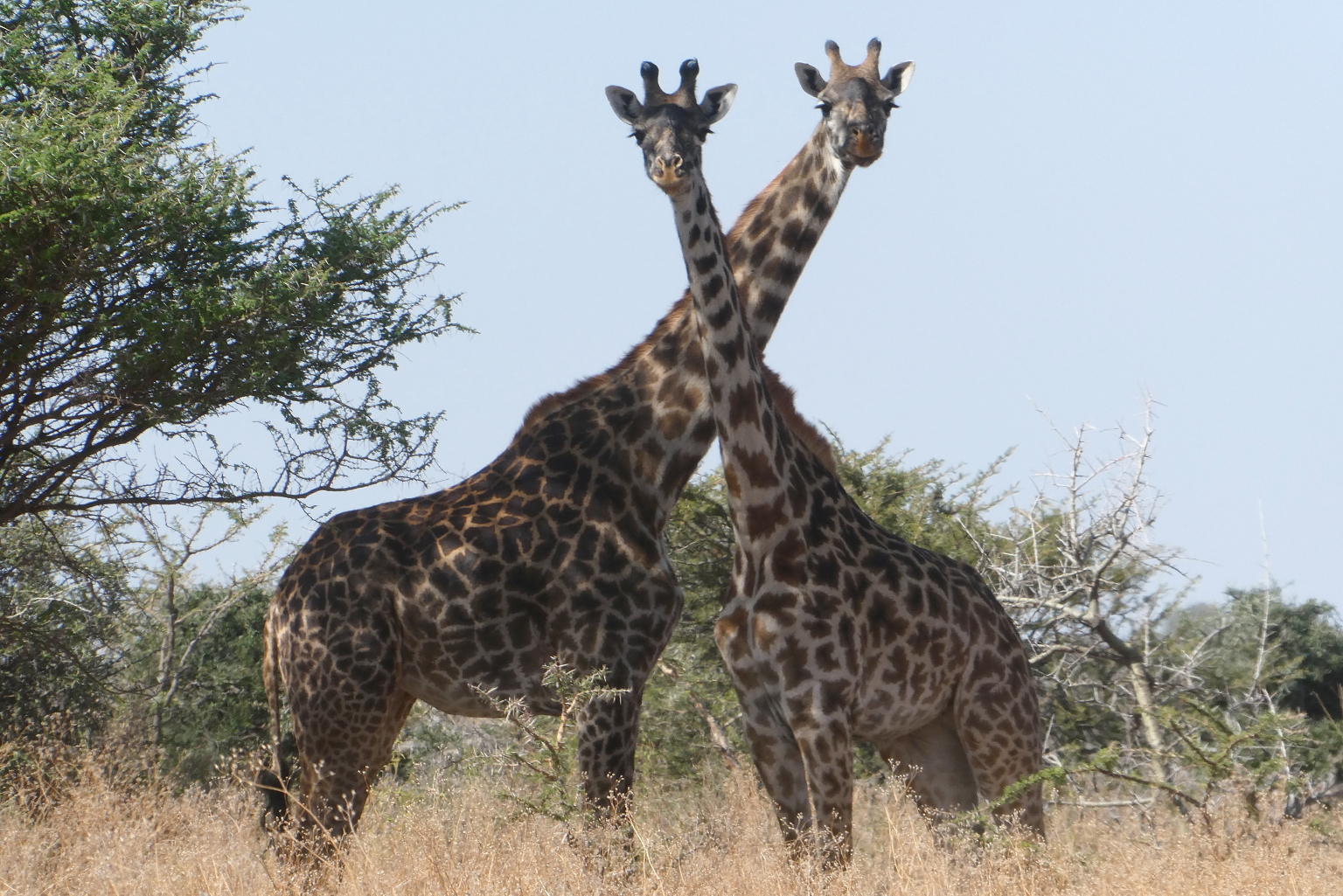 11/03/18 - Africa and Dubai trip page online!
It took a while, but I finally have the web page with lots of photos and videos from our Africa and Dubai trip online. I created a separate page for this vacation due to the sheer bulk of media from this trip. The page will likely be a work in progress for a while. There's lots more stuff I want to add to it. As it is now though, it's a good start. There's already over a hundred photos and videos on it. It'll give you a good idea of a lot of the places we went and the stuff we saw and did on our amazing 15 day trip.

Check it out.

Photos from my September 2018 vacation to my remote Arizona Property
I just got back from a nine day vacation out to my remote Arizona property. I needed a break from work, and some peace and quiet for a while. I had a really good time. It was a very relaxing trip, and very inexpensive too. I flew there and back for free using my accumulated airline points. I also found an outrageous deal on a rental vehicle (see below). I wanted to do some construction, some astronomy, some astrophotography, some rock-hounding, and some back-road exploring on this trip. I got to do at least a little of all of them, plus just rest and relax. The weather did not cooperate for astrophotography most nights. I'm not normally at the property during the height of summer monsoon season, but it was the only time I could go due to work commitments and an upcoming trip abroad. Even with the weather ruining most of my astrophotography plans, it was still a really great and relaxing vacation. Photos and details below.

Click on any photo for a larger view.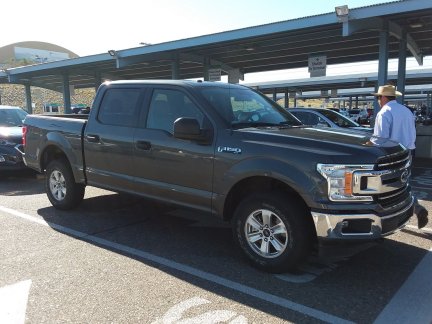 I found an amazing deal on an F150 4X4 pickup truck. Believe it or not, it was only going to cost me $175 for nine days. I couldn't believe it myself. I kept waiting for the gotcha moment at the rental counter, but there wasn't one. I actually spent about an extra $300 on full coverage for it since I have been a little rough on rental vehicles lately, and the full coverage has saved my ass a couple times when I returned them all banged up. Still, the total for nine days for such a capable vehicle was amazingly low. I wanted to rent a truck so I would be able to haul construction supplies to my remote cabin. It was also fun to put it in four wheel drive and explore some seriously rough and muddy back roads. I even took it off-road a few times, but don't tell the rental company. I think there may have been a provision against that in the fine print of the contract.

I'm thinking of upgrading to a full-size pickup truck. I consider this a nine day test drive of a brand new 2018 Ford F150. I have to say I am impressed with it. It will certainly be a contender if I do take the plunge and buy a full-size truck.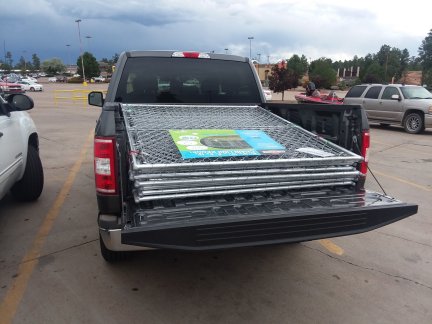 Here is one time where the truck really came in handy. I picked up all the parts for a 10 x 10 dog kennel in town and hauled it out into the boonies to my property. I wanted to use the dog kennel to make a wind break for my telescope. The wind is almost always blowing on my property. It shakes my telescopes and makes viewing or photography difficult. I hit on the idea of using a dog kennel as a wind break on my last stay at my property, but didn't have the time to implement it, or a vehicle that could haul one. I also used the truck for hauling lots of other stuff out to the property, including some lumber and some insulation bats for the cabin.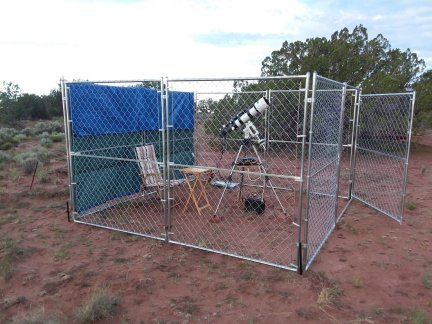 Here is the dog kennel set up on my property with one of my telescopes inside it. I can secure tarps on whichever sides the wind is coming from to block it and help stabilize the telescope. It works great. It was also not terribly expensive and super simple to set up. The instructions recommended that two people do the assembly, but I was able to do it by myself in only a little over an hour.

My long-term plan is to build a roll-off roof observatory, so I can keep the telescopes set up and aligned all the time. I'd just have to roll the roof back and start photographing. That is a little while down the road though. It's tough to take on such a major construction project when I am only on site for a week at a time, a few times per year. I'm going to live with the wind break for now and tackle the rest a bit at a time. I think the next step will be a permanent pier to attach the telescope mount to. Then I will build on that over time.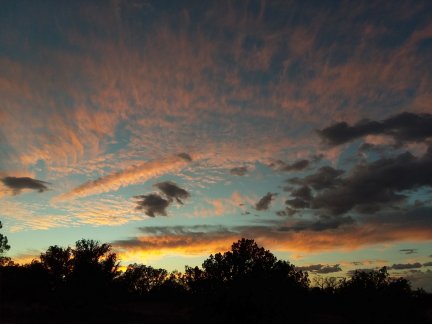 Unfortunately the weather was not really conducive to doing much astronomy on this trip. I seem to have hit the height of the summer monsoon rains. It rained nearly every day, and was cloudy most of the time. It made for beautiful sunrises and sunsets, but the clouds lingered through most of each night. Thunderstorms hung out on the horizons all night most nights, firing off lightning flashes that lit up the entire sky. It was not good weather for trying to do photography.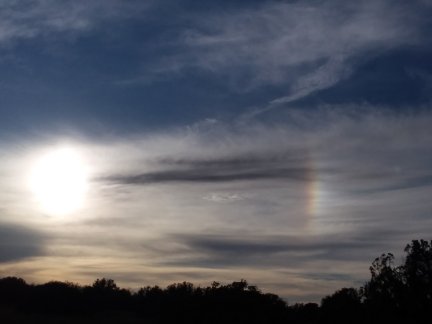 I normally visit my property during the dryer months in late spring and early autumn. This year I will be traveling abroad during early autumn, so I had to settle for going to Arizona in the late summer. The weather was certainly interesting. The sky was always roiled with some kind of interesting cloud formation. One afternoon I arrived back at the property to the sight of a bright rainbow sundog next to the setting sun in the west, with a normal rainbow (see below) on the eastern horizon at the same time. I wish I had a 360 degree camera that day.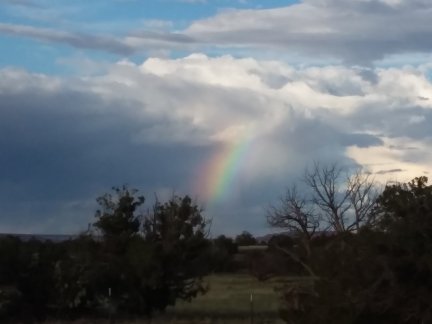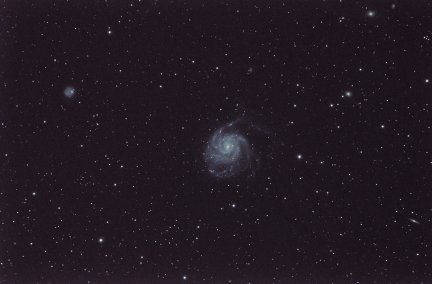 In spite of the weather, I did manage to get part of one evening of serious photography in. I managed to image a couple of objects before the clouds got too bad to continue trying to do photography. Here is a stack of ten 5 minute exposures of M101 and its surroundings. I think it turned out pretty darn good.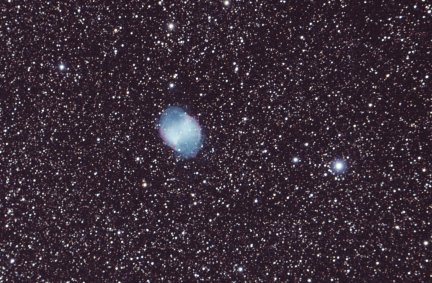 Here is a deep exposure of the Dumbell Nebula. It is another stack of 5 minute exposures. I never noticed those radial lines of stars in the nebula before, but they really stand out in this image. The central star is really prominent too.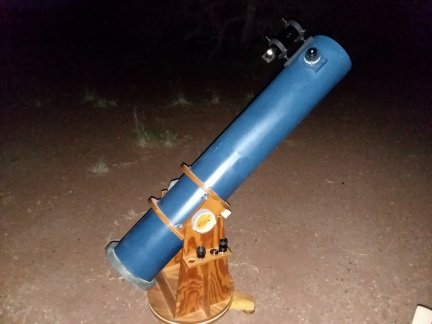 Most nights it it was way too cloudy to even attempt photography. I had to satisfy my urge to observe by hunting through sucker holes in the clouds with my trusty old 6 inch f/8 Dobsonian scope. I got good views of Mars, Saturn, Jupiter and Venus, which were nicely lined up east to west along the ecliptic after sunset. I also hunted down a few deep sky objects in the summer Milky Way which was arching across the zenith right after sunset.

One day, while I was in town buying supplies, I came across this chili roasting setup outside the Basha's grocery store. Chili roasting is a very common sight all over the southwest when the chili crop comes in. I filmed a brief video of the process.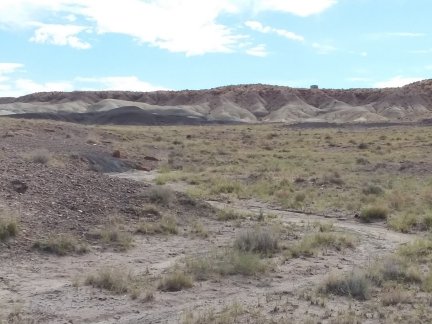 One day I went back out to my secret badlands location to collect some more petrified wood. I love the badlands. It's an amazing landscape. See also my Nebraska White River Badlands fossil hunting adventure on my fossil hunting web page.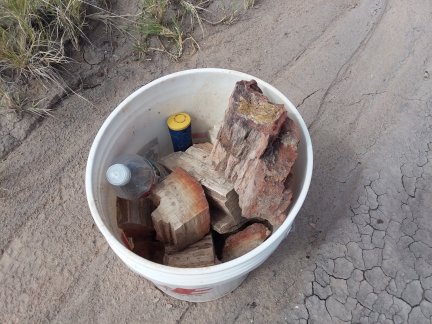 I went a little nuts this time. I collected about 50 pounds of petrified wood. That bucket is really heavy, and I carried another big chunk out too that wouldn't fit in the bucket.

While I was in a rock collecting mood, I drove to Holbrook to do my laundry and root around in the rock shops there. I bought a couple of big geodes and some really pretty pieces of rainbow petrified wood that I am going to try to cut and polish up myself. Fortunately, I took the nice, expensive rocks home in my checked baggage (see below).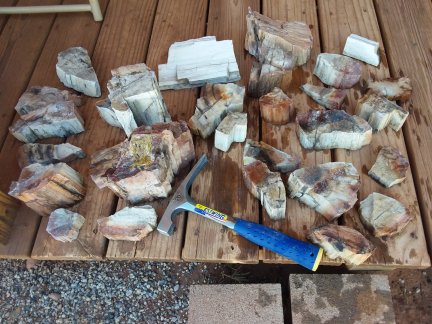 So here is the day's haul of petrified wood after washing all the mud and clay off of it. Yes, I went a little crazy with the collecting that day. I plan on keeping some of it for myself to display and try polishing. The rest I plan on donating to be auctioned or raffled off at various Fossil Club fund raising events.

I mailed about two thirds of this wood home to myself. I wrapped the pieces in bubble wrap and filled up two large flat-rate boxes with them. I took great care wrapping and cushioning the pieces. Unfortunately the post office did not take such great care in delivering them. The boxes arrived at my home looking like they had been run over by a truck, several times. Some of the pieces got pulverized. Naturally it was some of the most interesting looking pieces that got damaged. I still have lots of petrified wood to play around with though. I just keep reminding myself that I didn't pay anything for it, so I'm not out anything. I'll probably use FedEx next time though.

There were a lot of hummingbirds buzzing around my property on this visit. They started buzzing around everything the least bit red almost as soon as I drove onto the property. Watching them hovering around the taillights of the truck was comical. I quickly put out the feeder to give them something productive in red to concentrate on. The feeder was quite popular and there was a lot of activity around it. Naturally not when I was ready and standing by with the camera most of the time. I did manage to capture some of the activity. One hummingbird seemed to think the feeder was his personal property. He would drink his fill then sit on a nearby tree branch and guard the feeder. When other hummers came to it he would dive bomb them, and amazing high-speed dogfights would erupt involving up to three birds. I didn't manage to capture any of those dogfights on video unfortunately. The bumblebee buzz of hummingbirds flying around was a constant soundtrack from dawn to dusk during the whole time I was there. It had been a wet summer and there were wildflowers everywhere. So the hummingbirds were eating well even before I put up the feeder.

Click to learn how to meet them
Photos from my April 2018 Vacation to my remote Arizona property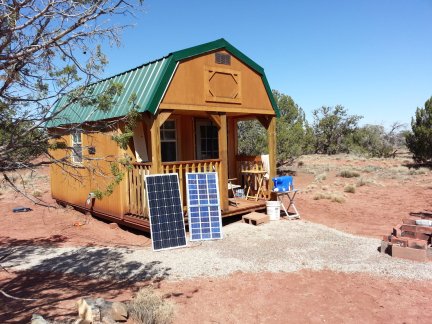 It was great to get back to my little cabin in the woods in Arizona. I arrived after dark and had to open up by the light of the rental car headlights. My flight got into Phoenix late and the backup at the rental car counter was over an hour long. So I didn't get on the road for the 4+ hour drive to my place until a lot later than I planned. But that was really the only bad part of this vacation. From then on things went great.

I had a few projects and lots of recreation planned for this trip. I achieved both objectives. Among the projects were re-arranging and de-cluttering the cabin to make room for a queen size bed so my girlfriend can come out and stay too without one of us having to sleep in the Lazy-Boy chair. Finishing the stone walkway was also on the agenda. I bought the materials needed to put another coat of waterproofing on the cabin, but decided to wait. The previous coat was still working well. I'll do that on a future trip. As for recreational opportunities, I planned on exploring the mountains, going fossil hunting, doing astrophotography and doing some shooting. I did all that and more. It was a great vacation.

Click on any photo to see a full-screen view, especially the astrophotos below.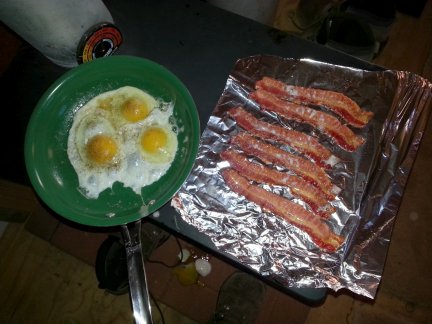 It was a little chillier than usual on this trip. It got below freezing a couple of nights and never warmed up out of the 50s a couple of days. My wood stove and propane heaters got a lot of use on this stay. Here is a shot of me cooking breakfast on top of the wood stove. It does a good job of cooking bacon and eggs, and heating up my tea in the mornings, while heating up the cabin. Oops, I dropped an egg on the floor. Well, that's what I get for trying to take pictures while cooking. Frying eggs wait for no man, especially not on a red-hot stove. I finished cooking the eggs so they wouldn't burn before cleaning up the mess. I ate well on this trip. Probably a little too well. I made a variety of meals on either the top of the wood stove or on my little propane camp stove. I also cooked over an open fire outside several times. I'm getting the hang of cooking in relatively primitive conditions (compared to my huge and well equipped kitchen back home) and maybe eating a little too much.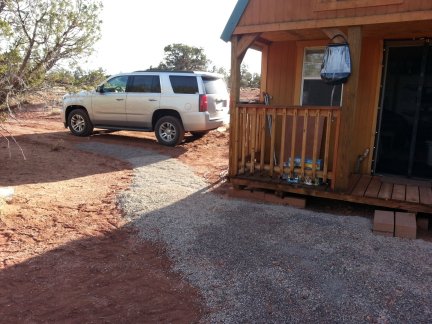 The stone walk is essentially complete. I extended it out to where I normally park so I will be able to get from the car to the cabin and back in the rain without having to slog through the mud and track it everywhere. That's the theory anyway. It hasn't rained a drop on my last three visits to the cabin. Still I know that someday in the future I will be there again when a storm comes through and turns my 40 acres of red dirt into a sea of mud again. Only a matter of time. I may add another layer of gravel to build up the walk a little higher. I may also add edging to keep the gravel from getting scattered. Those are projects for future visits.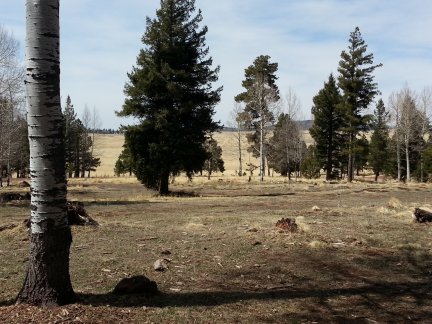 As usual I took a drive over to the White Mountains. I love those mountains. I did a little exploring. Gathered a bunch of firewood for my wood stove, and then spent a few blissful hours sitting in a meadow with an awesome view and just chilled out with a good book and a picnic lunch for the bulk of the day. It is an incredibly relaxing place.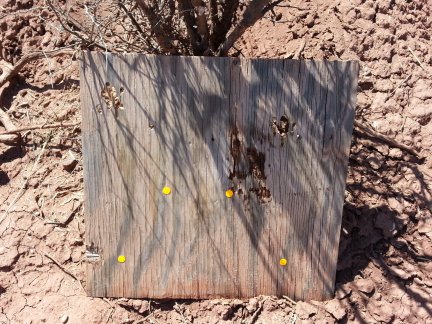 One day I grabbed an old piece of plywood, stuck some half inch target dots on it, and headed down into a nearby arroyo to do some target shooting with my trusty Ruger P85. I am proud to say I nicked a target with the first shot from each of two magazines I fired before taking this photo. The rest of the rounds from each 15 round magazine made nice tight groups with only one flier. Not bad for not even touching this gun since last year some time, and for not having my shooting glasses with me. I decided I was still in good practice and so stopped shooting after only 30 rounds. It's a 50 mile trip one way to buy more ammo. Since I was shooting that well I decided to save the rest and the target for another day.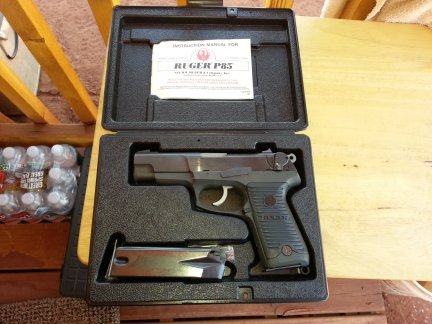 So here is my trusty Ruger P85 9mm pistol. It has a 15 round capacity and is built like a tank. It is a heavy gun. It makes my Glock 19 feel like a toy by comparison even though they are similar in size and identical in capacity. The Ruger has a lot more metal and less plastic than the Glock. That makes it heavier, but not uncomfortably so. The heavy Ruger really absorbs recoil and hardly moves off target. The recoil is hardly even noticeable. I am indecently accurate with this gun. Have been since the first time I ever fired it. It has always surprised me at how accurate it is. Talk about point and shoot.

I bought this gun some years ago at a flea market in AZ. It was an older model gun even then, but appeared to be in like new condition and hardly used at all. An old guy was selling it. We dickered on price a bit, I handed him cash and walked away with it. He even threw in half a box of ammo. No paperwork. No background checks. No waiting period. No nothing. Just cash & carry, and it was all perfectly legal. Gotta love Arizona. I love this gun. It is by far my favorite.

One day I decided to go explore an area of badlands near my property and look for fossils. Here is a view of the badlands as I entered them. Lots of strange rocks and different layers of colored strata were exposed by the erosional forces of nature. It's a surreal landscape. I spent several hours wondering around there, climbing up and down the hills and into and out of the valleys.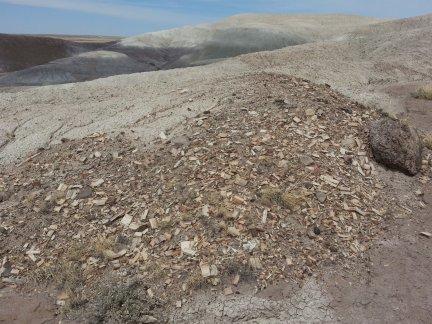 I went to the badlands looking for fossils. The only fossils I found were petrified wood, but Boy Howdy did I find a lot of petrified wood. Literally tons and tons of it. almost every rock in this photo is a piece of petrified wood eroding out of a layer of the badlands deposits. There were places where the ground was completely covered with shards of petrified wood and it sounded like I was walking on broken glass. The pieces ranged in size from tiny shards up to massive chunks, to partial logs still mostly buried in the ground. I'd sometimes snag a piece of interesting looking wood with my rock hammer to try to pull it out of the ground for closer inspection only to find it was just the tip of a large buried piece that would take lots of digging to excavate, and would be too heavy to cary. I have lots of photos of the badlands area and all the different kinds and colors of petrified wood I found there, but am only posting a few representative photos here to keep from cluttering the page.

The petrified wood was confined to one particular grey colored layer of the badlands deposit. There was none above or below that layer, though a lot of wood had eroded out of that layer and dropped down to accumulate in the low areas and arroyos between fingers of badlands. In places the layer with the wood was at ground level. Other places I had to climb up to get to it. In other places it was still buried under other sediments and not yet exposed by erosion.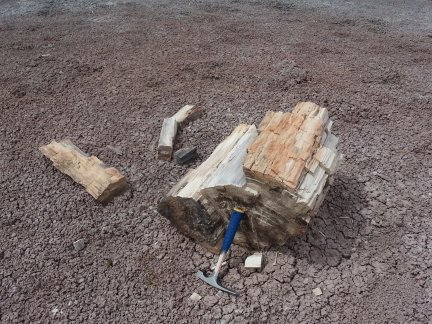 Like I said above, it wasn't just little shards and chinks of wood that I found out there in the badlands. There were also big sections of logs exposed. I'll bet this piece weighed close to a ton. The large chunk to the left of the log probably weighed close to 100 lbs alone. I found several of these large log sections. some were mostly exposed like this. Others were still in the process of eroding out of the badlands sediments. It was almost as good as a trip to the Petrified Forest National park, but this was closer, free, and I could collect specimens to keep.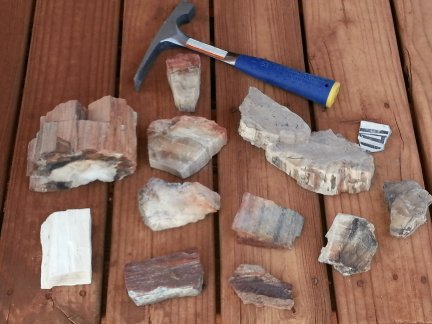 So here is the day's haul of petrified wood specimens, and a pot sherd I found too. I basically collected until I had as much as I could carry. I kept throwing back lesser pieces whenever I found something more interesting or more vividly colored. Next time I will take a bucket with me so I can collect more. This photo doesn't do the colors of the wood justice. I am planning to polish some of them to really bring out the colors and textures.

It was a really great day out in the badlands. I can't wait to go back again.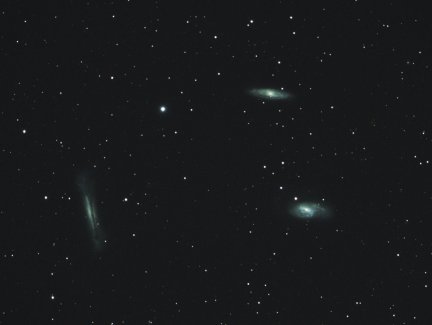 Every clear night while I was there I was out at the telescope taking photos. It was up way too late some nights, but it would have been a shame to waste any time under that ultra-dark sky. Here is a photo of the Trio in Leo. It is a stack of three minute exposures taken at prime focus with my four inch refractor.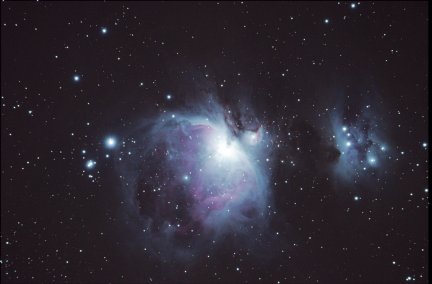 Here are the Orion and Running Man nebulas. It is a stack of one minute exposures taken at prime focus of the four inch refractor.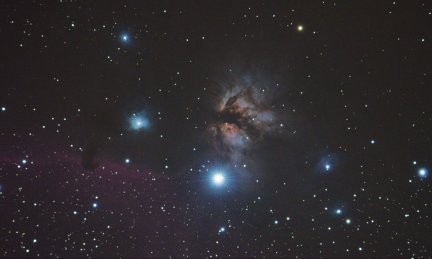 Here is an image of the Flame and Horsehead nebulas. It is a stack of three minute exposures at prime focus of the four inch refractor.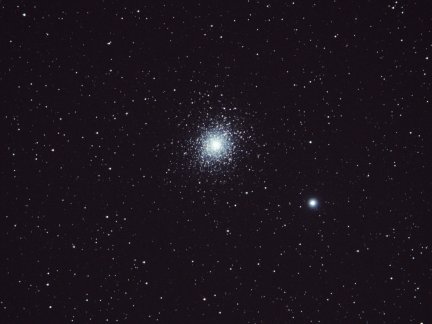 Here is a photo of globular Cluster M5. It is a stack of two minute exposures taken at prime focus of the four inch refractor.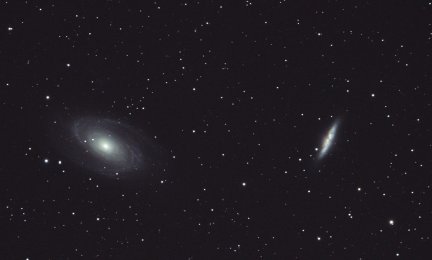 This is a photo of the galaxies M81 and M82. It is a stack of three minute exposures at prime focus of the four inch refractor.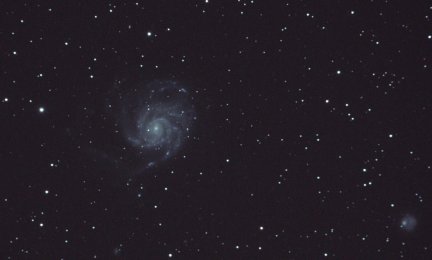 Here is an image of galaxy M101 and it's gravitationally disrupted companion. It is a stack of three minute exposures at prime focus of the four inch refractor.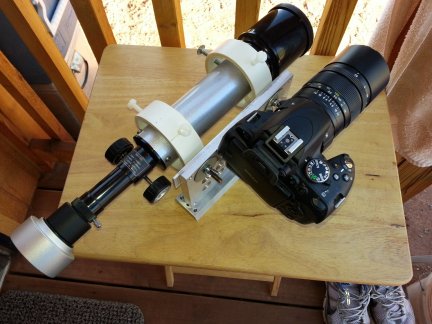 I also wanted to experiment with some wide-field photography using various camera lenses. I tried that on my last trip to Arizona. I'd mounted a camera mount on the telescope mount, but found that without guiding I was limited to fairly short exposures. So I built this camera rig to attach to the telescope mount. It consists of a Vixen style dovetail bar with a piece of aluminum plate bolted onto it vertically. A heavy-duty camera mount and rings for the guide scope are mounted on the plate. That way I can use my autoguider for long exposure shots with various camera lenses.

There is a write-up on how I built this rig on my Telescope Workshop Page.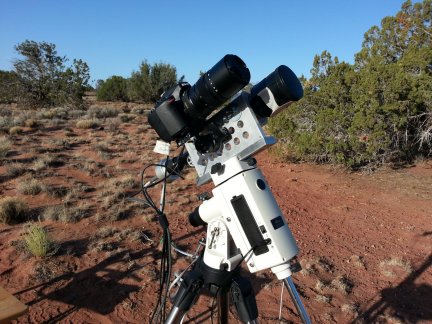 Here is a photo of the camera rig attached to the telescope mount. I built it at home in Florida and took it to Arizona in my checked baggage. It must have aroused the suspicion of the TSA because thy inspected my bag. The rig works great. I used it several times. I'm going to leave this one in Arizona and build myself another one for use back in Florida.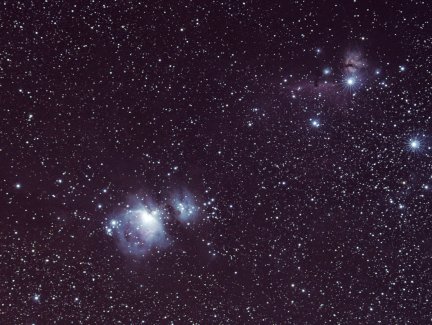 Here is a wide-field view of Orion taken with a 135mm telephoto lens using the above camera rig. It is a stack of one minute exposures. You can see the Orion, running Man, Horsehead and Flame nebulas all in this one photo.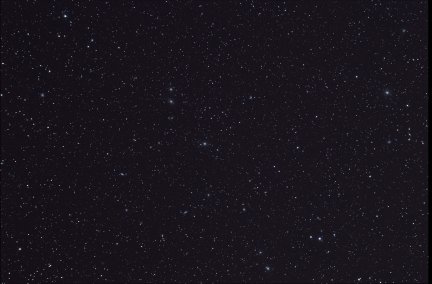 This is another photo taken with the 135mm telephoto lens. This is a very large photo and may take a while to download. I did not resize it this image like I have the others. It is a wide-field view of the Virgo Galaxy Cluster centered on M86. This image contains hundreds of galaxies. Zoom into it and scroll around. The number and variety of galaxies visible in this one image is amazing. It really blew me away. I plan on doing an even deeper image of of the Virgo Cluster again in the future.

Click to learn how to meet them
Photos from the 2018 Orange Blossom Special Star Party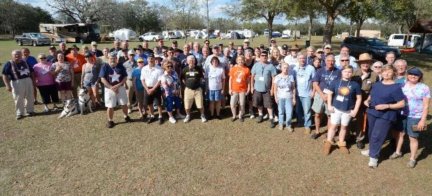 I got back from the OBS a little over a week ago. Haven't had a chance to post any photos before now. The weather did not cooperate very well this year. Out of four nights we only had a few decent hours to observe and image the sky. The rest of the time it was very cloudy. So the star party turned into a just plain party and mass camp-out. At least it didn't rain or get too cold. So we had lots of fun doing outdoor stuff during the day, and showed movies in the activity tents on the cloudy nights.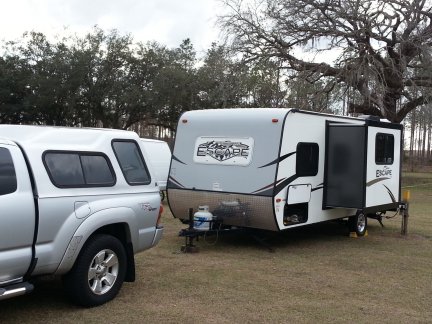 I rented a really nice camper this year. It had a slide-out, and was very spacious inside. My girlfriend came out and stayed for the last evening of the star party and it was plenty roomy for the two of us. The camper was very comfortable, easy to set up and also pulled very easily with my Tacoma. I absolutely loved it. I'll try to rent this camper on future camping trips.

This is a photo of me leading the Collimation workshop at the OBS. I was unable to lead the nature hike AKA Death March) this year as I usually do because of my slowly healing ankle injury. So I volunteered to do the collimation workshop instead. I also helped out with the mirror lab grinding presentation.

For the collimation workshop I borrowed Jeoge's scope and purposely threw it out of collimation to demonstrate the different tools and techniques that can be used to bring a telescope back to perfect collimation. There was a good group in attendance and they asked good questions. It was a fun workshop.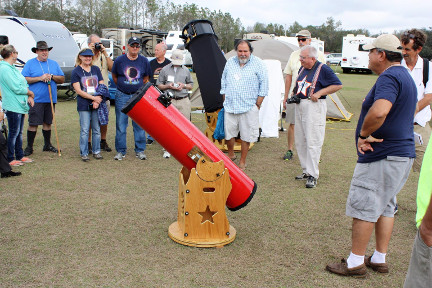 This year we had first light for two different telescopes made by students at the SPAC Mirror Lab. This is a 10 inch 4.5 dobsonian telescope built by Jeorge Moralles. Here Jeorge is talking to the assembled crowd during the telescope walkabout all about grinding the mirror and building the telescope. The Telescope walkabout is an event on the final day of each OBS where a guide takes interested members around the field and everyone gets a look at all the different types of telescopes assembled. The owners of the scopes get to explain the virtues of their particular type of scope, and the crowd gets to ask questions. It is one of the highlights of each OBS. I normally lead the walkabouts, but my bum ankle kept me sidelined this year.

I fused the glass mirrors for both new telescopes that saw first light this year. Here I am standing on the left looking on like a proud papa as Jeorge on the far right tells the assembled crowd all about his telescope during the Telescope Walkabout.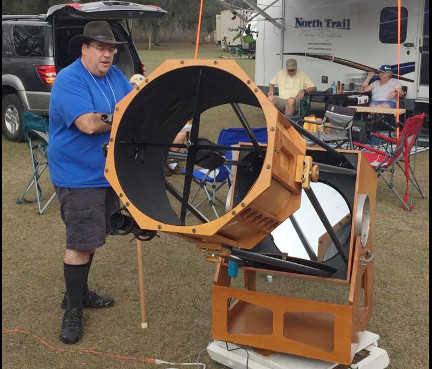 As usual I had my big 17.5 inch DOB scope with me and all decked out with its accessories. Unfortunately it didn't see as much use as it should have under the cloudy skies we suffered from this year. As usual it was a hit during the telescope walkabout. It also provided absolutely stunning views for a few hours the first night of the star party when we had thin cirrus clouds, but rock-steady seeing.

I've made some changes since last year. A new dual-speed, low-profile focusser has been installed. The length has been shortened to provide more back focus for mounting a camera. A new light shroud. Some balance weight has been removed making the scope (slightly) lighter. It also has a new system of bolt-on wheels for moving it around more easily. The scope is a real joy to use. Too bad the sky didn't cooperate most of the time. Better luck next time.

Click to learn how to meet them
Photos from my November 2017 vacation to Arizona
Just got back from a much needed vacation to my remote Arizona cabin. Work has been nuts the last few months (more like a year actually). I've been working 11 and 12 hour days, working Saturdays, and some Sundays too. I was getting burned out. I needed a break. So I took off for a week on my remote Arizona property to unwind and do some astrophotography. I was a little concerned about how cold it could be going out there in November. I'd never been there that late in the year before, and had seen snow as early as October in the past. I lucked out this time and the weather was relatively warm and dry. It was cold at night, but nice during the days with no precipitation at all until my last day when there was just a little light rain. The weather was cloudier than I would have liked for the astrophotography, but on the whole it was a great vacation that helped me decompress.

Click on any photo to see a larger version.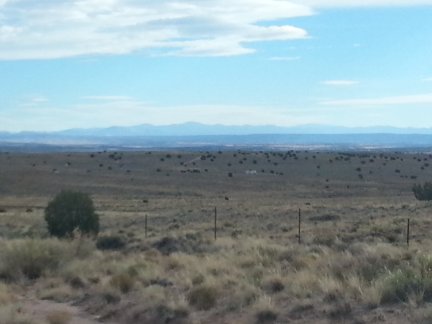 Here is a view of the Arizona White Mountains from near my property. My place is about 40 miles north of the mountains as the crow flies, but further by road. The foothills start just to the south of me. The Little Colorado River, which starts in the mountains, passes just a mile or so from my property. The country side around my property is lots of rolling hills with areas that are heavily treed with juniper interspersed with areas of open prairie and pasture land. I love this country. The views are amazing from the tops of the hills. Below I would drive over to those mountains in the background to go exploring and just relax.

Here is a photo taken high up in the White Mountains. I love these mountains, and make it a point to get up in them at least once or twice on each visit to my property. Here I have gained about 4000 feet of elevation over the last photo. The junipers have given way to pines, aspens and spruces. I'd never been here in November before. The aspens had all shed their leaves into a carpet on the forrest floor. The grass was dry and straw colored. It was very different from the way things look when I normally visit in late Spring or Early Autumn, but still gorgeous in it's own way.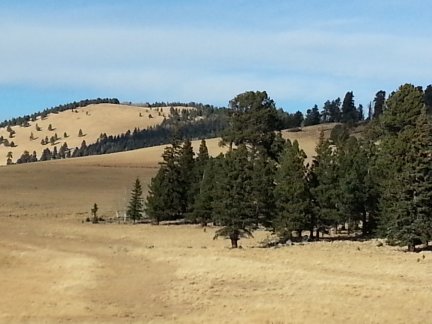 The mountains seemed to be quietly waiting for the first snows of Winter to start falling. I had the place entirely to myself. I didn't see another human being the whole time I was there. I was a little surprised by that. It was just at the end of a long holiday weekend and just before the beginning of hunting season. I expected the mountains to be full of late season campers and hunters staking out their spots before the season opened. But no, there was nobody else around at all. It was blissfully quiet in the mountains. I put out my chair in a sunny spot where a couple of big spruces blocked the chilly wind, and had a nice picnic lunch and relaxed while enjoying the silence and the amazing views. Time spent in these mountains always relaxes and unwinds me.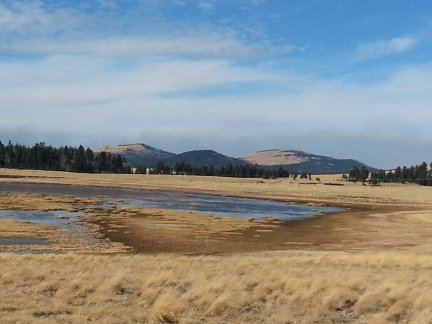 I took roads I had never followed before and explored new areas of the mountains I had never seen, finding wonderful new vistas around every turn. I also visited a lot of my my favorite spots, including this one on a bluff overlooking a lake with mountains in the background. The lake level was lower than usual without either spring snow melt or Summer thunderstorms to feed it. The cattle that are usually grazing in the area have been taken down out of the mountains to lower elevations in anticipation of Winter. It was eerily quiet with only the sound of the wind in the trees and the occasional distant bellow of an elk to break the silence. I saw lots of elk when I was here back in August. They were all hiding well out of sight on this trip. They must know it is almost hunting season.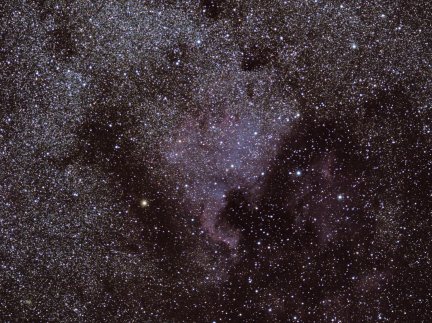 One of the primary reasons for visiting my remote Arizona property on this trip, aside from just getting away from work and relaxing, was to do some astrophotography under the amazingly dark sky in my area. Unfortunately Mother Nature wasn't being cooperative and that dark sky was obscured by clouds most of the time I was there. Maybe November isn't the best time of year for clear skies in my part of Arizona. I did get in two good and reasonably clear nights of astrophotography.

On this trip I wanted to try some wide-field photography. So I bought a 135mm portrait lens for my camera and made a camera adaptor for my telescope mount. all these photos were made using the 135mm lens. For some of them I added a 1.4X teleconverter to bump the power up a bit. Here is a pretty decent shot of the North American Nebula.

This wide field shot of the Orion region shows four different well-known objects. From left to right are The Flame Nebula, The Horsehead Nebula, The Running Man Nebula and lastly The Orion Nebula. I was blown away by how well this shot came out. I am liking this wide-field astrophotography.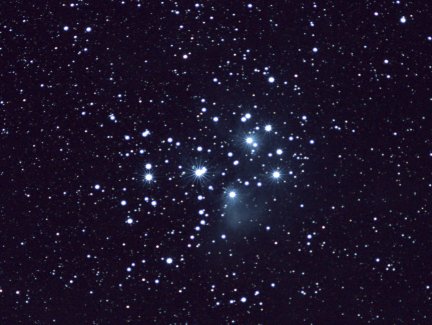 Here is a photo of the Pleiades Star Cluster showing some of the galactic dust reflecting their light.

Here is a shot of the California Nebula. This is proving to be kind of a tough object to bring out the details in. I need to get more images of this object.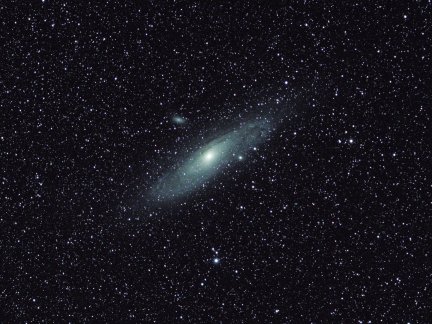 Here is one of my favorite objects. I always have to photograph it with every new lens or telescope. This is a shot of the Andromeda Galaxy.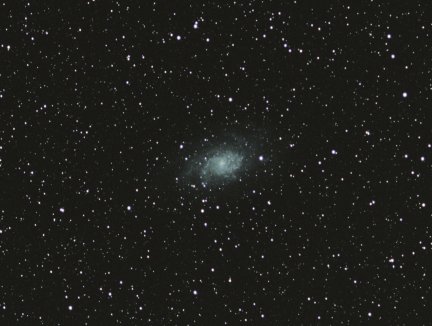 Here is another of my old favorite objects. This is a shot of M33 in Triangulum. This has always been a tough object for me to get good images of for some reason. This one isn't bad.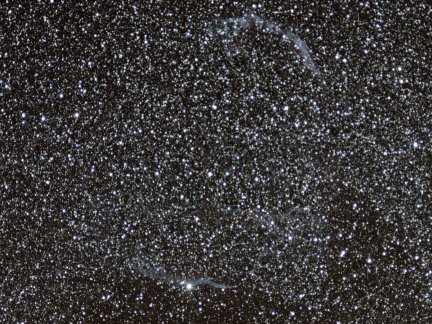 Here is another tough object to photograph. This is a shot of The Veil Nebula. I used longer exposures than for most of the previous shots to try to bring out the subtle nebulosity. It also brought out a lot of fainter stars. since the Veil is in a very busy part of the Milky Way, there are a lot of stars in this image. I did manage to capture the upper and lower arcs of the nebula and some very faint traces of the internal wisps and webs of nebulosity, but they are hard to see. I need to try photographing this object again in the future.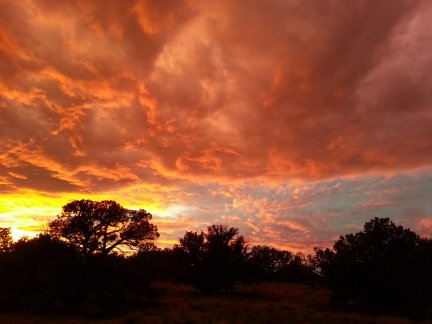 As I said above, the sky was cloudy much of the time I was in Arizona on this trip. That made for some amazing sunsets and sunrises. This was a pretty spectacular sunset on Thursday evening.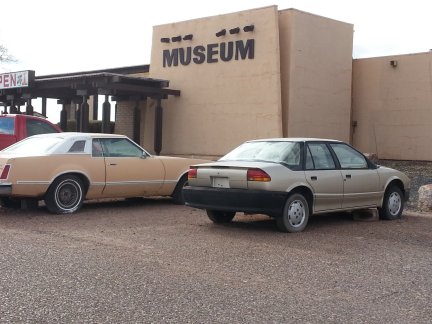 My last full day in Arizona I decided to go look around some of the rock shops near The Petrified Forrest National Park. I bought some geodes to cut open and polish and some rainbow petrified wood that I want to experiment with cutting and polishing thin slabs of. An interesting thing about those rock shops, and tourist trap shops all along I-40 for that matter, is the use of decoy cars in the parking lots. I first noticed this years ago. You will be driving down the highway and see a junk shop advertising all manner of wonders with what looks like a packed parking lot. When you pull off the main road and turn in though, you see that most of the cars in the parking lot are junkers with no license plates that have broken windows and flat tires or are up on blocks. There might be one operational car in the lot belonging to the owner. That was the case here. Although this photo only shows a few of the junk cars in the lot, there were many others, and only one obviously operational vehicle. Sure enough, I was the only customer in the shop in spite of the full parking lot.

One time years ago I pulled into a junk shop off I-40 with a packed parking lot only to find the door locked and a sign saying ring bell for service. While waiting for someone to open the door I noticed that all the other cars in the parking lot were junkers up on blocks. After a few minutes of waiting I was starting to get a little creeped out by it and began to think about leaving. Suddenly a car came tearing down a side road and roared into the parking lot trailing a cloud of dust. A little old lady got out and unlocked the shop. I bought a few trinkets from her to cover her trouble of coming in and opening up for me. That was my first exposure to the decoy car trick. Since then I've seen it used in lots of other places.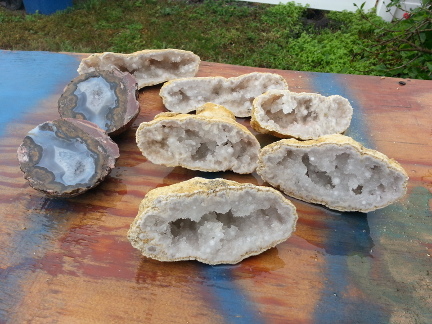 UPDATE: I used my diamond wet saw to cut open the geodes that I brought back on this trip. I am very impressed with the crystals inside the hollow ones. They are very sparkly. One of them has a pale pink color to the crystals. Naturally none of that shows up in this photo taken under a dull and cloudy sky. The one I thought was solid actually has a small void in the center almost totally filled with quartz crystals. The two halves should look very impressive once they are polished. I plan on polishing up the cut surfaces and maybe mounting them and giving some of them as gifts for the Holidays.

Photos from my August 2017 vacation to Arizona and Wyoming
I had been anticipating this vacation for years. The reservation at the hotel in Thermopolis Wyoming was made almost two years in advance. I had planned on doing astrophotography at my place in Arizona for a week, then driving up to Wyoming to view the total eclipse. Then a funny thing happened. I met a really great lady. We struck up a relationship. Surprise. She owns property near Thermopolis Wyoming. She was planning on being there for the eclipse too. What are the odds of that? We got to go spend a week together in Wyoming and see the eclipse and do a lot of other fun stuff together without either of us having to change our long-made plans at all. Amazing! This was one of my best and most memorable vacations ever.

Click on any photo to see a larger version.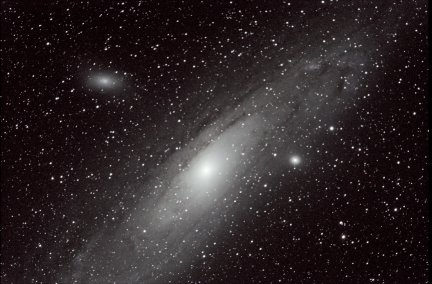 The first week of my vacation was spent at my remote Arizona property. My plan had been to spend it doing astrophotography every night. Mother nature had other ideas though, and it was very cloudy and rainy the first half of the week I was there. Serves me right for planning astrophotography during the monsoon season. The conditions didn't really improve enough for decent astrophotography until my last few nights there. But then conditions really got good.

Here is a really nice photo of the Andromeda Galaxy. Just look at the details in the dust lanes.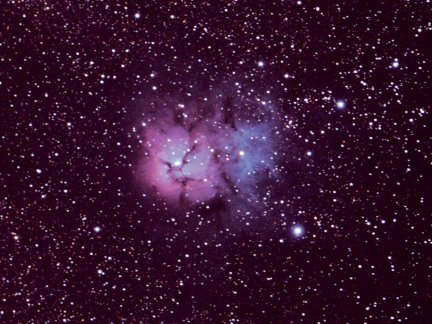 Here is a pretty decent shot of the Trifid Nebula. All the astrophotos on this page are stacks of two minute exposures.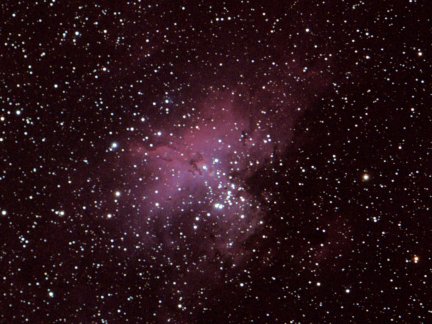 I got a really nice shot of the Eagle Nebula. The Pillars of Creation are quite visible even here. The original high-resolution photo shows an amazing amount of detail. I really like the colors in this photo too. It needed a minimum of post-processing to bring out what seems like natural colors.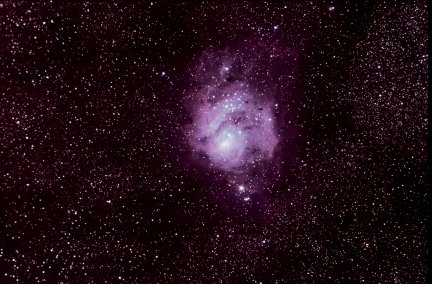 Here is a photo of the Lagoon Nebula.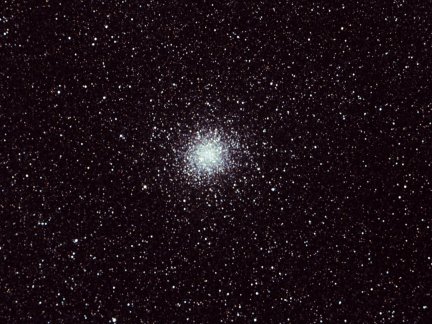 Here is a pretty nice photo of the Globular Cluster M22. Yes, I spent quite a while in the constellation Sagittarius. It was well placed for shooting the wonders it holds.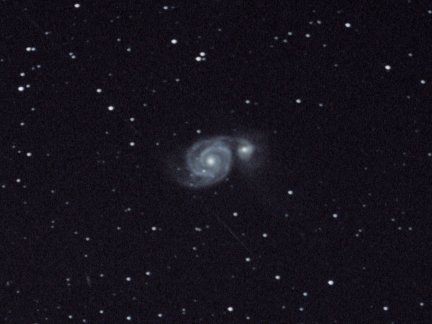 Here is a photo of Galaxy M51. I absolutely love this object. A late Perseid meteor streaked through one of the two minute exposures.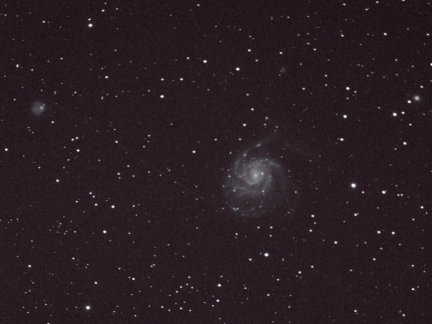 Here is a pretty good shot of Galaxy M101. An airplane flew through one of the two minute exposures leaving a streak.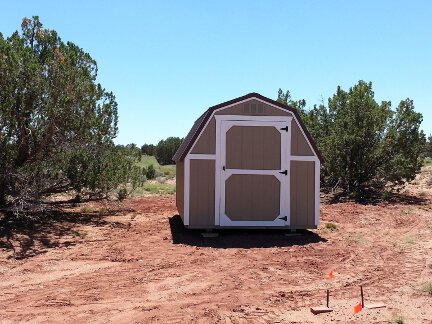 I decided I needed more storage space at my Arizona property. The cabin was getting too crowded with telescope equipment and misc. other stuff. So I bought a shed and had it delivered. I had to take down a long section of fence for the big truck and long trailer that delivered it to get onto the property. The gate was too narrow for them to make the turn off the road. The shed is wonderful. I de-cluttered the cabin and put a bunch of stuff that normally sits outside and suffers the outside elements into it for protection. The cabin feels a lot roomier now, and I have the space to work on continuing to finish the inside. Packing up when it is time to leave is also easier since I don't have to jam a ton of stuff in the cabin before locking it up.

I also did some improvements around the cabin. With all the rain that came down during the first few days of this trip. I really got tired of slogging through the mud around the cabin. So I started making raised gravel walks around the cabin. I need to complete those out to where I normally park on the next few visits. They are going to keep things a lot cleaner in the future.

I think my next big project will be an observatory building to block the wind from shaking the telescopes at night while I am trying to image, and protect them from the elements during the day and when the weather turns bad. That's a project for another trip.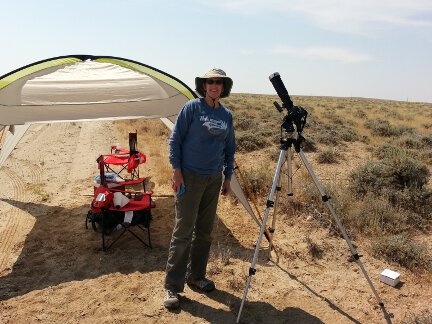 After a week on my Arizona Property I drove north through Utah, Colorado and into Wyoming to meet up with my girlfriend who was spending a week on property she owns in Wyoming. Her place is near Thermopolis, and in the area of totality for the eclipse. We scouted out areas to the south in the desert to get way from the crowds and be on the exact centerline of the eclipse for maximum time in totality. We found a spot off the gravel Castle Gardens Road south of Moneta Wyoming. A small dirt road about four miles in angled off the main road and as far as I could tell followed the exact centerline of the eclipse. We planned on coming back on the morning of the eclipse and setting up there. There were a few other people around, apparently scouting out sites too, but we didn't expect a big crowd so far off the paved roads.

The morning of the eclipse we were in for a surprise. The crowds were huge. People lined the main roads almost shoulder to shoulder all through the areas that would experience any totality. Wyoming had never seen such an influx of visitors. Even four miles up our chosen gravel road a lot of other people had homed in on the same little dirt road we found that ran along the centerline of the eclipse. People were parked all along its length. We decided to move a couple hundred yards further up the main road and set up where we would have some elbow room and a bit of privacy if nature called. We set up a canopy and chairs and I set up my tripod and camera equipment here.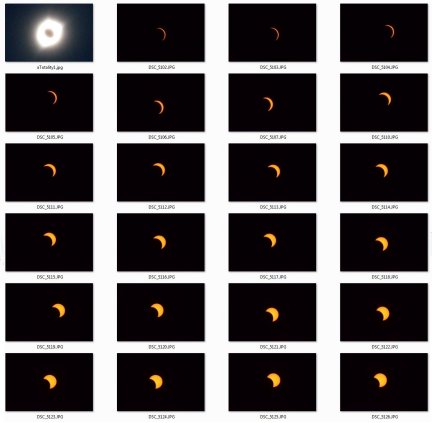 Here is a contact sheet I made of some of the photos I took during the eclipse. It was the most surreal thing I have ever experienced.

The day started out chilly. By first contact it had warmed up into the 70s. But as the moon covered the sun the temperature began dropping again. It was quite chilly again before totality. The quality of the light began to get eerie as we got close to totality. The sun was still bright, but the landscape looked like dusk and the sky went grey. Just before totality I could see the moon's shadow sweeping toward us from the west as a dark blob on the horizon that grew wider and higher until it enveloped us at totality.

Totality was amazing. The solar corona was brighter and more detailed than I expected. The horizon all around showed the colors of sunset. I could see venus quite easily. There was a lot of smoke in the atmosphere from wildfires several states away. That kept the sky from getting truly black and prevented a lot of stars from being visible. I did see a couple of brighter stars.

It is amazing how fast those two and a half minutes of totality passed by. It seemed like only seconds. There was no time to play with camera settings and try to get proper exposures of the corona plus still see and experience everything going on around us. We just tried to soak in the experience with our own eyes.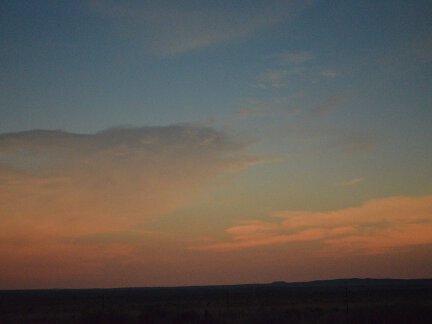 During Totality the horizon 360 degrees around had the look of sunset with the clouds turning red and gold, and the sky shading from blue to dark blue to black (well dark grey with all the smoke from the wildfires). That was one of the most surreal things about totality, being able to turn in a complete circle and see what looked like sunset in every direction. I'm glad we went to the desert to view the eclipse where we had good unobstructed views of the horizon in all directions.

After the eclipse we had a picnic lunch and packed up. Then we took a scenic gravel back road through the hills back to her place avoiding the massive crowds on the main roads and doing some rockhounding on the way.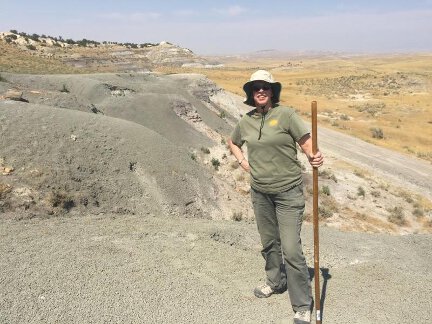 The next day we decided to go fossil hunting. My girlfriend is quite the knowledgeable amateur paleontologist. Her son is a professional paleontologist of some note. She knows where to go to find the good stuff. We headed down miles and miles of dirt roads into the back of beyond in the badlands to get to the Big Cedar Ridge fossil beds. 73 million years ago a mud flow of volcanic ash buried a forest. Lots of the plants got turned into fossils and are eroding out of the rock. With a little luck and a lot of skill it is possible to find great specimens of the plant life in that ancient forest from the time of the dinosaurs.

Here is a photo of Leslie standing up on the ridge on the layer with the fossils. All we had to do was dig them out. Sounds simple enough. Not really. The rock is really crumbly. The fossils are delicate and prone to fall apart. It takes a delicate balance of brute force and finesse to expose them without pulverizing them.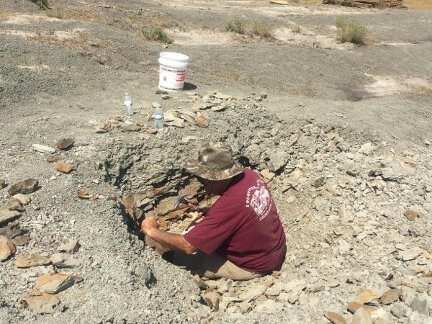 Here is a photo of me down in the hole with hammer and chisel breaking out chunks of the rock. The next step is to gently pry apart the layers of the rock to expose whatever might be inside. It is hard, hot work under the August sun, but a lot of fun. It's like a treasure hunt.

After a day of hard work out in the hot sun we headed to the hot springs to soak our aches and pains away.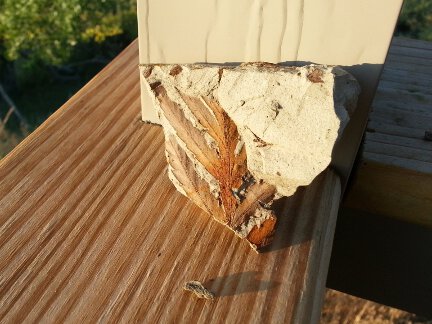 Here is one of our finds. This leaf is 73 million years old. It is amazing to think that dinosaurs may have been munching on these plants just before they were entombed in the mud flow and turned into fossils. Careful and delicate picking at the rock matrix may expose more of it.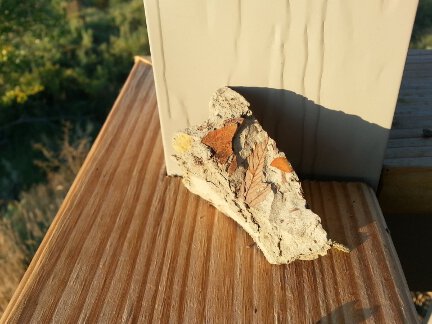 Here is another of our finds. This piece has quite a few bits of leaf exposed.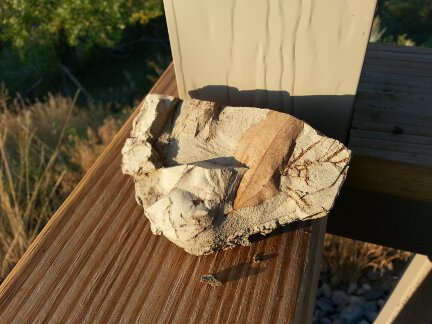 Here is a large and nearly whole leaf fossil.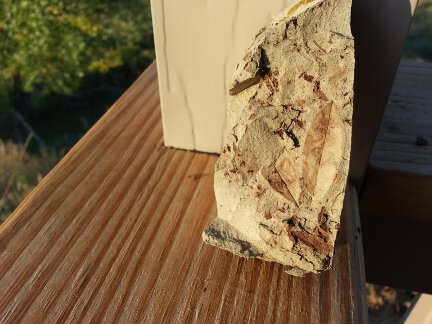 Yet another nice group of fossil leaves.

The fossil hunting was great fun. I can't wait to do it again.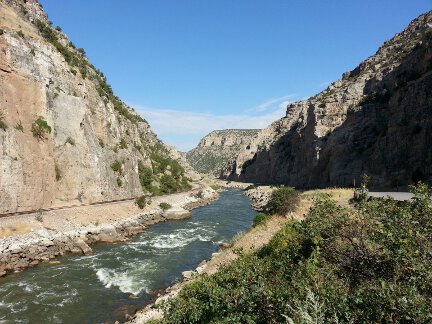 Here is a photo taken in The Wind River Canyon. The canyon is between Shoshoni and Thermopolis. It is a lovely and scenic drive. I've heard a lot about the Wind River Canyon over the years. It was great to finally see it in person and drive through it a few times.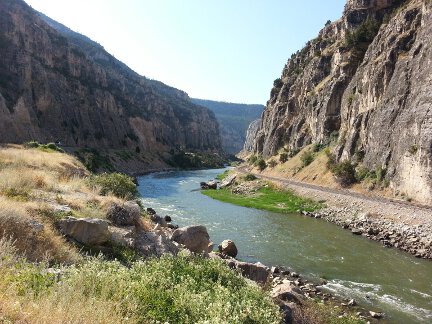 Here is another photo of Wind River Canyon.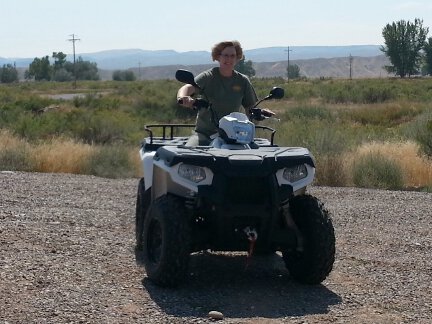 Here is a photo of Leslie tearing around her yard on her ATV with her hair flying in the wind.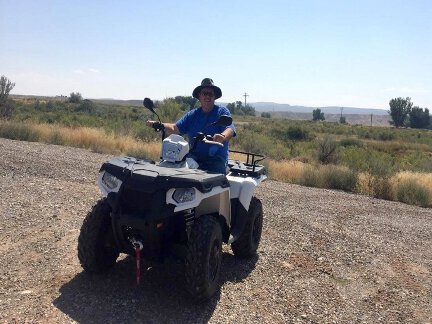 Here is a photo of me having fun on the ATV. The time we spent at Leslie's place in Wyoming was fantastic. This was without a doubt one of my best vacations ever.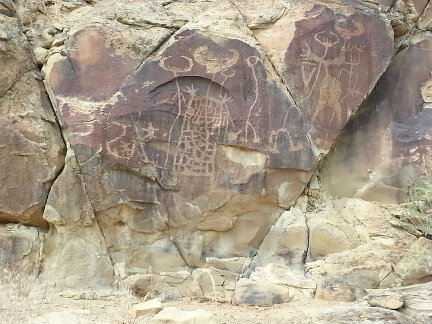 Our last full day together before Leslie had to fly back to Florida we went to see the Legend Rock Petroglyphs. I have been to Petroglyph sites all over the Southwest. This site in Wyoming had an amazing density and variety of stunning petroglyphs in a relatively small area. Here are only a few of the many photos I took there.

Some of these images are many thousands of years old.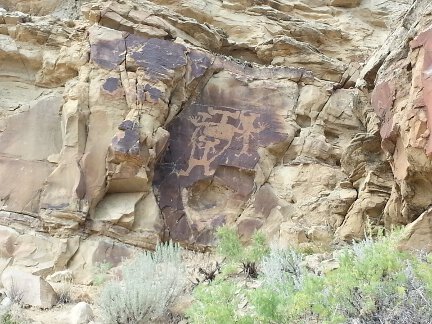 Your guess is as good as anyone else's as to what these images actually mean. Unfortunately the Palio-Indians did not have a written language. So nothing but oft retold oral legends have come down to us. Leslie and I are pretty convinced the Palio Indians must have been high on something when they created a lot of these images.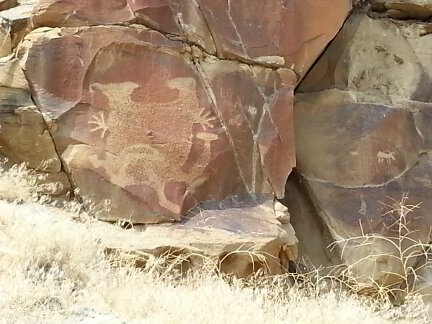 This is one of my favorites. It is low on the wall and easy to get to and see. I'm thinking the Indians might have used it to frighten their children into being good. "Eat your vegetables and be a good boy or this guy will come get you in the night."

My last day in Wyoming I decided to go rockhoudning out in the hills. I had seen some rocks earlier that I thought just might have been Wyoming Nephrite Jade. I wanted to go back and collect some samples to bring home to section and polish. I found some nice pieces. Unfortunately I also holed a tire on the rental car on the gravel road. I put the donut spare on and continued gingerly over miles of gravel to the main highway, not wanting to get another puncture since I didn't have another spare. The drive between Shoshoni and Casper is long and boring with nothing at all to see, other than having to pull over regularly to let very wide loads going the other direction pass. At Casper I had hoped to get the tire patched or replaced so that I wouldn't have to drive all the way to Denver on the donut. No dice. The tire was too badly damaged to repair and they didn't have any of that type in stock in town. There were also no other Dollar car rental agencies around. So I limped into Denver on the donut. The 50 mile emergency only spare actually took me about 380 miles.
Fossil Hunting on the Peace River June 2017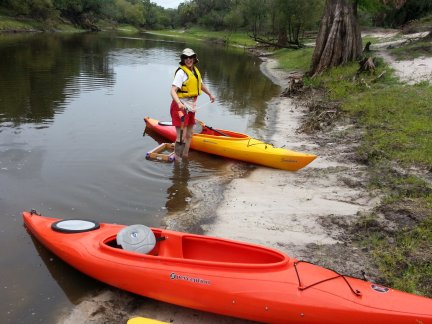 On Sunday 06/04/17 my girlfriend and I went paddling up the Peace River in kayaks to go fossil hunting. Our original plan was to go on the Alafia River, but it was raining very heavily where we planned to go. So we drove to a place on the Peace River she knew about. We put in at the Gardner Boat Ramp. We paddled upstream past the confluence of Charley Creek and kept going. We went up stream quite a distance. We stopped at various places where the digging looked promising and sampled the gravels. We brought along screens and shovels and aprons with pockets to hold our finds.

Here in this photo we have beached the kayaks at a likely looking spot to do some exploratory digging where a gravel layer seemed to be just under the river silt and sand. We probed the river bed as we went looking for shallow gravel layers. We also stopped at exposed areas of gravel to dig. This particular spot was a bust. The gravel contained mostly sea shells. We quickly learned that the dark black gravels produce the most fossils.

After paddling up river and stopping to dig in several places, we decided beach the kayaks and stop for lunch. It was a lovely spot. A real slice of old Florida with the gnarled oaks, pine and cypress trees, all draped with Spanish Moss. We had a nice picnic lunch on the bank of the river before continuing on upstream.

Eventually we found a really productive spot to dig. It just kept producing shark teeth, stingray mouth plate pieces and bone fragments. We eventually decided to pack it in and head back downstream. This is where the wisdom of going upstream initially proved out. We let the current carry us back downstream. There was very little paddling required. Which was nice because I for one was a little tired from all the paddling and digging.

When we reached the mouth of Charley Creek again, we decided to explore up it a little bit. The water was too shallow for the kayaks, so we waded upstream a few hundred yards and sampled exposed gravels. We found another really productive spot and dug there for a while before calling it a day and heading back to the boat launch.

I didn't take very many photos on this trip. My phone spent most of the trip double plastic bagged and inside my backpack for safe-keeping. Good thing too, since I managed to dump myself into the water a couple of times, and it rained on us a little too.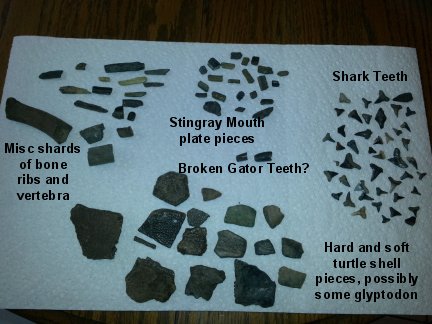 Here is a photo of the day's haul after drying them out and sorting them. Not bad considering we really didn't do that much digging. We found a lot of misc. pieces of bone. Some were recognizable as vertebra. Some from fish and some possibly from mammals. There were lots of pieces that were probably pieces of ribs. Hard to say what animals they came from. Probably some fish and maybe some small mammals. There was one large piece of bone that might be part of a leg bone from some large mammal. We found a couple of what look like broken alligator teeth. We found a lot of fossilized turtle shell from both hard and soft shell turtles. Some of the pieces might actually be glyptodon shell. Further research is required. We also found a lot of pieces of stingray mouth plate. By far the greatest number of finds were shark teeth. We found 45 whole and partial shark teeth ranging in size from tiny to pretty big.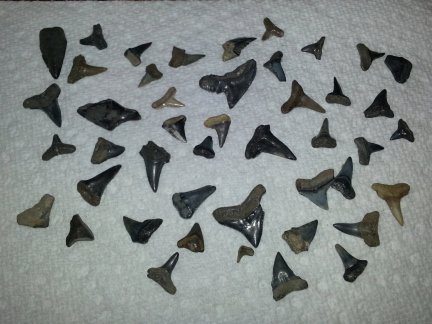 Here is a close-up of the shark teeth we found. They were very numerous. I suspect we probably lost a lot of tiny ones through the 1/4 inch mesh screen we were using. It is amazing how well they fossilize and hold up over time. Some of them are still wicked sharp. Some of them have lots of tiny serrations still in place. They seem as like they could have been shed yesterday, but it has been a long time since that part of Florida was under the sea. These teeth were fossilized in sea bottom mud that turned into rock. The river eroded them out of the rock and deposited them in gravel beds for us to find. After all that time and getting beat up by erosion, they still look like new. Shark teeth are tough.

It was a great outing on the river. I am looking forward to doing it again. The rainy season is here now though and the rivers are running high. It may be winter before we can do it again.

Photos from my May/June 2016 vacation to New Mexico and Arizona
I just got back from another great and much needed vacation to New Mexico and Arizona. After all the traveling I have done for work lately, it was nice to travel for myself for a change. Hiking, exploring, rummaging through surplus stores, chilling at the spa, hanging out at my remote cabin, and doing lots of astrophotography were all on my itinerary for this trip.

I had timed my trip to coincide with the third quarter and new moon, so the sky would be dark for astrophotography at my remote Arizona property. I packed my imaging scope and mount into two suitcases and took it with my on this trip. With clothes and other sundries, I barely kept the weight of each suitcase below the 50 lb limit. I weighed them on my bathroom scale and transferred some things from one to another to keep them both under 50 lbs. Then I go to the airport and the desk agent just had me throw them both on the scale together, so it wouldn't have mattered anyway. I'm glad Southwest allows two checked bags free. I'm glad they don't weigh carry-on bags. I definitely wasn't traveling light on this trip.

Read on for details and photos of the trip.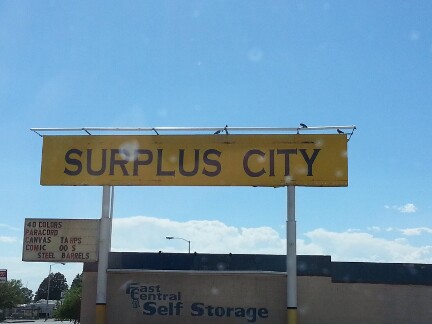 Once again I flew into Albuquerque. One of my first stops was this place. I'd been there before on my last vacation, but had arrived only a couple hours before they closed on my last day before flying home. I was floored by the immensity of their inventory. I quickly scanned through the store and outside yard almost at a run, and still only saw a fraction of it before I had to leave. I knew I had to go back and spend some serious time there. They get tons of surplus equipment from Sandia Labs and lots of other high-tech businesses. A geek like me can spend an entire day looking through their huge building and their extensive junkyard outside. This geek did spend all day there this time. I found a lot of really good stuff I wanted. Then I had a problem. How to get it all home?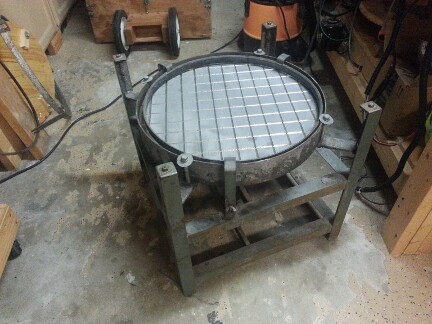 Here is one of the items I found at Surplus City that I just had to buy. It is called a Vibrolap. I can use it to grind glass flat and smooth. It is the size of an end table and weighs over 100 lbs. It cost over $2000 new. I bought it for $150. I couldn't pass it up. Problem was, it wasn't going to fit in my checked baggage. I bought some other heavy and bulky items too. I left Surplus City with the back of my rented Jeep packed with buys. My next stop was FedEx. I dropped it all off, and two little tiny lady clerks there packed it all up for me in a giant box in less than an hour while I want off exploring town. I used my company's FedEx account number, (we get a really good rate), and it only cost me $33 to ship it all home. Win!

Now that I know how to do it easily and inexpensively, I will probably be shipping home lots of stuff I find during my travels. By the way, the Vibrolap works great. I was afraid I was going to have to replace some bearings in it, but it works fine as is. I also got some chunky 60 Amp mercury relays I can use for controlling my kilns, a pile of hexagonal porcelain tiles I can use for making grinding laps, some electronic proto boards, and misc, other stuff. I love that place. I'll be back.

Click the photo for a larger view.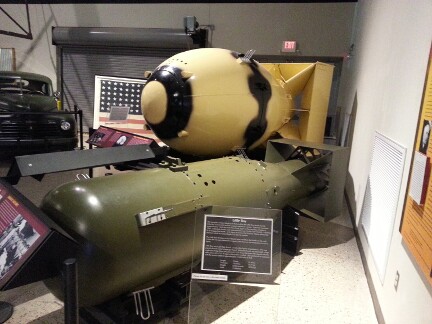 While in Albuquerque I visited the National Museum of Nuclear Science and History. I spent several hours there and took tons of photos inside the museum, and outside in their plane, rocket and missile display yard. Yes, it was another major geek-fest. But hey, I was on vacation. I was doing things that were fun for me. This is a photo of mock-ups of the Fatman and Littleboy atomic bombs. There was a whole lot more. I could create an entire page devoted to this place alone.

Click the photo for a larger view.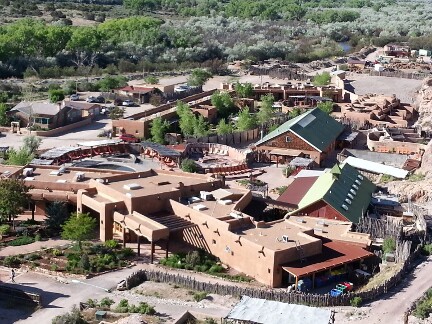 After a couple of days knocking around Albuquerque, I left and headed North to one of my favorite spots. This is a view of Ojo Caliente Resort and Spa I took from in the hills above. I did a lot of hiking in the hills on this trip. Then I'd go back down to the spa and soak my aching bones and feet in the hot pools. I had a great time there, like I always do.

Click the photo for a larger view.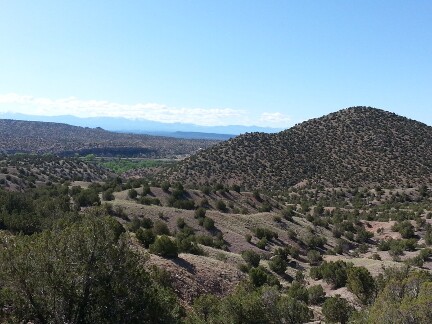 Like I said above, I did a lot of hiking in the hills above Ojo Caliente. I started out the first day with a 2 mile hike. The second day I did about 5 miles and did some off-trail, dead reckoning, navigation to where I wanted to go. By the third day, I did about 10 miles, and almost all of it off-trail. Not bad for living at sea level most of my life. I acclimatize to altitude so much quicker and easier since I lost all that weight. There is a lot of beautiful country out there. Lots of neat things to see. I thoroughly enjoyed every minute of my hikes, but I was sore afterwards. Soaking in the hot pools revived me. This photo was taken deep in the hills behind Ojo Caliente.

Click the photo for a larger view.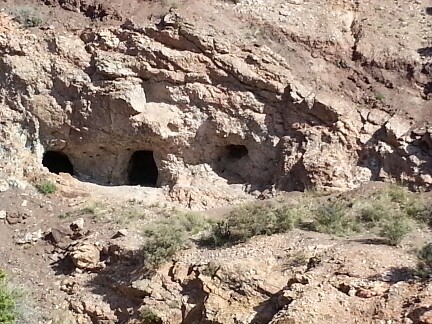 This was one of my destinations while hiking. I have been to these mica mines before. This time I made my own way to them across country, rather than following the trails. I got there just fine, and enjoyed a much more scenic and exciting trip than just following the established trails. Since I had been here before, I wasn't going to linger here too long. I just took a rest, drank some water, collected some mica specimens, and then headed off again. I got some huge mica books to add to my growing mineral collection. I knew from studying topo maps and Google Earth prior to my trip that there were more mines and prospect pits in the hills behind these mines. So I set out to find them.

Click the photo for a larger view.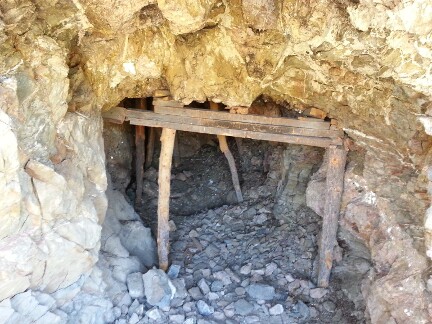 Here is one of the other mines I found. Someone has been living in it. There is a makeshift bed made of juniper boughs in the back, and misc. detritus of human occupation scattered around. Plus the occupant has been stealing the trail markers to shore up the roof. I found their outdoor fire pit and assorted trash a short distance away from the mine entrance. There was nobody home when I arrived, and it looked as if they hadn't been there in a while. There were no fresh human footprints but my own in the area. I call this place Hermit's Hole.

Click the photo for a larger view.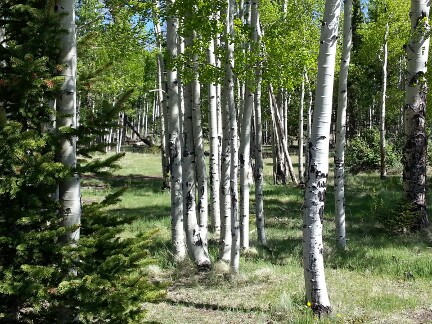 Eventually I left Ojo Caliente and drove to my little cabin on my remote property in Arizona. It was later in the spring than I normally like to stay at my cabin, and it got really hot a couple of days. So I drove up into the White Mountains to escape the worst of the heat on those days. Here I am in an Aspen Grove in the mountains. It was deliciously cool up above 9000 feet. I had acclimatized to the altitude already hiking around Ojo Caliente, so hiking in the even higher White Mountains was no problem.

Click the photo for a larger view.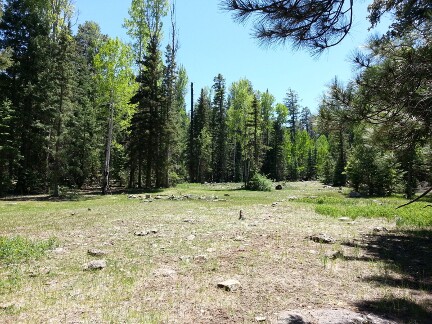 This area was absolutely gorgeous. My photos don't do it justice. The bears seem to like this spot too, judging by the amount of poop they left scattered around. I decided to hike back to a more open area where any bears and I could see each other coming.

Click the photo for a larger view.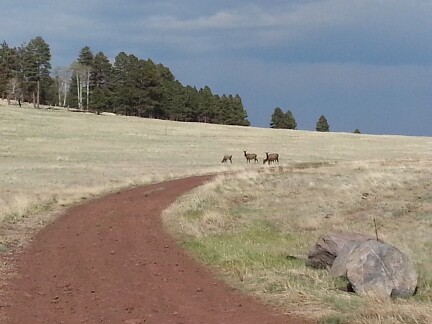 Once I got out into the open, I did see some wildlife. But it wasn't bears. These are mule deer. I watched them for a while and took photos. They kept an eye on me, but didn't really show any fear. They are probably used to seeing hikers. There were quite a few backpackers on the trails while I was there. It was a holiday weekend and a lot of people were up in the mountains camping and hiking. Fortunately it wasn't too hard to get away from all of them.

Click the photo for a larger view.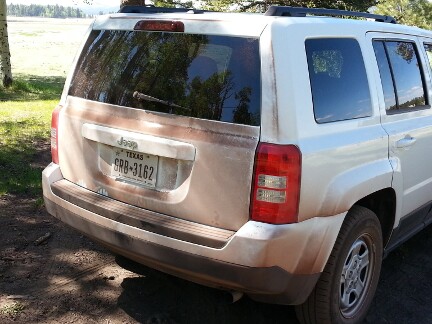 I really got my rented Jeep dirty out on those mountain gravel roads. Hard to tell from behind it is actually white. It is a Jeep Patriot. Never driven one before. I found it to be rather under-powered. It got me everywhere I wanted to go, but struggled on steep and rocky slopes. Glad it wasn't muddy too, or I'm pretty sure it wouldn't have made it up a couple of roads because it was slipping badly even in the dry. It wouldn't be my first choice for serious off-road driving. I miss my 4X4 Tacoma on my flying vacations. It is rare that I can rent a vehicle as capable.

Click the photo for a larger view.

Eventually I got tired of hiking and looked around for a nice shady spot to chillax. I found a great place, on a hill, overlooking a couple of lakes and distant mountains, shaded by fir and aspen trees. I got out my folding chair, my book and a picnic lunch, and spent several pleasant hours there. It's my new favorite spot in the world. I liked it so much, that I came back the next day too and waited out the hottest part of the day. I chilled out there, absorbing the cool, fresh, nearly two mile high air, listening to the silence, and enjoying the solitude and scenery. This is the kind of thing that really recharges me on my vacations. My photos don't do it justice.

Click the photo for a larger view.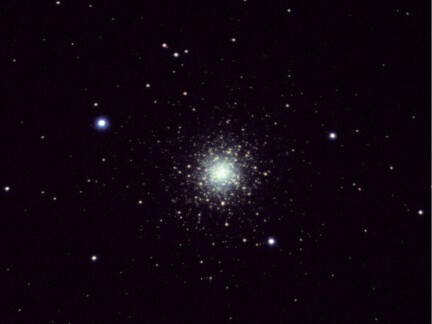 I had bought a new hard-sided suitcase for this trip and packed the telescope in it wrapped in a thick layer of bubble wrap. The scope got damaged anyway. An alignment screw for the guide scope got sheared off somehow. I found a workable replacement screw at my cabin, and considered myself lucky that was the only damage. I was wrong. My first attempt at imaging resulted in horribly distorted star images. I couldn't figure out the problem in the dark. The next day I took a closer look at the scope. Vibration must have caused the locking ring for the objective lens cell to loosen. The lens had flopped forward a bit and tilted, and the two elements had separated. It wasn't obvious looking down the tube of the telescope. I managed to do a field repair and get the lens elements back in the cell properly and tighten down the locking ring. I got a few dust flecks between the lens elements, but otherwise it seemed good for a field repair. I hoped it was all back together correctly. I set up a target on a tree several hundred yards away and looked at it through the scope in daylight to try to determine of the scope was going to work OK. The image seemed sharp enough, but I would need to point it at the stars to be sure. I couldn't wait to test it out, but the next two nights were cloudy. The suspense was killing me.

This photo is the first test shot after the sky cleared. It is the globular Cluster M3. The focus is a little soft, but otherwise it is a pretty good shot, and I heaved a great sigh of relief that the scope was going to work and I could do astrophotography after all.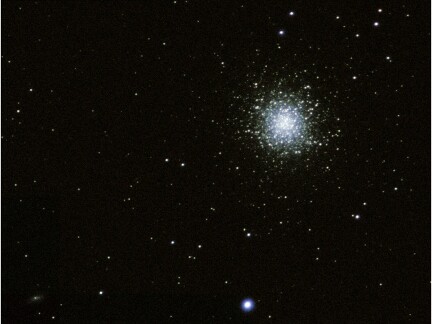 The next three nights were perfectly clear. I did a lot of imaging. I stayed up way too late each night. But it was worth it. I hated to waste a single minute under that amazing sky. This is a photo of M13. It is in better focus than the above image. Note the small spiral galaxy in the lower left corner of the frame.

Click the photo for a larger view.

This is an image of M51. The focus is a little soft, and the tracking isn't the greatest, (It got windy while taking the individual frames), But this is still by far my best ever image of this object.

Click the photo for a larger view.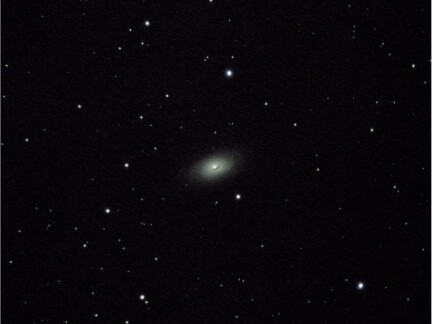 I spent most of my time imaging in the north and in the area of the Virgo Cluster. The Milky Way rising in the east was constantly beckoning me to turn my scope toward its charms. But I am a galaxy nut. Virgo and Coma and Ursa Major were high in the sky. I wanted to work those fertile fields while I could. The Milky Way will be dominating in the fall when I hope to go back again.

This is an image of M64. Also known as the Black Eye Galaxy. The dark dust lane below the bright nucleus kind of makes it look like it has a shiner.

Click the photo for a larger view.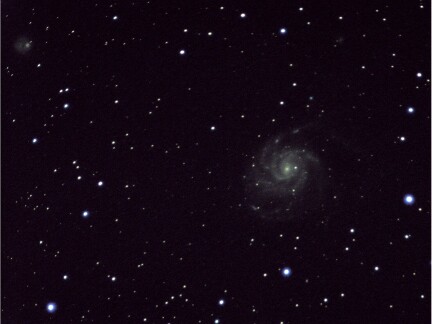 This is an image of M101, with not very good tracking. However, it is still by far my best ever attempt at imaging this object. The detail visible is amazing. I also got it's gravitationally distorted companion in the upper left. The full size image also shows other faint galaxies.

Click the photo for a larger view.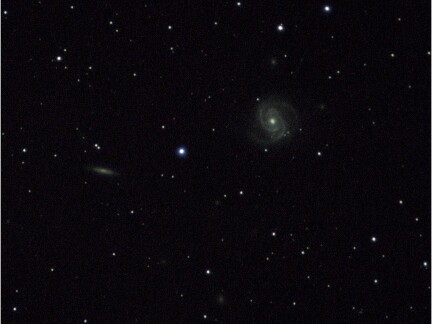 This is face-on spiral galaxy M100. Edge-on NGC4328 is to the left. I can easily count 9 other faint fuzzball galaxies in the original full-size image. Maybe as many as a dozen with a little imagination.

Click the photo for a larger view.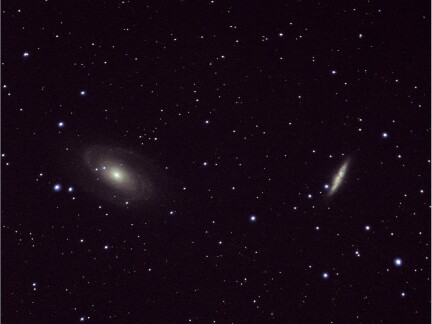 I think this is the best shot I got on this trip. I have imaged M81 and M82 before, lots of times. I have never before gotten the amount of detail that is present in this photo. The detail in 81's spiral arms is just amazing. Everything went right for this image. The focus, the tracking, the sky, it all just worked. I love the result. And this is after a rushed post-processing job that left the color balance and the background not quite right. I need to reprocess this image and take my time.

Click the photo for a larger view.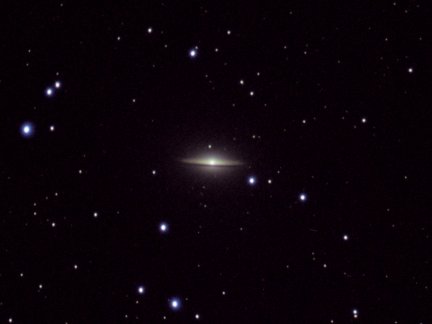 This of course is the sombrero galaxy. I was surprised at the detail. In the full resolution original, I can almost convince myself I see individual globular clusters in the halo of the galaxy. I need to image this object again and see if I can pull even more detail out of it.

Click the photo for a larger view.

Photos from the 2016 Orange Blossom Star Party near Dade City, FL


The 2016 Orange Blossom Special Star Party group photo.
The 2016 Orange Blossom Special Star Party was a great success. A good time was had by all. Well over 100 people attended this year. The weather wasn't as good as last year, but then last year was exceptional, with four perfect nights in a row. The weather was still pretty good this year. We had two excellent nights. One not so great night, and one night that was a complete washout. Fortunately the two excellent nights came on the last two nights of the party when the most people were in attendance. It was also warmer than last year which was exceptionally cold for Florida. This year I did two new things. The first was renting a travel trailer for the duration of the party. The second was doing some astrophotography during the party. I thoroughly enjoyed the OBS this year.

Click on a photo to see a larger version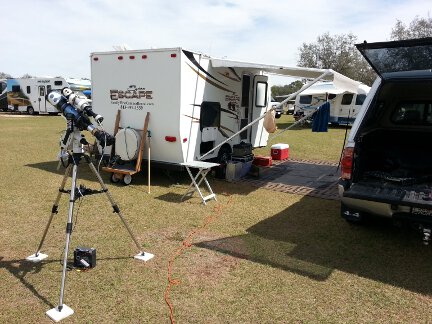 This year I rented a camper to use during the star party. I decided that I am getting too old to be sleeping on the ground in a tent, and dealing with all the issues and effort that go along with setting up and living in a tent for four days. I actually almost bought a camper before the star party began. I found a nice used one I really liked for less than $7000. However, in a moment of clarity and logic, I looked into renting first. I found I could rent an essentially identical camper 14 times for the cost of buying the one I liked. Then I thought about how many times would I really get to use it? I would be paying for insurance and tags on it each year so it could mainly just sit and moulder away in my driveway between rare uses. Renting was a much more sensible option.

The camper was great. Setup and teardown was a breeze, and took no time at all, as opposed to the hours of heavy labor usually required to set up my campsite. The camper was much more comfortable than a tent, and protected me from the elements better. Plus it was great to have my own bathroom. No early AM extracting myself from my sleeping bag and tent to trek to the porta-potty. I will surely do this again.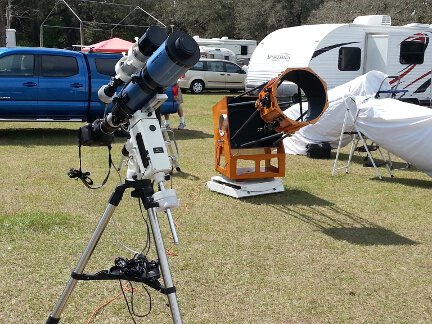 Here are the two telescopes I brought to the OBS. In the foreground is my 4 inch imaging refractor on it's little German Equatorial Mount. I took some great photos with it during the star party. Some can be seen lower down on this page. In the background is my big 17.5 inch diameter Dobsonian reflector on it's equatorial platform. The big scope performed great this year. I had tweaked and cleaned it before the star party, and replaced worn bearings in the big EQ platform. While assembling the scope at the OBS I replaced its azimuth bearing surfaces too. The result was silky smooth motion and excellent tracking. A couldn't be prouder of my equipment. It easily held its own, and even exceeded the performance of newer and larger scopes at the star party. The one fly in the ointment was the focuser. It is getting worn out, starting to slip when wet with dew, and needs to be replaced. That will be fixed soon.

I set up in the area where folks from the SPAC Mirror Lab congregated. The white covered scopes in the background are other big DOBs belonging to Mirror Lab members. Other members showed up and set up after this photo was taken. We had quite a Vally of the DOBs going on by late in the star party.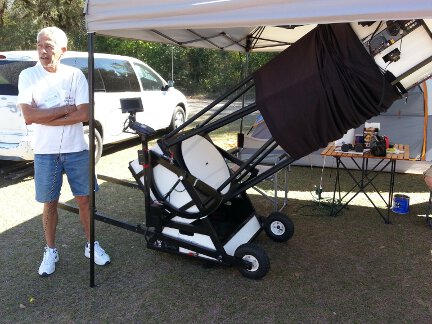 This was the largest scope at the OBS this year. It is a really beautiful 22 inch DOB. There were a lot of great scopes at the OBS, as usual. I could fill pages and pages with photos of unique and interesting scopes. I always come away from each star party with lots of new ideas and new ways of doing and building things.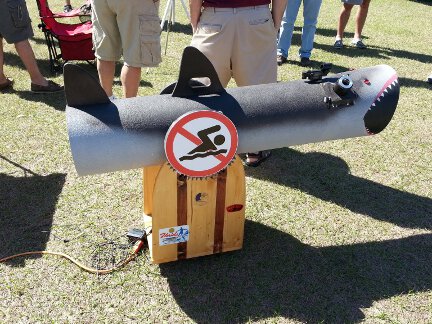 Speaking of interesting and unique scopes, this is Tom Spano's Shark Scope. It is an amazingly detailed work of comic art, that is also a working telescope. Every year Tom brings some kind of novelty telescope to the OBS. We always look forward to seeing his latest creation. A reproduction of Newton's first reflecting telescope also built by Tom was given away as a door prize to a lucky attendee of this year's OBS.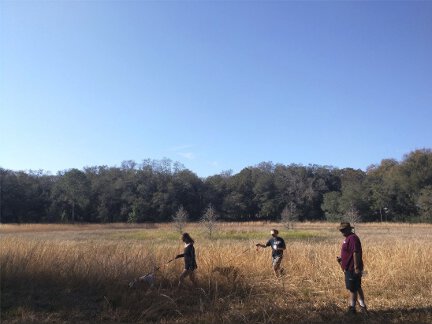 One of the traditional activities at the OBS is a nature hike through the forests and swamps of the park. I have been leading the nature hikes (affectionately known as the Bataan Death March) for the last ten years or so. It is a popular event every year. This year we had a fairly large group that headed out for a long, leisurely hike to see the sights. This photo shows Joey and Brett Hilker, with their dogs, and myself checking out a sinkhole pond, near the edge of the Green Swamp. The photo was taken by Emily Tripp. The hike this year took us further than usual, and included the usual climb of the observation tower. This year we also went beyond the tower and further southwest to the boardwalks through the swamp, before taking the bike trails back to the campground.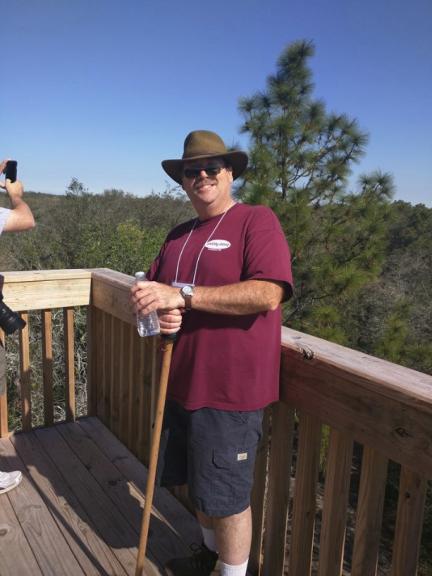 So here is a nice photo of the new and improved me, at the top of the observation tower during the nature hike. Not a lot of photos exist of me when I was a lot heavier. I kind of shunned the camera. After losing a bunch of weight, things are different. I still wouldn't call the camera my best friend, (at least not when I am in front of it), but it isn't my worst enemy either. Leading the nature hikes is a lot easier without carrying around the weight of another person on my back. We went farther and deeper into the swamps this year on our hike. I never got tired or really even winded. It was a great hike enjoyed by a large group this year.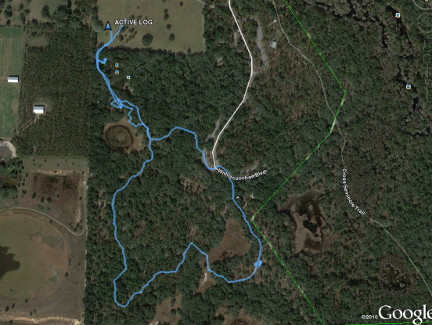 Here is a GPS track of the route we took on this year's nature hike (Death March). The blue line represents the path. It starts and ends at the big activity field where the OBS was held. The knot like feature in the track in the lower right side of the track is where we climbed up and down the observation tower.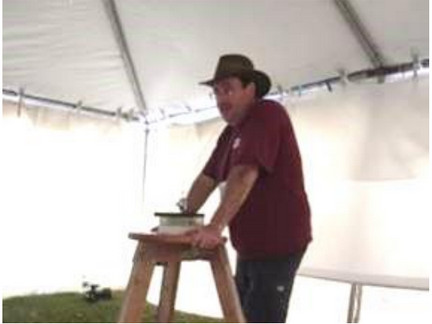 Here is another photo of me, holding forth on the art and science of mirror grinding. Every year the SPAC Mirror Lab puts on a presentation and demonstration of mirror grinding techniques at the OBS. This year it was my turn to do the demo and give the talk. I think it went quite well. We had a fairly large and interested group attend. Hopefully the Mirror Lab will gain some new members from it.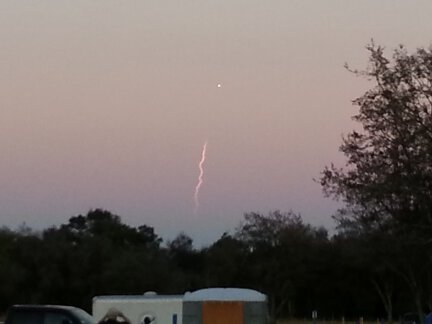 SpaceX was kind enough to schedule one of their launches from Cape Canaveral for an early evening during the star party. We got a great view of the 1st and 2nd stage burns as they lofted a satellite into orbit.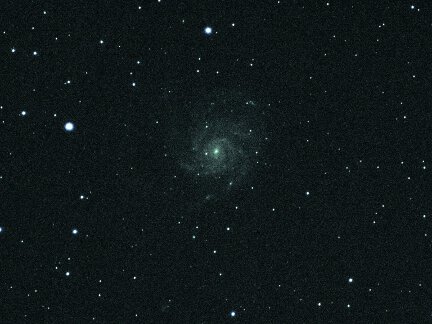 Here is one of the photos I took with my little 4 inch imaging refractor. It is of galaxy M101. I have been trying to get a decent photo of M101 for a while. This is not a great photo. It is made of a stack of short individual exposures. My autoguider wasn't working. So I took fairly short exposures. There just isn't enough integration time in the stack of exposures to produce a decent photo. But it is a good effort given the light polluted sky and lack of autoguiding. I'll get a better shot another night.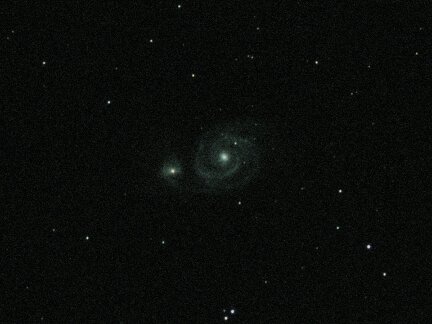 Here is a photo of M51 I took at the OBS. It has the same issues as the above photo. Not a good photo, but good practice that will hopefully lead to better results in the future.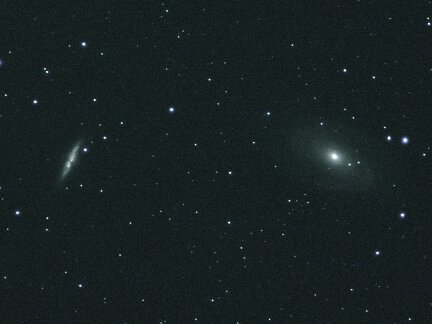 This is the best photo I got during the OBS. It is of the galaxies M81 and M82. Again, it is a stack of short, individual images. This image shows a lot of detail in the spiral arms of M81 and the mottled dust lanes of M82, and just a hint of red color in M82.

With longer exposures under a darker sky, I should be able to get some really nice shots with this current imaging setup. Especially now that I have the autoguider working. I also got some great pointers from some of the excellent astrophotographers who attended the OBS. I can't wait to get back out to my dark Arizona property and do some imaging.

Photos from my October 2015 trip to the CLMA Conference in Miami, FL
October was a busy month of travel for me. I had just gotten back from a work related trip to Rochester, NY, and then the next week it was off to Miami. At least it was a shorter trip, and warmer than New York. Myself and two of my work colleagues went to the 2015 Contact Lens Manufacturers Association conference in Miami. It was my first time at the CLMA. Denis and Pepi had been to many previous CLMAs. It was a lot of fun, and I learned a lot too. I also got to meet a lot of people in person that I have only spoken to for years on the phone or in emails.

Click on any of the photos below to see a larger version.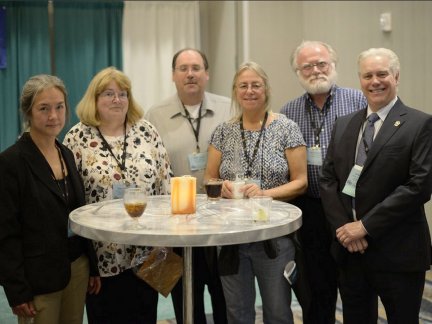 I didn't take many photos out on the exhibit floor or in any of the conferences or seminars. There was a professional photographer hired by the event wondering around snapping photos, so I didn't fell the need to take a lot of pictures. Here is a photo the photographer took of a group of us standing around on the exhibit floor talking. Myself and Pepi and Denis are in the middle. Also in the photo are Alika Mackley of Firestone Optics (far left), and Pam Larsen (2nd from left) and Erik Larsen (far right) of Larsen Equipment Design.

We spent a lot of time at the various booths on the exhibition floor. We got to see a lot of new equipment demonstrated. It was very educational and even fun. I got to see some old friends, and meet people in person I only knew from telephone calls and emails. I also met people who had been with our company in the past, but had moved on to other opportunities within the industry.

We also got to sit in on some really interesting and informative educational sessions. I learned a lot.

The CLMA was held at the Miami Marriott Biscayne Bay. That is also where we stayed. Somehow I wound up with a room on the 26th floor with an amazing view from my balcony. My unfortunate colleagues had rooms near the ground floor. When we weren't on the exhibit floor, or in conferences, or dining, or exploring, or hanging out together, I spent a lot of my time on that balcony. The view was amazing. The sea breeze was cool and fresh. It was just a great place to be. This particular photo shot from my balcony is looking across Biscayne Bay towards the skyline of Miami Beach.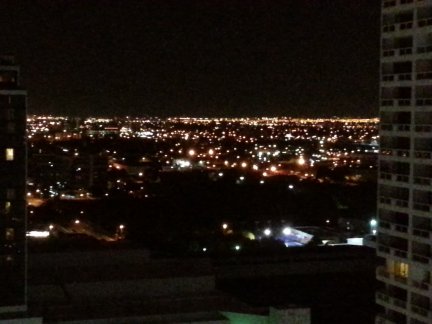 This photo was taken from my balcony looking west toward the city of Miami at night. The view is kind of hemmed in by two skyscrapers, but it gives an idea of the city sprawling away to the west, then coming to an abrupt halt at the edge of the Everglades. The balcony was a great place to hang out in the evening before bed. I don't think I even turned on the TV in my room the whole three days I was there.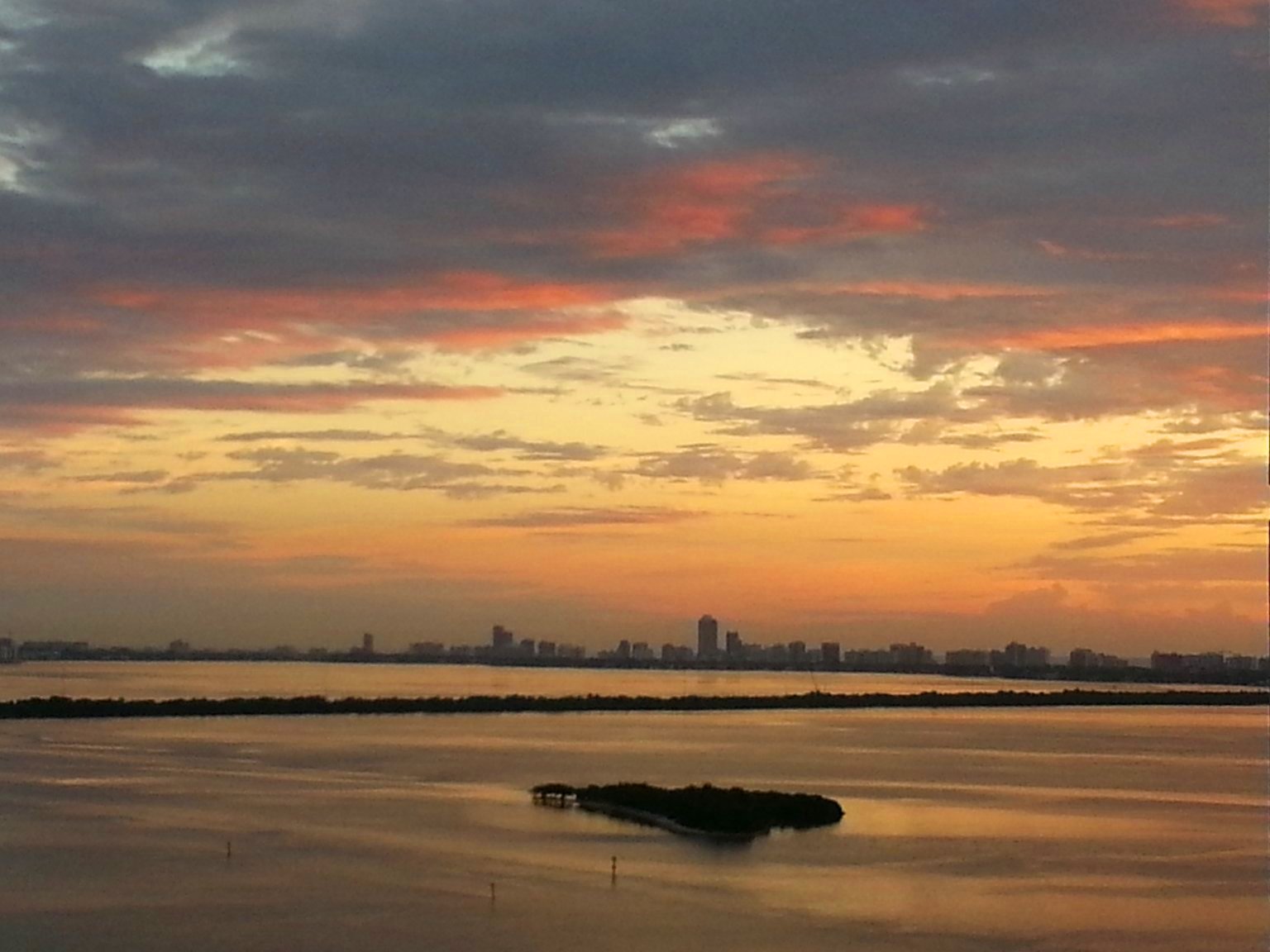 Here is a photo of sunrise over Biscayne Bay from my 26th floor balcony. It was a lovely sight.

Attending the CLMA was a great experience. I hope I get to attend others in the future.

Photos from my October 2015 work-related trip to Rochester, the Finger Lakes area,
and the Adirondack Mountains of New York
It seemed like no sooner was I back from my last vacation than I was off on a work-related trip to Rochester, NY with three of my work colleagues. Big changes at the company where I work have meant new responsibilities for me, and a lot of travel. This first trip to Rochester was a very interesting, and took me to an area of the country I hadn't been to since I was a kid. Plus it was just past the height of the Autumn colors. And as a bonus we managed to do a little exploring of the Finger Lakes region, and spend some time at the hunting cabin Denis owns in the Adirondack Mountains. There was a travel glitch, as usual, but all in all, it was pretty good for a work trip. It was even fun at times.

Click on any of the photos below to see a larger version.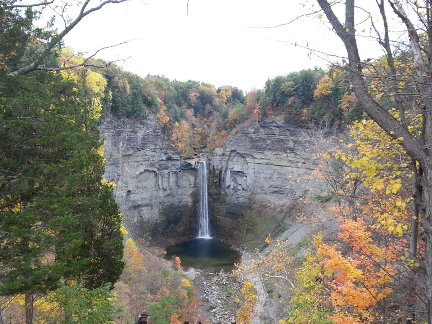 I don't have many photos from the first couple of days of the trip. They were mostly spent flying from Clearwater, FL to Elmira, NY and then driving to Rochester, and then a couple of days of meetings and touring manufacturing facilities. Lots of impressive machinery, but no photography allowed. The drive from Elmira to Rochester was very pretty and we went through some very scenic country. Unfortunately I was doing the driving, and we were on a tight schedule, so I couldn't stop to take photos along the way. After the meetings were done, we had a day to ourselves. We decided to drive to the hunting cabin my work colleague Denis owns in the Adirondack Mountains, and spend the day and night there. On the way there we got to drive the back roads and do a little exploring in the very scenic Finger Lakes region.

This particular photo was taken at Taughannock Falls State Park. We saw a sign for the park and decided to just stop in and see what there was to see. Wow! what a beautiful sight. We were really glad we stopped.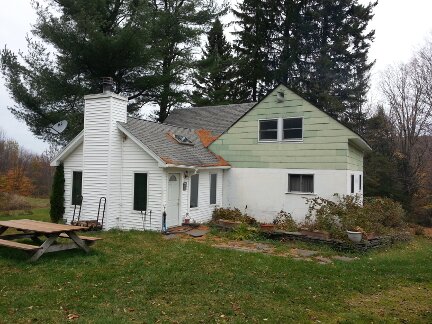 So my work colleague Denis has been telling me for the last 22 years about his "little" hunting cabin in the Adirondack Mountains where he goes to vacation and hunt twice every year. Turns out it is a huge five bedroom house on a huge piece of remote property in the mountains. Getting there was an adventure. The bridge leading to his property got washed away in a storm (apparently this happens regularly). So we had to go to up the driveway of his neighbor's property on the other side of the mountain. Then we went down an embankment into a gorge, forded a creek, went up the other side, across a field, up a really steep hill, and through the woods, to intercept his driveway on the other side of the broken bridge. We were driving a rented Suburban, which looks impressive enough at first glance, but it didn't have all or 4 wheel drive, and the ground clearance and approach angles were terrible for off-road driving. It was a real princess of a vehicle, in spite of its size and rugged looks. Fortunately I managed to not get it stuck and we made it in. Getting out was even more of an adventure because it rained all night. It was still dark when we left, the ground was soft and muddy and the creek had risen a bit. I am proud of myself for getting that pig of a vehicle back onto pavement without either rolling it, getting it stuck, or drowning it in the water.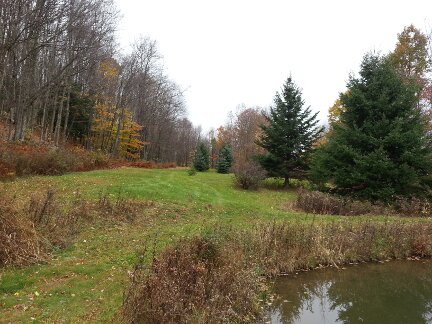 His property is huge. It is 66 acres and includes a pond, several fields, an old orchard, and about half of a mountain. We were there near the end of the fall colors. There were still enough colorful leaves on the trees to make the scenery pretty in most places. The air was clean and crisp. The apple and pear trees were loaded with some of the best fruit I have ever tasted. The property is located near a reservoir for New York City. So the city owns most of the property in the area as part of its protected watershed. There is hardly any development, and neighbors are miles apart.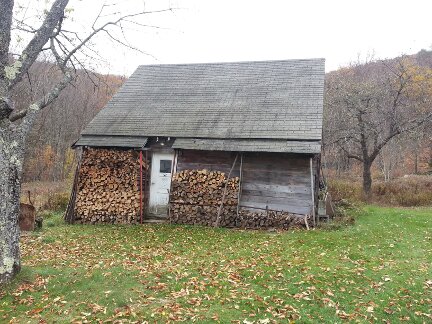 Here is a photo of the garage/woodshed. The only heat at the house comes from two wood burning fireplaces. So there is always a big stockpile of wood kept on the property. This is only one of the wood piles. We burned quite a bit of wood over night to keep all of us Floridians reasonably warm during the late Autumn New York night in the mountains. It was cold.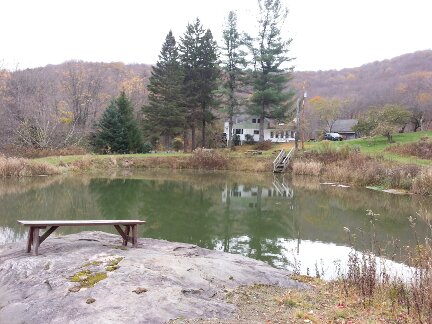 Here is a view of the large pond on the property. It is fed by a spring bubbling out of the side of the mountain. A pipeline runs from the spring to the house to supply water to the house. It is good water too, but really, really cold. I am told that even in the Summer it is too cold to swim in the pond. All of the smaller trees on the other side of the pond are fruit trees, and they are all loaded with ripe fruit. This view also shows the huge deck on the back of the house with two BBQ grills on it. We grilled steaks for supper the night we stayed here.

Denis led the rest of us on a hike up the mountain. He showed us the way he goes every winter when he is out here deer hunting. Even though Denis is in his 70s, he was leading the way, trotting up the mountain like a mountain goat, not breaking a sweat or even breathing hard. All us younger people were struggling to keep up and needing to stop now and then to catch our breath. Denis was truly in his element there.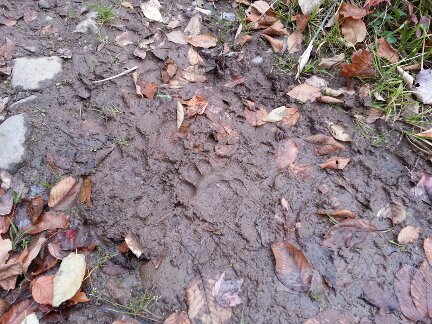 We were gone on our hike up the mountain for maybe an hour. When we got back down to the cabin, we found fresh piles of bear poop and bear tracks in the mud near the pond. The poop and tracks were not there before we left for the hike. I walked through this same area to get the above photo of the pond before our hike, noting and avoiding the mud. There was no poop and no tracks at that time. Later we found more fresh poop in the brush on the other side of the cabin. We could also clearly see where the bear had been eating apples that had fallen off the trees and accumulated on the ground. We suspect we missed the bear by mere seconds. It probably heard us crashing through the brush as we came back down off the mountain from our hike and took off into the woods.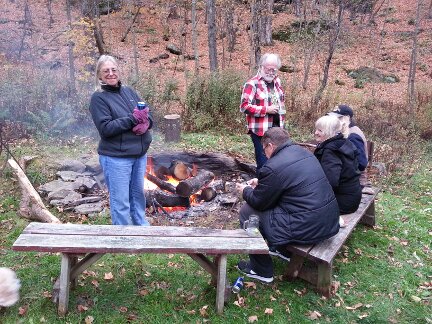 In spite of the close encounter with a bear, and the cold and windy weather, we decided to build a big bonfire and hang out around it the rest of the afternoon and into the evening. The huge fire kept even us wimpy Floridians warm enough to stay outside, though it was a case of one side broiling and the other side freezing. Seen in the photo are my work colleagues Pepi (Standing left), Denis (standing right), and Mychael (sitting nearest to the camera). We were joined by Denis' sister Mary and Brother in law Mike who use and help maintain the property when Denis isn't around. I am taking the photo. We also met Denis' neighbor, who is also named Mike. So counting me, we had four Mikes in one place. We spent a very enjoyable afternoon around the fire listening to Denis, Mary and Mike tell stories about Denis' misspent youth, among other things. Eventually it began raining just before full dark and drove us indoors. We stoked up the fires in the fireplaces and grilled steaks on the back deck of the house for our supper.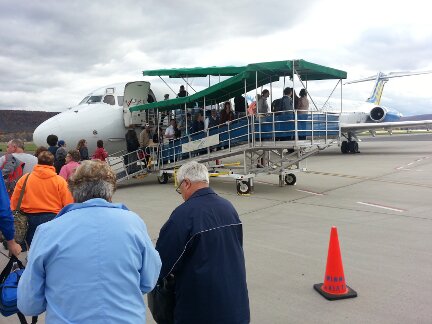 The next morning we had a long drive from the cabin to the Elmira airport for our flight home. We got an early start and made it to the airport in plenty of time for our flight. Unfortunately our plane never made it to the airport. It got diverted to South Carolina because of a medical emergency. Somehow the EMTs broke the plane getting the patient off. I'm like, what did they do, cut the plane open with the jaws of life??? That's crazy. Anyway, it took the airline all day to get another plane to Elmira to pick us up and take us back home to Clearwater. Let me tell you, there is absolutely nothing at all to do if you are stuck at the Elmira airport all day. It was a looooong day. Eventually our plane did arrive to take us home. Then the gate broke. So it was out to the runway and up the steps like in the old days. At least it had quit raining by then. Anyway, I didn't care, I just wanted to get home. Instead of getting home around noon like we were supposed to, it wasn't until late at night when we got back. Then we had to get up early and go to work the next day! Bummer. Still, it was a pretty good trip for a work trip, except for that last day.

Photos from my September 2015 Vacation to New Mexico and Arizona
Once again I flew out west and rented a car for this vacation. My last vacation went so well, and was so much fun, that I opted for essentially a repeat. So I flew out west again this time, instead of driving. The trip got off to a rocky start with plane mechanical problems that diverted me for a while, but it got back on track quickly, and went smoothly from then on. Once again I stayed at Ojo Caliente Mineral Spring and Spa in New Mexico for a while and just relaxed. It gets harder and harder for me to get away from work and take a proper vacation. So my vacations are becoming shorter, and more focused on just relaxing, at least for the first few days. Eventually I start getting antsy to actually do something. Then it is time to head out to my little cabin on my Arizona property and do some work. I had plenty to do this trip. I decided to stain the exterior of the cabin. I also shipped one of my telescopes out to a nearby town, and went and collected it and reassembled it. So now I have a telescope permanently at my cabin so I can enjoy the clear, dark skies anytime I am there without having to take a scope with me. Another great (but too short) vacation is in the books. Can't wait until next time.

Click on any of the photos below to see a larger version.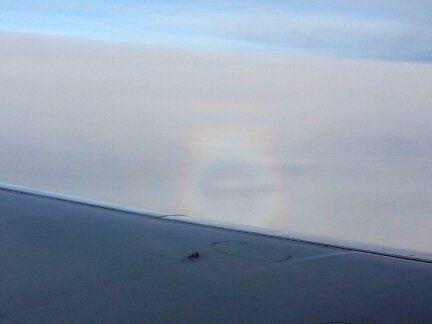 Once again this time, I flew out to Albuquerque to start my vacation. That was the initial plan anyway. The was heavy weather moving in as takeoff time approached. They herded us onto the plane in record time in an effort to get airborne before the storm broke. We made it into the air just as the rain began and everyone on board was jubilant to be on our way with no delay.

This photo shows a glory as seen out the window of the plane shortly after takeoff as we broke through the cloud cover. Unfortunately that was the only glorious thing about the flight. About an hour into the flight the captain came on the intercom and announced that one of the fuel pumps had stopped working and we needed to land as soon as possible. We weren't going to make it to Dallas where I was supposed to catch my connecting flight to Albuquerque. Instead we landed in Birmingham, AL.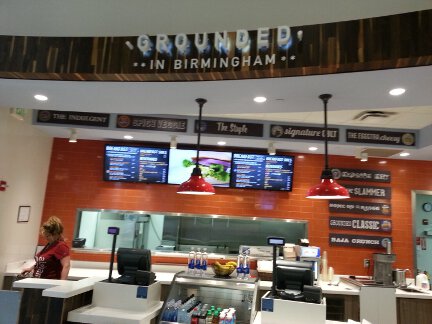 So I'm wondering around the Birmingham airport while they tried to fix the plane, and what do I find? The most appropriately named cafe in the world.

I was stuck in Birmingham for almost 3 hrs. My connecting flight was long gone, but I did manage to arrange a seat on the next flight from Dallas to Albuquerque. Finally they got the plane fixed and we got to Dallas. The flight to Albuquerque was uneventful, and even pleasant. In the end, my vacation got started only a few hours behind schedule.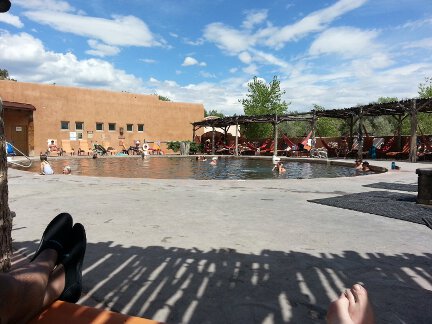 I've had such a good time at Ojo Caliente the last couple of vacations, that it was my first stop on this vacation too. It may be a regular thing from now on. Here I am relaxing in a lounge chair, under a ramada, after relaxing soaks in the arsenic pool and the main pool. A nice way to unwind after a stressful day of traveling.

As usual, while I was there, I did some hiking in the hills above the spa. Soaks in the hot water ironed out the kinks and aches afterwards.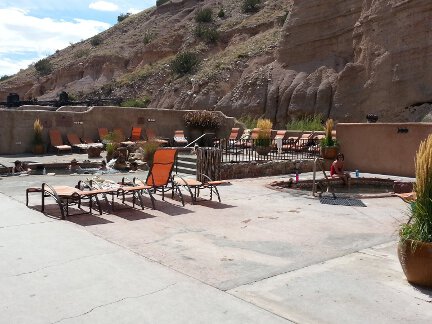 Here is a view of the cliffside pools at Ojo Caliente. I haven't spent much time in them, because there is no shade until late in the day. I'm no sun worshipper. I spend too much time in my dermatologist's office getting the results of my youthful sun exposure cut off. So I tend to stay covered up and hang out in the shaded areas.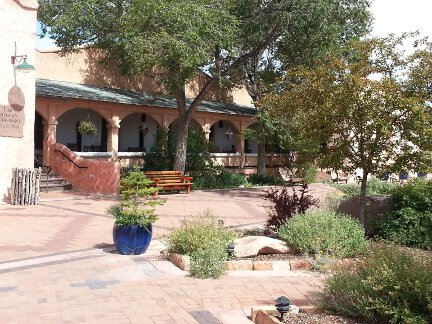 This is the historic hotel at Ojo Caliente where I stayed again this time. The price for a room in the hotel is quite reasonable, even on a Friday or Saturday night. The accommodations are kind of bare bones. However, it is convenient to the restaurant and bar, and just a short walk to the pools. The porch is a great place to hang out, and even eat light meals.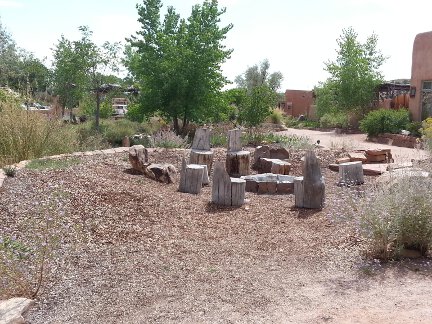 Here is a day time photo of the fire pit at Ojo Caliente. They have a fire every night and people gather around it to talk late into the night. It is like the social center of the spa. I always meet the nicest people at the fire pit every time I stay there.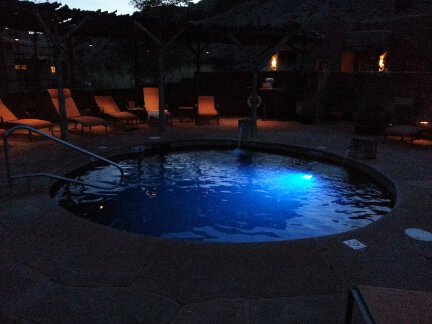 This is the Kiva Pool at Ojo Caliente. It is only available to those staying in the very expensive suites on the south side of the spa. I was staying in the more modest accommodations of the historic hotel. But, some nice people I met at the fire pit invited me over to the Kiva Pool. It is very pretty, lit up the way it is with blue under water lights. It is very private and serene. The Kiva Pool is open later than the rest of the spa. So it was nice to go for a dip to warm up in the cool of the evening after huddling around the fire. I also got a look at the suite my new friends were staying in. Very posh. It might be worth upgrading to one of those suites on a future trip, especially if I am traveling with a lady.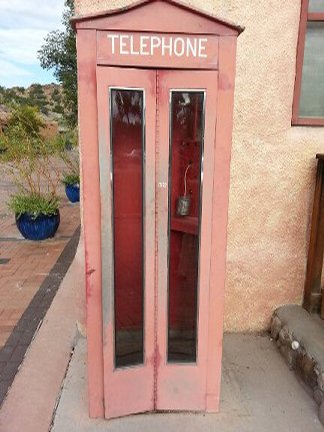 The entire spa area is a whisper zone. There are no phones, TVs or radios in the rooms, and cell phone use in the spa area is strongly discouraged. This phone booth is out in front of the historic hotel building. Notice that instead of a phone there is a tin can tied to a piece of string.

The spa reminds me of a monastery. Everyone is walking around in robes and sandals, and either silent or whispering. It is a very peaceful place.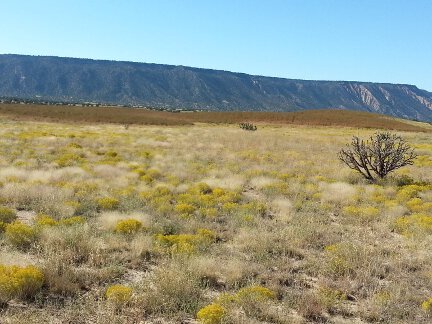 As I said above, I did a lot of hiking while I was in the Ojo Caliente area. I went off the beaten paths this time and explored some things that aren't on the trail maps they hand out to the tourists. This is the ruins of Ponsipa' akeri. Those hills with the brownish grass growing on them are the collapsed remains of a huge adobe pueblo town. There were many buildings and hundreds of rooms. It is almost all melted back into the landscape in the nearly 500 years since it was abandoned. I walked all around the area. The entire site is littered with pot sherds. They had a great view. The site is on the edge of a bluff overlooking the valley of the Rio Ojo Caliente. Nobody knows for sure why the Indians packed up and left. This entire area of the southwest is full of abandoned pueblo villages.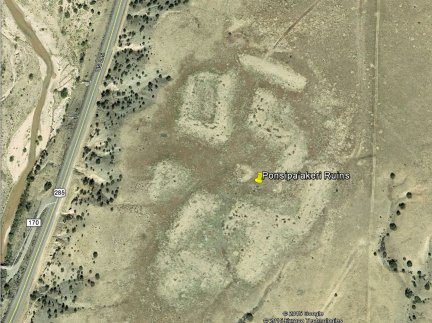 Here is a Google Earth view of Ponsipa' akeri. I knew there were many ruined villages along the Rio Ojo Caliente. I had hiked to the Posi-Ouinge Ruins ruins on my last visit to the area. I wanted to visit some more. I had difficulty finding their locations online. I knew roughly where they were, but not exactly. So I just fired up Google Earth and looked around the bluffs overlooking the river where the Indians liked to build their towns. It didn't take long before I began spotting the ruins. They are quite obvious once you know what you are looking for. I have a dozen placemarks in GE for suspected ruins I found in the area. I'll do more exploring on future trips.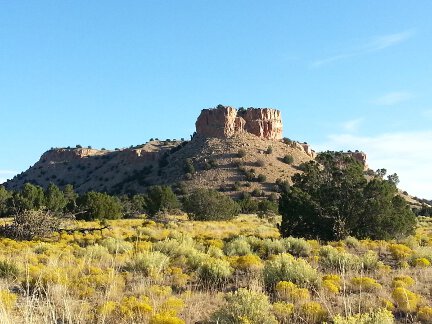 Speaking of suspected ruins, this unnamed mesa has something on top of it that looks suspiciously man-made in GE. It jumped right out at me as I was looking around trying to locate ruins. I was feeling very ambitious, so I decided to see if I could climb up to the top just to see what is up there. Once on the ground, the mesa was taller, steeper, and further from the road than I had expected from GE (isn't that always the way?). But I didn't let that stop me. I set out for an epic hike.

Taking this photo saved my bacon on this hike. By the time I had reached this point. I had already hiked quite a long way from the road where I had parked the car. The mesa was becoming impressive looking (and worryingly taller and steeper than I had expected). So I stopped here for a moment to take a photo. While framing the shot, I set down my water bottle and hiking stick. After taking the photo, I walked off without them. I got maybe 100-150 yards further along before realizing my mistake. I tried to follow my own footprints back the way I had come, but the ground was hard and rocky. I couldn't follow my own trail back the way I had come. I searched around fruitlessly for a while in the area where I thought I had stopped, but couldn't find them. If I couldn't find them, I knew I would need to call off the hike and head straight back to the car because it was already going to be a long walk with no water. Then I realized I had the photo. I pulled it up on my phone. After some trial and error and moving around, I got the landscape exactly framed on the screen the same way the photo was. A little looking around and I found the water bottle and walking stick. The hike was back on. Mesa here I come.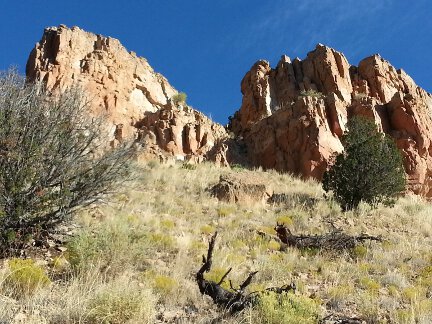 So did I make it to the top? Not quite. I got quite a long way up, but eventually realized I had bitten off more than I could chew. The slope kept getting steeper and the footing kept getting worse the higher I went. It was take three steps forward and slide back two. The angle was too steep the go directly up, so I switchbacked my way up almost to the base of the rock wall. After falling a couple of times and nearly falling dozens more times, I decided I was flirting with death or serious injury. The slope got so steep that if I fell again I knew I wasn't going to stop until I hit bottom, and bottom was getting to be a long way down over lots of big rocks. So I decided to turn around. The trip down was nearly as difficult as going up. Again I had to switchback my way down because of the steepness of the slope. Fortunately I got back down with only a few minor cuts, scrapes and bruises.

It was frustrating to have to turn around. Maybe I was fooling myself, but from where I stopped my ascent, the cleft in the rock wall above me looked climbable, more climbable than the slope leading to it anyway. If only I were 20 years younger. Not that I needed the extra stamina of youth, but the fearlessness and feeling of indestructibility that I had when I was younger may have powered me to the rest of the way to the top, or maybe just to the emergency room. Anyway, I went back to the spa and soaked away my aches and pains from the climb, and my frustration at not reaching the top and finding out what is really up there.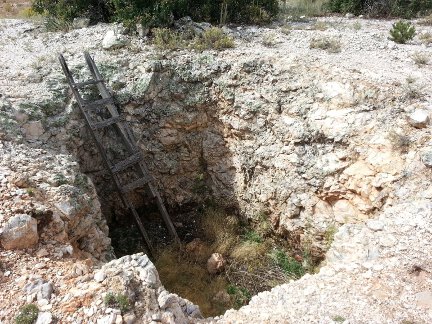 The next day I went exploring some of the old mica mines in the area. The entire area around Ojo Caliente is known for its mica mines. There are hundreds of mines and prospect pits in the area. Being a geology geek, I love to go look at old mines. So I put on my hiking boots and went out looking for some. I knew the general areas where these mines were, but not exactly where. It took a lot of hiking and bushwhacking, but eventually I found some old, long abandoned mines and prospects.

This particular hole was surrounded by piles of large mica plates. In fact, it was the mica shining in the sunlight that led me to it. If the mica that was left behind on the ground is any indication, then some really nice specimens must have come out of this hole. I collected some nice specimens for my collection.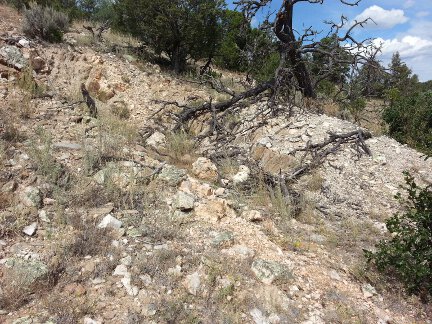 I got pretty good at spotting the faint traces and trails the old prospectors left. Once I spotted a trail, following it almost always led to an abandoned mine or prospect pit. In this case, I believe this was a prospect pit. Someone dug a trench to sample the quality of the mica, but never proceeded to mine it to any extent. There was a lot of mica scattered around here too, but it was not of anything like the quality of the mica at the above mine, or at the mines I visited last spring. Still, it was a fun hike to find it.

After a few wonderful days relaxing at Ojo Caliente, I moved on to the west to my remote Arizona property to spend some time at my cabin. I wanted to do some astronomy while I was there, but since I didn't drive, I was limited in what equipment I could bring along. Then I had the idea of just shipping one of my telescopes out to Arizona and leaving it there so I would always have it there when I visited. This is my old 6 inch f/8 Dobsonian telescope I built many years ago. I don't use it all that much any more. It mostly sat in my closet gathering dust. So I decided to break it down, box it up, and ship it to a UPS hold center in Holbrook. The scope arrived in Holbrook the same day I arrived at my property. It was almost a 100 mile round trip to go pick it up.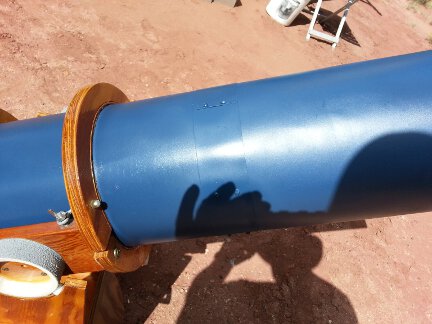 To ship the telescope, I had to cut the long main tube in half. That way I could pack the scope and accessories into three large boxes. This photo shows the metal band that is covering the seam where I cut the telescope tube in half. I also spruced up the scope a little, cleaned the mirrors, put together a collection of eyepieces, repainted it, and mounted a new finder scope on it before breaking it down and shipping it. It cost a couple hundred dollars to ship the three large and heavy boxes out to Arizona, but it was worth it. The scope arrived just on time, nothing was damaged, it went back together easily and perfectly, and now I have a scope permanently available at the cabin.

The first night at the cabin was cloudy, but after that, the nights were wonderfully clear, as usual. I put that scope to good use each night.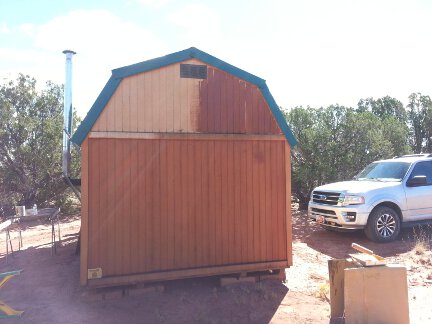 It wasn't all fun and relaxation at the cabin. As usual, there was work to be done. I decided this was the trip I was going to stain the cabin. The wood was starting to look a little weather-beaten. So I went into town and bought some stain, brushes, rollers, and a roller pan. I got most of the cabin done on this visit. only the area above the front porch didn't get done before I ran out of time. I'll catch it next time. Hopefully this will prolong the life of the cabin. It rained before I left. It was neat to see the water hitting the cabin bead up and roll off like a freshly waxed car. Hopefully the stain will protect the wood for many years to come.

All too soon it was time to lock up the cabin and head back to Albuquerque to fly home. Vacation fun time was over. Back to the salt mines.

Photos from my May 2015 Vacation to New Mexico, Arizona and parts unknown
This vacation was quite a bit different from most of my recant vacations. Instead of driving cross-country as I usually do, this time I flew out west and rented a car. I finally have the cabin on my Arizona property to a state where I don't need to drive out there with a bunch of tools and equipment to work on it. So this vacation was almost 100% relaxation and fun for a change. Not that I don't enjoy building and working on projects, but after remodeling my new house, I needed a break from it.

So I flew out west this time. It was great to be out in the Rockies in only a few hours instead of spending a couple of days of hard driving to get there. My first order of business was to head out to a secret location to search for Forrest Fenn's hidden treasure. As usual, I didn't find it, but I feel like I am closer than ever to it. Next I drove down to Ojo Caliente Mineral Spring and Spa in New Mexico and spent a couple of days there. And I had a whole lot of fun there. That is someplace I have to get back to someday. Then I drove the slow and scenic route to my Arizona Property and spent most of a week in my cabin there. While there, I discovered a bunch of potsherds, arrowheads, and flaked stone on my property. Once I started looking for them, I just found more and more. Cool! I guess I am not the first person to live on my land. People hundreds of years ago loved it too. The Archaeology theme continued after I left my Arizona Property and drove to Albuquerque to catch a flight home. I spent the last afternoon of my vacation at Petroglyph National Monument hiking and taking photos of the petroglyphs. It was the best vacation in a long time. I had a lot of fun and really got my batteries recharged. Photos and details below.

Click on any of the photos below to see a larger version.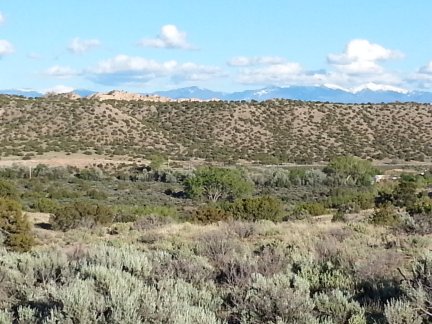 I spent the first few days of my vacation out in the mountains searching for Forrest Fenn's hidden treasure. I'm not ready to say exactly where I was, but you can see the snow-capped Rocky Mountains in the background. This trip was very promising. It was mostly just a recon trip to check out an area I had never been to and pursue an idea that had been bugging me for a while. For the first time after visiting an area, I can't rule it out as a possibility. In fact I think it is a strong possibility. I'm sure I'll be back to this area again.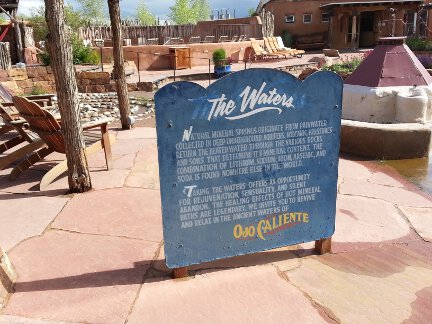 After a couple of days of treasure hunting, I started heading toward my Arizona property, but I decided to pamper myself and stopped along the way at Ojo Caliente Hot Springs Spa, and stayed there for a couple of days. I'd never stayed there before. I'd driven past it a couple of times over the years, especially back during my gold prospecting trips to northern New Mexico. I was usually on a shoestring budget back then, and Ojo is kind of pricey. These days I have a few extra bucks, so I decided to spend a couple of days there. It is a really great place. It was great to hike in the hills above the spa, then soak my tired bones in the mineral water, and hang out by the fire at night and make new friends. The accommodations, even the less expensive options are great. The food is fantastic. And just the whole atmosphere of the place is great. It is quiet and peaceful. The whole place is designated a whisper zone, and cell phones are strongly discouraged. It almost feels like a monastery with everyone walking around in robes and sandals and whispering.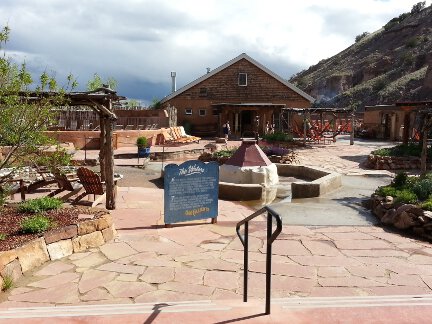 Here is an overview of the spa and bathhouse area at Ojo Caliente. There are half a dozen different pools of different temperatures and mineral composition to soak in. The day I arrived it was cold and rainy. You can see the rain clouds in the background of the photo. A few people braved the literally freezing weather (I drove through sleet on the way there) to soak in the hot water. But it was far too cold for me to strip down to my bathing suit. After the rain finally stopped, I went hiking in the hills above the spa instead. There is a bonfire every evening. After my hike I wondered over to the fire and met a really great group of people from Colorado. We stayed at the fire talking late into the evening. The next day we got back together and went on some adventures then soaked in the pools.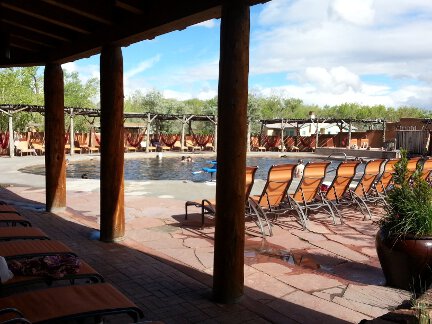 Here is a view looking toward the big pool at Ojo. I didn't take a lot of pictures while I was there. I didn't want to seem like that creepy guy who is snapping pictures of all the people in their bathing suits. Besides, I mostly left the cell phone in my room. I was on vacation after all. I think my new friends and I soaked in every pool while we were there. Some are very hot. Others are only warm. The different mineral waters feel different too. We even tried out the mud bath, which was a new experience for me. It was all a lot of fun and very relaxing.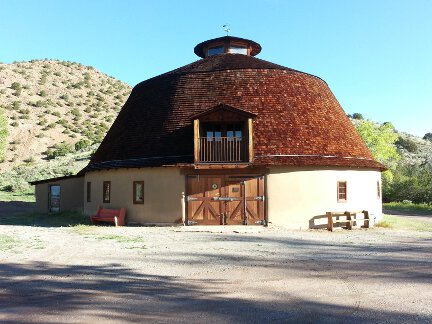 My new-found friends were not early risers. However, I was from two time-zones to the east and used to getting up early. So I had time for a shower, a soak in the hot springs, breakfast, and some solo adventuring in the morning before meeting up with them. One thing I wanted to see was one of the filming locations for the movie Young Guns. The historic Round Adobe Barn at Ojo Caliente was featured in the film. It and some surrounding buildings served as the location for recreating the Gunfight at Blazer's Mill, where Buckshot Roberts took on The Regulators. It is a neat building. It was completely renovated some years ago. It is no longer used as a barn. These days it has an opulent interior. The resort makes it available for meetings and weddings and other large group activities. It is in a wonderful setting, surrounded by hills, at the edge of the river, near a grove of huge old cottonwood trees.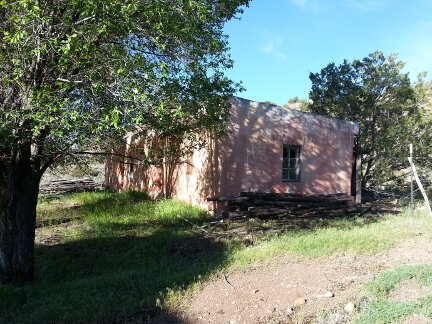 Here is another old adobe building behind the barn that was in the movie Young Guns. This one though has not been maintained or restored. It is literally falling down. The roof has caved in and the rear of the building is completely disintegrating. In the movie this is where The Regulators are all gathered eating when Buckshot Roberts shows up.

After having a look around at the buildings and taking some photos, I went for a short hike in the hills behind the barn. It was a nice warm-up for what would come later.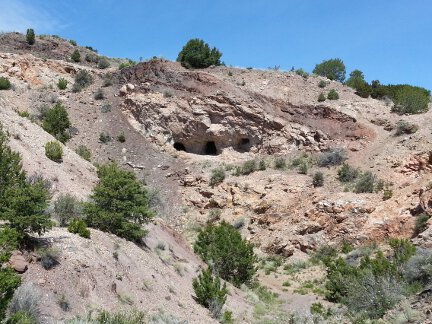 The night before a group of us sitting around the bonfire decided we were all going to hike to the Joseph Mica Mine in the hills above the resort. They decided I was to be the guide since I had told them about the hiking I had already done around the area. I was a little apprehensive about being appointed to guide them to someplace I hadn't been yet, but I did really want to go see the mines, and had already planned on going alone. Having company would be a bonus. I wasn't really worried about getting lost or not being able to find the mines. I was more worried about the tough four mile hike through rough country leading to something they wouldn't think had been worth the time and effort. I am a geology geek after all, and not everyone shares my fascination with rocks and old mines. I needn't have worried. The Colorado ladies who went with me just liked to hike, and thoroughly enjoyed the hike to the mines and seeing them when we arrived. I'm glad I had lost 60 lbs by this time. Otherwise I never would have been able to keep up with them. I felt as agile and energetic as a mountain goat without all that extra weight.

Here is our destination. The Joseph Mica Mine. The ground for hundreds of yards in all directions is littered with glittery bits of mica. Some pieces were quite large. I collected a souvenir sample of mica, then discarded it and picked up a better one, then discarded that for a still better one. This sequence repeated many times until we reached the mine.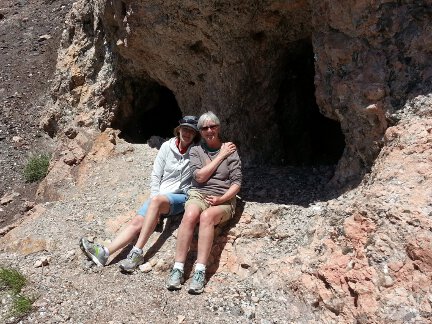 When it was time to leave for the hike to the mines, only two of the group from the night before actually committed to going along. The charms of the Spa and Resort lured away the rest. So it was just the three of us who made the trip. Here you can see my new friends Marie and Aileen sitting in front of the mine entrances. Those aren't really so much mine entrances as little swallow alcoves cut into the rock. The deepest one only goes maybe 20 feet into the rock. The entire area had huge, visible outcrops of big mica sheets, the ground was completely covered with bits of mica. It was very neat.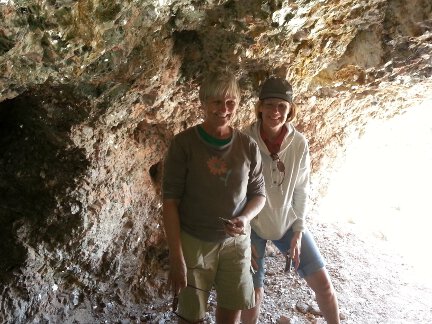 Here we are inside the mine. It is not recommended that people go inside old abandoned mines, but this one was sturdy with no rotting wood supports and no pits to fall into, and only about 20 feet deep. The walls and ceiling had immense deposits of large mica sheets embedded in them. I pried big pieces out of the ceiling to keep as souvenirs for all of us. I again discarded the pieces I had collected earlier as not worthy compared to the new one. I was wishing I had brought along my trusty rock hammer on this trip. I could have gotten even larger and more impressive samples out. The inside of the mine was a surreal place with the walls and ceiling covered in huge sheets of glittery mica, and the floor completely covered in broken mica bits to a depth of several inches. You can see some of the mica in the walls and ceiling glittering in the camera flash.

After we got our fill of the mine, we hiked around the area a bit, seeing the sights, before returning to the spa. We spent the afternoon soaking our weary bones in the mineral water. It was a great day. The best part is that I may have made some new friends for life. I have an open invitation to visit them whenever I am in Colorado.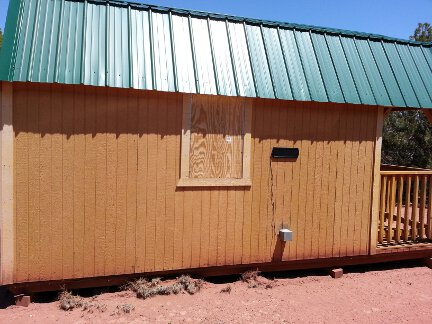 I was having so much fun at Ojo Caliente that I stayed longer than I planned. Eventually though, it was time to go. Because I left so late, I couldn't drive directly to my Arizona property. I stopped and stayed the night in one of my favorite towns, Grants, NM. The next morning I took what I like to call the scenic route from Grants to my Property. Instead of taking I40 into AZ and then 191 south, which would be the conventional route, I take 53 from Grants, past El Morro, through the Zuni Pueblo and into AZ and onto 191. It is a much more scenic way to go, and has no interstate highway traffic. In fact for very long stretches, I am usually the only car on the road.

In no time I was at my cabin. Everything was just as I had left it last September. I get a lot of questions from people about how I secure the cabin during my long absences. So this time I took a bunch of pictures of the cabin as it was when I arrived before opening it up, to show how it is secured. Here you can see the south side of the cabin. The window is boarded up. You can also see the little solar panel on the wall that keeps my big deep cycle battery trickle charged, so I have power available between the time I arrive and when I get the solar array set up.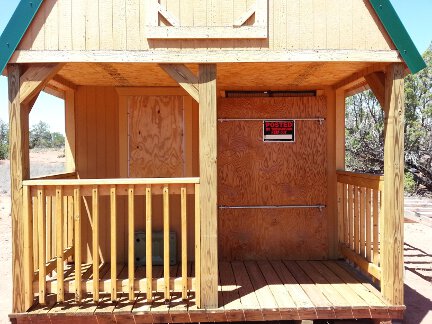 I have to admit that probably the best security features I have are that the cabin is in the middle of nowhere, deep inside a treed 40 acre lot, and almost invisible from the "roads" (actually rutted dirt tracks), which carry almost no traffic on them anyway. Security through obscurity. I do take other precautions though, just in case. Boarding up the cabin not only secures it from thieves and potential squatters, but also protects the windows from any flying debris kicked up by the extreme wind storms that the area is prone to.

So here is a view of the front of the cabin still boarded up. Everything was just as I left it. I swear I could still see faded traces of my own size 13 footprints in the dirt from seven months earlier when I locked it up and left. I have never seen any sign of anyone else having been on my property between my visits.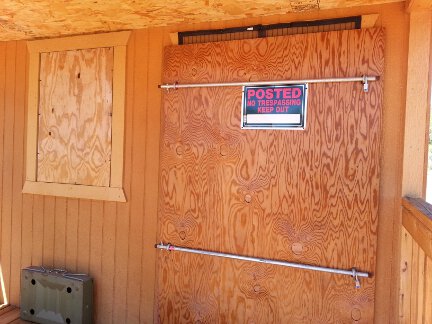 Here is a close-up view of the boarded up front of the cabin. The door is covered with a sheet of half inch plywood. I used to screw it in place with heavy duty screws. I needed a better way of securing the plywood over the door that could be removed without needing power tools if I was going to start flying out to stay in the cabin. I hit upon the idea of installing four long and heavy duty eye bolts through the wall studs and securing them on the inside with big washers and nuts. There is no way to easily remove them. Then I got two four-foot lengths of 3/4 inch steel pipe to run through the eye bolts to hold the plywood in place. I drilled holes through the pipes near the ends so I could use padlocks to secure the pipes in place. The other end has a heavy bolt and nut going through it, with the bolt bent over so the nut can't come off. To uncover the door, I just need to remember to bring the key to the padlocks. No tools necessary.

I used to screw plywood to the window frames with heavy duty screws too. My no power tools solution was to cut plywood sheets that fit inside the window frames and secure them in place with security screws that go into the edges of the frame. I keep a screwdriver with the correct head to remove them in the cabin. So once I get the door open, it only takes a few more minutes to have the windows uncovered.

None of this would keep a determined burglar out of the cabin, but they would really have to be clever and bring some tools and muscle to get in. Opportunists would probably just keep walking. I actually left my old and broken camp stove on the front porch kind of hoping some metal scavenging thief would come along and steal it. No such luck. It was still sitting there. I had to haul it into town myself to get rid of it.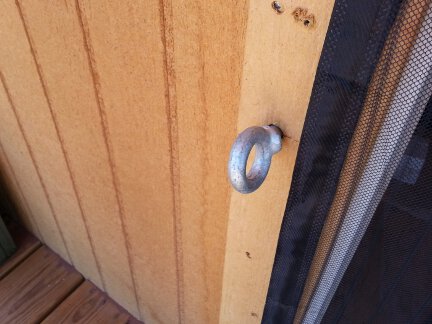 Here is a close-up of one of the eye bolts that secure the plywood in place. Holes were cut in the plywood to allow the heads of the bolts to pass through. It is a very simple and amazingly strong way of securing the door. I am less worried about the windows because they are small and it would be difficult for an adult to get in through them, or get much of anything back out of the cabin through them. Not that I keep much of any real value there anyway. Breaking in would be a whole lot of work for essentially no reward.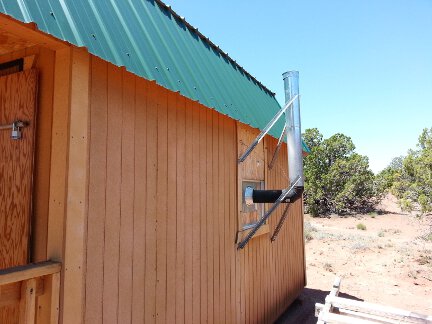 I also take down the top three sections of the chimney pipe and cap off the end of the chimney. I don't do it out of any kind of security concern. I am more worried about the hellacious wind storms blowing it down when I am not around. Taking it down gives me peace of mind, and it only takes a few minutes to re-install.

I can have the cabin opened up and livable in less than an hour. Setting up the solar power system or the wind turbine naturally takes longer, but I am not in any hurry. It often waits until the next day if I arrive late.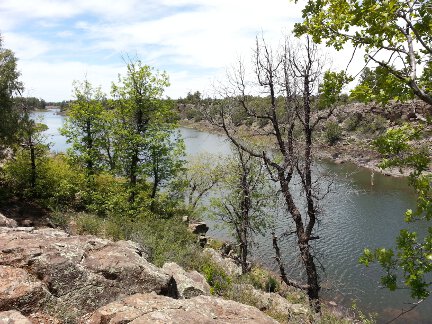 This is a photo of the canyon at Fool Hollow State Park, just outside of Show Low. I go to the park every once in a while when staying at my cabin. I can get a shower, fill up my water jugs, and maybe have a picnic lunch. There are some great hikes and lots of nice scenery. It is really a great park. While I am in town I can pick up supplies and do laundry if I need to.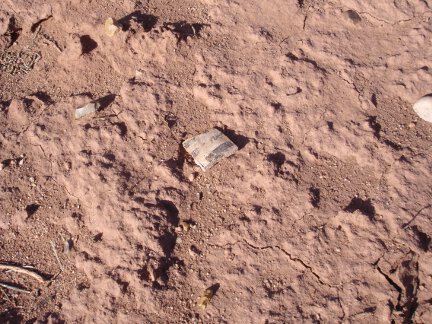 I had no real agenda on this vacation. There was no long list of jobs needing to be done around the cabin. I spent my time reading, relaxing, trying to find the ambition to do some writing, and taking long walks around the property. On one of my walks I spotted something on the ground. "Holy crap, is that a potsherd?" I exclaimed out loud. Sure enough it was. So now I started looking for them. I quickly found a bunch more, of several different styles. I also started seeing lots of obvious signs of stone knapping. Then I started finding arrowheads. Wow! I grabbed some little flags left over from laying out the position of the cabin and began walking a grid pattern. I marked the places where I found artifacts. One flag for worked stone, and two flags for potsherds or arrowheads. Suddenly I had my own little archaeological project going on in my own back yard.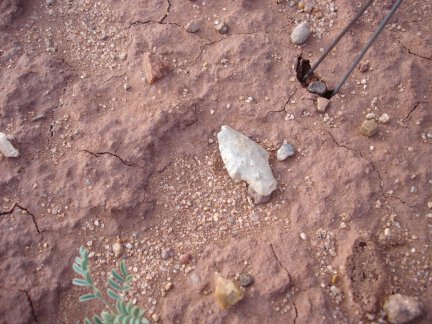 Here is the most complete of the four arrowheads I found. This one just has its tip broken. The other three were much more damaged. I don't know if they were damaged in use, or if they were broken during manufacture. I did see a lot of knapped stone and flakes in certain areas. The Indians could have been making arrowheads, and the ones I found were rejects that broke during manufacture. I guess the other possibility is that they broke during hunting and the Indians stopped to make new ones on the spot. Did the Indians live here for any length of time, or were they just passing through? Who knows? It's times like this I wish I had a time machine. The Doctor and the TARDIS are never around when you need them.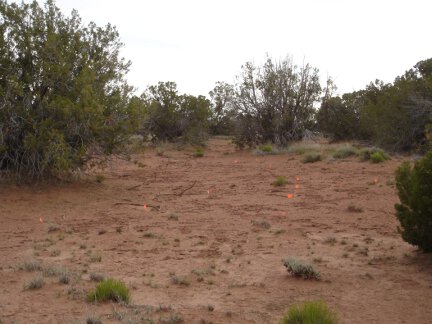 After a few hours of walking my grid pattern and placing flags where I found artifacts, a pattern emerged. One area of the property had a very high density of artifacts, and the number diminished the further away I got from that area. There were a few distant outliers, but this area shown in the photo with all the little flags was definitely the hot spot. At the time I took this photo, I hadn't yet walked the area behind where I am standing. When I did I found quite a few more artifacts. This hotspot actually extended quite a way in the north-south direction, but was fairly narrow in the east-west direction. Click the photo for a larger version where the little orange and yellow flags are easier to see. I suppose it is possible that erosion has just preferentially exposed the artifacts in this area. Other areas may have as many or even more artifacts, but they may be buried under sediments. I haven't walked the whole property yet looking for artifacts. Walking new areas will keep me occupied for many vacations to come. 40 acres can hold a lot of hidden surprises.

Here is a photo I took stuff I collected after I started finding potsherds and worked stone, but before I started finding arrowheads. The potsherds are on the first row, and some obviously knapped stones and flakes are on the second row. The third one from the left might have been an arrowhead that was abandoned partway through manufacture. I couldn't be sure though. It didn't look much like an arrowhead from any other angle, so I didn't count it as one of my four finds. Some of the stone flakes may have been the byproduct of making arrowheads or other stone tools, or maybe some of them were made for use as tools themselves for skinning and butchering game. Some of them were fairly large and still had wickedly sharp edges. I have no doubt it would be easy to skin and butcher a rabbit with some of them. Eventually I stopped collecting the worked stones and flakes. There were just too many of them. Some areas had very high densities of flakes. I eventually even stopped marking each worked stone with a flag and just used the flags to mark areas where there were a scattering of worked stones.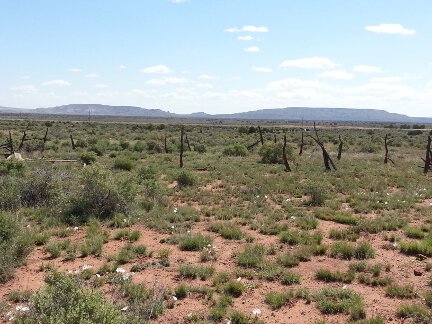 Eventually it was time to lock up the cabin and head for home. On the way out to the paved road, I stopped and got this photo of the mountains to the East of my property with an old abandoned corral in the foreground.

I decided to enjoy every minute of the last day of my vacation before flying home. So I naturally took the scenic route back the way I had come, instead of the interstate. I went back through Grants and stopped for lunch at Blakes Lottaburger. It was worth going off the diet. I love Lottaburger. I discovered it on my very first trip through New Mexico 22 or 23 years ago. I have to eat there at least once each time I pass through New Mexico.

After lunch I finally got on the interstate and drove the rest of the way to Albuquerque. I found a motel near the airport and checked in. There was still a few hours before sunset, so I went exploring, naturally.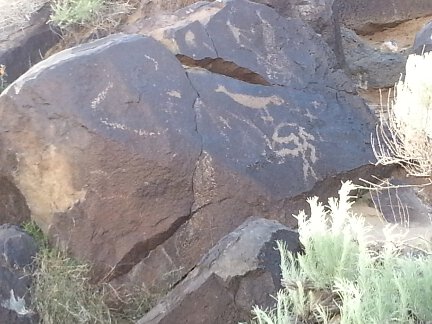 I decided to check out Petroglyph National Monument. It is a surprising little slice of wilderness surrounded by new housing developments. I spent a couple of very enjoyable hours hiking through the lava flows looking for petroglyphs pecked into the desert varnish on the boulders. I had the place pretty much to myself. I passed a couple of people leaving as I entered, then never saw another person the whole time I was there. I did see lots of rabbits, coming out in the early evening. They were too fast for me to get a photo. There were also a lot of hummingbirds there. They buzzed around me like big bumblebees as I explored the rocks looking for glyphs to photograph.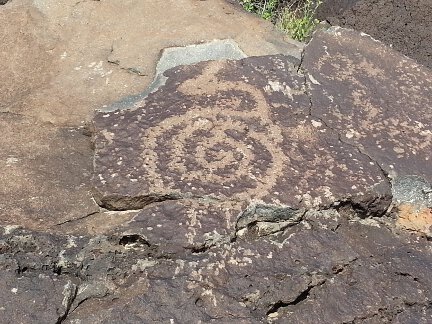 Too bad nobody knows what the images mean. Everybody has their own theories, but nobody has any hard evidence. Once again I find myself in need of a time machine to answer my questions. No such luck. The only machine I got to go anywhere in had wings and jet engines, and brought me back home the next day. It was a great vacation. One I will always remember. Can't wait until next time.

Photos from my September 2014 Vacation to New Mexico and Arizona
Another epic cross-country vacation trip is in the record books. It was a great one too. This was one of my best vacations ever. Everything went without a hitch, my health is better than it has been in a long time, my weight is way down from where it used to be, the weather was great, and I had a lot of much needed fun and relaxation (in spite of work calling me with problems fairly regularly). Damn the inventor of the cell phone. Taking a real vacation where you can be totally out of touch is getting harder and harder. As usual on this trip I blasted down the highways as fast as I could to get to The Land of Enchantment, then slowed way down to do some exploring, and just enjoy the scenery the rest of the way to my Arizona property.

Click on any of the photos below to see a larger version.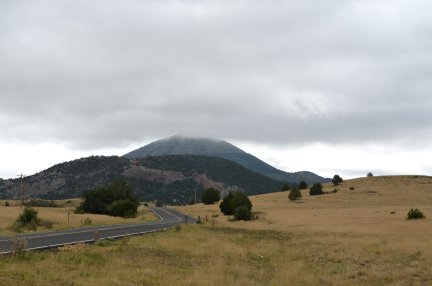 I have driven past Capulin Volcano National Monument I don't know how many times on my way out to New Mexico and Arizona. This trip I decided to make time to stop and have a look at it. Unfortunately it was an overcast day and the top of the volcano was lost in the clouds. I had hoped to get some nice photos of the countryside from the top, but it was very foggy up there. I drove up to the top anyway, and was shocked by the temperature change. It was quite comfortable, with a cool breeze blowing at the base. At the top an icy wind was blowing at near hurricane force, and pelting me with cold fog droplets. Brrrrrrrr.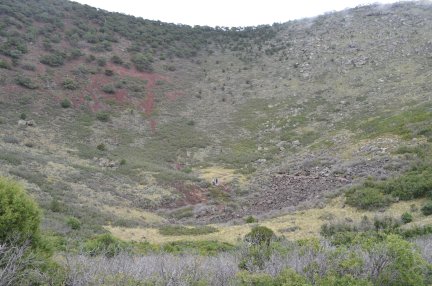 This photo shows the inner crater of Capulin Volcano as seen from the parking lot at the top. You can see some of the fog boiling over the lip of the volcano at the upper right. I had planned on hiking around the rim, and taking lots of photos, and maybe even hiking down into the crater. Unfortunately the Ice cold, windy and wet conditions put a stop to that plan. It was just too cold. I didn't have enough cold weather gear with me. I made it maybe 1/4 of the way around the rim before quickly retreating back to my truck thoroughly frozen. The heater ran on high as I drove back down the mountain. I will try again on a nicer day.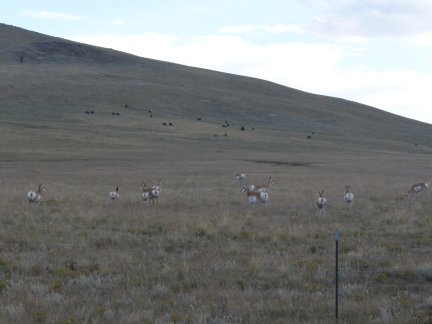 I came across a herd of Pronghorm antelope near Raton, NM. They eyed me warily, but didn't run off before I got a few pictures of them. By the way, the black dots on the hills in the background are buffalo.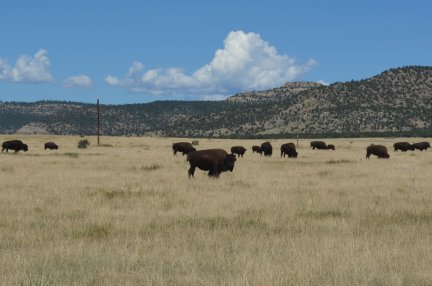 Further down the road a herd of buffalo was close enough to the road to get some good photos. These buffalo live on Ted Turner's huge Vermejo Park Ranch, which covers a huge chunk of very pretty country in NE New Mexico. Must be nice to be a billionaire.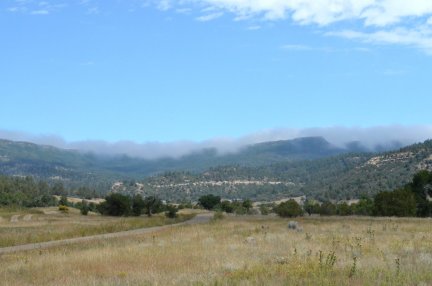 This photo shows fog and clouds rolling over Bartlett Mesa. This is the same cold fog that vexed me at Capulin Volcano, but I was determined to get up on that mesa anyway while I was in the area. I had heard it was very pretty country up there, and I was in the mood to explore, so I drove on up.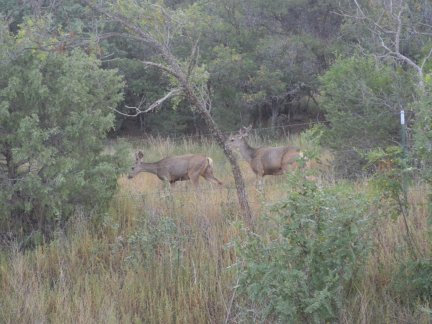 I saw a lot of wildlife on this trip. Here are a couple of deer beside the road up Bartlett Mesa. They pretty much ignored me and kept on doing the things deer do while I snapped photos of them. They weren't at all camera shy.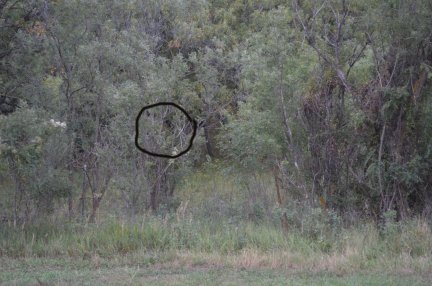 Just up the road from the deer, and near the top of the mesa, I went around a sharp bend in the road, and there was a black bear standing right at the edge of the road. I hit the brakes, and he dived into the woods and ran away at full gallop. Unlike the deer, he was very camera shy. By the time I got my camera swung around to grab a photo, he was just a dark blur cruising rapidly through the underbrush. The dark shadow in the circle is the best photo I got of him, unfortunately.

| | |
| --- | --- |
| | When I finally made it up to the top of Bartlett Mesa the conditions were similar to what it was like at the top of Capulin Volcano. The wind was whipping like mad, it was freezing cold, and the clouds were rolling over the top of the mesa as sheets of high-speed fog. It was a very eerie scene. The drive across the mesa and down the other side was memorable. I went back and drove it again the next day which was clear and sunny. The country on top of the mesa was every bit as beautiful as advertised. |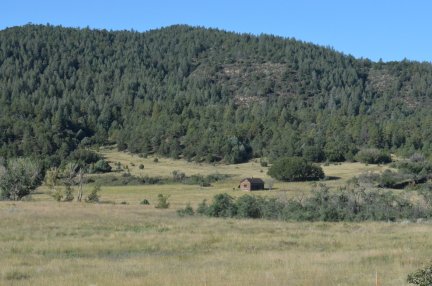 As I was cruising along the mountain roads in the Raton area I came across this old cabin set in a really beautiful area. I wished for a minute that I could pick up my cabin in Arizona and move it to a spot this beautiful. Then I remembered that my little corner of Arizona is already paid for, and is almost as scenic, and has milder winters. Still, it is a lovely scene.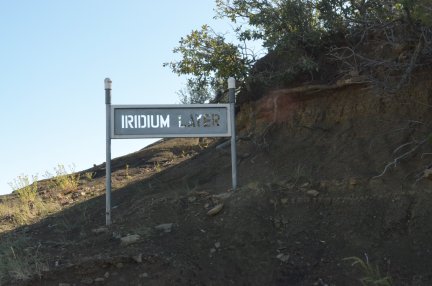 I let the geology geek in me come out and play a little bit on this trip by visiting a spot where the K-T boundary is exposed near Raton. The K-T boundary is the dividing line between the time of the dinosaurs, and the time after they went extinct. The boundary itself is full of the rare element Iridium, which is assumed to have come from a large asteroid impact at the time of the extinction. The boundary layer is not as clearly visible here as at another nearby exposure I visited several years back. I may make it a project to eventually visit all the places where the boundary is exposed.

Moving on into central New Mexico, this photo shows the Palisades at Cimarron Canyon State Park. The Palisades are huge vertical cliffs at the edge of the Cimarron River Gorge. The park has a lot of lovely scenery. I drove through it at a leisurely pace, enjoying the scenery, and annoying all the people in a hurry to get somewhere. I stopped in several places to take photos and once to have a picnic lunch.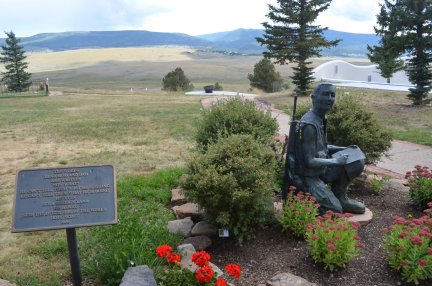 My more or less random ambling through New Mexico eventually landed me at The Vietnam Veterans Memorial State Park in Angel Fire, NM. I have driven past it before, but never stopped in to visit. Friends had told me it was a wonderful place, so I spent some time there looking around. It is truly an amazing place and a wonderful memorial to the men and women who fought in Vietnam. The setting is amazing, surrounded by mountains and meadows, far away from ugly city sprawl. There are beautiful gardens and wonderful statuary and displays. There is so much to see.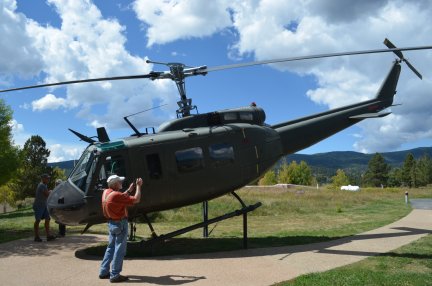 There is a Heuy Helicopter at the park named "Viking Surprise" that was flown in the Vietnam war. It is amazingly well poised as if lifting off. Inside there is even a pair of aviator sunglasses on the console. It really attracts a crowd.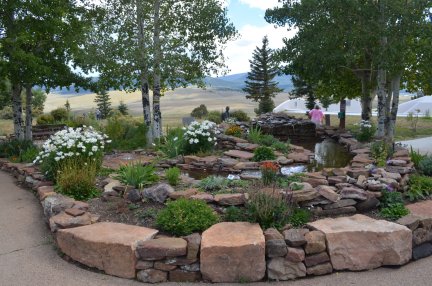 Here is a photo of the gardens at The Vietnam Veterans Memorial State Park. The gardens are amazing. The entire park is just a joy to walk around in with amazing scenery in every direction.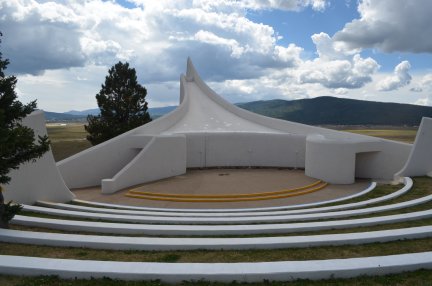 This is a photo of the open air amphitheater at The Vietnam Veterans Memorial State Park. The white building is a beautiful indoor chapel. I didn't take any photos of the truly beautiful indoor chapel out of respect for the services going on in there. The boxes of tissues set out at regular intervals along the inside chapel seats brought home true meaning of the place. Elsewhere on the grounds there is also a fantastic museum, a gift shop, and archives for people researching relatives who fought and died in the war. This was one of the best stops on the whole trip. I'm glad I finally did check out the park. I will be stopping in every time my future travels take me through Angel Fire.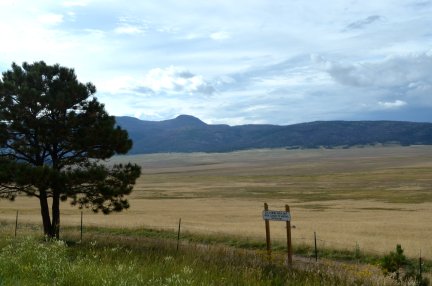 Moving on West I passed through one of my favorite spots, The Valles Grande Caldera and the Jemez Mountains. I love this overlook. I have to stop here every time I pass through. There were no elk to view today, but the view itself was worth stopping for. It always is. It is hard to keep my eyes on the road when driving through this area.

Moving on North I did some exploring in the badlands near Cuba, NM. This is an area I've wanted to explore for a long time, but haven't had a chance to get to on past trips. Lots of interesting landforms here. Unfortunately it was gray and gloomy the whole time I was there. There was a tropical storm moving through Southern NM sending thick clouds and intermittent rain showers into the North part of the state. It was so dark and gloomy and the light was so flat and contrastless that I didn't take a whole lot of photos, and a lot of the ones I did take weren't very good. Still it was a treat for the eyes to see the crazy landscape.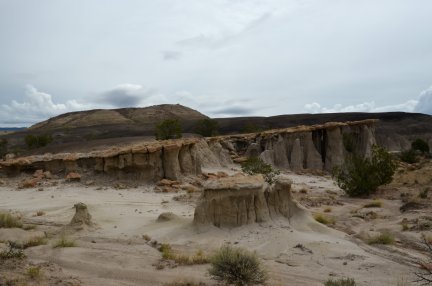 Another shot of the badlands near Cuba, NM. I've visited badlands in lots of places. I am constantly amazed by the crazy shapes created by erosional forces. This area looks like it could be a set for filming a Flintstones movie, or some prehistoric thriller.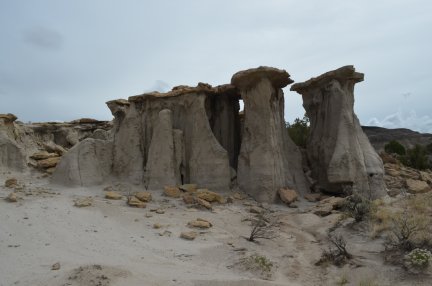 Here is a great shot of a group of hoodoos in the badlands. The geology geek in me loves hoodoos. Hoping to see some good hoodoos was one of the main reasons I went into the badlands. The hard layer of caprock on top of the hoodoos protects the soft clay layers immediately underneath from erosion, resulting in these crazy rock capped pillars called hoodoos.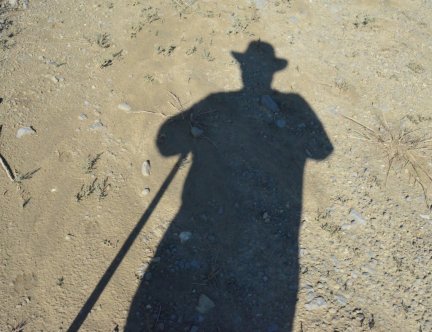 After driving to a secret location somewhere in the mountains North of Santa Fe, I spent some time hunting for Forrest Fenn's hidden treasure. Unlike past trips, I didn't feel I had a complete solution by the time I was ready to leave for my vacation. So I spent my time cleaning up loose ends left from previous search trips that had to be aborted due to running out of time. Just in case I might have missed something, like a 10 inch by 10 inch treasure chest full of gold. No such luck this time. I noticed while I was hiking around that my shadow greatly resembled the shadow on the cover of Forrest Fenn's book Too Far To Walk. So I snapped a photo just for fun. I'll be back out hunting for the treasure again on future trips through the Rocky Mountains.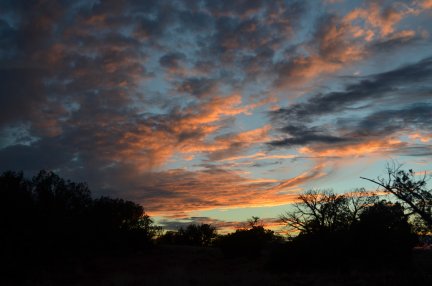 All too soon my play time in the Rockies was over and it was time to head to my remote Arizona cabin. I spent a full week at the cabin on this trip. I did a lot of work on it, getting it to the state where I won't need to drive all the way out there with a bunch of tools and equipment on every visit, and I will be able to fly out and stay instead. It is pretty much there. I may fly out west on my next vacation trip. It will easily save me three days of travel, and a lot of wear and tear on my long suffering truck.

This is a photo of a beautiful sunset as seen from my Arizona cabin. One of the many I saw while there.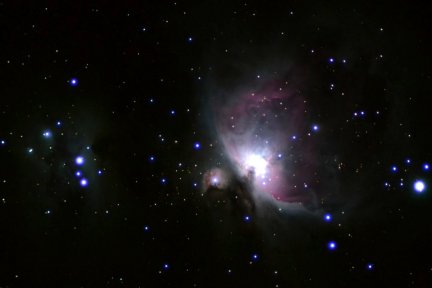 Here is a shot of the Orion Nebula taken under the amazingly clear and dark skies on my Arizona property. I had a good long stretch of clear weather at night this trip. I literally stayed up all night one night taking photos. I just couldn't stop and waste such great weather.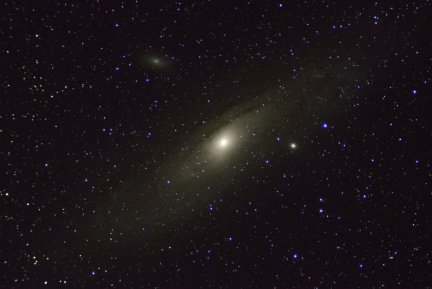 Here is another astrophoto taken on my remote Arizona property during my vacation. It is a photo of the Great Andromeda Galaxy. Possibly my best astrophoto to date. The amount of detail in the dust lanes is stunning, especially in the full-size image. Even the large image here (which has been resized) shows amazing detail.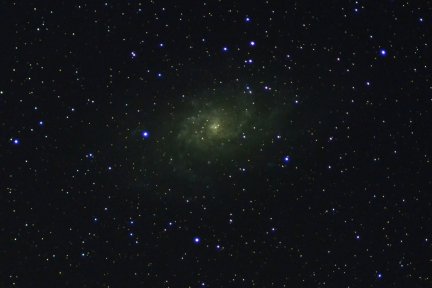 Here is a photo of M33 I took on this trip to Arizona. As a low surface-brightness, near face-on spiral galaxy, M33 has always been a difficult target for me, in spite of it's huge size. I think this is by far my best photo ever of it.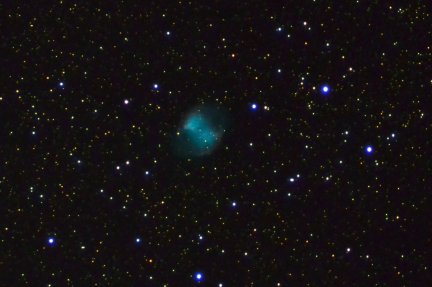 Here is a photo of the Dumbell Nebula taken on this trip to Arizona. This has always been one of my favorite objects.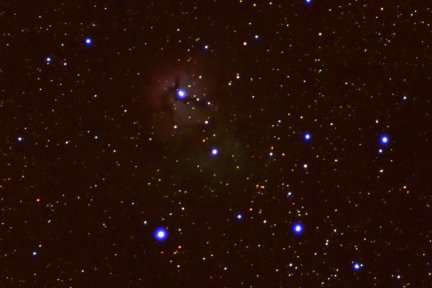 Here is a fairly decent photo of the Trifid Nebula taken on this trip to Arizona. I may try reprocessing this image to try to bring out more contrast.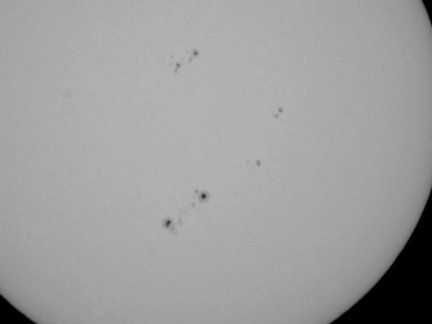 Since I had my astrophotography setup all aligned and calibrated, It seemed a shame to only use it at night, so I also got a few shots of sunspots during the day.

Photos from my May-June 2013 Vacation to New Mexico and Arizona
I once again hit the road on another epic cross-country vacation adventure. This trip had its ups and downs, but in the end, was a great vacation. It got off to a rough start when somebody hit my truck in Texas, but the damage was minor. It got better when I got into New Mexico on day two. I spent a couple of days in New Mexico seeing the sights and searching for Forrest Fenn's gold. Then I made my way into Arizona and spent a week in my cabin on my remote 40 acres of property. I had a great time there. I worked on the cabin, tested out my new home-made tracking system to keep my solar panels pointed at the sun, and got in some astrophotography. Then it was time to pack up and head back east. I did some more sight-seeing and treasure hunting on the way back through New Mexico. Then it was back home and back to work, and dreaming of the next time I can get away to the west.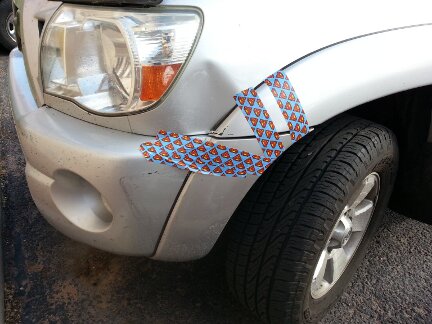 The vacation got off to a rough start. The first night out somebody bashed into my truck in the parking lot of the motel I was staying at in Texas. Naturally they weren't nice enough to even leave a note or anything. They just took off. Texans are generally much nicer folks than that. Maybe it was another tourist just passing through like me. Anyway, they put a big dent in the front fender, and broke the plastic fender trim. They also scuffed, but fortunately did not break the headlight lens. I hope their vehicle took the brunt of the damage. Anyway, I taped up the trim to keep it from flapping in the breeze and kept on trucking. I wasn't going to let this incident ruin my vacation.

Click the photo for a larger view.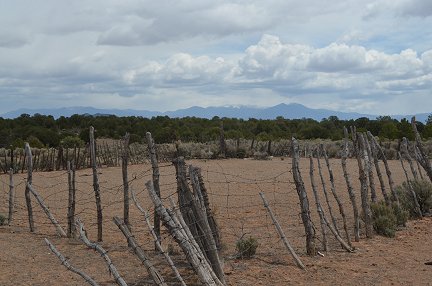 Here I am in Northern New Mexico in the Tusas Mountains looking north at the much higher and snow-covered peaks in Colorado with an old corral in the foreground. Northern New Mexico and Southern Colorado are about my favorite places in the world. The scenery is always amazing. I never get tired of it.

Click the photo for a larger view.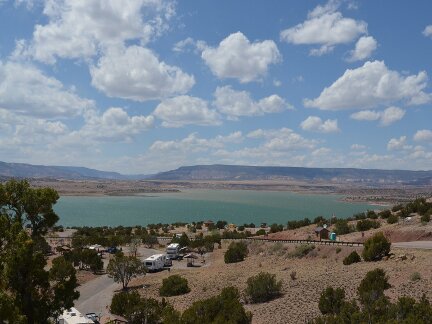 Here I am looking down on Abiquiu Lake. The Abiquiu area is a very pretty part of New Mexico. I can see why Georgia O'Keeffe loved to paint the countryside here.

Click the photo for a larger view.

I finally got to my cabin in arizona and made myself at home. The cabin was just as I had left it last September. I moved in and began making improvements. A couple of cinder blocks serve as the front steps, making it easier to on and off the porch. Blinds on the windows make it easier to sleep past sunrise.

Click the photo for a larger view.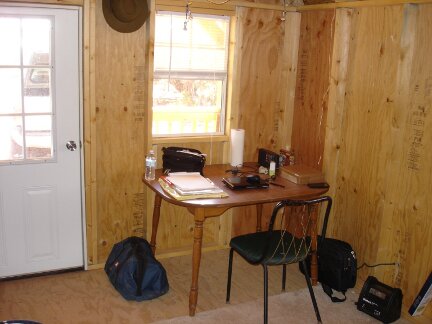 Inside I began decorating. I bought some used furniture at a thrift store I pass on the way to town. Here you can see my combination dining room table, desk and entertainment center. 12V DC lighting was installed over the table to illuminate the area at night. I also ran AC power into the cabin from the inverter outside at the solar array so I could keep my netbook computer, phone and other appliances charged up and running.

Click the photo for a larger view.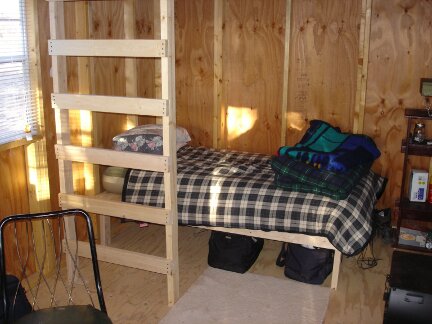 Next I built a bed platform to get my air mattress up off the floor, and provide some out of the way under-bed storage space. I put carpet remnants down on the bare wooden floor so I don't have to walk on the ice-cold floor in my stocking feet first thing in the morning. Then I finished the incomplete loft space, and built a ladder for easy access to it. I intend to use the loft for storage.

Click the photo for a larger view.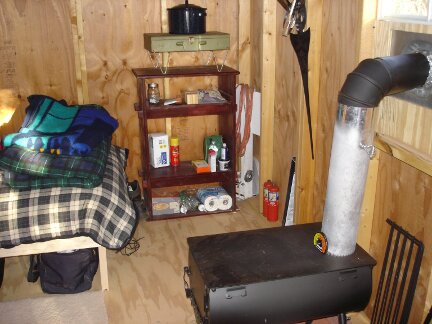 Here you can see some shelving I got cheap at the thrift store to hold some of the necessities of life. I also brought the little Coleman Propane cookstove that I have had since we went on family camping trips when I was a small child. Also in this photo is the wood burning stove I installed for heat. More on that below.

Click the photo for a larger view.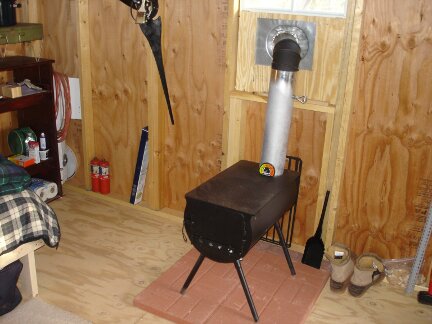 Here is a better photo of the wood burning stove. It is a cylinder stove, commonly used to heat large wall tents. I had been shopping for wood stoves in the months before this vacation. I was hoping to get a classic pot belly stove, but I found this cylinder stove at an unbelievable deal and settled on it. My first night in the cabin was unbelievably cold. I made it my #1 priority to get the stove installed on the second day so I would have heat that night and the next morning. I did a quick temporary installation and ran the stove pipe out through a bulkhead I installed in place of the screen on one of the windows. I had heat the next morning, and it was wonderful. I will do a more permanent installation on a future stay at the cabin. I also bought and installed a Carbon Monoxide detector in the cabin, just to be safe.

Click the photo for a larger view.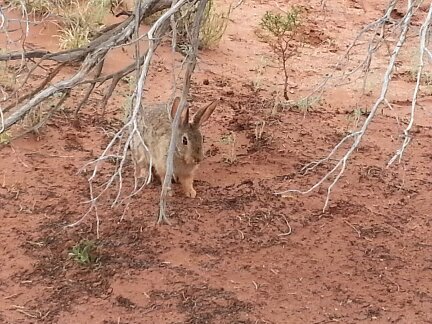 I saw a lot of rabbits on the property on this trip. There seems to be a family of them living under the cabin, as well as lots of other rabbits on the property. I haven't seen any coyotes on the last few trips. Maybe that is why there are so many rabbits. Anyway, they are quite cute, and not as skittish as they usually are. I have dozens of photos of them. Sometimes they let me get quite close to them.

Click the photo for a larger view.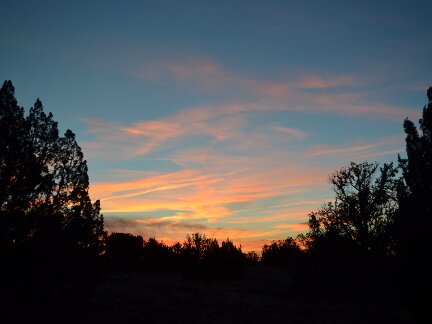 A crazy colorful sunset as seen from my Arizona property.

Click the photo for a larger view.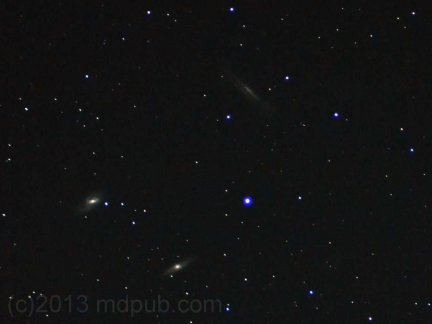 I also had a chance to do some astrophotography under my wonderful middle of nowhere Arizona sky. This first photo is of the trio of bright galaxies in Leo, M65, M66, and NGC 3628. This is a stack of 8 second exposures taken with my $3 yardsale 4 inch refractor set up on a tripod on my equatorial platform. The platform wasn't designed for use at the latitude of my property in Arizona. So I had it blocked up on the north side to compensate. The stars trailed noticeably even in the short exposures, so I probably didn't have the right angle. Still, these shots are not too bad.

Click the photo for a larger view.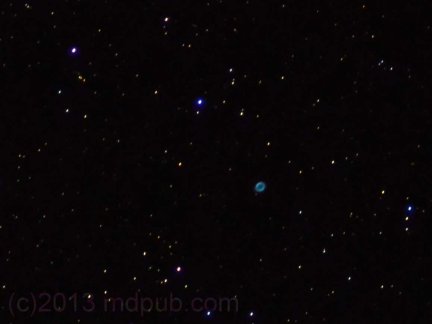 This photo is of the Ring Nebula. It turned out much better than I expected from my primitive setup. This little $3 refractor could probably take world-class photos if I get it mounted on a proper equatorial mount and buy a minus violet filter for it to eliminate the halos around bright stars.

Click the photo for a larger view.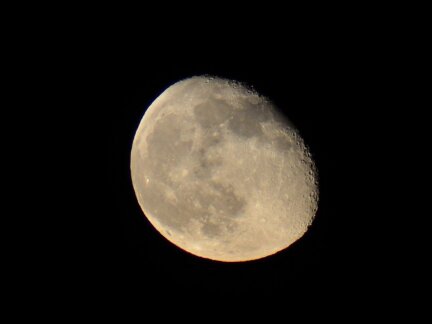 Moonrise as seen from the front porch of my cabin. The rising moon put an end to the astrophotography. Next time I am scheduling my vacation around the time of New Moon so I can take more astrophotos.

Click the photo for a larger view.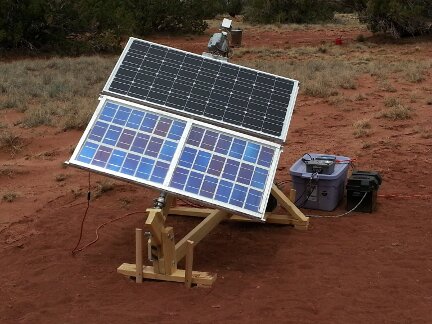 It took a couple days of tinkering and fiddling, but I finally got my home-made solar tracking system working. Now my solar panels stay pointed at the sun all day long and I have more power than I know what to do with. This is just a temporary installation for testing purposes. A more permanent installation will happen on a future visit.

Click the photo for a larger view.

| | |
| --- | --- |
| | Here is a time-lapse video I made of the solar panel tracking system in action. You can lean more about this project here. |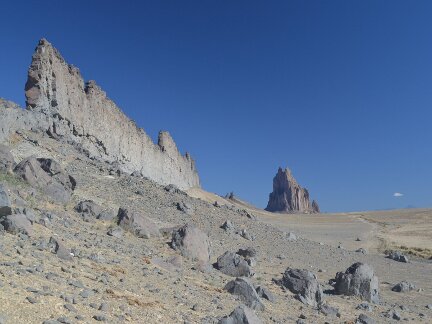 After leaving the cabin I made my way back into New Mexico and did some more sight-seeing as I made my way back east. This is Ship Rock in Northwestern New Mexico. It is a gigantic volcanic plug that rises 1583 feet above the high-desert plains on the Navajo Reservation. It is called Ship Rock because from some angles it kind of resembles a clipper ship under sail. I have seen Ship Rock before, but from a distance. This time I was determined to get a closer look. At the left in the foreground is one of the huge vertical dike walls radiating away from Ship rock for miles across the desert.

Click the photo for a larger view.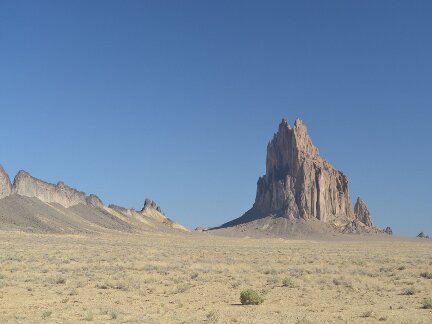 I got off the main road and drove a few miles down a really bad dirt road paralleling the dike toward the main pinnacle of Ship Rock. I only got this far before the really bad road started vanishing into the desert. I considered going on by bushwacking cross-country, but decided this was close enough. So I got a photo from here and turned around. I had approached from the south to see the long dike. There are access roads from the north that go right to Ship Rock. Someday I will take one of them for an even closer look.

Click the photo for a larger view.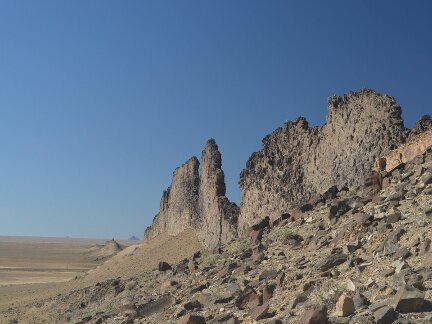 Here I am at the base of the dike looking back the way I came. The big dike is a broken wall across the desert that stretches for many miles to the south. This is a really surreal place.

Click the photo for a larger view.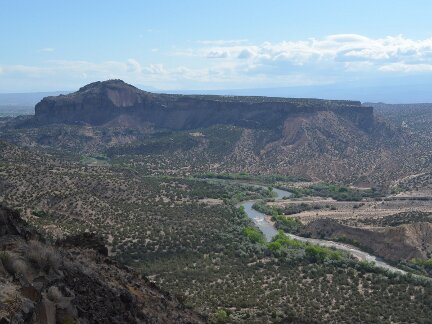 Here I am looking north up the Rio Grande Gorge from Overlook Park in White Rock New Mexico. It is always a fantastic view. The park just gets better and better every time I visit. They have always added something new.

Click the photo for a larger view.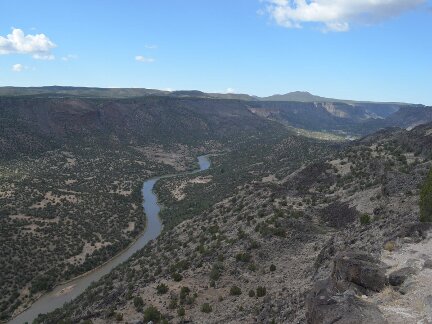 Here is the view to the south. I spent some time in Los Alamos shopping at my favorite laboratory salvage store The Black Hole. Then did a little more treasure hunting in the mountains north of Santa Fe before beginning the long drive back east. I made sure to hit the last Blake's Lottaburger (a New Mexico only chain) before the Texas state line in Tucumcari and fueled up on the best burger in the world before continuing east.

Click the photo for a larger view.

Photos from my September 2012 Vacation to Arizona, Utah and Colorado
I got a lot of things done on this vacation that I had been wanting to do for a very long time. It was a very productive, and yet, very relaxing and satisfying trip.

I started by driving straight to my property, with none of the usual dilly-dallying in New Mexico. I was on a mission to get a cabin put on my property during the short time available to me. I went to the Weather King office in Snowflake, AZ and was fortunate enough that they had the exact cabin I wanted on their lot, and it was on sale too! I bought it and they were able to arrange delivery within only a few days. So the cabin was delivered and I still had several days to spend outfitting it and enjoying it before moving on to do other things.

After leaving my property, I drove North into Utah and spent a couple of days exploring the area around Moab. It is really beautiful country, with amazing rock formations and wonderful mountains. I also finally made it to Arches National Park. I have wanted to see Arches ever since I read Desert Solitaire by Edward Abbey when I was young. I only got to see part of the park on this trip. I definitely need to go back again in the future. In fact, I want to see a lot more of the whole Moab area on future vacation trips. It is going to be high on my list of things to do from now on.

After Utah, I turned East and drove across Colorado. I did a little exploring around the Aspen area. I saw the Maroon Bells and the John Denver Sanctuary. Then I headed further East, up and over Independence Pass and down to Twin Lakes. Twin Lakes is probably may favorite area of Colorado. The vistas are amazing. I arrived at just the right time. The aspen trees were turning gold. I love aspens in their Fall colors. The weather turned cool and rainy, but I still had a good time exploring. I spent some time out in the wilderness just shooting time-lapse movies of the rain clouds rolling over the mountains. I also did a little gold prospecting. I set up my sluice box in a mountain stream and spent an afternoon shoveling dirt through it. I ignored the rain, since sluicing is wet work anyway. I only got a little gold, but it was great to be gold prospecting in colorado again. It had been way too long since last time. My last day in Colorado dawned clear and bright. The rain was gone, but it left a pleasant surprise. all the higher peaks of the Rocky Mountains were now covered with snow. I spent my last day exploring, high up above the tree line, near Alma, and got to see Kite Lake, tundra, and some Bristlecone Pine Trees.

Then it was time to drive home. It was a fantastic vacation. I can't wait to get back out to my cabin.

Click on the photos to see larger versions.
I finally have a cabin on my remote Arizona property. I love it! No more living in a tent when I am out here. No more hauling camping equipment all the way across the country. I've spent my first few nights in it and I simply love it. The cabin is totally prefabricated. It is on skids. They slid it off the back of the delivery truck, attached wheels on one side of it, picked up the other side with a mini forklift with big fat tires that could roll through the sand, and moved it into place. They put it within inches of the flags I had used to mark out the position of the cabin on an earlier vacation. Once in place they leveled it up and blocked it in place. The whole process took less than two hours. Not counting the time it took me to make an 18 foot wide opening in the fence to allow the truck through and then fix the fence again after the truck left, and before any cows could wander onto my property. I am very happy. Next comes an observatory.

Click the photo for a larger view.
Here is a view of the inside of the cabin. It is unfinished on the inside. Insulating it and finishing the inside will keep me busy on future vacations. Rough as it is though, it is so much better than sleeping in a tent. It was starting to get cold at night before I left. Even uninsulated, the cabin kept me much warmer than my winter tent.

Click the photo for a larger view.
| | |
| --- | --- |
| | As usual, the hummingbirds came to visit me as soon as I arrived on my property. Once I put out the feeder, I was mobbed with them. There were a lot of them this year. Here is a short video of some humming birds at my feeder on my remote Arizona Property. |
After leaving my property, I drove North into Utah. This is Wilson Arch near Moab, Utah. I spent extra time on my property this year to deal with setting up the cabin, so the rest of the vacation got cut a few days short. I breezed through some things I originally wanted to spend a lot of time exploring, especially Utah. It got short shrift this year. I'll make it up another time. The Moab area is spectacular. I definitely need to return and explore it some more. It is only about 6 hours due North of my property on Highway 191.

Click the photo for a larger view.
I spent a little bit of time four-wheeling in the mountains near Moab. Here I am high up on the side of a mountain, with the beautiful La Sal Mountains in the distance, across a valley. I love taking my truck off-road in such scenic areas. My original plan was to explore some old, abandoned Uranium mines in the area. I found the mines, but was having so much fun four-wheeling, that I drove right past them and kept on going. I can see why Moab is such a Mecca for outdoor enthusiasts. I had a great time in the mountains.

Click the photo for a larger view.
Here I am in Arches National Park just outside Moab. This particular area is called Park Avenue. I have always wanted to see Arches, but never made it there in all my travels across the West. I read Edward Abbey's book Desert Solitaire when I was young, and have always wanted to see Arches ever since. Unfortunately I only had about half a day to explore the park. I will go back when I have more time.

Click the photo for a larger view.
This particular formation is called Double Arch. You can see the two separate arches left of center. I was particularly intrigued by the erosion going on in the rest of the formation. There are definitely new arches in the making here. Maybe someday it will be Triple Arch.

Click the photo for a larger view.
Here is a not very good photo of iconic Delicate Arch taken from very far away, (click it for a better large version). The hike to the arch was around 2 miles, but it was late afternoon and the temperature was over 100F. So I decided that this was the best photo of Delicate Arch I was going to get on this trip. I will have to return to Arches on a cooler day when I have more time to explore.

Click the photo for a larger view.
After only a little over a day in Utah, it was time to move on. I drove East into Colorado. I spent some time exploring the Aspen area. This Photo is of the Maroon Bells. They say that this is the most photographed spot in Colorado. Naturally I had to take a bunch of my own photos. The lighting was poor due to overcast, so you can't really see the lovely maroon color of the mountains very well. Other, less photogenic formations nearby that were better lit were stunningly maroon in color. I'd like to see this spot on a clear day with a favorable sun angle. Maybe I'll be back someday.

Click the photo for a larger view.
I have always been a big fan of John Denver's music. So I had to stop by the John Denver Santuary in Aspen. It is in the middle of a large park in the center of town. Large white granite boulders have been arranged next to the trail, beside the river, and the lyrics from many of his songs are engraved on them. At the entrance is this dedication stone. It's hard to tell in the photo, but this boulder is huge, much taller than me.

Click the photo for a larger view.
Here are just a few of the big boulders with song lyrics engraved on them. There is also sort of an amphitheatre built into the hillside out of concentric rings of smaller white boulders, surrounding the big boulders at the bottom, where people can sit and look down on sort of a stage made of rocks. I don't know if they hold concerts here, or if it is used as sort of a "free speech corner" or what. My photos don't do the Sanctuary justice. There were quite a few people there, meditating, relaxing, contemplating, reading, etc. I tried to respect their privacy by not photographing them. So I don't have a lot of good shots showing the overall layout of the Sanctuary. It was worth the stop. The entire park is amazing. The sanctuary is just one small part of it. If you are in Aspen, I highly recommend checking it out.

Click the photo for a larger view.
Heading East out of Aspen I went up and over Independence Pass. My lungs have spent most of their life at sea level. So at an elevation of 12,095 everything was strenuous. I got seriously winded just walking up a gently inclined path to try and get some photos of the tundra at this elevation, That's tundra behind the sign. Because of the cold at high elevation, the only plants that grow here are low ground cover similar to those in the Arctic. It took a couple of days of acclimatization before I could exert myself at all at these altitudes. It never became easy, but at least it eventually became doable. By a couple days later I could hike around with a pack on my back and carrying my sluice box and a shovel so I could get in some prospecting. I was also at a slightly lower elevation than this, which helped.

Click the photo for a larger view.
This photo is looking East from near Independence Pass. It is a long way down to the valley bottom. At the far end of this valley is one of my favorite spots in Colorado. Twin Lakes.

Click the photo for a larger view.
Here I am in the mountains above Twin Lakes. This is probably my favorite spot in Colorado. Here I am surrounded by 14,000 foot peaks. The views are amazing in every direction. The forests are lush, and smell great. But best of all, the aspens are changing color. I love aspens in their Fall colors. This is just an amazingly great spot. I stopped and had a picnic lunch. Got it in just before it started raining.

Click the photo for a larger view.
Here is a photo from down at the shore of East Twin Lake. I just love this area of Colorado, even if it did rain on and off the whole time I was there. I'd love to move my cabin from Arizona to here. But then I think about what the winters would be like here. Maybe Arizona is the right place after all.

Click the photo for a larger view.
Since it was so cloudy and rainy most of the time I was in Colorado, I decided to take some time-lapse movies of the clouds and the mountains. This is one of the movies. It was shot at Cache Creek Park, and compresses 33 minutes of weather into 50 seconds (40x real time). It shows clouds and fog forming and boiling over green mountains veined with golden aspen.

Later in the day, I did some sluicing and panning on Cache Creek near here. I only found a little bit of gold, but I had a lot of fun.
On a calm early morning, the mountains were mirrored in the glassy calm reservoir above Twin Lakes. Very Pretty.

Click the photo for a larger view.
A beaver lodge in a pond near Buena Vista Colorado. There were signs of beavers everywhere I went in central Colorado. I saw lodges, dams, ponds and lots of beaver chewed trees everywhere. Never saw even one actual beaver though.

Click the photo for a larger view.
Here is a beaver dam on Cache Creek, a good distance downstream from where I was sluicing. The pond behind this dam was immense. Beavers are amazing engineers.

Click the photo for a larger view.
My last day in Colorado dawned clear and cold. The rain clouds were gone, but they left a dusting of snow on the high peaks. I drove up high, (up as high as I could) into the mountains above Alma to Kite Lake. Kite Lake is above the tree line in the tundra region over 12,000 feet up. More interesting than the lake though, (at least to me), were the Bristlecone Pine trees growing at the tree line. I'd never seen bristlecones before, but I'd read about them. They are very slow growing and long lived trees. Some bristlecones are known to be nearly 5000 years old. The bristlecones here are the last trees before the tree line. Higher up the mountains there is nothing but tundra. Living in the harsh conditions at the tree line, most of the bristlecones were twisted and sculpted by the wind and elements into strange shapes, like a natural bonsai garden. Some of the most exposed trees looked dead except for a thin line of living bark and a few branches with green needles. That's just the way they grow. Other trees, more sheltered, were more fully green and alive looking.

Click the photo for a larger view.
Here is a close-up of a cone from a bristlecone pine tree. You can see the bristles that give the tree its name. Another unique feature is that the needles grow in custers of five. The best thing of all about bristlecones though, is the smell of their resin. I had cut a couple of pinon pine boughs and put them in the truck as a natural air freshener, and thought they were the best smelling things in the world, until I smelled a bristlecone pine tree. When I gripped the branch of the tree and bent it down to get this close-up photo of the cone, I got resin all over my hand. The smell was amazing. I can't even begin to describe it. If there is a heaven though, it must smell like bristlecone pine trees. I was sorely tempted to cut some bristlecone boughs and ditch the pinon. Out of respect for the rare and slow growing trees, I resisted the urge, and did not damage any of them.

Click the photo for a larger view.
My vacation time had run out. It was time to start driving South and East toward home. In North Texas I caught up again with the rain that had dampened my stay in Colorado. It was an unusually cold and gloomy drive through the Lone Star State. I stopped at a highway rest stop and was greeted by this sign. I took my camera with me just in case. No luck though. The cold rain must have been keeping the rattlesnakes under rocks and in their burrows at this highway rest stop. On a warm day here, I guess you need to weigh how badly you have to go vs the chances of meeting up with a rattler. I wonder how many people see this sign then cross their legs and keep on driving?

Click the photo for a larger view.
Photos from my May 2012 Vacation Trip to Arizona and New Mexico
I got cheated out of my usual Fall vacation last year because of work issues. So I really needed a vacation by the time Spring came along. I needed to get away in the worst way. This vacation was timed so I could view and photograph the May 20th Annular Eclipse. The path of the eclipse crossed Northeast Arizona. So it wouldn't be too much of a drive from my remote Arizona property where I would be staying anyway. I planned to view it from Canyon De Chelly National Monument. The centerline of the eclipse passed right over the monument. I had never been to Canyon De Chelly, so this was a great opportunity to see some amazing landscape that was new to me, and witness a fantastic eclipse too.

I also planned a lot of my usual recreational activities. I was going to camp, observe the night sky with my telescope, explore the mountains, do some gold and uranium prospecting, hike, take lots of photos, and just plain relax and enjoy myself. I wound up doing a lot more relaxing and skipped some of the other activities. That's ok though, I needed the relaxation after the year I had had. It was a great vacation. I feel recharged.

The drive across the country and back seems to get longer every time. It must just be me, because it is the same number of miles and always takes about 2 1/2 days each way. The drive this time was quite pleasant, in spite of seeming so long. I like driving across the country in the Spring time. Everything is so green and alive and beautiful. The long, pleasant drive gives me lots of time to think. I came back this time with a bunch of new projects that I planned up on the drive. Stay tuned for those to appear on the web site in the next few months.

Click on the photos to see larger versions.
This trip, I went straight to my remote Arizona property and set up camp. It was great to be home. I unwound from the long drive and unloaded stuff from the truck that wouldn't be needed on my upcoming travels around the state. The humming birds came to visit me within hours of arriving, so I put up their feeder to keep them happy. Unfortunately they flitted around too quickly for me to get any good photos of them this year. This photo shows the view looking East from near the middle of my 40 acre property in the late afternoon light. North Mountain is on the left and South Mountain is on the right, the entrance gate to the property is in the middle distance. The weather was great and the skies were clear the whole time I was there this trip.

Click the photo for a larger view.
After spending some time on my property, I headed West to Prescott. I had wanted to do some gold prospecting in the Bradshaw Mountains. I arrived at one of my favorite gold panning streams (don't even think of asking me where this is). I planed to get right to work digging and panning. I hiked up and down the stream looking for likely places to dig. However, in the end, I decided I didn't really feel like doing heavy physical labor today. I was just mentally and physically run down from the last year at work. So instead, I set up my folding chair in the shade of a big pine tree and just enjoyed the morning by the stream. There was nobody else around. The weather was great. The only sounds were the wind in the trees, birdsong, and the burbling of the stream. I pulled out an Agatha Christie mystery novel and spent a very enjoyable morning reading, instead of working. I spent the rest of my time in the Prescott area sight-seeing, exploring old mines, and hiking. It took me a few days of relaxation before I felt like engaging in some of the more physical activities I had planned.

Click the photo for a larger view.
This is a photo of a moth on a blade of grass beside the stream. I noticed it when I looked up from reading my book. I had to take a photo.

Click the photo for a larger view.
Fires have dogged me on my last couple of trips out West. Spring is fire season though. It is warm and dry in Spring. The summer rainy season hasn't started yet. So fires are to be expected, but the mega-fires of the last couple of years have been terrible. This was the scene which greeted me when I rolled into Prescott. The Gladiator fire near Crown King in the Bradshaw Mountains was putting up a plume of smoke that looked like a mushroom cloud from a nuclear bomb. When the smoke blew towards town it was terrible. It was hard to breathe and my eyes burned. Fortunately, the wind was blowing away from town most of the time. A century of mis-management of the national forests has left them primed to go up in mega-fires every spring. The people of the West are really fed up with the federal government's handling of the forests. I can't really say I blame them. Another mega-fire in Southern New Mexico erupted shortly after I arrived in Arizona. Smoke from that fire was polluting all of Northern New Mexico later in my trip.

Click the photo for a larger view.
After spending some time in Prescott, I returned to my property. Blissfully, there was no smoke and no nearby fires. Here is a photo of me back on my Arizona property with three of my creations. My home-built solar panel, my Cookie Jar telescope, and my home-made wind turbine in the background. I had a great time staying on my remote property. I spent six days and nights there this time. The weather was great. Not too hot during the day or too cold at night. It was very windy a couple of days. I had plenty of power for all my toys thanks to the wind turbine and solar panel. I had 100% clear nights for star gazing with my "little" Cookie Jar telescope. I brought it this time, rather than the big 17.5 inch DOB, just to travel a little lighter on this trip. This 8in f/4.5 scope provides amazing, wide-field views under my pristine sky. I stayed up late observing nearly every night. What a great vacation.

Click the photo for a larger view.
Eventually it was time to drive north to view the eclipse. While waiting for the eclipse to start, I toured Canyon De Chelly National Monument. Here is a photo of Spider Rock. It is hard to grasp the scale of it from the photo. Spider Rock towers 750 feet above the canyon floor. If you look closely you can see the river bed and a jeep trail on the floor of the canyon. That helps add scale to the photo. The canyon is huge! This photo only covers a small section of it.

Believe it or not, I have never been to Canyon De Chelly before. I have always wanted to see it, but never managed to get there in all my trips to Arizona. With the centerline of the 2012 Annular Eclipse passing right over Canyon De Chelly, I made sure I got there this year. I have hundreds more photos of the area, and the nearby Chuska Mountains.

Click the photo for a larger view.
Here is a view of the Mummy Cave pueblo ruin. It was built by the ancient Anazazi people, and abandoned around the year 1300 AD. It was named for the well preserved mummified bodies found there by early archaeologists excavating the site. There are a lot of ancient Anasazi ruins in Canyon De Chelly National Monument. As I stood here photographing the ruin, I felt like I was crossing paths with Everett Ruess, who traipsed through here 80 odd years earlier in search of Anasazi ruins to explore.

Click the photo for a larger view.
Late in the afternoon the Eclipse finally began. I set up my camera in the Spider Rock overlook parking area at Canyon De Chelly. The moon began moving in front of the sun and blocking its light. If you look closely you can see sunspots on the sun. The camera was a Nikon D5100 with an 800mm lens and an Astrozap solar filter. The altitude was about 7000 feet and the sky was perfectly clear. So I got good photos and some video of every part of the eclipse up until the sun set.

Click the photo for a larger view.
I was right on the exact centerline of the eclipse and had about 4 minutes of the "Ring of Fire" effect at mid eclipse. The ring of fire is caused by the fact that the moon was about as far away from the Earth as it ever gets during this eclipse. Since it is so far away, it is smaller than normal from our perspective, and doesn't quite cover the whole sun at maximum eclipse. A ring of sun shows around the edge of the moon. It got twilight dark and much cooler at maximum eclipse. Deer came wondering out of the woods thinking it was dusk already. The little ring of sun was still much too bright to look directly at. The whole event was surreal.

Click the photo for a larger view.
Eventually the moon began moving out from in front of the sun and the landscape began brightening up again. The sun was now quite low though, and shortly after this photo was taken, it began to set behind the far rim of Canyon De Chelly, still partly eclipsed.

Click the photo for a larger view.
Here is a contact sheet of the photos I took of the 2012 annular eclipse. They were taken at Canyon De Chelly National Monument in Northeastern Arizona. The full size photos are 15 megapixels, so I'm not going to post all of them here. The contact sheet gives you an idea of what the eclipse looked like at all stages. I have video too. I may post a few installments of that too.

Click the photo for a larger view.
The day after the eclipse I spent some time exploring Northeast Arizona before returning to my property. Here I have gone into the heights of the Chuska Mountains. Ship Rock is visible through the haze of distance and smoke some 23 miles away (as the crow flies) in New Mexico. Mitten Rock is in the middle distance. After exploring Northeastern AZ, I returned to my property to spend a few more days there.

Click the photo for a larger view.
After I packed up and left my property, and began heading back East, I took another side trip to Window Rock. I had never been there before. The town of Window Rock gets its name from this formation. Window Rock is the capital of the Navajo Nation. The Window Rock Tribal Park is actually quite small, and located more or less in the center of town, with tribal administration buildings pressing close all around it. I found some nice angles to shoot the rock so that it looks like it is in the wilderness, rather than in the middle of a town, and hemmed in by buildings.

Click the photo for a larger view.
I moved on into New Mexico. Each stop now was a little further East, so the eventual drive back home would be a little shorter. I engaged in a little Uranium prospecting. I wanted to collect some Uranium ore samples. I visited several old mining sites. Here I am visiting an old Uranium mine in the wilderness North of Grants New Mexico. The mine looked terribly dangerous with many tons of fractured rock in the roof looking like it could come crashing down at any moment, and only a few rotting boards holding the whole mess up. So I did not even think about going inside the mine. Besides, it is probably full of Radon gas and toxic bat guano too. I found plenty of good Uranium ore specimens on the ground just outside the mine entrance, in the wall next to the mine portal, and on waste rock piles outside. Remember what they say about old mines. Stay Out And Stay Alive.

Click the photo for a larger view.
Here is a collection of nice Uranium ore samples I got on this trip, and I didn't even have to go inside the dangerous mine to get them. The yellow staining on the rocks is the Uranium mineralization. Too bad you can't hear my Geiger Counter clicking away furiously in the photo. It was a very successful collecting trip. I have lots of ore samples to sell to rockhounds and mineral collectors, but none for those shifty Iranians.

Click the photo for a larger view.
I moved further East into New Mexico. I spent a couple of days in Santa Fe and visited Los Alamos. Unfortunately, smoke from the massive fire in Southern New Mexico was blowing North into the area. It was particularly thick in Los Alamos, so I got no good photos of that very pretty area, but I've seen it before in good conditions. By the way, I highly recommend the Hilltop Diner in Los Alamos. I went there for lunch after rummaging around The Black Hole all morning. Great food! Get there early though. It is very popular with the locals and packed around lunch time. If you are late, the wait for a table will be long.

Santa Fe was also very smoky. By my last day there, the smoke was really starting to get irritating. I decided to head up into the high mountains above town in hopes of getting above the smoke and into clean, clear air. It worked. Here I am at over 10,000 feet above Santa Fe in the cool, clean mountain air, among the aspens and fir trees. I spent the afternoon at altitude, soaking up the atmosphere, before starting the long drive back East in the evening. So I ended my vacation on a high note.

Click the photo for a larger view.
Photos from my August 2011 Business Trip to Santa Barbara and Carpinteria California
Once again, the company I work for sent me on a business trip to Santa Barbara and Carpinteria California. This time though, I had plenty of notice that I had to go. So there was no mad scramble to get ready. Also, this time, I arranged to arrive on Saturday, but the business didn't start until Monday. So I had most of a weekend play, explore and goof-off before getting down to business. Another plus this time was that I was going to be there for an entire week. So (in theory) I would have plenty of opportunities to go exploring when I wasn't stuck working. Best of all, I was alone this time for most of the trip. So I could make my own schedule, and go do things that interested me.

The first two days of the trip were spent in a really nice hotel, right on the beach, in Santa Barbara. Very Swanky. I'm glad the company was paying, because the bill was heart-stopping. The annual Fiesta Days were going on the weekend I was there. Santa Barbara, particularly near the beach, was an absolute zoo. There were tens of thousands of people on the beach, and hundreds of vendor booths set up along the road. The crowds and traffic were insane. I spent much of the weekend in the mountains above town exploring, just to get away from the crazy crowds in town. One of the places I went is the Carrizo Plain. I have always wanted to see it. I got to spend some time exploring the area and really getting my geology geek on. I took some great photos of the San Andreas Fault. Santa Barbara wasn't a total bust. I did go down to the beach late Sunday afternoon, once the crowds began thinning out, and spent a pleasant evening walking along the waterfront.

The rest of the trip was spent in a modest hotel in Carpinteria. Unfortunately, work generally went on longer than I would have liked, and by the time we called it a day, my jet-lagged body was ready for dinner and bed. So opportunities for exploring and recreating, other than sampling the (limited number of) local eateries, were limited until the last day of the trip.

One interesting side-trip happened in the middle of the week when I had to drive from Carpinteria to LAX to pick up a colleague of mine who was flying in to join me. He was originally scheduled to fly into Santa Barbara, which is just a few miles away from Carpinteria. His original flight got cancelled, and he wound up flying into LAX instead. So I finally got to see LA. It is the one of the few major cities in California that I had never been to, in spite of my extensive travel history. Unfortunately, I did most of my sight-seeing while stuck in slow-moving traffic on the 101 and 405 freeways. There was no time for side trips to any iconic LA spots like Sunset Boulevard, or The Walk of Fame, or The Hollywood Sign. Sigh. Maybe next time. I did decide there was no way we were going back the way I came. So I took us back to Carpinteria along The Pacific Coast Highway. I had always wanted to cruise the PCH. It was even more scenic and beautiful than I had expected it to be. And in spite of being stop and go the whole way, was probably at least as fast as the snarled freeways. Unfortunately, being the driver, I didn't get any good photos of the trip.

The Saturday we flew home was spent sight-seeing until it was time to catch our flight home. The trip home was a nightmare of late flights, missed connections, waiting in long lines, marathon running through airports, and lost luggage. I will never, EVER fly US Air again!

I returned home exhausted, frustrated, jet-lagged, angry, and without my checked bag. Business trips, even if they have occasional bright spots and fun bits are really no substitute for a proper vacation.

Click on the photos to see larger versions.
My hotel room in Santa Barbara was a "non-view" room. I guess the view rooms were all on the beach side of the hotel. Well, I live near a beach, so I can get that view anytime. Mountains though are pretty rare in florida. The view of the mountains North of town from my non-view, 3rd floor, balcony was wonderful. There were also no noisy traffic or huge crowds on this side of the hotel, so I think I got a great room. There was a table and some nice, comfey chairs on the balcony. I spent a lot of time out there. The weather was great. Cool, foggy mornings, and sunny afternoons with high temps in the upper 70s. The hotel didn't even have air conditioning. It wasn't needed.

The room was really nice. Not the sort of place I would normally stay on my own (way too expensive). I was lucky that with the Fiesta days going on, all the cheap hotels up and down the coast were full up. The company had to put me up in one of the nicest and most expensive places in Santa Barbara.

Click the photo for a larger view.
After the crowds died down in the late afternoon, I went down to the beach for a long walk in the pleasant weather. There were still a lot of people on the beach, but nobody was in the water. It was beyond frigid. I saw a couple of young girls arrive on the beach and head laughing into the water, only to turn around and run right back out shocked and shivering.

There were a lot of sailboats anchored just offshore all up and down the beach. I wondered how the people got to shore and back? There were no dinghies on the beach. There must be some sort of water taxi service.

Click the photo for a larger view.
This photo shows the long shadows of palm trees on the beach in the very late afternoon. Stearns Wharf is on the right, and lots more sailboats can be seen at anchor out in the channel. The few people left on the beach are heading home as sunset nears.

Click the photo for a larger view.
I set out to do some serious exploring in the time I had before I had to go to work on Monday. So I headed up into the mountains North of Santa Barbara to do some sight-seeing. I took a very pleasant drive on twisty mountain roads through truly lovely country. I love a good drive through the mountains. The weather was great. I drove with the windows down and wind in my face. The smell of the forests and sagebrush was wonderful.

Click the photo for a larger view.
My ultimate destination on this drive was The Carrizo Plain National Monument. As a geology geek, I knew that the Carrizo Plain is one of the few places where the San Andreas Fault is very visible. Since The monument was only 60 miles as the crow flies from Santa Barbara, (more than twice as far on twisty mountain roads though), I just couldn't pass up the opportunity to go take a look at it.

I pretty much had the place to myself. I spent about three hours exploring the monument, and only saw one other car the whole time. I was a little bit timid about getting too far off road in my exploring. The low-slung rental car I had was getting beat up on the rocky roads. There was nobody else around, and I had no cell phone signal. So I didn't want to disable the car and get stuck. I was really missing my 4X4 pickup truck. I am used to being able to go wherever the whim takes me on my vacations. Still, I managed to get some good photos of the fault, and managed to see some other wonderful sights in the Monument.
Pardon me while I geek out a little bit over the next few photos about this amazing geological phenomenon.

This photo shows a long view across the plain. The San Andreas Fault Line is just in front of the line of low hills in the middle distance, between where I am standing and the distant Temblor Range. The line of hills is called the Elkhorn Scarp. The Scarp is a pressure ridge created by fault movements.

Click the photo for a larger view.
Here I am much closer to the fault scarp. The scarp runs from horizon to horizon, from the Northwest to the Southeast, across the Carrizo Plain in an unbroken line of hills. There are many famous aerial photos of the faultline crossing the plain. I wanted to see it at ground level. The fault itself is generally on the Southwest side of the scarp. From this vantage point, it just looks like some hills.

Click the photo for a larger view.
Here is a Google Maps view of where the above photo was taken. The green lines show the field of view of my camera. The red line is the approximate location of the fault line.

Click the photo for a larger view.
Here I am standing on the fault line. The North American Plate is on the left, and the Pacific Plate is on the right. Interestingly, I am roughly 60 miles inland here, but still standing on the Pacific Plate. All the material seaward of the fault line is material that had been riding on the Pacific Plate and has been accreted onto North America as the Pacific plate grinds past and subducts under the North American Plate. The material is mainly marine sediments that are folded and raised high above sea level by the collision.

Click the photo for a larger view.
Here is another Google Maps view of where the above photo was taken. Again, the green lines show the field of view of my camera. The red line is the approximate location of the fault line.

Click the photo for a larger view.
Here is a view of one of several dry soda lakes that fill depressions along the faultline. I walked out onto the dry lake and tasted the salt crust. It was salty of course, but also had a gypsum-like flavor and consistency to it. Don't worry, I spit it out and rinsed my mouth.

Click the photo for a larger view.
Here is another Google Maps view of where the above photo was taken. Again, the green lines show the field of view of my camera. The red line is the approximate location of the fault line.

Click the photo for a larger view.
All too soon it was time to head down the coast to Carpinteria and start work. Work took up almost all day, every day. So there was little time left for sight-seeing or exploring. About the only exploration I did was checking out the different eateries in town. Carpinteria is a small town though, so I was repeating myself before the end of the week.

I did manage to hike down to the seal rookerie a couple of times in the evening. It is a nice little walk that helped unwind me after a long, hard day. They were still there. One evening when I arrived there wasn't a single seal on the beach. They were all just offshore feeding. I could just see their heads bobbing in the waves and an occasional tail pop up as they dove. This time I arrived a little later in the evening and there were a few hauling out onto the beach so I could get a photo of them.

Click the photo for a larger view.
Here is a photo of a colorful sunset as seen from the bluff above the Carpinteria Seal Rookerie. The Santa Barbara area is really a beautiful place. I'm glad I got to spend a little longer here this time.

Click the photo for a larger view.
Photos from my May/June 2011 Vacation to Arizona, New Mexico and Colorado
I went on another epic, cross-country vacation again this spring. The weather was pretty nice most of the time. High winds and dust storm conditions caused me to cut short camping on my Arizona property by one day, and the threat of thunderstorms made me decide to stay in a motel rather than camping at Hopewell Lake again. Otherwise the weather was very nice for the whole trip. It was cool at night, but not frigid, and warm during the day, but not too hot. The only real problem I had was severe smoke from wildfires in Arizona following me into New Mexico and Colorado near the end of the trip. More about the fires below.

I really needed this vacation. I was working a lot of long hours and getting badly burned out. I really needed to spend a couple of weeks having fun and recharging my batteries. I had been looking forward to it and planning it for months. It turned out to be a great trip. I came back rested, relaxed, and feeling like a new man. Click on the photos to see larger versions.
| | |
| --- | --- |
| | A Cliff Swallow nest under a ramada at the Louisiana welcome center. I saw hundreds of these nests all through Louisiana, Texas and New Mexico. |
| | |
| --- | --- |
| | The nest was just low enough that I could aim my camera inside on tip-toes. While the parents were away from the nest, I got a shot of the clutch of eggs inside. |
| | |
| --- | --- |
| | A pronghorn antelope in Valley of Fires State Park in New Mexico. This antelope seemed quite tame and came very close to me, which is how I got this great shot. Normally the pronghorns run off as soon as they see me. |
One project I wanted to complete while camping on my remote arizona property this time was finalizing the place to put a cabin. I found a nice, flat spot, roughly in the center of the heavily treed area of the property, and marked it out with little orange flags. The trees will block the wind and provide some shade. I am saving my money, and hopefully in a year or two, I will have a cabin on this spot.

Click the photo for a larger version that shows the little flags better.
While I was camping on my remote Arizona property, I got to test out modifications I have made to my home-built wind turbine. I have installed new blades that I bought on the internet. These blades are sold as replacements for the Air-X series commercially made wind turbines. They are more efficient than my home-made blades, and start up in lower wind speeds. I have also increased the tail area of the turbine since these new blades are both heavier and have more surface area than than my home-made blades. Check out the video for more information on the modifications.

The new and improved wind turbine really works great. It is now producing much more power, and working in lighter winds than before.
| | |
| --- | --- |
| | Piles of tumbleweeds blown against a fence by the wind near Concho, Arizona. A very common sight in the Southwest. |
| | |
| --- | --- |
| | The Little Colorado River flowing through Greer, Arizona. I was there a couple of days before the massive Wallow wildfire started. The fire has since swept through Greer blackening the forest and burning down many cabins and out-buildings in the little village. I was planning on staying in Greer in the fall. Now I don't know what is left of the place. I guess I will find out on my next trip to Arizona. |
| | |
| --- | --- |
| | Smoke from the Arizona fires followed me into New Mexico and Colorado. The skies were sometimes bright gray, instead of the usual deep blue of the mountain West. Areas of Northern New Mexico and Southern Colorado were quite smoky and the air quality was very bad for a few days. |
| | |
| --- | --- |
| | An alpine meadow with fir, aspens and dandelions, high in the mountains of Northern New Mexico near Hopewell Lake. |
| | |
| --- | --- |
| | Eventually, a front came through and blew the smoke away. The usual blue skies of Colorado began returning and the mountain vistas took on their usual beauty. This is a photo of Chimney Rocks on the Southern Ute Indian Reservation in Southwest Colorado. |
| | |
| --- | --- |
| | Snow capped peaks of the Rocky Mountains reflected in a lake in Pagosa Springs, Colorado. |
| | |
| --- | --- |
| | Looking down towards Pagosa Springs from high up at Wolf Creek Pass in the Colorado Rocky Mountains. |
| | |
| --- | --- |
| | There was still a pretty deep snow pack under the fir trees at the top of Wolf Creek Pass on June 2nd. |
| | |
| --- | --- |
| | Here is one neat place I went on the way back home. It is a true geek Mecca. It is The Black Hole in Los Alamos, NM. I've wanted to go there for years. They sell surplus material from the Los Alamos National Laboratory where the nuclear bomb was developed. They have acres of fascinating material from 60+ years of nuclear weapons development. I could spend days exploring this place. Unfortunately, I only had a few hours there. I bought some neat stuff and had a great time. I'll have to get back there again someday and explore it in depth. |
Click here to see photos from previous vacation trips.
Other places to visit:
[Mike's telescope workshop] [Mike's home-built jet engine page]

[Mike's home-built wind turbine page] [Mike's Linux for Windows Users page]