So what's new in my life?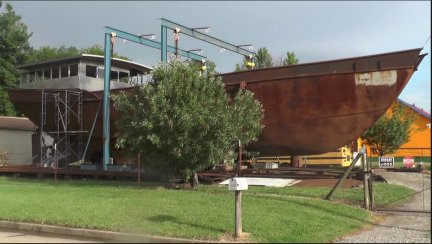 11/30/16 - This is amazing.
I found something amazing on Youtube. I thought I had a pretty good little DIY site going here, full of interesting projects. Well the SV Seeker channel on Youtube puts me, and just about everyone else, to shame. These guys (mainly Doug Jackson and an ever rotating crew of volunteers) are building a 72 foot, steel hull, ocean-going, ship in their backyard, in the middle of Oklahoma, with all volunteer labor, and they are doing it completely from scratch. And by from scratch I mean they started with a stack of ¼ inch steel plates and fabricated everything themselves. They even cast the bronze propeller blades themselves. And best of all, they have documented every step of the way (even their mistakes) on video and posted it to Youtube. They've been at it for more than five years now, and there must be hundreds of hours of video. I am totally addicted to it. It's the most amazing thing I have ever watched.

These guys are utterly fearless. Nothing scares them, and no job, no matter how massive, intimidates them. They are absolute masters of improvisation on an epic scale. They have to be among the greatest DIYers on Earth. Watching their videos I have learned a ton about steel fabrication, bronze and aluminum casting, rigging, just general can-do improvisational techniques, and some new curse words too. I've also been massively inspired by their videos to get off my ass and tackle some of my own projects. Watching these guys do a dozen seemingly impossible things a day leaves me with damn few valid excuses for not finishing my orders of magnitude less difficult projects. So I have been inspired tear myself away from watching their Youtube videos and get out in my workshop and finish wiring my CNC mill project, and completing the rebuild of my 17.5 inch Dobsonian telescope. I also learned some better video documentation techniques from them. So watch for some new build videos on my own Youtube channel soon.

The next time I am in Oklahoma, I am going to arrange to visit them, and volunteer to work on the project, for a few hours, or a few days, whatever I can spare. Working with them in person would likely be an amazing learning experience, and I'd love to contribute to the project any way I can.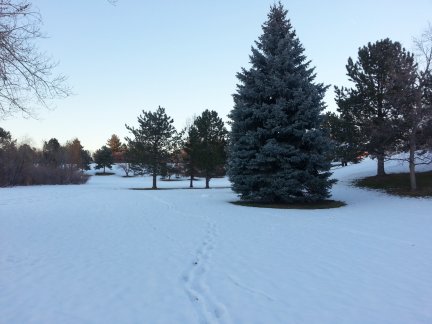 11/23/16 - A winter trip to Colorado.
I just got back from a great trip out to Colorado. The primary reason for this trip was to search for Fenn's treasure and meetup with good friends for a long weekend. I used some of my massive accumulation of airline points to fly for free. I also got a great deal on a hotel room, and the rental car was inexpensive as well. So the whole trip cost me very little. It was a lot of value in fun for the money. A good time was had by all. Fenn's treasure wasn't found, at least not this time, but maybe we found other treasure along the way. You can read more about this trip on my Treasure Hunting Page.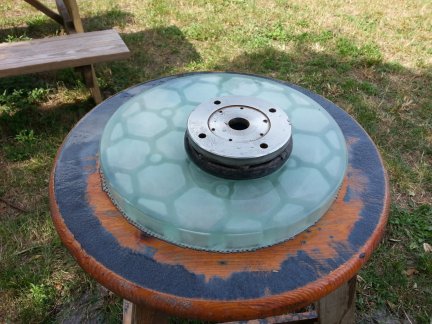 11/07/16 - I've started grinding one of my new 12.5 inch diameter, 4th generation, honeycomb mirror blanks. My 4th generation design is almost the same as the earlier 3rd generation design, but the method for making the plaster mold for casting the glass is different. This mirror blank was made using a replica silicone rubber positive mold to cast a plaster negative mold. I used a dimensionally perfect, but cosmetically ugly 3rd gen blank to make a negative silicone rubber mold. Then I cast a positive silicone rubber mold off of the negative. Now I can make a new plaster negative mold in almost no time using the positive silicone rubber mold, and each mold is exactly the same. No more having to CNC mill a foam mold for each new blank. No more having to burn out the foam. It's just so quick and easy. I also figured out a new method for perfectly centering the rough castings on my edge grinding machine. So this blank is the best looking and most dimensionally perfect one yet.

I tried out a new method of roughing out this blank too. In this photo I am using a couple of stacked barbell weights as the roughing tool. I watched a friend at the SPAC Mirror Lab using the barbell method on his mirror, and decided to try it myself. It works great. In only a few short sessions of grinding, I got more than half the final depth of the curve into the glass. I couldn't believe how quick and easy it was versus starting with a tile tool.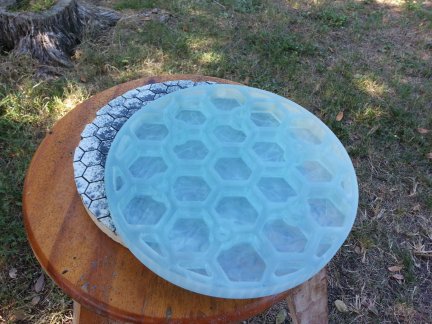 In this photo I have moved on to a tile tool. I found a used tile tool at The Mirror Lab. Since it was used, it already had a convex shape to the top surface. I rough ground the blank with the barbell weights until the mirror matched the curve of the tile tool. Then I switched to using the tile tool to complete rough grinding. Only one afternoon with the tile tool got me to within 11/1000 of my final depth of 0.157 in or 4 mm. I'm targeting f/5 with this blank. This is the quickest and easiest I have ever rough ground a mirror blank. The barbell method really speeds things up. I will probably switch from 60 to 120 grit for the next grinding session to take the blank to final depth and begin cleaning up the surface.

This blank is blissfully bubble free, so there was no need to fuse a sheet of glass onto the top surface for grinding. The blank weighed only 7 lbs 7.6 oz before grinding began. I'll let you know what the final weight is when I am done removing glass. This should be a very light finished mirror.

Click the photos for a larger view.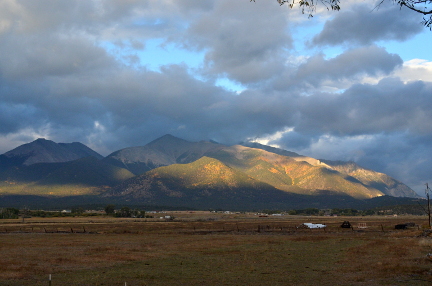 10/16/16 - I just recently got back from a fantastic two week long vacation to Colorado, New Mexico, and Arizona. It was fantastic! I flew into Denver and spent a week in Colorado. I visited with friends out there, and hit the absolute peak of the aspens changing. It was beautiful. Then after about a week, and a lot of great adventures in Colorado, I drove down into New Mexico, and on to my property in Arizona. I had a lot of fun, and got some much needed relaxation. I also got some really great photos, like this one. It was taken just after sunrise in central Colorado. When I get some time I will post more photos and a writeup of the trip to my Travel and Vacation Photos Page.

Click the photo for a larger view.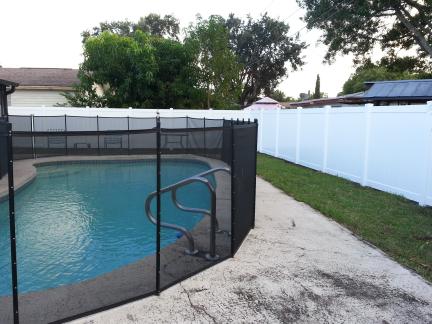 10/16/16 - I Finally got a new fence installed around the house and yard. It took a long time, but it is finally done. The nasty old wooden fence is finally gone, and the new PVC fence is up. It really looks great.

Click the photo to go to my house blog to read more.

08/22/16 - Behold my latest creation: The Walking Desk. It is my one up on the concept of the standing desk. If standing is good, walking must be better, right? I spend a lot of time on the computer. So this should help get me off my butt and hopefully even help me lose some more weight. I have a more extensive write-up on my Misc. Projects Page. Check it out, and watch the video.

08/11/16 - A very sad video of a house down my street burning early Sunday morning in the pouring rain. The Fire Department arrived very quickly and in massive force, but the house was already fully involved by the time they got there. They had the fire out quickly, but the place is pretty much gutted. As far as I know, there were no injuries.

08/06/16 - My neighbor's battle to the death with the large oak tree in his front yard that is damaging his foundation continues. This time he is cutting down the part hanging over his own house.

UPDATE: The tree has finally been reduced to nothing but a 15 foot tall stump. He is pondering what to do about that. I jokingly suggested dynamite. I hope he realized I was joking.

07/23/16 - My neighbor is taking down the large oak tree in his front yard that is damaging his foundation. I thought I should document it just in case something went horribly wrong since it also over-hangs my house.

UPDATE: So the really scary big limb that was hanging over my house came down OK. After that, I left for about six hours. When I got back the big limbs that were hanging over my fence and side yard were gone too, and there was no apparent damage. But my neighbor immediately 'fessed up that he had knocked the fence down when the limbs came down. He had spent much of the day rebuilding it. He did a good job. I might not have even noticed if he hadn't told me.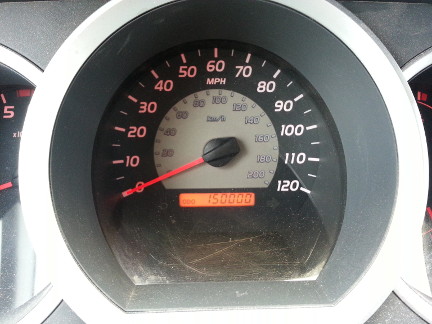 07/02/16
Just turned over 150,000 miles on my 2006 4X4 Toyota Tacoma today. Would have happened a while ago, but a couple of years ago I started flying out to my Arizona property instead of driving out twice a year. That's over 10,000 less miles each year not going on the truck now.

The truck still runs and drives like new. The body has a few dings in the paint, and there are a few chips in the windshield. The driver's seat is getting a little worn. Otherwise it is in great condition. No rust, and it still looks almost brand new under the hood. Not bad for a 10 year old truck. Gotta love the indestructibility of Toyotas. Especially considering all the crazy off-road places I've taken it, and all the towing I've done with it. It's never let me down. Best vehicle I have ever owned, hands down. Next stop the quarter million mile club.

Click the photo to see a larger view.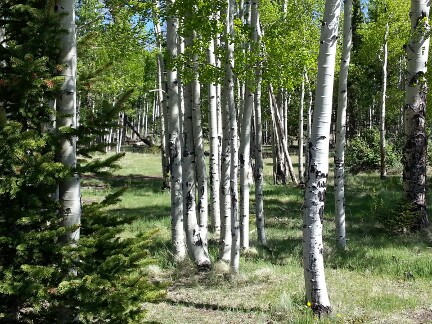 06/27/16
I have posted a bunch of photos and a write-up about my recent vacation to New Mexico and Arizona on my Travel and Vacation Photos page. It was a great trip. There are lots of nature photos and astrophotography. Check it out.

Click the photo to see more.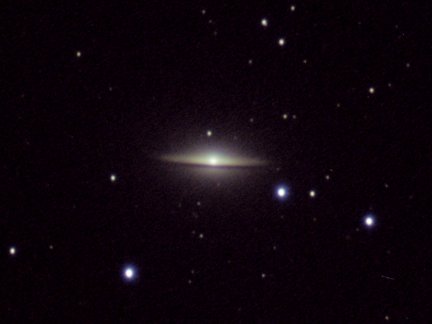 06/17/16
Just got back from a wonderful, and much needed, vacation out west to Arizona and New Mexico. Had a great time. The weather was fantastic. I got to spend a week in my cabin on my remote Arizona property, and spend some time at my favorite spa in New Mexico. There was also the usual exploration of the mountains. And of course much astrophotography was also done. This is a photo of the Sombrero Galaxy. Many more photos will be posted when I get the time.

Click the photo for a larger view.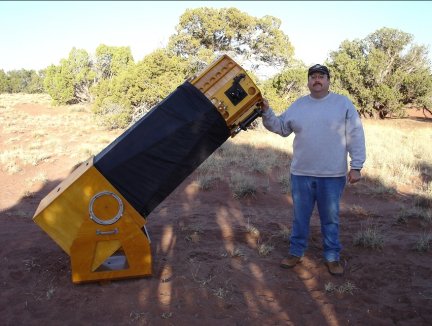 06/16/16
While I was away traveling so much the last month, the Board of Directors of the St. Petersburg Astronomy Club voted to give me this wonderful 17.5 inch Dobsonian telescope I built for them 20 years ago. What a nice surprise. This is an old photo of me with the scope set up on my remote Arizona property. Now that it is my scope, I have some big plans for it.

Click the photo to read more.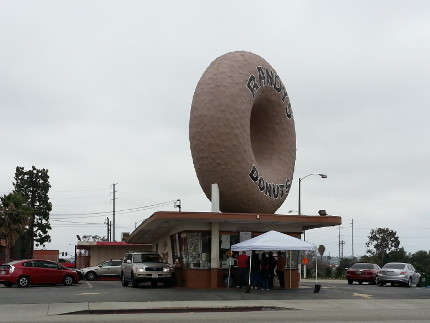 05/21/16
Just got back from yet another business trip. This time to the opposite side of the country from my last few business trips to New York. This time I flew out to Los Angeles California. I landed in LA and saw a couple of the iconic LA area sights on my way to my appointment. How many times have I seen Randy's Donuts on TV and in movies? And there is was, as I was driving away from the airport. So I had to get a picture.

Click on the photo to see a larger view.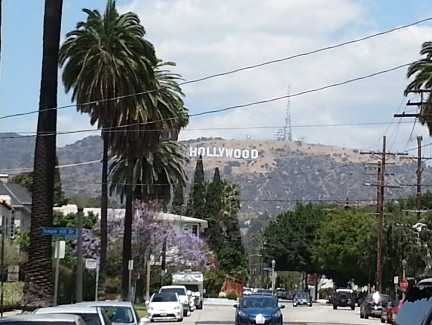 My route was going to take me near another iconic Landmark, so I made a little detour to get a look at it. So here is a photo of the famous Hollywood Sign. I also drove around in the Hollywood Hills a little bit and checked out the mansions of the rich and famous. It was an interesting drive. Worth the detour.

Click on the photo to see a larger view.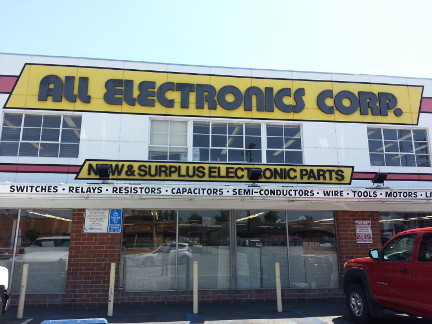 I couldn't very well pass near this place without stopping in for at least a few minutes and looking around. I also bought a few things for future projects. I love electronic surplus stores. I've always wanted to visit All Electronics. I also wanted to go to Apex Electronics, but that place is insane. It would be an all day thing, and I only had a few minutes. So I'll save the trip to Apex for another time.

Click on the photo to see a larger view.

Here is a video I shot at the Carpinteria Seal Sanctuary. I've been here before, several times. It's a great place to hike out to and unwind after a long day of meetings. The park is great and the seals are always fascinating to watch as they jockey for position on the narrow beach. There was also a lot coming and going of ships transferring crews from the offshore oil platforms via the pier next to the sanctuary.

In spite of the interesting side trips, it was a grueling trip, especially the trip home. I left my hotel in Carpinteria before dawn, and rolled into my own driveway around 9:30 pm. In between, I drove down the CA coast to LA, fought terrible traffic to get to the rental car return. The shuttle bus took forever to get me to the airport termainal. After the Egypt Air crash, the police had security checkpoints set up around LAX, further snarling already impossible traffic. The TSA security line was beyond ridiculous. I was expecting it. Glad I left as early as I did. My flight got delayed. Then I spent about 8 hours on an airplane which stopped in Atlanta on the way home, and got caught in a runway traffic jam in Atlanta. We were on the ground for a long time there. Glad to be home again. No more business trips for a while (I hope). The next time I fly I want it to be for my vacation.
05/14/16
Just got back from a business trip to Buffalo, NY. New York is beautiful in the spring. Everything is greening up, the trees and shrubs are all in bloom, there are birds everywhere. After a day in meetings, I had a little time before sunset to do a little sight-seeing. So I headed for Niagara Falls. Haven't seen it since I was a kid.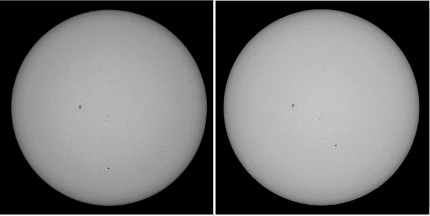 05/09/16
I ducked out of work for a little while today to check out the transit of Mercury. These two photos show how far Mercury moved across the sun in the space of a little over an hour. I got a lot of photos from in between those two points.

I setup, polar aligned, and star aligned the mount last night in my back yard in anticipation, and left it set up until this morning. It went straight to the sun with no issues and tracked really well. Unfortunately I couldn't watch and photograph the whole transit. Had to go back to work. This was good practice for the total solar eclipse next year.

Click on the photo to see a larger view.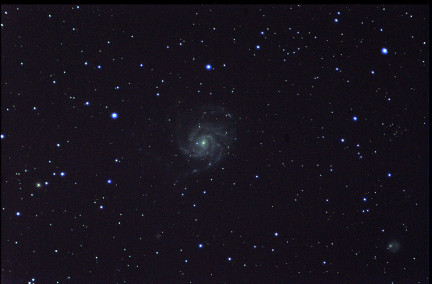 05/09/16
A photo of galaxy M101 taken last Saturday night at the SPAC Spring Picnic at our Withlacoochee dark sky site. It is a stack of 7, 5min exposures. Note the small gravitationally distorted galaxy at the lower right. At least two other small galaxies are visible in the full size image. This is by far the best photo of M101 I have ever got. It has been my nemesis over the years.

Click on the photo to see a larger view.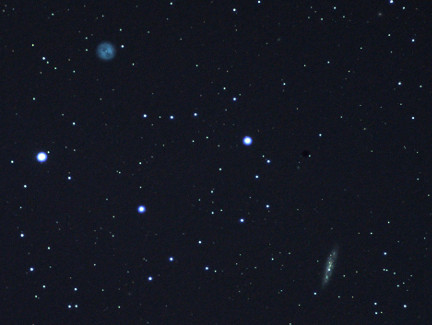 05/09/16
A photo of M97 (Owl Nebula) and M108 taken last Saturday night at the SPAC Spring Picnic at our Withlacoochee observing site. It is a stack of 5, 5min exposures. Not bad, but I probably should have grabbed a couple more 5 min exposures to add to the stack.

I also got some shots of M81 & M82, and M51, Saturday night, but they were only marginally better than the ones I got at the OBS a couple of months ago. Can't wait to get this imaging setup away from the humid and light-polluted Florida skies and under the dark sky at my remote Arizona property. Coming soon!

Click on the photo to see a larger view.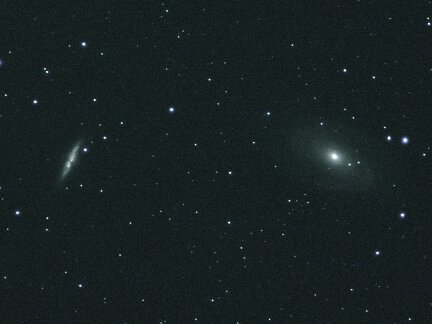 04/02/16
I have added some photos and a writeup of the 2016 Orange Blossom Special Star Party on the vacation and travel photos section of the web site. It was another great star party this year. A great time was had by all, and I thoroughly enjoyed myself.

This is a photo of galaxies M81 and M82 that I took during the star party. Click on the photo to see more.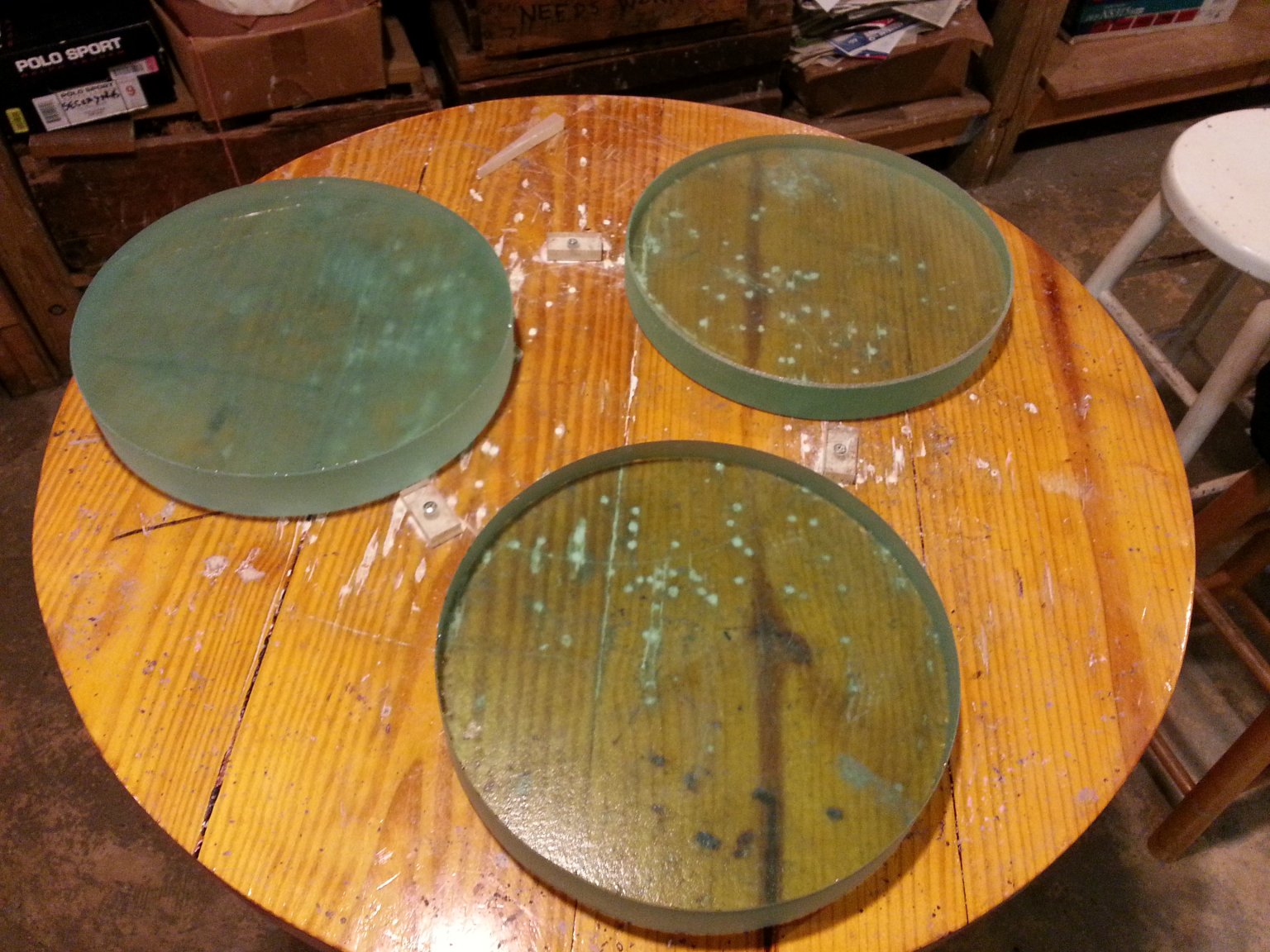 02/17/16
I just added a new section to the web site about my current process for fusing layers of thin glass to make thick telescope mirror blanks. My current process of fusing is (relatively) quick and easy, and produces great blanks. Here is a photo of three 10 inch diameter blanks I made using this process. I am gearing up to make larger diameter blanks too.

Click on the photo for more information.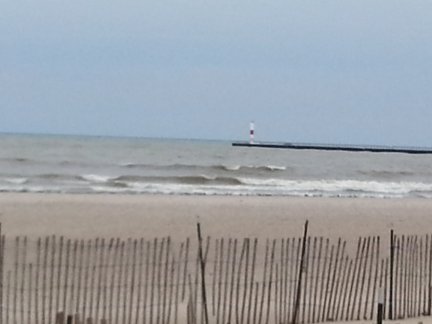 02/17/16
I just got back a few days ago from another business trip to Rochester, NY. Not many touristy photos this time. It was downright cold. We didn't spend too much time outside. The first day the temp was only in the low 30s, and there wasn't much snow left on the ground, so we got out and did a little sight-seeing along the Genesee River and the Lake Ontario lake front. This photo was taken at Ontario Beach. But then the cold and snow really started in. It became too rough for us Floridians. There wasn't any more sight-seeing. By the morning of our last day it was 14 degrees and blowing snow. We hoped our flight would be able to leave, fortunately it did. But then after we were in th air a while, a passenger got sick, and the flight got diverted to NC to get the passenger medical help. So that made for an extra long trip home. Just another wonderful business trip.

Looks like these trips to Rochester may become a regular thing. I'm hoping I won't have to make too many more before Spring.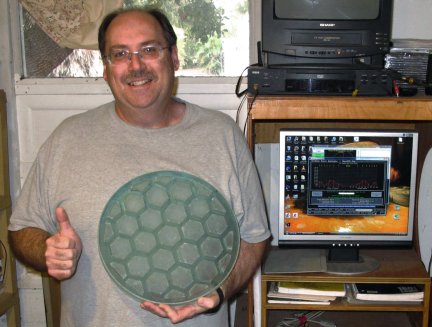 01/31/16
It has been a long, hard slog, but I have finally finished figuring this 12.5 inch diameter f/4.9 honeycomb mirror. It has taken me two years on and off working on it at the SPAC Mirror Lab to get it done. There was a long hiatus while I had health issues. Then I had problems with digging deep holes in the center and badly turning down the edge, multiple times, and having to basically start over from a sphere each time. The combination of plate glass and the shape of the back were giving me fits. The blank did not behave at all like a solid blank. I eventually gave up on using a full size lap and learned how to figure all over again using sub-diameter laps. Finally it is done. The best axis is just short of 1/14th wave. I never expected to get this mirror so perfect. It was just a proof of concept for my 2nd generation honeycomb mirror design. I'd have been happy to just get it to 1/4 wave, as much trouble as I was having with it. Now it is on to the 3rd generation design.

Click on the photo for more a larger version.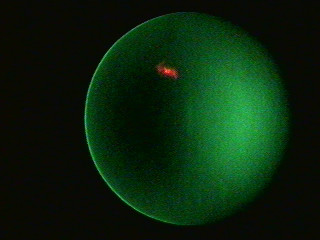 Here is a Focogram of the finished mirror. Ain't it purty? That is one smooth surface. That's what two years of figuring will do.


Here is the Surface Error Analysis for the best axis of the mirror. Never thought I could get a surface that close to perfect.

Click on the photo for more a larger version.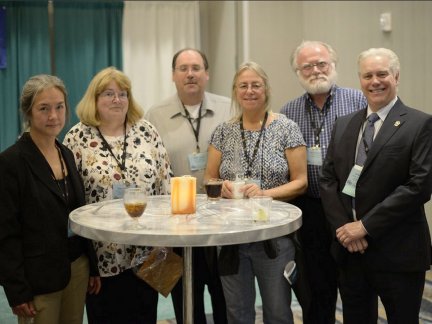 01/29/16
Again, it took a while, but I finally have some images and a writeup in my travel section of my October business trip to The Contact Lens Manufacturers Association Conference in Miami back in late October. I have been traveling so much for work, and so busy with work that I can't keep up with getting it all into the blog.

Click on the photo for more information.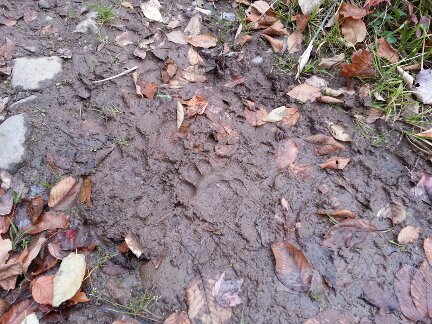 01/14/16
Well it took a while, but I finally got the images and writeup of my October business trip to New York put up on the travel and vacation section of the web site. I've just been so darn busy the last few months that it seems to take me forever to get any updates to the web site done.

This photo shows bear paw prints in the mud near where we were staying in the Adirondack Mountains. We think we missed encountering the bear by possibly only mere seconds. Click on the photo for more information.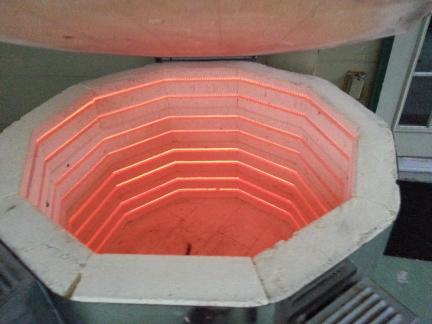 11/19/15
This is an image of the first test firing of my large Paragon kiln. It's been a long time coming. I bought this kiln in a thrift store about two years ago. It was a wreck. I rebuilt it, but had no way to test it, and nowhere to use it. It went into storage. Today I got it up and running. You can read the whole story on my House Blog page. I'll be casting large telescope mirrors in it soon.

11/19/15
Photos and a write-up from my most recent vacation have finally been posted to the travel and vacations section of the web site. Check it out.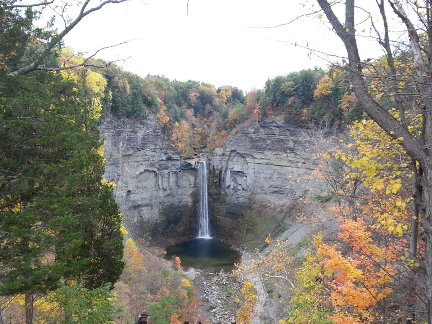 10/31/15
It's been a while since my last post here. I have been on the run all around the country in the last month. First I want on another vacation out west. It was a great trip. I will post photos from that trip soon to the travel and vacations section of the web site. It seemed like no sooner was I back from my vacation than I was off on a work-related trip to Rochester, NY. Big changes at the company where I work have meant new responsibilities for me, and a lot of travel. This first trip to Rochester was a very interesting, and took me to an area of the country I hadn't been to since I was a kid. Plus it was during the height of the Autumn colors. And as a bonus I managed to do a little exploring of the Finger Lakes region, and spend some time at the hunting cabin a work colleague owns in the Adirondack Mountains. This particular photo was taken at Taughannock Falls State Park. More photos from this trip will eventually also be added to the travel and vacations section of the web site.

Three days after returning from Rochester, I was off to a trade show in Miami, and spent a few days there. I have some photos from that trip too. Whew! Seems like I have been away from home more than at home in the last month. I've gone as far west as Arizona, as far north as Lake Ontario, and as far southeast as Miami. I've spent a lot of time on airplanes, in airports, in hotels, and in rental cars. It's going to be good to hang around my own house for a while.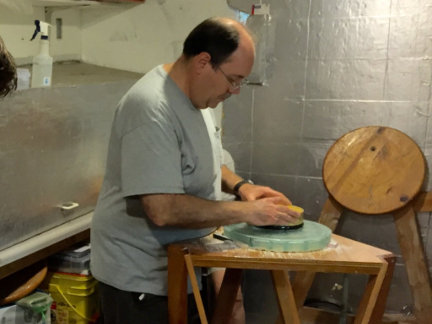 09/10/15
Atkins diet update: I haven't managed to push through this plateau at 60 lbs yet. However, I do have some photos to show what a difference losing those 60 lbs has made. This photo was taken a few days ago at the SPAC Mirror Lab. The below photo was taken a couple of years ago at the same place while I was doing the same thing. In the recent photo a 1X shirt is a little baggy on me, while in the older photo I am doing a pretty good job of filling out a 3X shirt at around my peak weight of 305. Big improvement so far.

I still have a long way to go. I need to make some more lifestyle changes to get the weight loss going again. Seeing before and after photos like these are really good motivators to buckle down and get some more of the weight off. I could see the difference in my mirror, but to see it from other people's perspective really helps even more.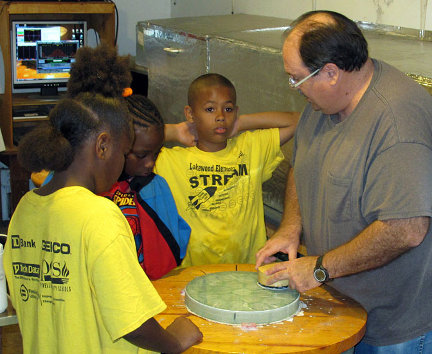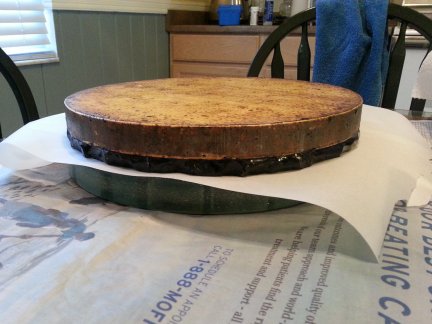 08/19/15
It's been a while since my last post. I've been working very long hours at work, seven days a week (ouch). So that hasn't left me with much time for other things. It has slowed down a little lately. I have managed to get back to the SPAC Mirror Lab the last couple of Saturdays for a little glass pushing. This photo shows a new method I have come up with to store my lap between figuring sessions so gravity doesn't make the edge of the pitch roll over. I am storing the lap on the mirror with a sheet of parchment paper between them. The pitch doesn't stick to the parchment paper, and the lap keeps the shape of the mirror. It works great. Wish I had thought of this years ago.

Atkins Diet Update: I have been plateaued at 60 lbs lost for a few months. I have to admit I haven't really been trying all that hard to lose more weight. I've been eating out a lot, and under a lot of work stress. At least I haven't gained any weight back. I have started a new push to loose some more weight before my next vacation. I'm back on the diet, eating out less, and trying to get more exercise. I've been doing a lot of swimming and exercising in the pool. I bought new swimming trunks because my old ones were just too big and baggy on me now. The new ones are a bit tight. I'd like them to fit better before the vacation happens. We'll see how it goes. I am going to try to put together a web page on how I lost all the weight so others can too. I just need to find the time.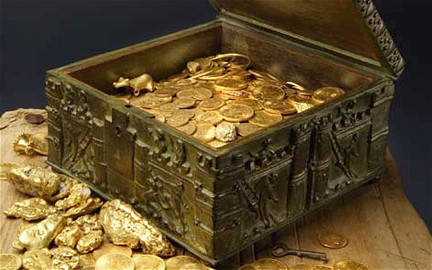 07/13/15
Searching for Forrest Fenn's treasure hidden somewhere in the mountains north of Santa Fe, New Mexico is something that has consumed a lot of my free time over the last few years. Not just the actual boots on the ground searching out in the mountains while on my vacations, but also lots of thinking, investigating, researching and strategizing has gone into it. I spend a lot of time on blogs dedicated to the treasure hunt. I finally decided it was time to have one of my own. A place to post my own ideas, adventures, discoveries and whatnot. Check it out.

07/11/15
Today I have completed 51 orbits around the Sun, and what a long, strange trip this last one has been. It started out kind of rough with me recovering from serious health issues, and serious relationship issues, and living in a tiny rented condo. It ended with me 60 lbs lighter, feeling and looking great, a much improved income, a homeowner of a big house with a pool and garage workshop, happier and having more fun than I have in a long time. Here's to another great year. It will be hard to top the last one, but I have ideas for how to make it happen.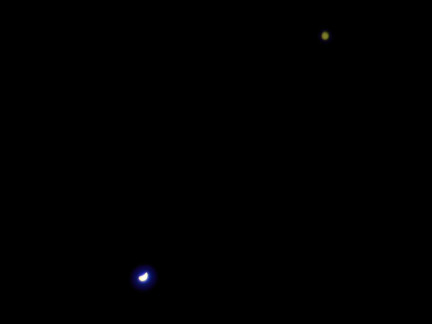 06/30/15
This is a photo of tonight's conjunction of Venus and Jupiter. Managed to get a pretty good shot of them together in the same frame. Tried all kinds of different exposures. This is probably the best of the lot. If the exposure was long enough to show Jupiter's moons, then Venus was just an over-exposed blob. If it was short enough to see a nice crisp crescent on Venus, then Jupiter was barely visible. Big brightness difference between those two.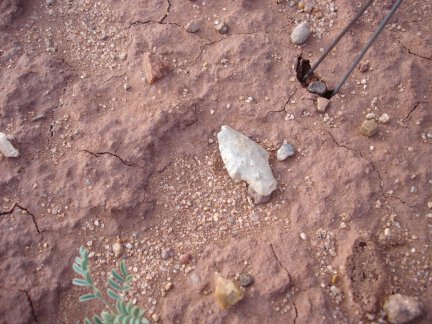 06/19/15
This is a photo of an arrowhead I found on my Arizona property on my vacation last month. I have added a whole bunch of photos and a long write-up of my vacation on the the vacation photos section of the web site. It was a fantastic vacation. I had a lot of unexpected fun and made some neat discoveries. Check it out.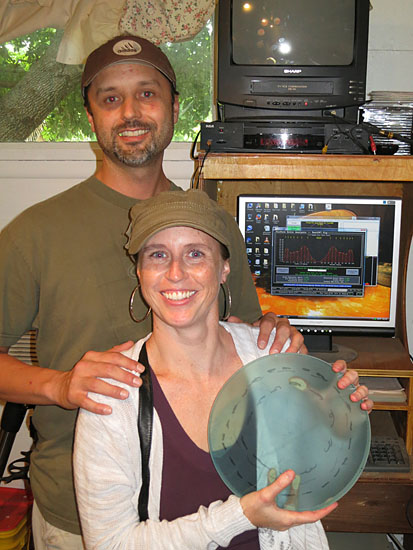 06/06/15
Joey and Brent Hilker have completed their 10 inch f/5 mirror made with one of my home-made blanks. They made it at the SPAC Mirror Lab. It is better than 1/6 wave. It is a great looking mirror and will make a fantastic telescope.

05/25/15
I just got back from a really great vacation. It was the most fun I've had on a vacation in a long time. Met some great people, had some neat adventures. Did some treasure hunting. And I spent a blissful week of peace and quiet at my remote Arizona cabin. Work even left me alone and didn't keep calling with problems. And even better, I lost three more pounds while I was gone! I'll try to post some photos and a write-up about the vacation soon in the vacation photos section of the web site.

Atkins Diet update: I have now lost 61 lbs. Wow! I am amazed at the transformation I have made in myself. I was standing in front to the full length mirror in my hotel room yesterday before my flight back home, and I said out loud, "Who is that skinny guy in my mirror?" I hardly recognize myself. I fit so much better in airline seats than I used to. I also have a lot more energy than I used to. I went hiking in the mountains several times on this trip and kept up with fit people who do it all the time. No problem even on steep uphill slopes at altitude. I felt like a mountain goat. I also have a lot more confidence and improved self-esteem. It doesn't hurt the self-esteem department that women seem to be seeing me as an attractive guy now. It used to seem like I was invisible and had to get by on just my personality. Now even women I've never met come right up to me and pull me into their conversations and invite me into their circle of friends and ask me along on their activities. Wow, it is suddenly a very different world for me. I had a lot of fun on this last vacation. I should have lost the weight years ago.

It is a shame that society tends to judge people by their appearance. However, changing society is not easy. I have found it much easier to change my appearance.
05/15/15
Donated a massive pile of old fat clothes to Goodwill today. Made a lot of room in the closet and dresser drawers for new clothes.
05/14/15
Atkins Diet update: I have now lost 58 lbs. I'm almost up to 60. I seem to have made it past that 55 lb plateau, and am slowly losing again. I have once again cleaned a ton of old fat clothes out of my closet and have them ready for donation. It's my way of saying (and enforcing) that there is no going back. I'm not going to keep the fat clothes just in case. I'm going to make sure just in case doesn't happen.
| | |
| --- | --- |
| | 04/17/15 - I inherited a 40 Watt industrial CO2 laser from work. Check out the video of me testing it. This came from a retired laser marking system. It took a little research and tinkering to figure out how to drive it, but I got it going, oh boy did I ever. It is scary powerful, and it isn't even focused. As it is it really does a number on wood. With a proper focusing lens it could cut steel. I don't really have a use for it at the moment, but there could be several interesting projects in the future. Watch this space for updates. |
04/17/15
Atkins Diet update: I have been stuck at 55 lbs lost for a while, but I still seem to be losing inches. I just bought a bunch of new smaller clothes today. I bought 38 waist pants. I was wearing 44s at the beginning of this. I bought 1XL shirts. I was wearing 3XL and 4XL at the beginning. I am now wearing a size 46 lab coat at work that I borrowed from another guy because the size 56 lab coats I had been wearing are like tents on me now. I bought a shorter belt because my old belts have had lots of extra holes punched in them and the tails are too long to deal with now. Once again I have a closet full of clothes too big for me. Looks like it is time to make another donation run to Gooodwill.
03/28/15
Haven't posted much lately. Very busy with end of quarter craziness at work. Atkins Diet update: I have now lost 54 lbs as of this morning. The weight loss has slowed way down, but I am still losing. Fortunately all the stress I have been under the last few weeks at work hasn't caused me to gain any of the weight back. My body seems to have adjusted to the new normal of my low-carb diet, and further weight loss is getting harder to achieve. I am working on cutting down my calorie intake even further to keep the weight loss going. Fortunately I have already broken a lot of my old bad eating habits, and after these months of dieting, being a little hungry much of the time isn't such a strange and troubling feeling any more that requires urgent snacking to alleviate.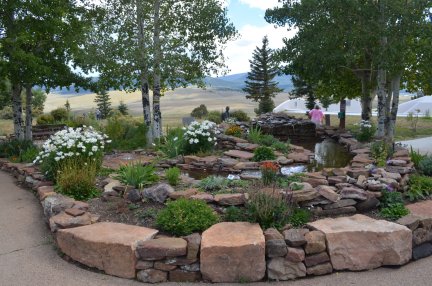 03/18/15
It's been a long time coming, but I have finally posted photos and descriptions of my Sept 2014 vacation to Arizona and New Mexico to the Vacation Photos section of the web site. My life has been pretty busy and chaotic over the last year. I managed to disengage long enough to take the vacation, but sorting through the photos and posting them was a job I just never seemed to have the time for. It got put on the back burner. Then it got put in the back room. Then it got put in the back 40. People have been bugging me about it and pointing out the gap in my timeline, so I decided it was finally time to just do it. I'm glad I did. It brought back good memories, and got me thinking ahead to my next vacation. Click the photo to see more.

03/11/15
Atkins Diet update. Saw my doctor today. He is very impressed with my weight loss and encouraged me to continue. He gave me some good advice on how to get past my current plateau and loose more weight. We decided to cut my blood pressure medicine in half since my blood pressure is actually on the low side of normal these days, and I am staring to have dizzy spells when I stand up from bending over or laying down. If I loose some more weight I might be able to kick the blood pressure meds entirely, and kiss their side-effects and on-going expense goodbye.
03/04/15
Atkins Diet update. I finally got into my pool for the first time (finally got warm enough for me). Surprise, I don't float very well any more. I've lost 52 lbs of buoyant blubber. It takes effort to keep my head above water in the deep end. I have been plateaued at 52 lbs lost for a while now, but I do keep losing inches. I've gone from a 44 waist to a 40 waist, and will soon be wearing 38 pants because the 40s are getting pretty loose, and I keep having to punch new holes in my belts. The weight loss should hopefully start to take off again now that my pool is warm enough to get into and get some fun exercise in.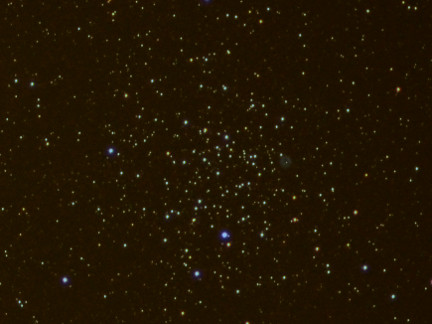 02/20/15
So I didn't get around to doing any imaging at the OBS last week. Four perfect nights and a 30 acre field full of big DOBs, including my own, just begging to be looked through meant my imaging scope never even left it's case. Fast-forward a week. It's another really clear night, probably the last moonless one for a while. The imaging bug is really biting me bad, but it's been a long, hard day at work. I don't feel like fighting Friday rush hour traffic and driving out to the darker skies at the Withlacoochee County Park. So I decided to just set up on my pool deck and see what I can do from in town. This first shot is of M46, the open cluster with a planetary nebula in the same field. A two for one deep sky object. Not too bad for being in the middle of a major urban area.

Click the photo for a larger view.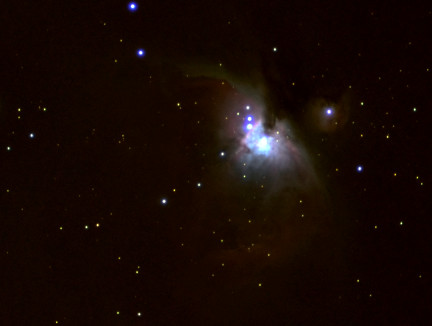 Then of course I had to get a shot of the Orion Nebula just because it was there. Again, not too bad. I also tried to do the Rosette Nebula, but didn't see any trace of the nebulosity through the light pollution. I was going to try to do M1, but it was getting close to the trees and I began running out of steam after the long day and called it a night. The imaging bug is satisfied for the moment.

Click the photo for a larger view.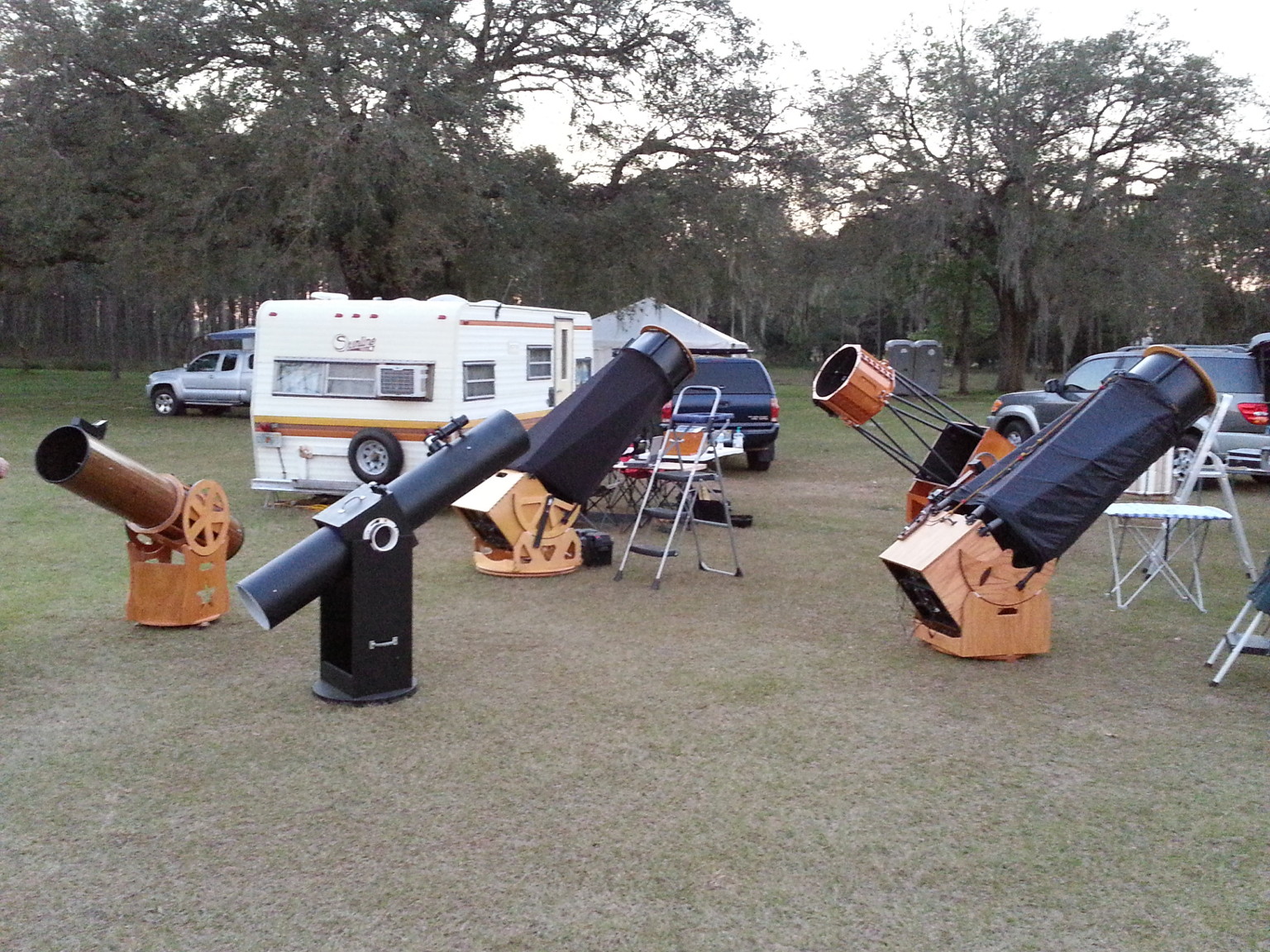 02/16/15
I just got back form the 2015 Orange Blossom Special Star Party. We had four days (more importantly four nights) of perfect weather. That's the first time in at least a decade we've had such a great stretch of weather during the OBS. It was an amazingly great time, and a nice low-stress break from work, which I really needed. This photo shows the "Valley of the Dobs" set up by the members of the SPAC Mirror Lab. Mine is the 17.5 inch Dob without a shroud around the trusses yet at right of center in the photo. This is only one tiny corner of the 30 acre observing field. There were dozens and dozens of other large scopes set up all over the field. We had a huge turnout. Much fun was had by all.

My plan was to spend part of the time using my big 17.5 inch DOB telescope visually, and spend part of the time imaging with my small 4 inch refractor. The plans wet out the window after the first night. I was having so much fun using the big DOB under the amazingly clear skies, and hanging out with my Mirror Lab buds, that I never even finished setting up my imaging scope. I have always been first and foremost a visual observing guy. The imaging has always just been something of a sideline, and the OBS has always been a social event. I'll go back to the field and do imaging some other night and be off by myself in a corner hunkered down over my refractor and laptop.

Oh, And as a bonus, I lost two more pounds while camping those four days. Win-Win.

Click the photo for a larger view.

| | |
| --- | --- |
| | 01/25/15 - I built a new, heavy duty workbench for the garage workshop. I built it from scratch using inexpensive materials. I'm quite proud of this bench. It is the first of hopefully many projects to be built in my new garage workshop, and it will help me build the others. Check out the video of the build. |
01/17/15
Atkins diet update. I hit a big milestone today. I have lost 50 lbs so far! I had been a little bummed out that my weight loss had plateaued for a while. Then I got so busy with work and other things that I hadn't thought about the diet or weighed myself in a while. Someone at work yesterday remarked that I looked thinner, so I weighed myself this morning. 50 lbs gone! My clothes are all getting too big for me again. Soon I am going to have to buy all new clothes for the third time. At least I can buy off the rack again. No more having to go to the big & tall store.
01/05/15
I have started a blog just to document all the repairs, maintenance and upgrades I am doing to my new house. It is at mdpub.com/houseblog.html. Check it out if you are interested.
12/24/14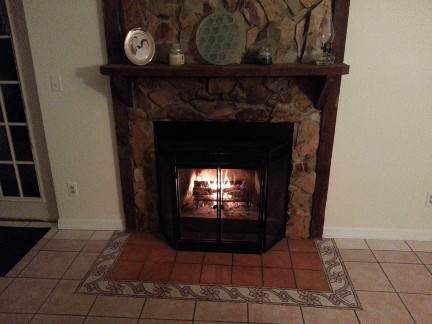 I've moved into my new house. I am home for the holidays! I got enough of the renovations done that I could move in. The rest can be done whenever. I'll have projects for the rest of my life. I hired professional movers for the first time in my life. No U-haul trucks and trying to get friends and relatives to help move tons of stuff. No cripplingly sore muscles the next day. I'm getting too old for that sort of thing. I highly recommend Two Men and a Truck if you are looking for movers. They really hustled, but took great care with everything. They finished in less time and for less money than the quote. I felt a little guilty watching those guys do all the hard work, but I made sure they had plenty of cold drinks, and tipped them well at the end. I love my new house. It is a great Christmas present to myself.

12/24/14
Atkins diet update. I had been stuck at a little over 40 lbs lost for a long time. I got really busy with the renovations, moving, and excessive craziness at work and forgot to even weigh myself for more than a week. When I finally did get on the scale I was pleasantly surprised to find I was up to 47 lbs lost. I celebrated by having a Chick fil A sandwich and waffle fries for the first time since last Spring. Damn, I have missed Chick fil A. It was good. I'm within striking distance of 50 lbs.
12/15/14
I'm exhausted! I work on renovating the house evenings and weekends, work long hours all week at my day job, then pack and box up stuff at night at the condo. Not much time left over for rest, and none for any of my other projects. Getting the house to move in ready and getting all my stuff at the condo ready to move is now my only project. Covering over the dark colors the previous owners used in many areas of the house is taking several coats of paint, and much longer than I initially expected. I am making good progress though. It looks less like a dark cave every day. I have the master bedroom and the room that will be my office at the house essentially complete. The living room is about half done. Once the living room is finished I can move my furniture in. I'll save doing the third bedroom, hallway, entryway and kitchen rehab work for after I am moved in. I am living out of boxes at the condo. The move is scheduled for the 20th. No rest for me until after that. I need to finish the living room so my furniture can move in. Then I need to clean up the condo. Sheesh! Now I remember why I hate moving. Sometime in January I may be able to actually sit down and rest for a few minutes.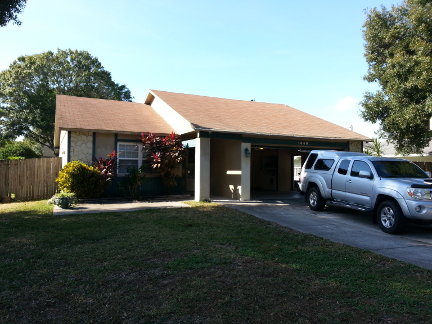 11/24/14
Well here it is at last! I am officially a home owner. This is the day I have been saving for and working toward for years. We had the closing today and I got the keys to my new house. This is the final culmination of a house-hunting process that began during the height of Summer. Here it is three days before Thanksgiving, and I just finally got the keys in my hand.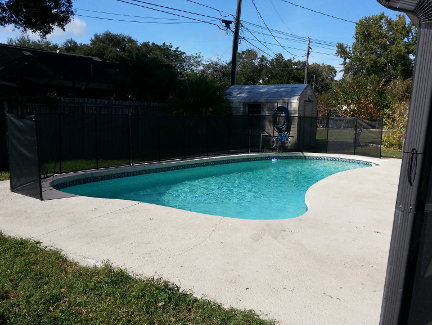 The house has a three bedrooms, two baths, with a solar-heated pool, and a two-car garage, and a very large storage shed in the back yard. It also has a wood-burning fireplace and has a nice open floor plan with amazing tile floors. It has been partially updated and only needs some cleaning and a lot of painting before I move in. The house is huge compared to the condo I have been living in. I don't own enough furniture to fill it.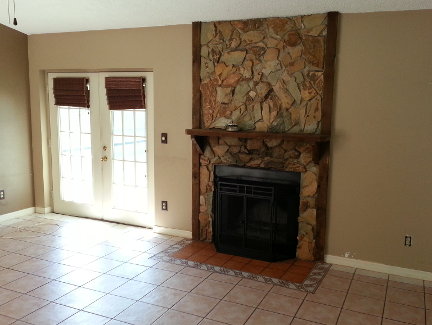 Now that I see the house empty without all the previous owner's furnishings in it, I see that the paint is in worse condition than I thought. So the next job is painting before moving in.

After the closing I took several loads of stuff to the house and stashed it out of the way in the garage, did some cleaning, then went shopping for painting supplies. I'll be spending my long Thanksgiving weekend spending quality time with spackle, paint rollers and brushes. It's been a long, busy day, but a good one.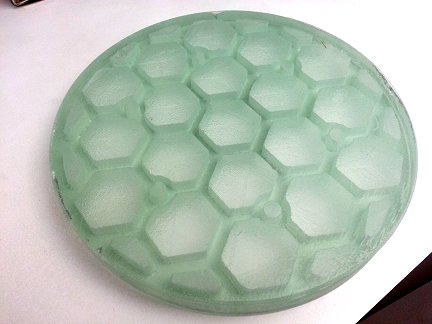 11/07/14
I have completed the first full scale prototype of my 3rd generation honeycomb telescope mirror blanks. This is a 12.5 inch diameter blank. The photo shows the front surface of the blank. Like my scaled down prototype, I fused a sheet of glass on the top surface to ensure there are no bubbles in the volume of glass to be ground out and polished. This time the fusing went better and there is less air trapped between the top sheet and the cast base. Again, this is a prototype. It has a few minor issues. I learned a lot making it, and have plans to fix the issues in the next mirror.

Click the photo for a larger view.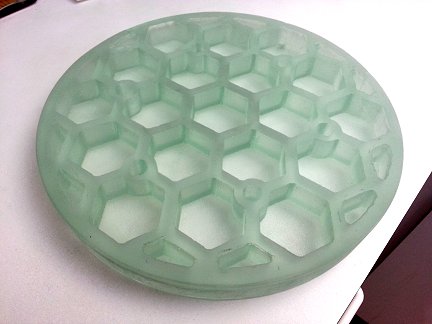 This photo shows the honeycomb back of the mirror. The ribs and sockets were very faithfully reproduced from the mold in this casting. I seem to be getting pretty good at casting glass. It is not perfect. I made my usual mistake of underestimating the amount of glass needed for the casting, and the top surface was thinner than planned, but still workable. This mirror incorporates some new features not found in my 1st and 2nd generation honeycomb mirrors. The pockets are of different depths, deeper at the edges, and shallower in the middle, to make for a more uniform thickness of glass after grinding in the front curve. It also has six mounting sockets and bearing points molded into the webbing. This will make mounting the mirror in a cell much easier than with my previous mirrors.

Click the photo for a larger view.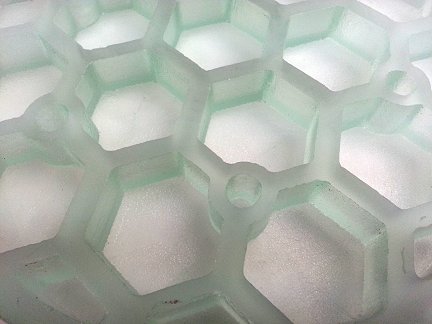 This photo shows a close-up of one of the sockets cast into the back of the mirror. There are six of these sockets. They are placed 70% of the way from the center to edge. Each is surrounded by a circular flat area to serve as a weight bearing point. CNC machining the molds allows for tremendous creativity and arbitrary complexity in the design. I am working on a mirror cell design to mate with the sockets on the back of the mirror. The prototype will be made from wood. Later I may attempt casting it in aluminum. Casting metal will be a whole new learning experience for me.

Click the photo for a larger view.

11/01/14
I finally hit 40 pounds lost on the Atkins Diet. The weight is coming off much more slowly than in the beginning, but it is still coming off. I had plateaued at 35 pounds for a while, but was pleasantly surprised when I weighed myself this morning and saw I was 40 pounds down from my peak weight. I had a massive celebration today in honor of this new milestone. I ate a (single) piece of left-over Halloween candy, and had French fries at lunch for the first time in four months. Do I know how to party or what? Gotta be good for the next few days to make up for it. More old fat clothes going to Goodwill tomorrow.
11/01/14
Big news! I'm buying a house! The closing date is Nov 24th. Can't wait to move in. I'll finally get out of rental Hell. No more noisy neighbors on the other side of my bedroom wall. I'll have a whole two car garage all to myself for my workshop. No more sharing a garage with a neighbor. No more condo association rules. I'll finally have the room and freedom to spread out and go into full mad-scientist mode with my projects in the privacy of my own fenced yard, without having to worry about my neighbors coming after me with torches and pitchforks. I'm so excited. The 24th can't get here fast enough for me.
10/06/14
I just dropped off a big box of my old fat clothes at a Goodwill collection station. There's no going back now. I'm too cheap to buy new fat clothes if I start putting any weight back on after spending a lot of money to buy all new thinner clothes. I'll starve myself first. There will be no yoyoing.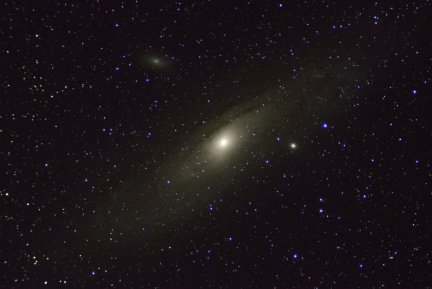 10/05/14
Here is another astrophoto taken on my remote Arizona property during my recent vacation. I just got around to processing the images in Registax. It is a photo of the Great Andromeda Galaxy. Possibly my best astrophoto to date. The amount of detail in the dust lanes is stunning, especially in the full-size image. Even the large image here (which has been resized) shows amazing detail.

Click the photo for a larger view.

10/05/14
I have posted some updates to my solar panel tracking system project. I did some work on the system while I was in Arizona on my recent vacation. The new sensor head has been installed and is working. I also found a solution for a problem I was seeing with the pipe connections loosening up. The updates are near the bottom of the page.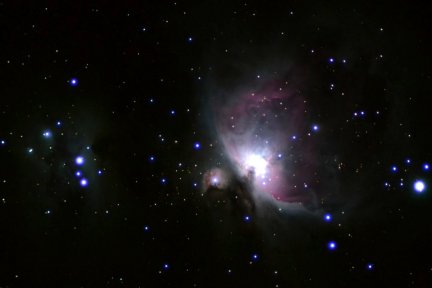 09/29/14
I just got back from a great two week vacation to my Arizona property. It was wonderful to finally have a vacation. It was my first vacation in over a year and boy did I need it. I spent a lot of time working on my cabin during the day, and doing astrophotography at night. I got a lot of great astrophotos. I have hundreds of photos I haven't even had a chance to process yet. Here is a shot of the Great Orion Nebula.

Click the photo for a larger view.

I got a lot done on this trip. I have been working toward getting enough done with the cabin so that in the future I don't have to drive out to Arizona with a truckload of equipment and tools. On future vacations I'd like to be able to just fly out there and rent a car. It will cut several days of travel time out of each trip and leave me with more vacation time. I think the cabin is just barely to the state where I can do that. Unfortunately, if I fly, I may not be able to take my astrophotography setup with me.

I also did a good job of sticking to my diet while on vacation. That combined with all the exercise I got meant I lost another 5 lbs while I was gone. My total loss is now above 35 lbs. I feel great. I worked hard on the cabin and went hiking in the mountains, and had more energy and fewer aches and pains than any time in recent memory. It feels like I am at least 10 years younger. I want to loose even more weight and go back again in the spring.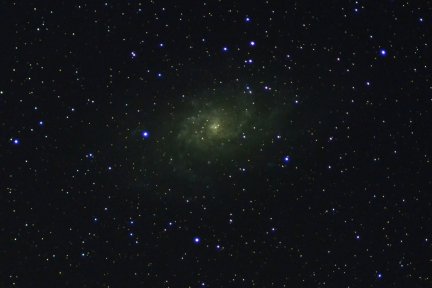 Here is a photo of M33 I took on this trip to Arizona. As a low surface-brightness, near face-on spiral galaxy, M33 has always been a difficult target for me, in spite of it's huge size. I think this is by far my best photo ever of it.

Click the photo for a larger view.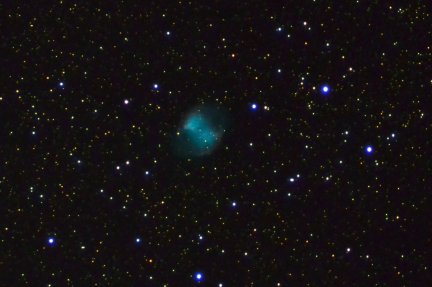 Here is a photo of the Dumbell Nebula taken on this trip to Arizona. This has always been one of my favorite objects.

Click the photo for a larger view.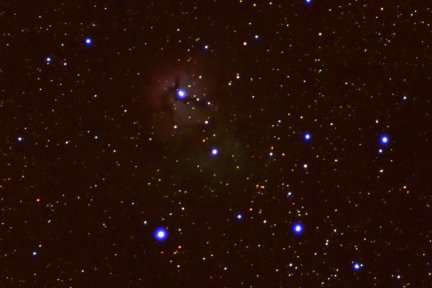 Here is a fairly decent photo of the Trifid Nebula taken on this trip to Arizona. I may try reprocessing this image to try to bring out more contrast.

Click the photo for a larger view.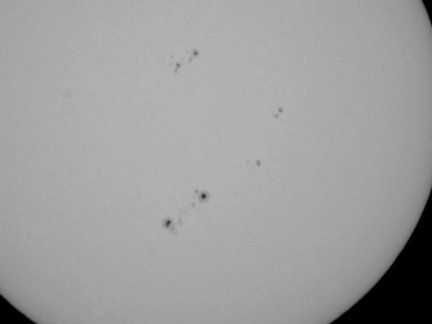 Since I had my astrophotography setup all aligned and calibrated, It seemed a shame to only use it at night, so I also got a few shots of sunspots during the day.

Click the photo for a larger view.



08/20/14
Atkins Diet Update: My rate of weight loss has slowed down, but it is still coming off. I am creeping up on 30 lbs down from my peak weight. I haven't been this light in, well, a very long time. Can't really remember when I last weighed what I weigh now. Must be more than 10 or 15 years. I feel great. Wish I had done this a long time ago. The only down side is that I need to buy all new clothes. Most everything I own is way too big on me now. A colleague at work has also lost a lot of weight, but on a different diet. He was never as big as me. He has donated some of his old clothes to me. His "fat clothes" which are now way too big for him, actually fit me pretty well, but at this rate will soon be too big for me too.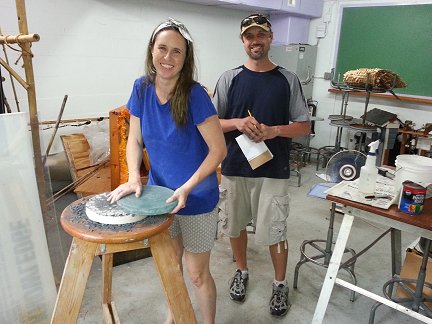 08/20/14
Here is a photo of two new students at The SPAC Mirror Lab. Joey and Brent Hilker are rough grinding one of my 10 inch recycled plate glass mirror blanks that I cast in my kiln. My home-made, green glass blanks have become quite popular with students at the Mirror Lab. I can hardly make them fast enough to keep up with demand. So in answer to the question I get a lot by email, no I don't have any for sale right now. All I have are earmarked for the mirror lab at the present time.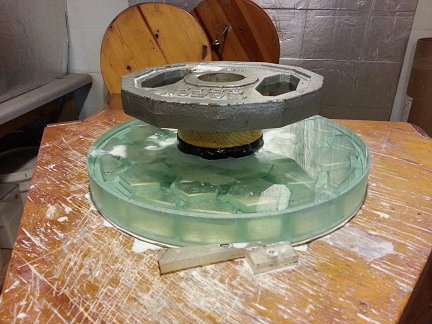 My own second generation 12.5 inch honeycomb mirror project is coming along very slowly. There have been numerous problems encountered while figuring. I have fought a persistent turned down edge, holes in the center, peaks in the center, uncooperative zones, and a general refusal of the mirror to respond properly to normal figuring strokes on a full-size lap the same way a solid mirror does. So once again I have broken out my collection of sub-diameter laps and am tackling the mirror a zone or two at a time trying to tame it. Here I am pressing a small lap on the mirror to get it into good contact. Looking at this photo I now realize how foolish and dangerous this move was. It would have been far safer to press the mirror on top of the lap. If the weight had been bumped and slid off the lap it could have gouged or even shattered the nearly finished mirror, and ruined hundreds of hours of hard work. Don't try this at home, I'm a trained professional, with more guts than brains sometimes.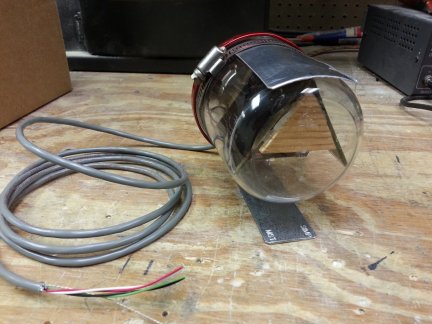 07/28/14
I have completed a new and improved, weatherproof, sensor head for my solar panel tracking system. This new sensor head will keep my solar panels pointed at the sun, without being exposed to rain, dew and dust like my original prototype sensor head was.

Click the image to see the projct.

07/26/14
The below telescope mount was one birthday present I bought for myself. Another thing I decided to do for myself just before my 50th birthday was get into better shape. I've been on the Atkins Diet for about a month now. I've lost 20lbs so far. Saw a lot of old friends last night at a SPAC meeting. I got a lot of complements on my weight loss. I still have a long way to go, but it's working great, and I couldn't be happier. I feel great, better than I have in many years. Maybe 50 really is the new 30.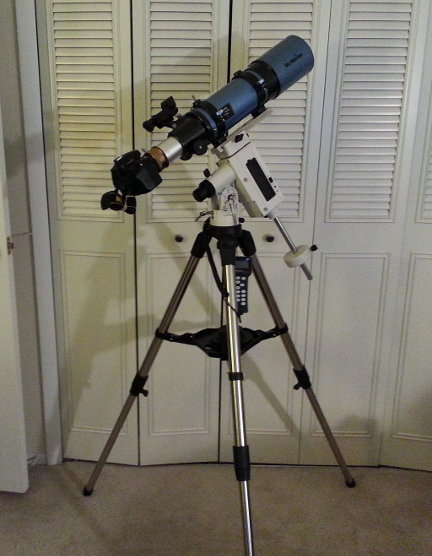 07/26/14
The new telescope mount is finally all assembled, with my $3 yard sale telescope and my Nikon camera attached. It is all balanced and ready to go. Just waiting for cooler weather, longer nights and clearer skies. Can't wait to get some great photos with this setup.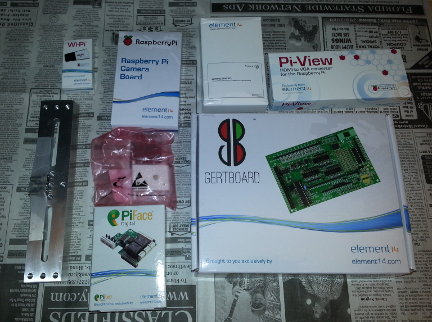 07/14/14
It's like Christmas here at the old homestead today. I went on a bit of a shopping spree back around the time of my recent birthday. Several packages all arrived together today. I had a bit of an unboxing party here this afternoon. I got a bunch of Raspberry Pi stuff from my go-to electronics source Newark/Element 14. Plus the dovetail plate for my new telescope mount has finally arrived. So what am I going to do with all this stuff? I have ideas for wi-fi security cameras based on the Raspberry Pi and it's camera module. A Pi has nearly infinitely more potential and flexibility than standard off the shelf cameras, but costs even less. I also have plans to work on some home automation projects. Plus I'm still waiting on a bunch of other stuff I ordered to arrive. It is going to be a project filled Summer. Stay tuned for updates.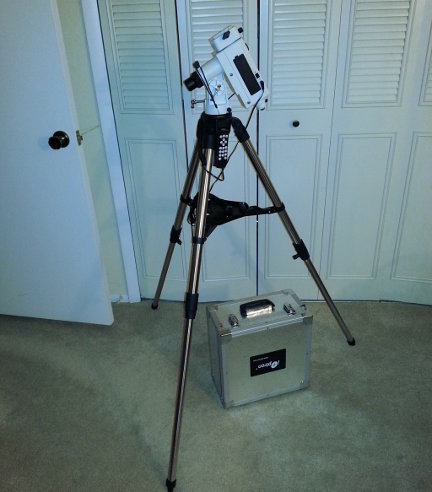 07/11/14
Today I have completed 50 orbits around the Sun. Thanks everyone for the birthday wishes.

This is a photo of a little birthday present I bought myself. It is an iOpteron go-to equatorial mount for my $3 garage sale telescope. It makes such nice astrophotos that it deserved a better mounting than the ancient flaky mount I had been using. I'm just waiting for a dovetail mounting plate to arrive so I can mount the telescope on it. I can't wait to get it all together and out under a dark sky. I expect to take some really great astrophotos on my next trip out to my remote Arizona property, and at SPAC's dark sky observing site this Fall.

07/05/14
I had an exceptionally good 4th of July. I finished my first proof of concept 3rd generation honeycomb-back mirror blank, and it turned out great. This video shows nearly every step in the process of making the blank. When the blank first came out of the mold, I wasn't sure it was going to be salvageable. There were issues. But I managed to fix most of them. After the final cold-working, the blank was beautiful. It is a 10 inch blank, 1 and 5/8 inches thick, and it weighs 6lbs and not quite 10 ounces. Since this was just a test, I used a thicker glass plate on top top than I wanted to. I used glass I had on hand for the test, instead of buying glass of the proper thickness. So the face is 1/8 thicker than I originally planned for. The blank would have been even lighter with thinner glass. I won't normally be making 10 inch cellular blanks. This is a scaled down proof of concept blank made just to make sure everything was going to work. In the future I will be making this design in 12.5, and 14 inch blanks, and eventually even larger ones.

Check out the video.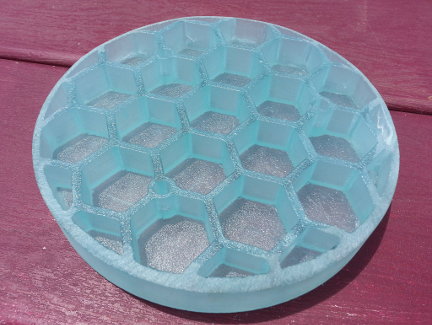 Here is a photo of the back of the above new mirror blank. I really took a different path on this blank. The mold was CNC milled instead of pieced together as in my previous hex blanks. This allowed me to create a very complex design incorporating bearing points and sockets that would have been difficult to piece together. I know because I have tried for the last couple of years to assemble such a mold by casting individual pieces. I finally gave up and decided the whole thing needed to be machined in one piece. I also departed with the past by not trying to cast the blank as a single monolithic piece. I cast the honeycomb back separately, and then fused a sheet of glass on top to be the surface to be ground and polished. This totally eliminates the problem of grinding into air bubbles that has plagued my previous cellular castings. This will probably be the way I make cellular blanks in the future.

This blank was just a proof of concept test piece, and there was no expectation as I was making it that it would actually be usable, but it came out so nice that I think It could actually be ground and polished into a mirror. Maybe it will be someday. For now it is a trophy that represents the successful completion of a project I have worked long and hard on for many months.

Click the photo for a larger view.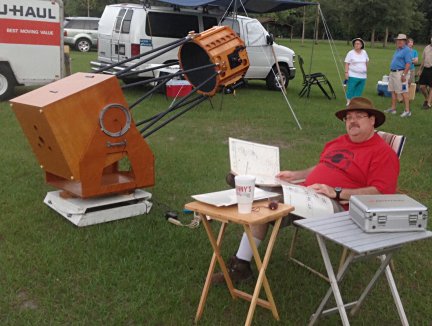 07/02/14
Here is a photo of me, sitting next to the big 17.5 inch DOB on its equatorial platform, consulting my star charts, and waiting for it to get dark. This photo was taken at Withlacoochee County Park a couple of months ago. The person who took it just emailed it to me. It was a remarkably clear spring night that night. We had a great picknic and observing session. There won't be any more of those until the Fall. It's too hot, humid and cloudy now in the Summer. Plus the Sun doesn't set until really late. I'll just have to bide my time.

Click the photo for a larger view.

06/20/14
I've had an interesting week. I got called for jury duty. I've been called before, but never picked. I got picked this time, for a two day long trial. So with one day for jury selection, and two days for the trial, I spent three days this week at the Downtown Clearwater Courthouse, instead of at work. I consider myself lucky, because they also seated a jury for a three week long trial at the same time. It was a civil trial, not a criminal trial. It was a personal injury trial. So it was all about money and who should get how much. It was very boring at times, and fascinating at other times. I was elected jury foreman. I think we rendered a good and fair verdict. I feel like I got a really good free education on personal injury lawsuits. So if I am ever sued, or have to sue someone, I think I will have a leg up on the process. So it wasn't a total waste of time. I think I might have actually enjoyed the whole thing If I were retired, and didn't have to worry about all the problems at work and how far behind on everything I was getting.
06/14/14
The below honeycomb mirror is now fully polished and a pretty darn good sphere, if I do say so myself. It has been slow going with this mirror, but it is finally in a state to start figuring. That should start next Saturday. I am excited about this mirror. It is turning out really nice. It has far fewer issues than my first honeycomb mirror. 3rd generation mirror blanks will be coming out of my kiln soon too, now that I can CNC mill molds.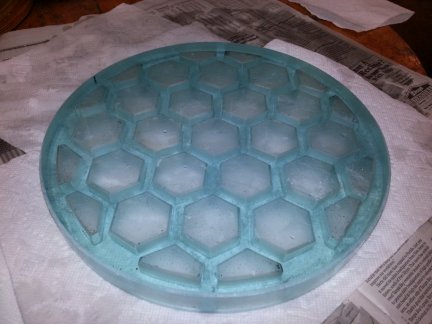 05/19/14
My 2nd generation honeycomb 12.5 inch mirror is about 90% polished. I'll be figuring soon. I missed a couple of sessions at the SPAC Mirror Lab, so the polishing has taken a while. After the last couple of marathon Saturday sessions, it is finally nearly polished. Can't wait to start figuring.

05/05/14
Finally accomplished something I've been working toward for years. This video shows the CNC milling of a mold for casting my light-weight, honeycomb telescope mirror blanks. You wouldn't think it would take years to do it, but first my brother and I had to design and scratch-build the CNC mill, then I had to teach myself G-Code. All that took a while, especially since I could only work on it in my spare time.

This test mold is a scaled-down version of my 12.5 inch diameter mirror design. I scaled it down to 10 inches so it would fit in the largest piece of florist foam I could find. The foam is cheap and easy to cut, but very fragile. My ultimate plan is to build a dam around the edge of the foam and fill it with refractory plaster, creating a negative. Then I would cast a positive off the negative in glass. Time will tell how well that all goes, but at least this part of the process is working. I gotta find bigger pieces of foam.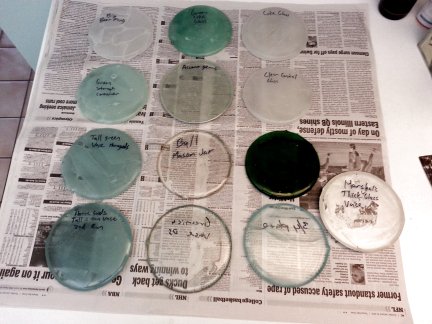 04/10/14
This photo shows some of the results of an experiment I conducted over a period of several weeks while I was stuck at home recovering from major surgery a couple of months ago. I melted down samples of lots of different types of inexpensive, and commonly available glass. The purpose of the experiment was to try to find a new source of glass to use in casting my telescope mirror blanks. The experiment produced some interesting and useful results. Check it out.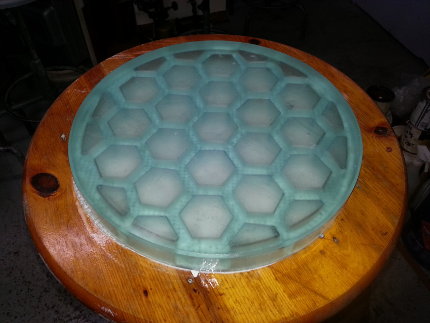 03/29/14
Here is a photo of my 2nd generation, 12.5 inch, honeycomb mirror after fine grinding to 25 microns. It sure is getting transparent when wet. I actually managed to get started on 12 micron grit before the end of the day at the Mirror Lab today. I'll be polishing by next week.

Click the photo to see a larger view.

03/15/14
I'm Baaaaaaack! Spent the afternoon at the SPAC Mirror Lab pushing glass. I made good progress fine grinding my latest cellular, honeycomb-back mirror blank. It's the hardest I have worked since before my surgery. I got all sweaty, and now I'm tired and sore, but no more so than after any other long day of pushing glass before the surgery. It's the kind of tired and sore that reminds you that you accomplished something today. I love it. Tomorrow will be a workshop day. Got more stuff to accomplish.
03/13/14
I'm starting to feel like my old self again, minus the pain and discomfort I was always in before I got really sick and needed emergency treatment and surgery. I don't think I realized just how sick I was and how bad I felt all the time back then. I was constantly run down and feeling crappy for months. Now I feel great. I haven't felt this good or had this much energy in a very long time.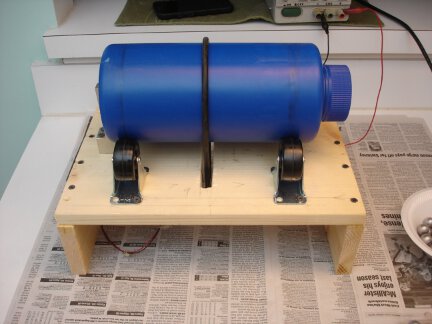 03/13/14
I have posted a write-up on how I built my home-made ball mill. It was quick, easy and cheap to build. Check it out if you have a need grind and mix chemicals.

Click the photo to see the project.

02/24/14
Thanks to everyone emailing me get well wishes. There have been so many that I haven't been able to keep up and respond to everyone individually. I had no idea so many people followed my little blog so closely. For those wanting updates, I am getting better every day. I should be back to my old self in a couple more weeks. Thanks again.
02/15/14
I think I have finally figured out what is wrong with me. I suffer from Compulsive Creative Disorder. The compulsive need to build and invent things. Saw it mentioned a few places on the web. Sounds just like me. It's not so bad as disorders go, there are much worse ones. Anyway, I woke up today feeling great, almost giddy, even though it is a grey, cold and rainy morning. But I feel really good. Hardly any pain, and excellent mobility today. I'm not just physically feeling good. I think I am also mostly mentally over some other bad things that have happened lately. I've got a whole new attitude today. There's nothing but bright possibilities ahead. Gotta go, it's time to go build something.
02/13/14
I wasn't totally idle during my recovery time. I did manage to accomplish a few minor projects. I got Netflix working on my Linux desktop computer, then spent way too many hours slumped in front of the screen passively watching stuff, but I guess that is what recovery is all about. The instructions on how to set up Netflix under Linux at http://fds-team.de/cms/pipelight-installation.html worked perfectly. I followed the instructions for Ubuntu Linux, even though I use Kubuntu, but it still worked perfectly.

Another project I managed to complete was filming and editing a video of my super simple and inexpensive home-made ball mill. I use the ball mill for grinding and mixing chemicals for experimental batches of glass. It could also be used as a rock tumbler. Check out the video.
02/11/14
Got my staples out today, all 27 of them, and got cleared to return to work. I never thought I'd be so happy to be going back to work, but I've been bored out of my mind for the last few weeks. Not sure if I have the stamina yet for a full day of the usual chaos at work, but we'll see how it goes. At least I won't be bored.
02/10/14
Starting to feel more like my old self. I am getting some of the old passion back for my projects, and some more stamina. I do still tire quickly. But I can go for a couple hours at a stretch, and sometimes even forget for brief periods that I was filleted like a fish, until I move wrong. I hope to be cleared to go back to work soon.
02/05/14
I am starting to realize it is going to take a while to recover. I thought that the enforced time off work would allow me to work on some of my projects. But my body seems to have other ideas. I have very little energy, I tire quickly and easily, and I lack my usual enthusiasm. It seems to take me all day to even accomplish something simple. The pain at least is manageable, and less of a factor every day. Maybe I'll feel more energetic tomorrow, but it looks like today is going to be another day I don't even leave the house.
02/02/14
Well I had an interesting week. I spent it in the hospital instead of at the star party like I had planned. Apparently, I have had some pretty severe gallbladder problems for a while, but was completely unaware of just how bad things were getting. I'd have some occasional discomfort after eating, but nothing that seemed too serious. It began happening more and more frequently. I had resolved to go see my doctor about it last last weekend when his office opened on Monday. I didn't make it to Monday. Sunday night I had a whole different sort of attack. Suddenly I was in the worst agony I could imagine. The pain radiated from my abdomen around to my back and eventually into my chest. Barely able to breathe and convinced I was having a heart attack, I went to the ER. They determined it wasn't my heart, and shot me up with some morphine to make the pain bearable. They admitted me, gave me ultrasounds, MRIs, x-rays, blood tests, you name it. Turns out my badly damaged and stone-filled gallbladder had become infected and plugged my common bile duct, which caused my pancreas to become inflamed. The terrible pain was coming from my inflamed pancreas. It took five days in the hospital with no food or water by mouth and only getting IV liquids and massive doses of antibiotics before I was stable enough for gallbladder surgery. When they did finally operate, my gallbladder was too swollen and distorted for laparoscopic removal. So they had to do it the old-fashion way, and slice me wide open. I am sporting a truly epic scar across my abdomen now. It's going to take me a while to recover from the surgery. It would have been a lot better if I had gone to see my doctor weeks or months earlier about the mild discomfort I was having. Probably could have just taken out the gallbladder with quick and easy laparoscopic surgery and been done with it. So let this be a lesson to the rest of you. Don't ignore that gallbladder pain, even if it seems pretty minor.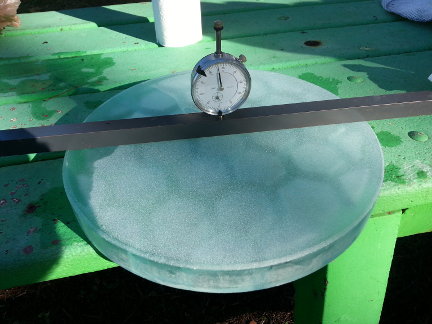 01/25/14
I have reached final depth rough grinding on my second cellular, honeycomb-back mirror blank at the SPAC Mirror Lab. It is actually 2 thousandths of an inch shallow, which I expect to make up in fine grinding. Fine grinding will begin next weekend at the The Orange Blossom Special Star Party where I will be doing a mirror grinding demonstration.

Click the photo for a larger view.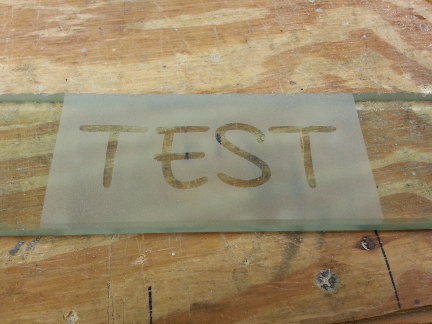 01/25/14
I've been having fun experimenting with my new sand blaster. Here I have used some cheap vinyl lettering and masking tape to mask part of a piece of scrap glass. Then sand blasted it and frosted the surface except the parts that were masked. Looks pretty good, and it only took a couple of minutes. I am going to have fun with my sand blaster.

Click the photo for a larger view.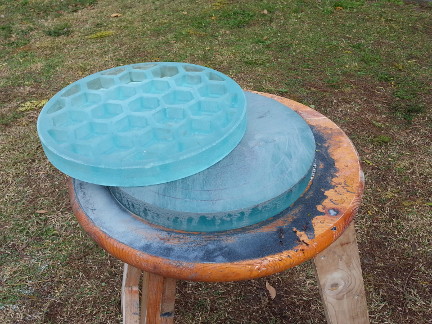 01/11/14
I have finally started serious grinding on my second cellular, honeycomb-back mirror blank at the SPAC Mirror Lab. I have high hopes for this mirror. This one has far fewer air bubbles in it than the first prototype did. I had forgotten how much hard work rough grinding is. Gotta build a curve generating machine next.

Click the photo for a larger view.

12/30/13
I finally got around to posting a write-up on how I built a home-made swamp cooler for my remote, off-grid cabin in Arizona. It was a quick, easy and inexpensive build, and it works great to keep the temperature inside the cabin comfy on hot days. Check it out.

Click the photo to see the project.

12/30/13
At nearly 50 years old, I am finally (I think) getting my crap together in some areas of my life. In the past when something bad happened and I was sad and depressed, I'd sit in front of the TV and shove comfort food in my face to cope. These days instead I throw myself into working on my various projects. Actually accomplishing something (other than making myself fatter) works a lot better as a coping mechanism than wallowing in self-pity and accomplishing nothing. Also, I've never been big on New Years resolutions, but this year I may make a couple, and work hard to keep them. Time to change a few things.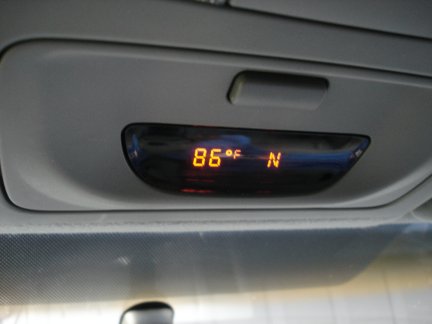 11/18/13
I just posted a write-up on how I repaired the temperature and compass display in my Toyota Tacoma. Failure of this display unit seems to be a fairly common problem with Toyota vehicles. Repair or replacement costs can be astronomical. Doing it yourself can save you a bundle. If you have this problem, check out the fix.

Click the photo to see the repair.

10/30/13
Something really cool happened today. I got an email from Chris Hackett from the Science Channel TV show Stuck With Hackett. He used my 555 Based Charge Controller Design in one of his builds in a Youtube video. He built a bike powered generator for recharging batteries and needed a charge controller. He was inspired to build his generator by the power outages after Superstorm Sandy. I have embedded the video here.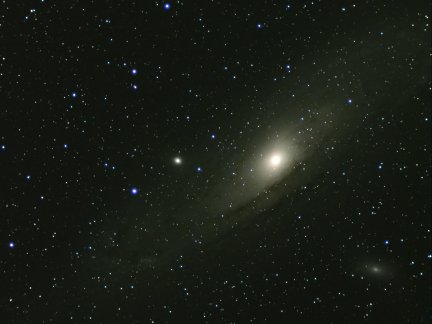 10/18/13
Wow, it has been a while since my last update. Work has been so crazy the last few months that I haven't had any time or energy to update my web site. But I just got back from a much needed vacation to my remote Arizona property. The conditions were perfect for astrophotography while I was there, and I got some pretty good shots. This one is of the Great Andromeda Galaxy and its companions.

Click the photo to see a larger view.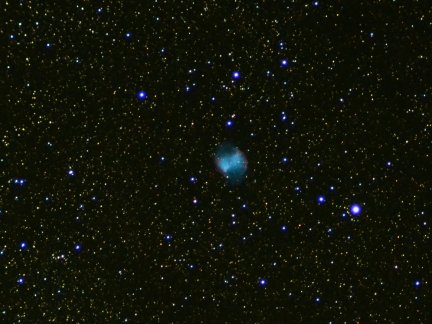 10/18/13
Here is a photo of the Dumbbell Nebula.

Click the photo to see a larger view.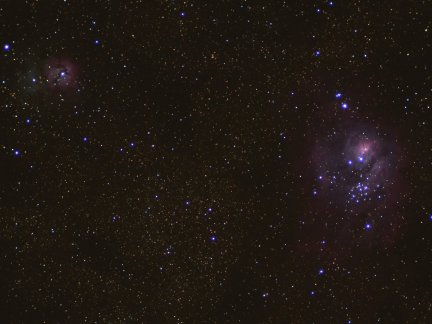 10/18/13
Here is a photo of the Trifid and Lagoon Nebulas.

Click the photo to see a larger view.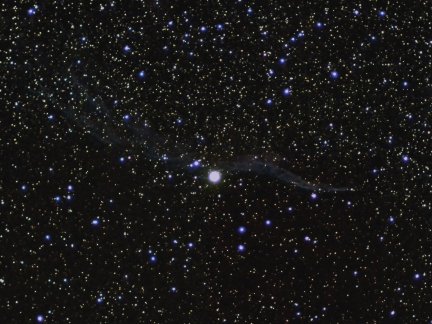 10/18/13
This is a photo of part of the Veil Nebula.

Click the photo to see a larger view.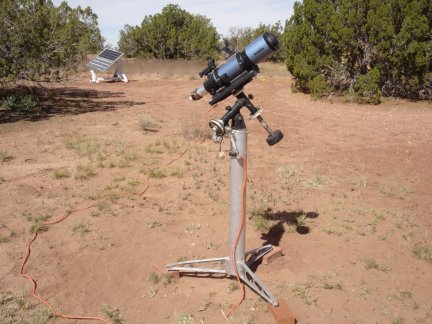 10/18/13
This is a photo of my $3 telescope that I took all the above photos with. It is setup on my remote Arizona property where nobody has even heard of light pollution. The scope is a Sky-Watcher 4 inch refractor. I got it for $3 at a yard sale about 2 years ago. The person selling it had no idea what it was or how to use it, and just wanted to get rid of it. The price was so cheap because the tripod it came with was broken. Well I just threw out the tripod and made a mounting plate to mate it to this ancient German equatorial mount that I got for free many years ago. The mount has terrible periodic error. I am limited to shooting maximum of 20 second exposures, and about half of those will have unacceptable tracking error. But If I stack enough of the good 20 second exposures I start getting some really good looking images of things. By the way, the $3 price is a little deceptive. I have to add in my $450 Nikon camera and a $109 Fringe Killer filter that make the complete system. Still it is a really cheap astrophotography setup. In the background of this photo you can see my home-built solar panel tracking system that powers my remote cabin.

Click the photo to see a larger view.

08/01/13
I have FINALLY got around to posting photos and descriptions from my last vacation to the the vacation photos section of my web site. Been so busy since I got back that I just haven't had time until now to do it. I saw some friends of mine last Friday night and they were asking where the photos were? So I figured it was about time.
07/11/13
Today I have completed 49 orbits around the Sun.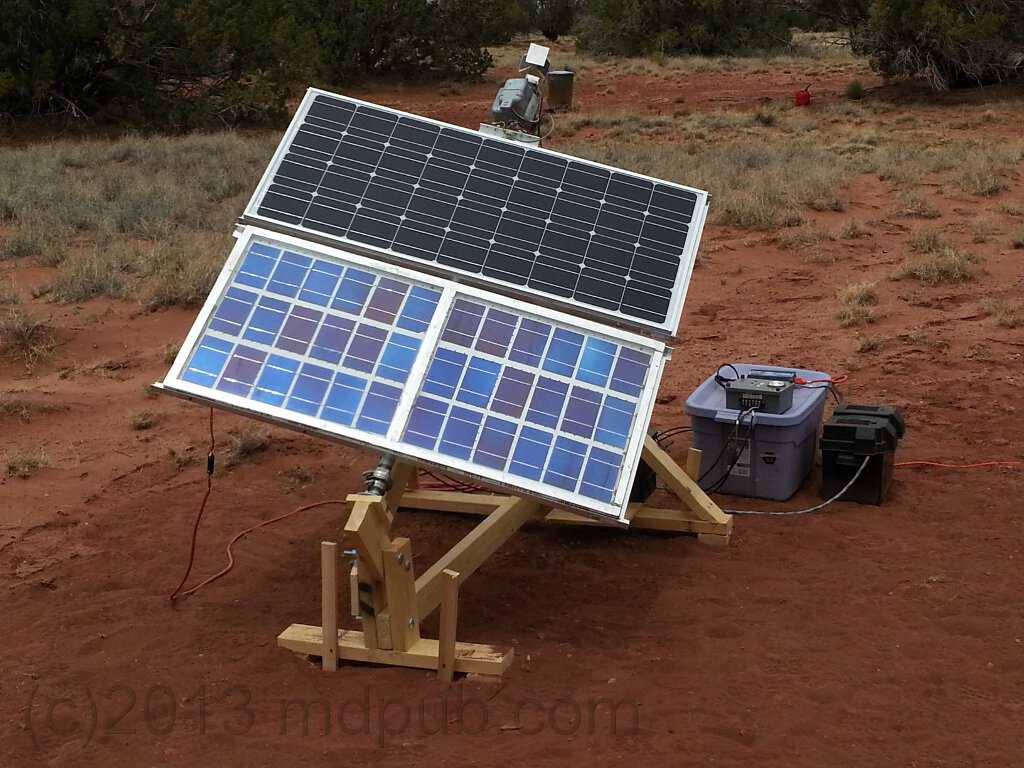 07/08/13
I have finally finished the web page about my Suntracker. It is a motorized platform to keep my solar panels pointed at the sun. It is based on an old antenna rotator, and driven by a small computer module. It has been tested on my remote, off-grid Arizona property, and works great. I have uploaded all the information on how I built it, and how you can build one too. Check it out.

Click the photo to see the project.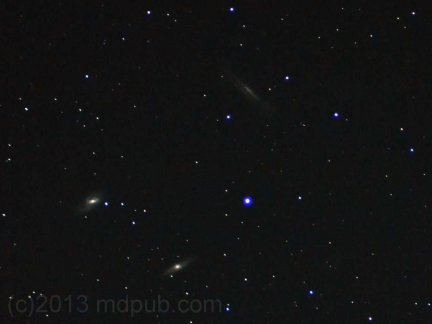 06/07/13
I just got back from another vacation to my remote Arizona property. I had a wonderful time and great weather the whole time. I worked on my cabin and on some other projects. I also had a chance to do some astrophotography under my wonderful middle of nowhere Arizona sky.

This first photo is of the trio of bright galaxies in Leo, M65, M66, and NGC 3628. This is a stack of 8 second exposures taken with my $3 yardsale 4 inch refractor set up on a tripod on my equatorial platform. The platform wasn't designed for use at the latitude of my property in Arizona. So I had it blocked up on the north side to compensate. The stars trailed noticeably even in the short exposures, so I probably didn't have the right angle. Still, these shots are not too bad.

Click the photo for a larger view.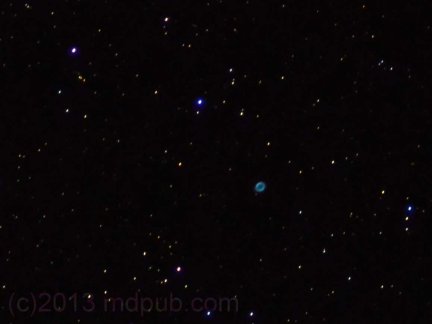 This photo is of the Ring Nebula. It turned out much better than I expected from my primitive setup. This little $3 refractor could probably take world-class photos if I get it mounted on a proper equatorial mount and buy a minus violet filter for it to eliminate the halos around bright stars.

Click the photo for a larger view.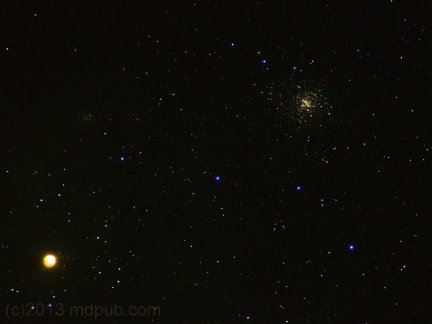 This photo is of Antares and the globular cluster M4. Antares is the bright yellow blob on the lower left very over-exposed. The globular cluster NGC 6144 is also faintly showing up between Antares and the top of the frame.

Click the photo for a larger view.

06/07/13
Here is a time-lapse video of my home-built solar panel sun tracker in operation. In the video it is set up on my remote Arizona property, and is doing a good job of keeping my solar panels pointed at the sun. It took me a while to get this project up and running. Work and other priorities got in the way. Plus I decided to scrap my original plan for the electronics and start over with something completely different. So it took a while. Now that it is up and running, a thorough write-up on how I built it and how it works will be coming soon to this web site. So stay tuned for more...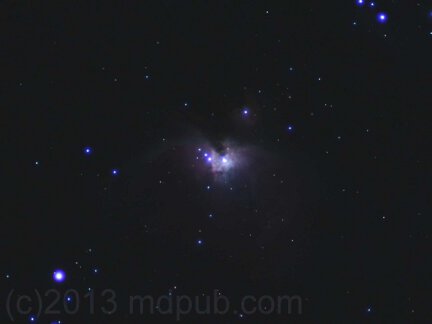 04/08/13
I got a few pretty good astrophotos at the new moon observing session last Saturday night. I used the same 500 mm f/5 telescope that I used to get shots of comet PanSTARRS last month. This time though I set it up on top of my equatorial platform so I could get some long exposure photos. I was amazed at how well my $3 yardsale telescope works with my Nikon D5100 camera to make nice deep-sky photos. With a little more practice, I might actually get good at this.

This first photo is of the Orion Nebula. This is a stack of 3 second exposures.

Click the photo for a larger view.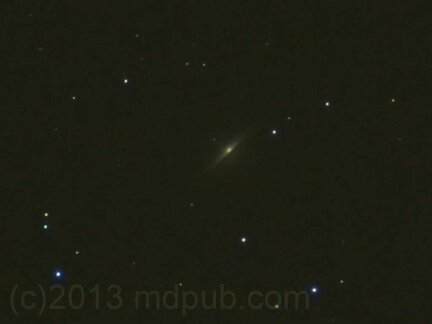 This photo is of the Sombrero Galaxy. All of these photos are composite photos made by stacking multiple exposures in Registax. I was shocked at how well these dim galaxies showed up in very short exposures. I upped the exposure time to 8 seconds for the dim galaxies.

Click the photo for a larger view.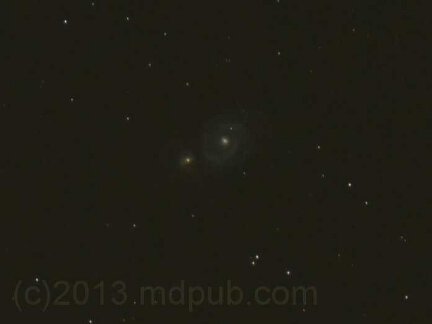 This photo is of M51. Even the individual 8 second exposures showed spiral structure in M51. Once I stacked a few of them, the detail really started to pop out.

04/06/13
Here is a video of my home-built vacuum forming setup in operation. Here I am making plastic molds out of the mold pins I machined on our Kolabatron home-made CNC router. A video of machining the mold pins can be found lower down on this page. The vacuum forming rig was put together very inexpensively out of essentially scrap material in only a few hours, but it works great. Anyone needing to get into vacuum forming should be able to duplicate my setup pretty easily. Check it out.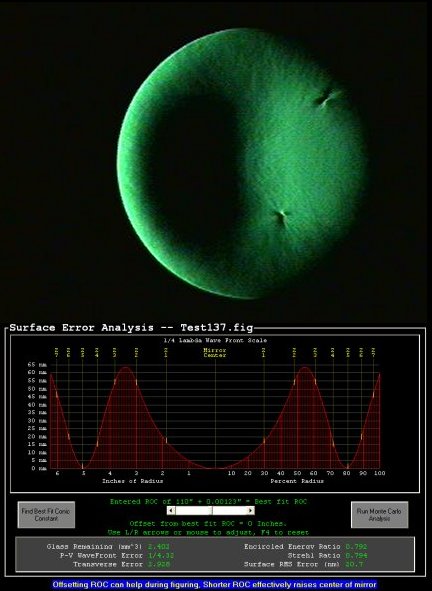 03/23/13
I have finally finished the figuring of my first home-made honeycomb back mirror. It took me quite a while. The fast focal ratio of f/4.5 and dealing with plate glass, and trying to prevent print-through of the honeycomb pattern on the back necessitated re-learning everything I thought I knew about figuring mirrors. I got nowhere with a full-size lap and had to use a variety of sub-diameter, light-weight laps to finally get the figure better than 1/4 wave of green light without any print-through.

It is not the smoothest mirror I have ever made, but this blank had some issues. I am making much better blanks these days. This is really just a a proof of concept mirror, to make sure these honeycomb-back, light-weight mirror blanks I am making can actually be figured without print-through problems. As you can see from the focogram, there is no trace of print-through. The two strange artifacts in the focogram are air bubbles just under the surface of the glass that broke through during grinding and polishing. This blank has a lot of air bubbles in it. I ground into a lot of them while grinding and polishing the mirror, probably making the finished mirror unusable. I am making blanks with far fewer bubbles these days. I wanted to try to finish this mirror since it was a worst-case scenario.

Even though it isn't the prettiest mirror to come out of the SPAC Mirror Lab, I am very happy with it. It gives me confidence that the better quality mirror blanks I am making now, and the even better ones I will be making in the future, can be ground, polished and figured into excellent telescope mirrors. I also now know how to do it.

I get emails almost every day from people asking me if I will sell them one of my honeycomb mirror blanks. Unfortunately, I am not mass-producing these blanks at present. I still consider myself to be in the R&D phase of casting these mirror blanks. Once I feel that the process is perfected, and the quality of the blanks improves to my satisfaction, I may offer some for sale.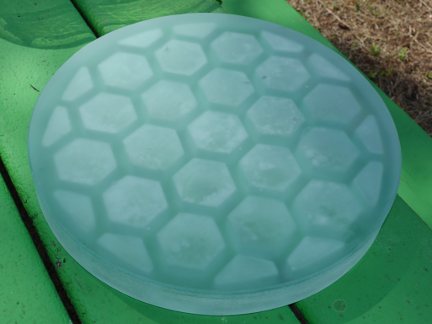 03/23/13
Here is a photo of the above honeycomb mirror taken during the grinding process. More photos of the casting, grinding, polishing and figuring processes involved in creating this mirror can be found further down on this page or more detailed info is here.

Click the photo for a larger view.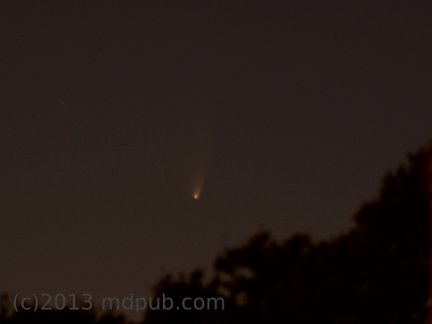 03/17/13
I got another photo of comet PanSTARRS last night. This time I caught it just outside the front door of the workshop I share with my brother. It didn't stay above the trees for long. The conditions were better than at the beach a few nights ago. There was a lot less haze and the comet was brighter, making for a better photo. Having trees in the foreground also improves the composition. There was nothing available for foreground at the beach. I used exactly the same setup as below, but the exposure was shorter, about 2 seconds, because it was brighter without all the haze.

Click the photo for a larger view.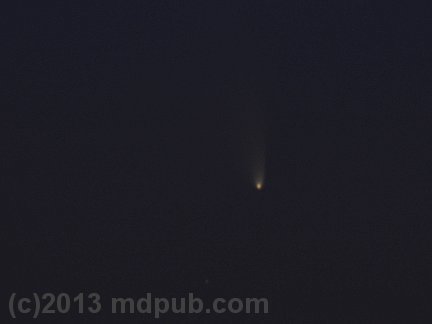 03/15/13
I got this shot of comet PanSTARRS last night on Madeira Beach at the old Snack Shack. There was quite a turn out of SPACers and the general public for the comet watch. I used my $3 yardsale find telescope, on my Bogen tripod, with my Nikon D5100 camera body at prime focus for a 3 second exposure. It was quite hazy on the western horizon and we never did manage to see the comet naked-eye. After finding it with binoculars, I trained my Cookie Jar telescope on it to give members of the public a view of it. Then I fired off a few shots with the camera.


03/05/13
Here is a video of The Kolabatron home-made CNC router my brother and I built cutting a hexagonal mold pin out of wood. The Kolabatron is really working well these days. I am really getting the hang of G-Code.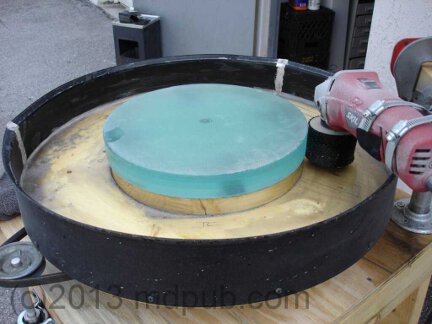 2/19/13
I've been casting my own telescope mirror blanks for several years now. I finally decided it was time to build a machine to help me grind the edges of the blanks true and round. This is my home-built edge grinding machine for grinding down my home-cast mirror blanks.

Click to see the whole project.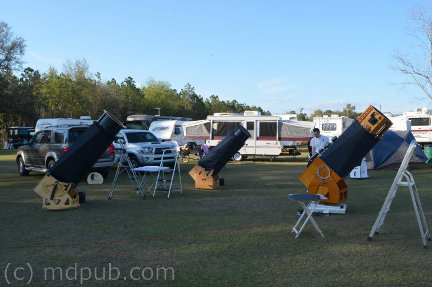 2/12/13
Just got back from the 2013 Orange Blossom Special Star Party. The weather was fantastic this year. Only a little rain at the beginning, then lots of clear skies and mild temps. We had 2 1/2 nights of excellent observing, good times, good people and good food. Here is a photo of "DOB Valley" where some of the largest scopes at the event clustered together. My 17.5 on its equatorial platform is on the right. Allen Maroney's 18 is on the left, and Ralph Craig's 16 is in the middle. This photo was taken just before sunset on the last night of the star party, which also turned out to be the best night of all, with few mosquitoes, hardly any dew, and very clear skies all night.

Click the photo for a larger view.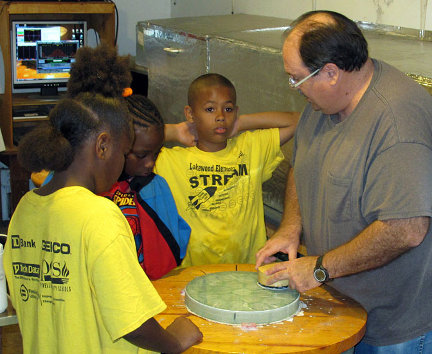 2/04/13
Here is a photo of myself demonstrating telescope mirror figuring to visiting students at the SPAC Mirror Lab. I am working on one of my home-cast honeycomb mirror blanks using sub-diameter laps. The mirror is in the final stages of figuring and nearly done.

Click the photo for a larger view.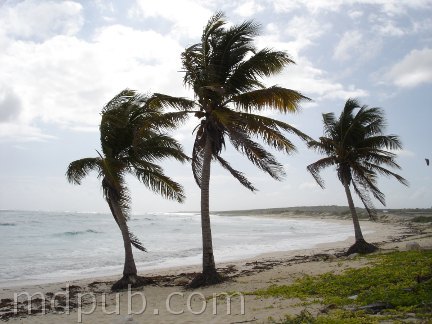 2/03/13
It took me a while, but here is a photo from our recent cruise to Cozumel, Mexico. Work has just been crazy since I got back, so there hasn't been any time to post photos from the cruise. We had a great time. It was a fantastic cruise. We sailed on the Royal Caribbean ship Jewel of the Seas out of Tampa to Cozumel Mexico. In Cozumel we hired a tour guide, who is an American living in Cozumel. She took us all over the island and showed us a lot of wonderful sights. She took us to lots of places that most tourists never see. This photo was taken on a beautiful beach on the East side of the island. We were the only tourists there. It was my first cruise. I thoroughly enjoyed it. I don't think it will be my last cruise.

Click the photo for a larger view.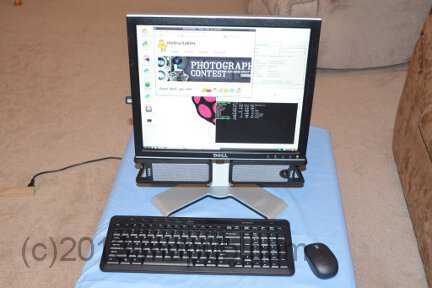 1/09/13
Here is my first completed project of the new year. It is a Raspberry Pie based all in one computer. It was easy and fun to build. It neatens up my Raspberry Pi computer, and makes experimenting with it a lot easier. It looks quite sleek and professional too, if I do say so myself. Check it out.

Click to go to the project.

12/28/12
The CNC router my brother and I have been building is essentially complete. We are now in the process of dialing in the settings on it, and learning how to use various CAD software packages. We have done some very successful test cuts with the machine. The machine has also acquired a name. My brother named it the Kolabatron, in honor of it being a collaboration between the two of us. I have big plans for this machine. It will be used for creating lots of things, and aid in completing lots of future projects, many of which will eventually be featured on this web site. Here is a short video of the machine in operation cutting some test patterns in hard foam. I give a little narration at the end.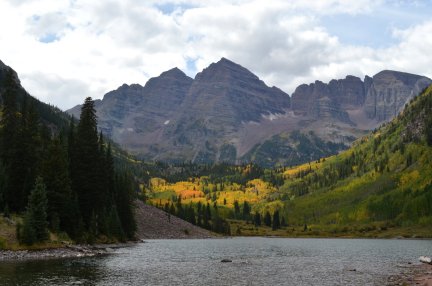 11/09/12
I have finally uploaded photos and a writeup of my September vacation to Arizona, Utah and Colorado to the vacation photos section of my web site. I have been very busy since I got back, and this job kept getting pushed onto the back burner. I love my Nikon D5100 camera. I took a lot of photos with it on this trip, (literally thousands), but have only posted a select few with verbose descriptions. This Photo is of the Maroon Bells near Aspen, Colorado.

Click the photo for a larger view.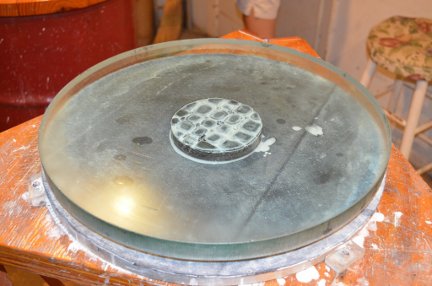 10/8/12
Here is a strange sight seen at the SPAC Mirror Lab. Paul was pressing a sub-diameter lap under his big 16 inch mirror.

Work on my own mirror has been slow. I have been away from the lab for a while. There have also been several false starts to the figuring that have resulted in me either digging a hole in the middle of the mirror, or turning down the edge badly. I may need to resort to sub-diameter laps to finish my figuring too.

Click the photo for a larger view.

9/18/12
I spent some time in Colorado on this last Western vacation. It was cloudy and rainy most of the time I was there. So I decided to take some time-lapse movies of the clouds. This is one of the movies. It was shot at Cache Creek Park, and compresses 33 minutes of weather into 50 seconds (40x real time). It shows clouds and fog forming and boiling over green mountains veined with golden aspen.
9/18/12
I'm back from my latest vacation to Arizona, with stops in Utah and Colorado. Pictures and a description of the trip will be posted to the Vacation Photos section of the web site soon. Here is a short video of humming birds at my feeder on my Arizona Property. I had a lot of them on this trip.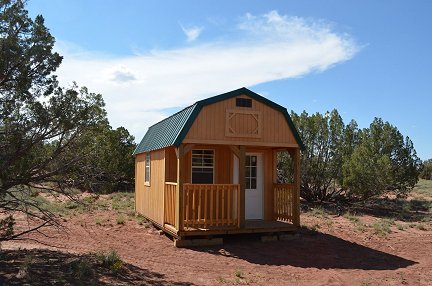 09/10/12
I finally have a cabin on my remote Arizona property. I love it! No more living in a tent when I am out here. No more hauling camping equipment all the way across the country. I've spent my first few nights in it and I simply love it. The cabin is totally prefabricated. It is on skids. They slid it off the back of the delivery truck, attached wheels on one side of it, picked up the other side with a mini forklift with big fat tires that could roll through the sand, and moved it into place. They put it within inches of the flags I had used to mark out the position of the cabin on an earlier vacation. Once in place they leveled it up and blocked it in place. The whole process took less than two hours. Not counting the time it took me to make an 18 foot wide opening in the fence to allow the truck through and then fix the fence again after the truck left, and before any cows could wander onto my property. I am very happy. Next comes an observatory.

Click the photo for a larger view.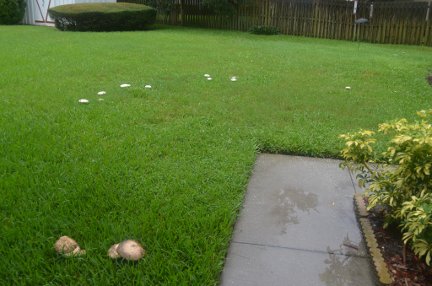 07/18/12
All the rain we have had lately has prompted the sprouting of a (somewhat ragged) fairy ring of mushrooms in my front yard. For those not familiar with fairy rings, check out the Wikipedia article on fairy rings at http://en.wikipedia.org/wiki/Fairy_ring. The ring seems to be centered roughly on the corner of the planter to the right of the sidewalk. That explains why the grass in this area of the yard has been so anemic and yellow looking compared to the rest of the yard. Grass inside fairy rings often doesn't grow well because the mass of underground fungus has depleted the soil of nutrients. It looks like another, smaller ring may be popping up in the background, to the right of my bird feeders. It's too swampy back there right now to walk back and get a closer look. I don't want to ruin my shoes.

Click the photo for a larger view.

7/12/12
My home-cast 12.5 inch diameter, light-weight, honeycomb-back telescope mirror on the Robotic Foucault testing stand. The door to the Foucault testing tunnel is opened allowing ambient light to back-light the mirror, causing the honeycomb structure of the mirror to appear and show through. When the door is closed, the honeycomb structure completely disappears. No print-through problems. The mirror is quite oblate at this stage of polishing. Air currents stirred up by opening and closing the door are quite visible. A very neat little video. It was taken by my friend Allen with a hand-held video camera aimed at the Foucault tester monitor.
07/11/12
Today I have completed 48 orbits around the Sun.
06/06/12
The Venus transit was a total washout here in West Central Florida. I'm glad I got to see the one eight years ago. Too bad I couldn't arrange my vacation to be in Arizona for both the eclipse and the transit. Here is a newspaper article about the rained out event. It features a photo that includes me, and some of my astronomy buddies on Madeira Beach.
05/28/12
I have made another modification to my home-built wind turbine generator. I have added a professional-looking nose cone to it. It was a quick and easy modification that not only makes the turbine look better, I think it even works better, and generates more electricity. There are photos and a complete description of the modification near the bottom of the wind turbine page. Here is a brief video of the new and improved wind turbine in operation.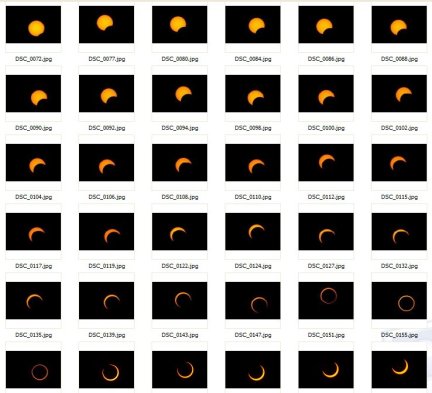 05/21/12
Here is a contact sheet of the photos I took of yesterday's annular eclipse. They were taken at Canyon De Chelly National Monument in Northeastern Arizona. I was right on the exact centerline of the eclipse and had about 4 minutes of the "Ring of Fire" effect at mid eclipse. I was set up in the Spider Rock overlook parking area. The camera was a Nikon D5100 with an 800mm lens and an Astrozap solar filter. The altitude was about 7000 feet and the sky was perfectly clear. The full size photos show sunspots. I'll post a few of those later. I have video too. I'll post it later also. I also have hundreds of great photos of Canyon De Chelly and the nearby Chuska mountains. The whole trip was an amazing experience. I have posted a few of the high resolution photos to the vacation photos section of the web site.

Click the photo for a larger view.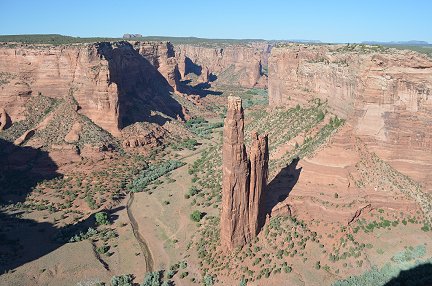 05/21/12
Here is a photo of Spider Rock at Canyon De Chelly National Monument. It is hard to grasp the scale of it from the photo. Spider Rock towers 750 feet above the canyon floor. If you look closely you can see the river bed and a jeep trail on the floor of the canyon. That helps add scale to the photo. The canyon is huge! This photo only covers a small section of it.

Believe it or not, I have never been to Canyon De Chelly before. I have always wanted to see it, but never managed to get there in all my trips to Arizona. With the centerline of the eclipse passing right over Canyon De Chelly, I made sure I got there this year. I have hundreds more photos of the area, and the nearby Chuska Mountains. I have posted some, with a write-up about this trip to the vacation photos section of the web site.

Click the photo for a larger view.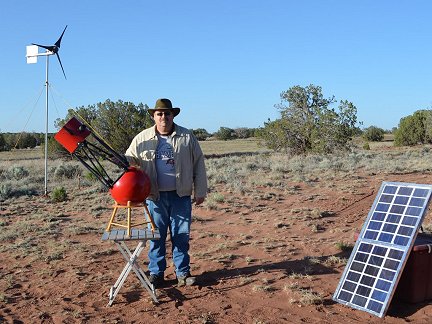 05/21/12
Here is a photo of me on my Arizona property with three of my creations. My home-built solar panel, my Cookie Jar telescope, and my home-made wind turbine in the background. I had a great time staying on my remote property. I had plenty of power for writing this and uploading photos, thanks to the wind turbine and solar panel. I had 100% clear nights for star gazing with my "little" Cookie Jar telescope. I brought it this time, rather than the big 17.5 inch DOB, just to travel a little lighter on this trip. This 8in f/4.5 scope provides amazing, wide-field views under my pristine sky. I stayed up late observing nearly every night. What a great vacation.

Click the photo for a larger view.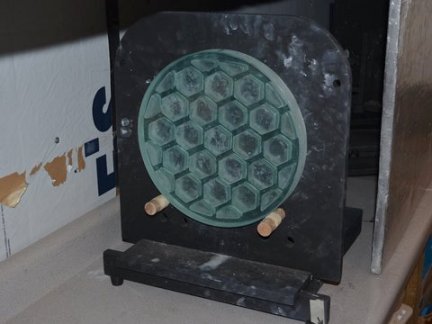 04/17/12
I have begun polishing my home-made, 12.5 inch, honeycomb-back telescope mirror. Here is the mirror on the SPAC Mirror Lab Robo Foucault Test stand after only one hour of polishing. The mirror looks nice and polished to the untrained eye, but it still has a very long way to go to have a good polish and be a good sphere, then it has to be figured into a parabola. We decided to do a Foucault test on it just for giggles, and to see if the ribs on the back of the mirror print through.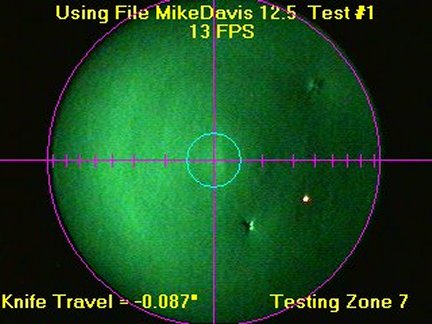 Here is the 1st focogram after only one hour of polishing. Its ugly at this early stage, but the good news is that the ribs on the back of the mirror are not printing through. Yahoo! That was the thing I was most worried about. I think I can actually figure this mirror. There are two blemishes caused by large sub-surface bubbles that are distorting the surface of the glass. It will be interesting to see what happens with them as I continue polishing and figuring.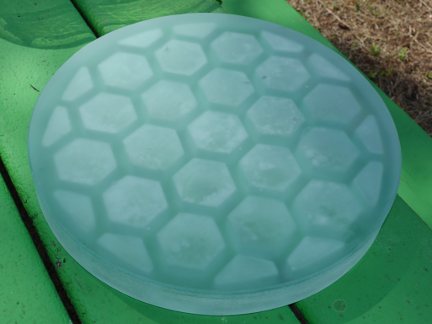 04/08/12
The fine grinding is finally done on my 12.5 inch diameter prototype honeycomb mirror that I cast myself. Now I get to start polishing. Soon I will know what sort of figure this mirror design will take. Stay tuned for future updates.

Click the photo for a larger view.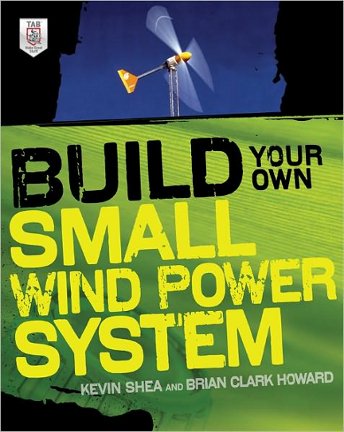 03/31/12
My home-built wind turbine system has received an extensive write-up in a new book on how to Build Your Own Small Wind Power System. The author contacted me months ago asking permission to include some of my photos and information from my wind turbine web site in an upcoming book. I get this sort of request a lot. Usually they will just publish a photo or two and write a short blurb about my system. I just received a complementary review copy of the finished book. This time the author devoted about four pages to describing what I am doing, and made several other mentions of me in the book, with nice links back to my web site. It is a great book too, and not just because I am in it. It is chock full of useful information for anyone who is thinking about getting into wind power.

Click the photo for more information.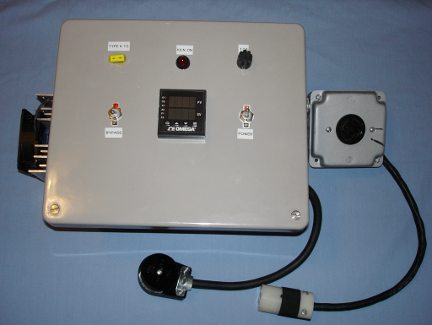 03/27/12
I have finally uploaded a write-up on how I built my 8-segment ramp/soak kiln controller project to my Misc. Projects page. I completed the controller about eight months ago, but have been too busy to post any information about it until now. Check it out.

Click the photo to see more.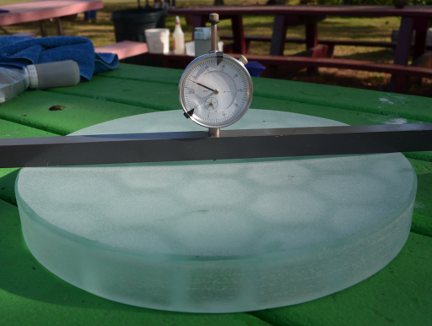 03/03/12
Rough grinding is complete for my 12.5 inch honeycomb-back telescope mirror that I cast myself. The rough grinding went pretty quickly and painlessly this time. I only have maybe 12 hours of actual work in the mirror so far. It's hard to believe, but the rough grinding has removed over a pound of glass. The mirror now weighs in at only only 8 pounds 15 ounces. Incredible! The curve is still 3 thousandths of an inch too shallow, but I can make that up with the finer grits as I clean up the surface finish. I did hit a couple of bubbles in the blank, as I feared would happen. So the mirror will have a few minor pock-marks on the surface. Grinding deeper to get past the bubbles isn't really an option since there are others further down. Time to move on to finer grits. I'll post more updates as the fine grinding progresses.

Click the photo for a larger view.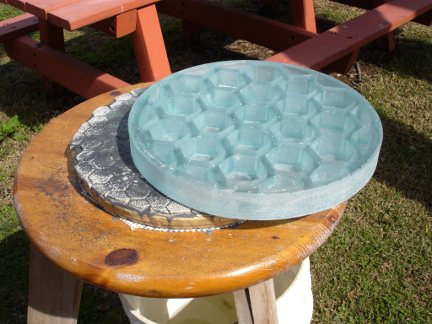 02/15/12
I have started the process of rough grinding my 12.5 inch honeycomb-back mirror blank. I am aiming for an f/4.5 mirror when it is finished. This is a mirror blank I cast myself in my kiln. It will be interesting to see how well it takes a figure and if or how much the back pattern prints through. It will probably be several months at least before I am finished with the grinding, polishing and figuring, depending on how much time I have to work on it. I will post updates as the mirror progresses.

Click the photo for a larger view.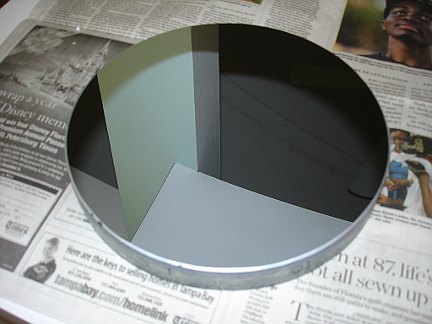 02/04/12
Here is my finished 10 inch mirror just back from aluminizing. It is a thing of beauty, if I do say so myself. This mirror was made from one of the mirror blanks I cast myself in my kiln. I ground and polished it myself too. The next time someone asks me if I made my own mirror, boy do I have a story to tell them.

Click the photo for a larger view.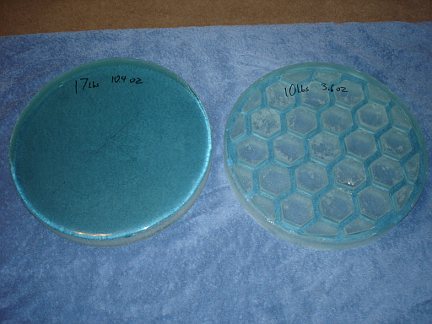 01/30/12 - Here is the below 12.5 inch diameter honeycomb-back mirror blank after final edge trimming. It is side-by-side with a solid 12.5 inch blank of the same 1.5 inch thickness that I also cast in my kiln. The honeycomb blank weighs 10 lbs 3.6 oz. The solid blank weighs 17 lbs 10.4 oz. The honeycomb mirror is 42% lighter. I think I might be able to get close to a 50% reduction in weight with just some slight tweaking of the design. I have added a write-up on how I made this blank in the Scopeworks section of the web site.

Click the photo for a larger view.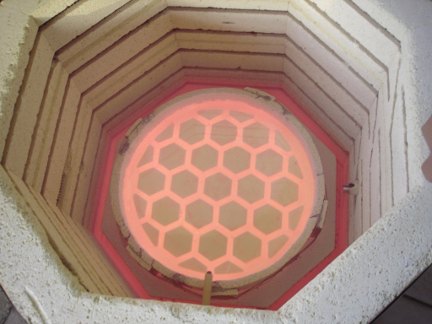 01/10/12 - This is my third try at making a light-weight, hexagonal-back or honeycomb mirror blank, still cooking in the kiln. It is 12.5 inches in diameter. I think I got it right this time. The mold is intact. Everything looks good at this stage. Next came three days of annealing and slow cool-down.

Click the photo for a larger view.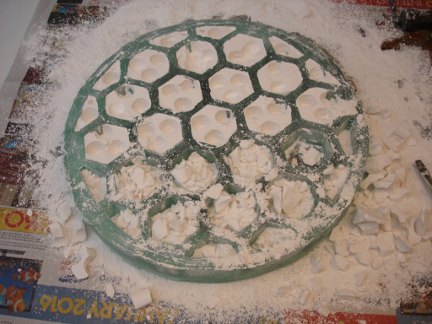 After the blank had finally cooled down to ambient, I took it out of the kiln, and removed the outer mold. Then it was time to start cleaning the plaster out of the hexagons and partial hexagons. A very messy and delicate job.

Click the photo for a larger view.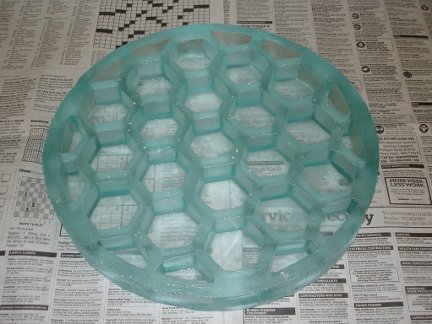 Here is the honeycomb back of the cleaned out mirror blank. The blank is a little over 12.5 inches in diameter and slightly irregular. I need to turn it round and get the diameter down to size on my grinder. The blank is 1.5 inches thick. The pockets are 1 inch deep. There is .5 inch of glass left on the front face for grinding a curve. It weighs only 10lbs, 9.5oz at this point. It will loose a little more weight on the grinder. It's not perfect. There are a few tiny air bubbles that may be close enough to the front surface to be encountered while grinding. Otherwise, I am very pleased with it.

Click the photo for a larger view.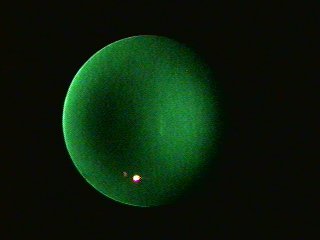 12/23/11 - The 10 inch mirror project is finally complete. I cast this mirror myself in my kiln. This photo is a focogram of the finished mirror. The mirror is very smooth and well polished. The shape in the focogram shows the classic losenge or red blood cell shape of a parabolic mirror. It has been a long eight month odyssey from kiln to figuring. Now it is finally off for aluminizing.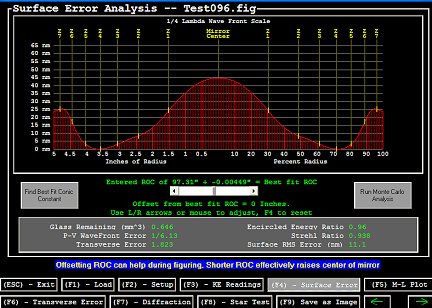 Here is an image of the finished mirror surface error analysis from the FigureXP program we use with our Robo-Foucault mirror tester. The wave front error is better than 1/6th wave (in green light), and the Strehl Ratio is 0.938. Not too shabby. I decided to call the mirror finished at this point, rather than try for an even more perfect figure and risk screwing it up. This is still better than many mass-produced mirrors. Besides, much of the remaining error in the mirror is in the center, and will be shaded by the secondary mirror anyway. So the mirror should perform even better than 1/6th wave.

Now all I have to do is build a telescope to mount it in. That is going to be the easy part though, compared to the 8 month odyssey of grinding, polishing and figuring the mirror. In fact, making this mirror was one of the hardest things I have ever done in my life. Strangely though, I can't wait to do it again. I have bigger and better blanks coming out of my kiln these days. I think I will be doing another mirror very soon.

Click the photo for a larger view.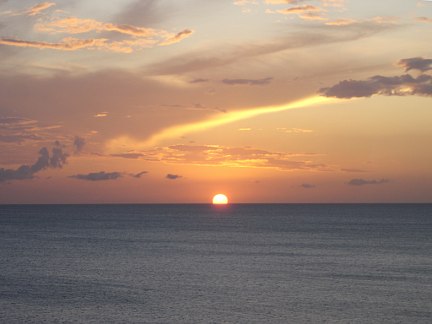 11/23/11 - Here is a photo I took about a month ago, but just now got around to posting. This sunset photo over the Gulf was taken from the balcony of our suite on the 12th floor of the Lido Beach Resort. We spent a long weekend there and had a great time.

Click the photo for a larger image.

10/3/11 - I have finally gotten around to posting photos and a description of my recent business trip to Santa Barbara California on my Travel and Vacation Photos page. Check it out.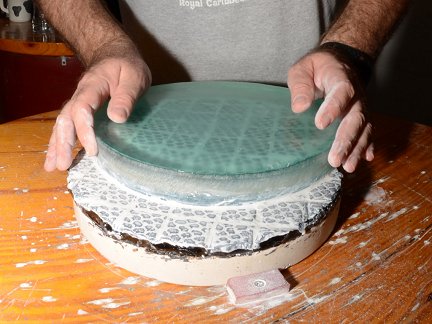 10/2/11 - Work has been keeping me very busy lately. There has been little time for my side projects. However, I have managed to do some figuring on my 10 inch mirror I am making from one of my home-cast mirror blanks. Here I am, pushing glass on my pitch lap, with cerium oxide stained fingers.

I have worked the mirror to within 1.75 waves (in green light) of a perfect parabola. I still need to make an almost order of magnitude improvement to get to the magic 1/4 wave diffraction limit. The process now gets slower and more delicate. There will be fewer rounds of figuring with various strokes to work specific areas of the mirror, immediately followed by Foucault tests to check progress. I hope to eventually exceed 1/4 wave with this mirror. Unfortunately I will probably be too busy to do any more work on it for a couple of weeks.

Click the photo for a larger image.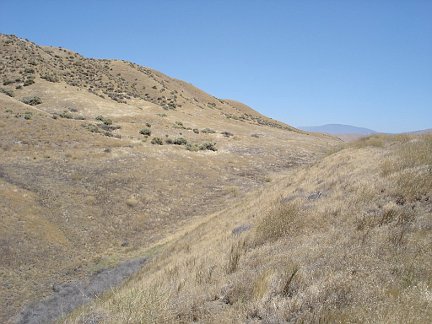 8/28/11 - Standing on the Faultline - I just got back from yet another business trip to California. This time though, I arrived on Saturday and the business didn't start until Monday. So I had the weekend to goof-off and explore. One place I went was the Carrizo Plain. One of the few places where the San Andreas Fault is very visible at the surface of the ground. This unassuming crease in the ground is the fault line. This will be ground zero for the "Big One" when it happens.

The North American Plate is on the left, and the Pacific Plate is on the right. Interestingly, I am roughly 60 miles inland here, but still standing on the Pacific Plate. All the material seaward of the fault line is material that had been riding on the Pacific Plate and has been accreted onto North America as the Pacific plate grinds past and subducts under the North American Plate. The material is mainly marine sediments that are folded and raised high above sea level by the collision. I'm a geology geek. Can you tell?

More photos and a description of this trip have been posted to my Travel and Vacation Photos page.

Click the photo for a larger image.